Encanto Voice Actress Cosplays As Her Character Dolores
Adassa has donned a Dolores cosplay for all her convention appearances.
Disney's Encanto has become a global phenomenon through the usage of its diverse cast, incredible music by Lin Manuel Miranda, and the superb animation work from Pixar Studios. Now, one of the voice actors has taken it a step further to bring Encanto to real life by cosplaying as her character. Voice actor Adassa, known for the voice of Dolores in the movie, has collaborated with cosplayer and costume designer Philip Odango to create her very own Dolores dress. Philip, who is known for his viral Dolores cosplay video, was more than excited to collaborate with Adassa.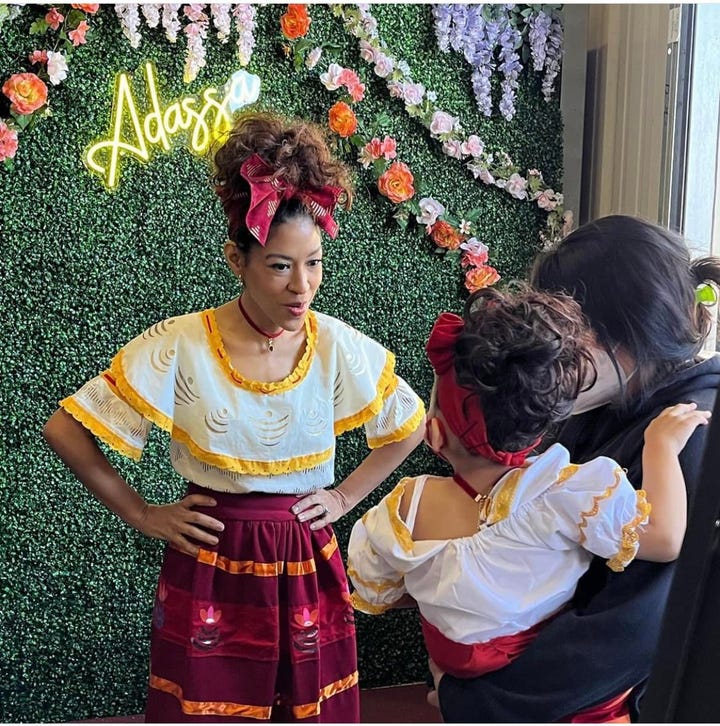 Announced as a guest to Tidewater Comic Con in May 2022, which is Philip's hometown convention, Philip invited Adassa to be part of his costuming project, which launched the collaboration between them to transform Adassa into the real-life Dolores Madrigal through a bespoke hand-made costume that no one else has.
The blouse is made from taupe-colored cotton knit fabric, with attached ruffled sleeves. The collar is a circlet, and Philip designed all the custom lace in Illustrator and cut it out of fabric using a Cricut Maker. He recreated the audio wavelength symbols in vector illustration and cut out of gold heat transfer vinyl and heat pressed onto the cotton.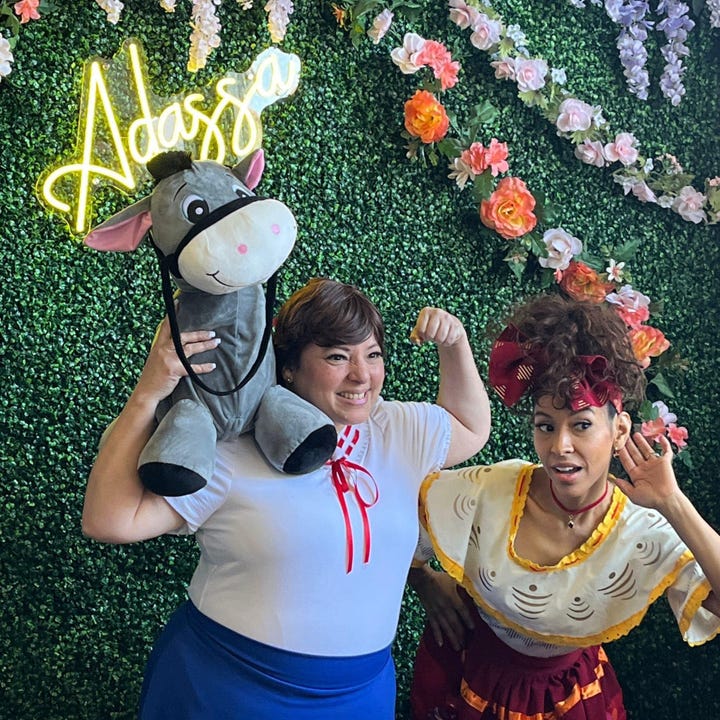 The skirt is three yards of medium-weight crimson-colored suiting fabric, with horizontal stripes made from fabric three shades brighter. Her skirt consists of over 200 individual appliques, all designed in vector and cut out of varying colors of heat transfer vinyl and hand-pressed using a Cricut heat press. The back has a zippered opening and ties to help secure the waist. The bottom of the skirt has vintage embroidered eyelet lace running all the way around.
The headwrap is made from stretch knit, and gold soundwaves were designed and appliqued. Philip posted on his Instagram the process of making each piece of the cosplay, including the gold soundwave process.
Adassa will be touring and hosting appearances as Dolores at numerous conventions and events across the year. "The costume is absolutely a hit," says Adassa. " It looks beautiful, it fits amazingly and is exactly the right length."
Philip is also continuing his Encanto Cosplay Project with the video production of "Surface Pressure" featuring the cosplays of Luisa Madrigal and her four Donkeys, and an upcoming photo and video production of "What Else Can I Do?" featuring Isabela Madrigal and her dancing topiary Isabelas.
His Encanto Cosplay Project also features actor and Power Ranger Michael Copon cosplaying as Mariano Guzman. In April, his team will recreate the fan-favorite song "We Don't Talk About Bruno" featuring his entire cast of La Familia Madrigal and Encanto townspeople.
Encanto is now streaming on Disney Plus.