Jedimanda To Host Cosplay Master Class For Metaverse Anime Week
Want to learn how to sew for cosplay? Jedimanda has you covered.
This week ReedPop's Metaverse is hosting Anime Week with seven days filled with guests, tutorials, and everything relating to the hit series Naruto, Pokémon, and My Hero Academia. The event will be running from March 28th thru April 3rd and will also feature virtual cosplay meetups as well as a series of cosplay master classes with cosplay influencer Jedimanda.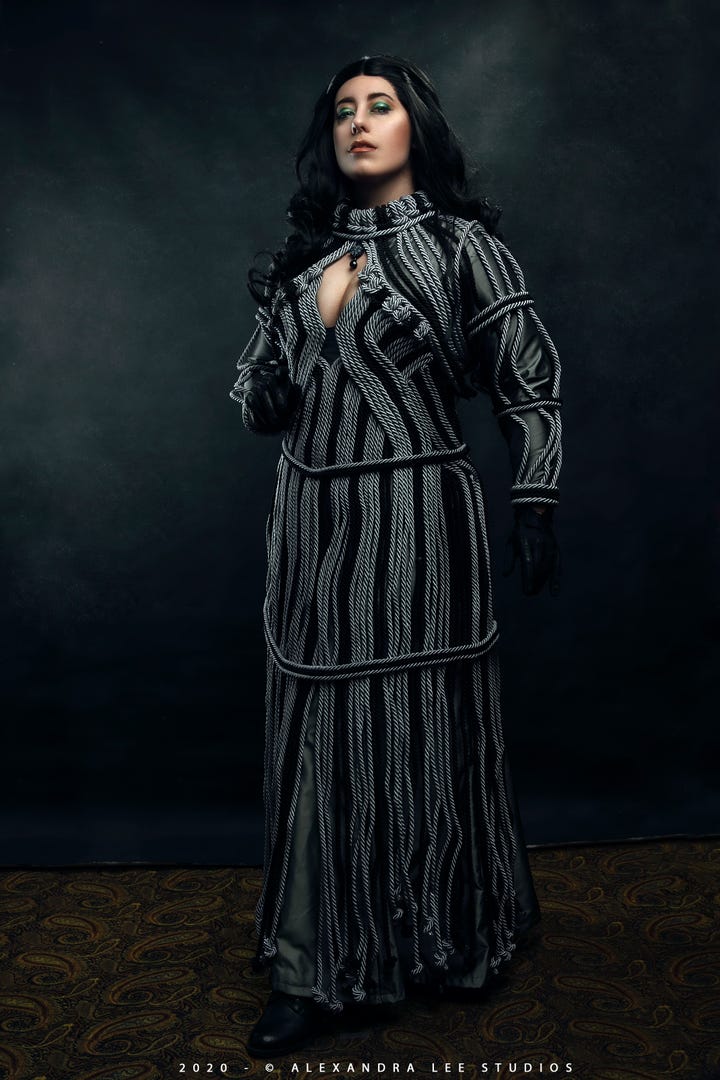 Jedimanda is an avid costume maker, seamstress, author, and unapologetic fangirl. With more than 8 years of cosplay experience under her belt, she divides her time between her love of costume making, oil painting, and building her SFX makeup portfolio, with time still to pet her black cat Salem. When she's not sewing her latest cosplay, she is a professional wig maker for Custom Wig Company.
In 2020 she published Creative Cosplay!, a brilliant guide book covering all about how to get into cosplay as well as understand sewing, fabric, and a peek into daily life as a cosplayer at a con. The book is available on Amazon.com.
Jedimanda will be teaching how to sew your own costumes, starting with an introduction to basic sewing techniques and how to modify existing garments. Each day will be a different tutorial, with an opportunity to ask advice in a live Q&A session at the end of the week. All tutorials will be presented on Metaverse's Anime Week page.
Check out below for a list of Jedimanda's tutorials:
Part 1: Basic sewing and machine skills (Tuesday March 30th)

In the first part of our Master class series we look at the basic sewing skills and equipment every cosplayer should have in their tool kit and how to get started with a sewing machine.

Part 2: How to use patterns (Wednesday March 31st)

Sewing patterns are an essential tool for any cosplay sewer! In part 2 Jedimanda will demystify how to make the most of commercial sewing patterns.

Part 3: How to choose fabrics/fabric types (Thursday April 1st)

Not sure which fabric would work best for your costume? In part 3 of our master class Jedimanda breaks down different fabric types and what to look for when choosing fabrics for a project.

Part 4: Modifying tips and tricks (Friday April 2nd)

Sometimes making a new garment from scratch doesn't fit your budget or just doesn't make sense for the character. In the final part of our beginner master class Jedimanda gives tips on how to modify existing garments to improve your cosplay.

Live Q&A with Jedimanda (Saturday April 3rd)

Metaverse is also hosting a cosplay showcase where cosplayers from Pokemon, My Hero Academia, and Naruto will be able to show off their cosplays through their Discord channel.
Each day will focus on a different anime. Check out below for the cosplay showcase schedule:
Pokemon (Wednesday March 31st)
My Hero Academia (Thursday April 1st)
Naruto (Saturday April 3rd)
To take part of the showcase, join the ReedPop Discord Server. Once you have accepted the rules, head to #cosplay-showcase any time on the themed day.Then, share your cosplay picture on #cosplay-showcase. Your cosplay submission might be featured on ReedPop's social media channels, website, or newsletter!
To see the full schedule for Anime Week, be sure to check out Find The Metaverse.