Microsoft Releases New Halo Cosplay Guide For The Mark VII Armor
Get out your foam and 3D printers because there's a new Halo armor cosplay guide.
Ever since Bungie released Halo: Combat Evolved back in 2001, Master Chief's power armor has inspired thousands of cosplayers to suit up as SPARTANS, and has remained a staple at conventions ever since.
In the 20 years since the game was first released, Bungie — and later 343 Industries — has released a slew of sequels and spinoff games that have continually updated and tweaked that iconic suit of armor, and back in 2018, 343 Industries announced a new installment of the franchise: Halo Infinite. The game promising a return to the franchise and to its titular namesake, and has since provided some occasional updates ahead of its original 2020 release date. However, the studio announced last year that it had delayed the game until 2021.
Since last week, the ESA has been holding its annual video game trade show, E3, and during its presentation on Sunday, Microsoft brought a new look at the upcoming game, showing off its multiplayer features and a look at the latest suit of armor that cosplayers can work to replicate.
Along with that multiplayer reveal, Microsoft has officially released a Cosplayer Guide for the Mark VII armor, which was heavily featured in the multiplayer teaser.
As cosplay has grown as a hobby in recent years, various gaming studios have not only taken fans into consideration while developing games, they've also been actively assisting them with features and tutorials that can provide cosplayers with the information they need to produce their costumes.
These tutorials come in the form of images of the characters from all angles, official paint schemes, checklists, and makeup tutorials that help take some of the guesswork out of the research process.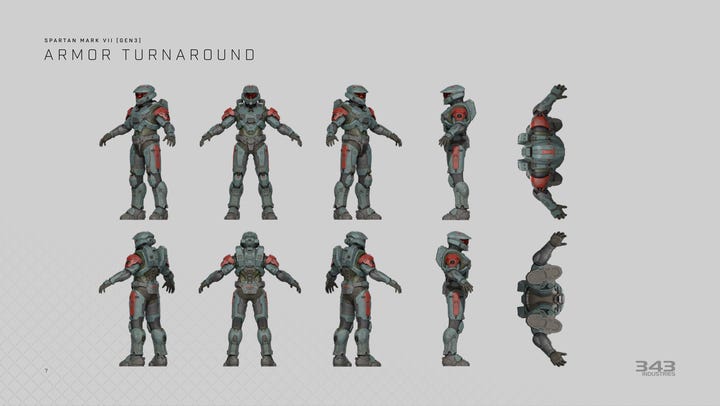 Microsoft's Cosplay Guide goes far beyond any that I've seen in recent years: it's a 106-page document that shows off the armor in exacting detail. "Halo has been incredibly blessed to have such a massive and engaged cosplay community," 343 Industries writes in the guide's introduction, "with dedicated members all over the world pouring their heart, soul, and skills into bringing the universe to life."
The Halo cosplay community is indeed a long and celebrated one. Over the years, cosplayers figured out that they could replicate the armor seen in the franchise by way of a technique known as pepakura, a program that allowed designers and makers to turn cardstock into three dimensional shapes. Reinforced with fiberglass and resin, makers were able to build their own suits of armor. A dedicated group known as the 405th Infantry Division sprang up to help makers, eventually becoming a major organization that allowed newcomers to make their own armor, but also meet fellow Halo enthusiasts.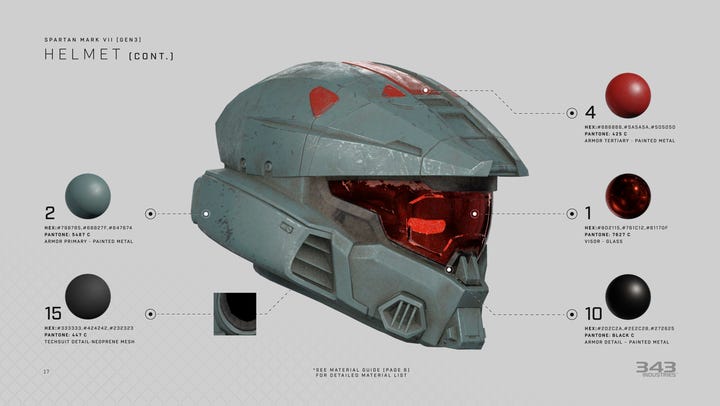 This guide, the studio writes, is designed as a way to give to that community, "compiled by dedicated 343 team members from across the studio eager to help provide some additional assistance to fans through official assets, reference shots, material guides, turnarounds, contextual information, stats, details, and more."
The guide takes prospective cosplayers through each piece of armor, starting with the materials that make up the armor (in-universe, it seems — it calls for metal, rubber, and neoprene), and providing the exact paint colors used in this particular model. From there, it provides makers with an armor turnaround view, showing off each component of the armor from every angle, providing some in-universe details about how they were used in the game's world.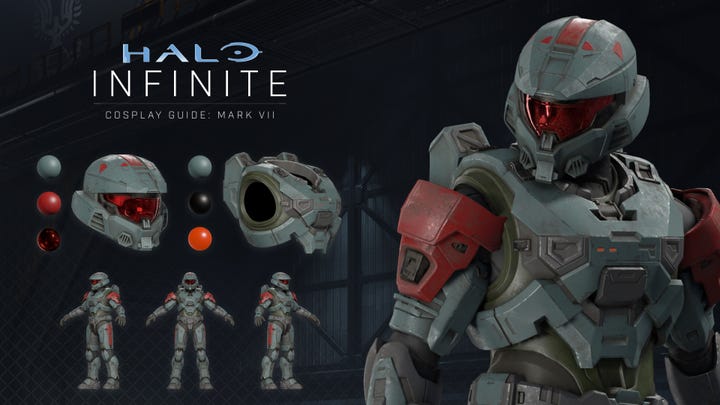 Unlike most cosplay guides, this one also provides some tips for makers: everything from how to add weathering and distress to the armor's finish, to notes about keeping your own body shape in mind while making the armor to ensure that one can move whilst suited up, to hints about how to attach each piece of the armor together. This is a guide that's clearly been put together by someone who has worn the armor and can speak to that experience.
That isn't the only guide that 343 Industries has produced: last year, Halo Waypoint published an official guide for the Orbital Drop Shock Trooper armor that's frequently seen in the games (And featured exclusively in Halo 3: ODST). Like this latest Mark VII armor guide, the ODST guide provides a wealth of images, color schemes, and tips for aspiring cosplayers to begin tackling their own projects.
343 Industry's guides are significant to the cosplay community at large. They not only provide official resources and images of the costumes in question, it's an official recognition of the fan community that's dedicated so much time to the underlying story and world. Hopefully, other studios and developers of other franchises will take notes and provide guides of their own.