Moon Knight Cosplayer Surprises Oscar Issac At Marvel Premiere
This cosplayer got a special moment with Oscar Isaac at the Moon Knight premiere!
Lights, camera, cosplays! On Wednesday, celebrities and cosplayers walked the red carpet for the Moon Knight premiere in Los Angeles. Stars Oscar Issac, Ethan Hawke, and May Calamawy from the series met many adoring fans. But nothing beats the experience of Oscar Issac making a beeline to logandominiccosplay, who was wearing the Moon Knight costume. It was too darn cute.
Logandominiccosplay immediately caught the eye of Oscar Issac, who ultimately set aside all other red carpet duties to say hello to the cosplayer. A high five between the two was exchanged, and Issac proceeded to show Logan how to pose with the crescent dart in his hand. Issac also called the costume and Logan's demeanor "so tough" when they posed for a picture together. As a cosplayer, gaining recognition for the many hours of work on cosplay is an absolute honor from the character who plays it.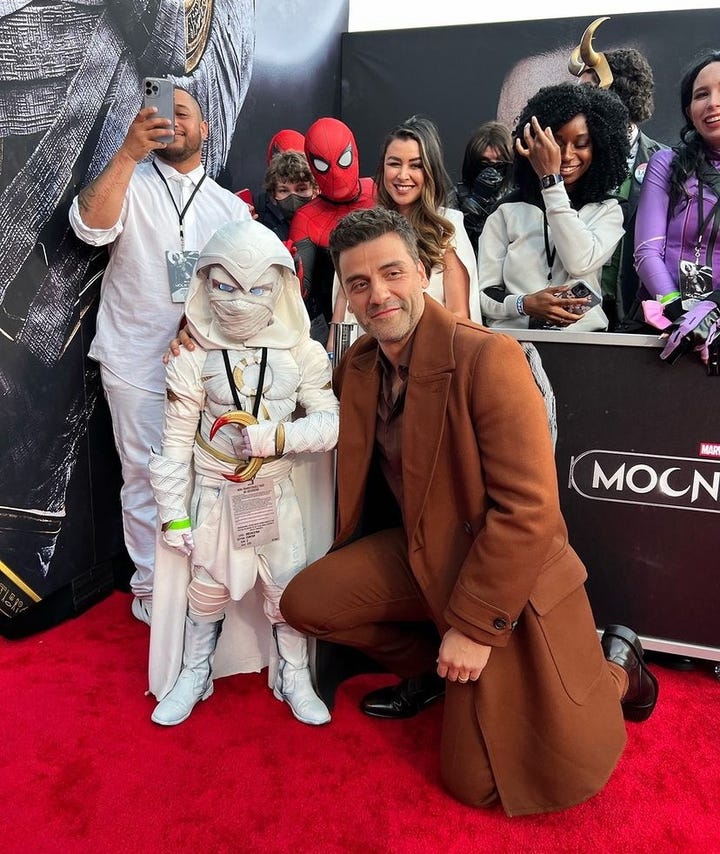 Before Logan met Issac, he posed with Marvel producer Kevin Feige who asked, "Can you see in there?" regarding Logan's cosplay. Ethan Hawke did not take as many photos with fans when he arrived but also walked straight to the cosplayer and extended his hand to say, "you look really good," and did a little finger gun as he walked away.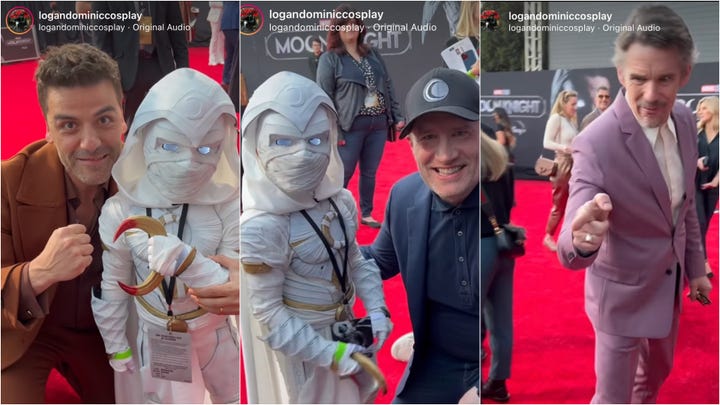 Moon Knight is Logan's first premiere, as his dad stated in a video posted on Instagram. In that same video, Logan finds out he is going to the red carpet event, and his face immediately lights up. We also learned from this video that his dad makes his costumes. Incredible craftsmanship if we do say so ourselves. Logan was also featured in a viral Green Goblin segment late last year.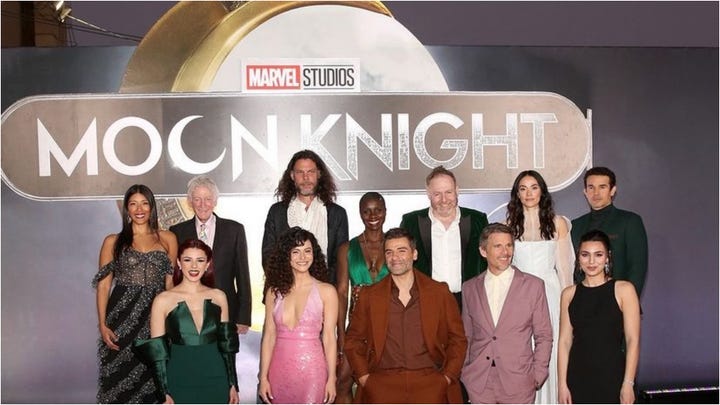 Moon Knight is Marvel's newest hero or, better yet, latest vigilante. After a former U.S. Marine gains incredible powers from an Egyptian moon god, he must deal with the realities of his dissociative identity disorder while balancing the life of a superhero. There will be a total of six episodes starring the character for this limited series.
Continue reading to check out more of the cosplayers and creators who attended this marvelous event.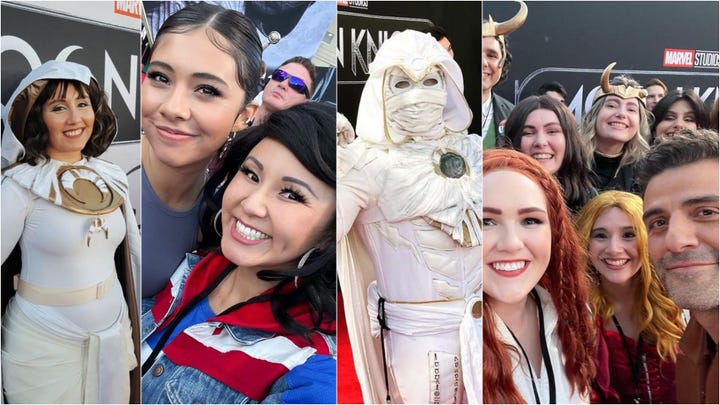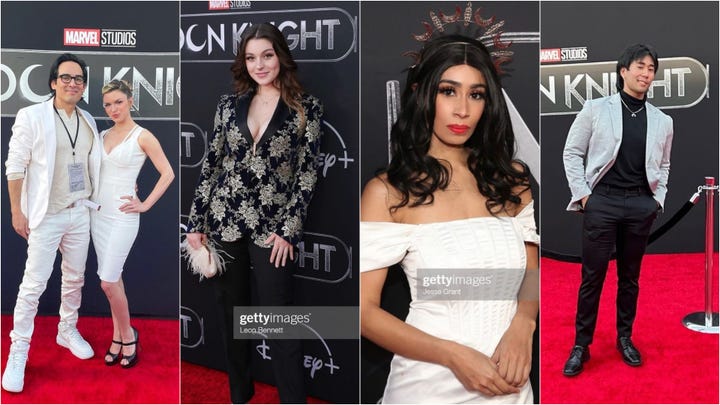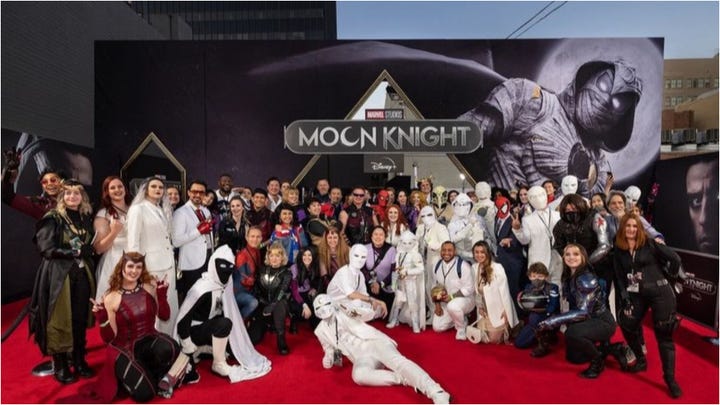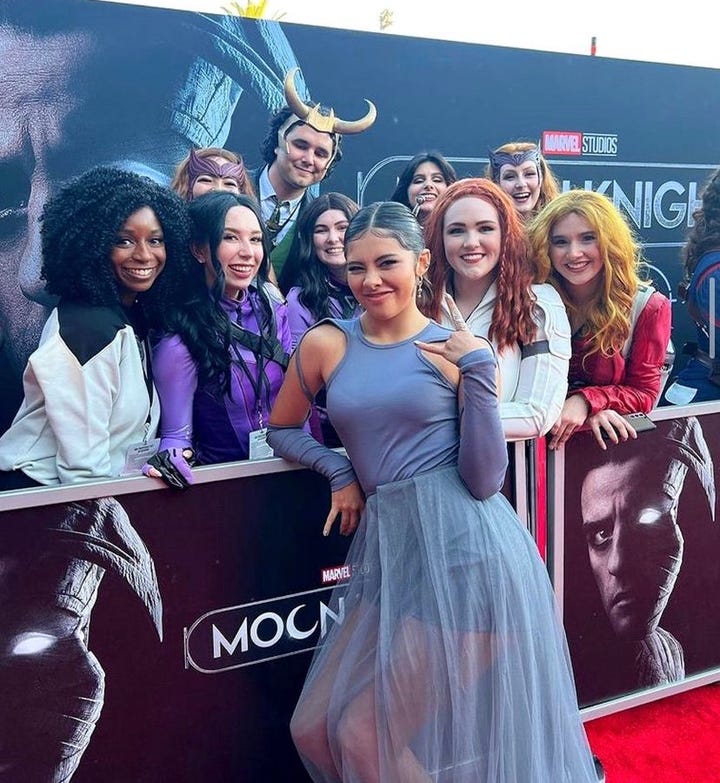 Moon Knight streams exclusively on Disney+ on March 30th.