New Humble Bundle Is Filled With Every Cosplay Book You Need
The collection contains patterns, tutorials, cosplay ideas, and more!
If you've been looking for a complete bundle of cosplay books to level up your cosplays, then look no further. The bundle website Humble Bundle has brought back one of their favorite cosplay book collections with dozens of cosplay books on 3D printing, foamwork, sewing, patterns, and even "badass braids".
Humble Bundle is a company that started bundling video games together for low prices while also helping donate to charity. This particular bundle is normally worth over $461, but you can get the entire 29 item set for $18.
The bundle also gives you options to pay more if you want to help raise more for charity as well as Humble and the publishers of the books. This is also a great way you can support fellow cosplayers, as all of the books are created by well-known names in the community.
The bundle supports the charity It Gets Better Project, which was created to "show young LGBTQ+ people the levels of happiness, potential, and positivity their lives will reach. The It Gets Better Project wants to remind youth in the LGBTQ+ community that they are not alone — and it will get better." The project's mission is to communicate to the LGBTQ+ youth around the world "that it gets better, and to create and inspire the changes needed to make it better for them."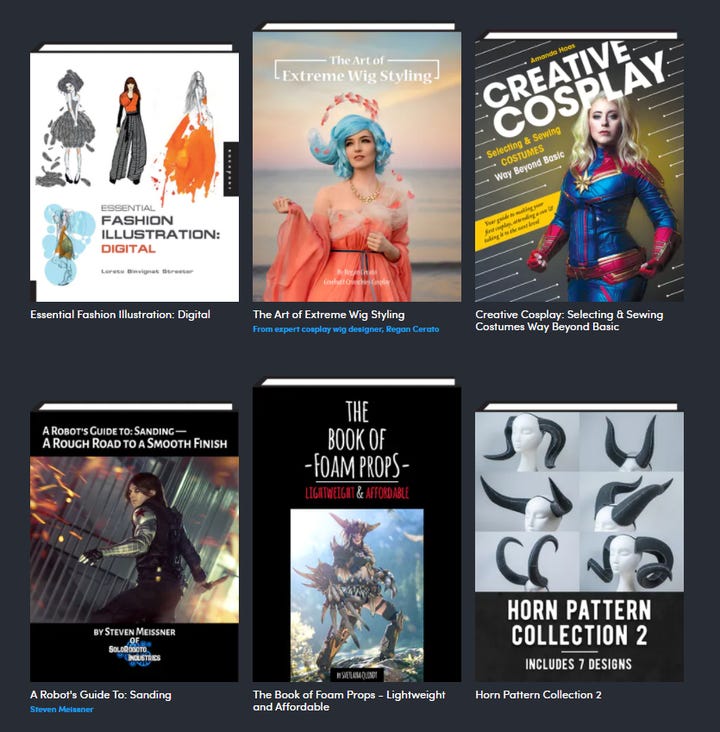 Cosplayer Kamui Cosplay has several books and patterns in the bundle including the female breastplate pattern, Book of 3D Printing, arm and leg armor patterns, and even her book on foam props.
Cosplayer Jedimanda is also included in this bundle with her new Creative Cosplay book that gives a lot of information on how to select and sew costumes, creating your first cosplay, and more. Another cosplayer named Cowbutt Crunchies has her book on Extreme Wig Styling included, which goes into some incredible techniques on how to create out-of-this-world wigs.
Punished Props has quite a few of their books included such as the Foamsmith 3 book on making headgear and creating foam weapons that is featured in Foamsmith 2. If you're looking to really upgrade your foam armor, then having both Punished Props and Kamui Cosplay's books could be super beneficial to creating your next cosplay.
The sale for this bundle ends on July 8th, so now is the time to get this bundle if you want a plethora of new cosplay e-books for your next build project!