Propmaker Makes Guide To Create Sylvie's Headpiece From Loki
SKS Props is at it again with a new video on how to make Sylvie's headpiece!
Warning: This article contained spoilers for Loki episodes 2-4.
Since Marvel's new Loki show premiered on Disney Plus, many fans have been admiring major characters such as Mobius M. Mobius (played by Owen Wilson) or even Loki himself (played by Tom Hiddleston). In episode 2, however, we were introduced to the Loki variant known as Sylvie (played by Sophia Di Martino). Now the character has become an interesting character in the show as her mission is to destroy the TVA after pruning her timeline and forcing her to be on the run for most of her life.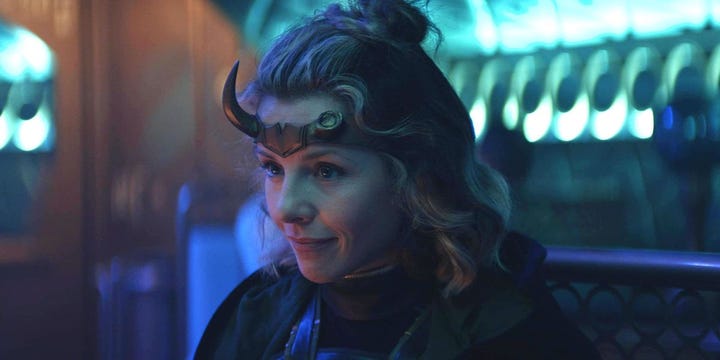 Many cosplayers have been actively working towards cosplaying as Sylvie, with many cosplayers on Instagram who have already completed her costume from the show. Sophia Di Martino even showed how her costume was made to help her breastfeed in between takes for her newborn.
Now propmakers are looking to create pieces of Sylvie's costume to help those cosplayers wanting to recreate her look. Propmaster SKS Props uploaded a YouTube video on his channel showing exactly how he created Sylvie's headpiece. Check out the full video below!
The horns, which were made out of 6mm EVA foam, were designed slightly different from the show to include cheek guards. While Sylvie doesn't have the cheek guards on her headpiece, it would be easy to alter a pattern to either include or leave them out.
Luckily for those of you who are looking for a pattern, SKS props posted Sylvie's headpiece template on his website for you to use. The best part is that it is also free to download! Just make sure that you tag him in your photos if you do choose to use his tutorial and the template.
Loki is now streaming all six episodes on Disney Plus.