Red Dead Redemption Actors Amazed By Cosplayers At MCM Birmingham
The voice actors for Micah Bell, John Marston, and Arthur Morgan were blown away by these Red Dead Redemption cosplayers!
This weekend at MCM Birmingham, cosplayers who were dressed from the hit video game Red Dead Redemption were given an opportunity to pose with the cast. Actors Roger Clark (Arthur Morgan), Robb Wiethoff (John Marston), and Peter Blomquist (Micah Bell) were guests at MCM Birmingham and shared many of their favorite moments of the game during a panel on Saturday of the show.
At the end of the panel, some lucky cosplayers were taken to the front of the stage to pose with the actors. Many of the cosplayers were dressed as characters from Red Dead Redemption 2 such as Sadie Adler, Arthur Morgan, John Marston, and Abigail Roberts.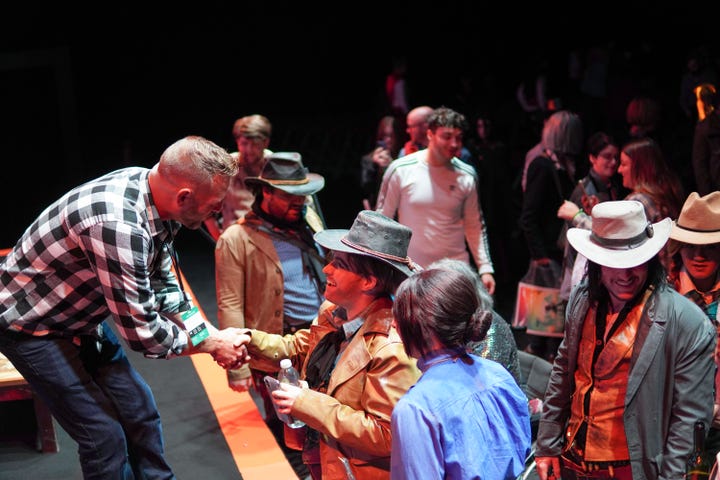 After the panel, some of the cosplayers were even able to speak with the cast and thank them for their portrayals in the game. The actors shook hands with the cosplayers and complimented them on their cosplays that made them look as if they were straight from the game.
Actor Rob Wiethoff (John Marston) even went to Instagram to thank all the cosplayers and fans he saw at the show. On his Instagram post he wrote, "THANK YOU so much to all those of you who came out to meet Roger Clark, Peter Blomquist, and me in Birmingham! It was so much fun!"
Thanks again to the Red Dead Redemption cosplayers who came out to take a photo with the cast. If you recognize any of these cosplayers (or you are in the photo), please let us know and we will update and tag them in the article.