Samsung Sam Girl Inspires A Wave Of Cosplays On Social Media
The rumored virtual assistant for Samsung has quickly gone viral with many racing to cosplay her.
Step aside Lady Dimitrescu, Samsung Sam is now taking over the internet. In the last couple weeks, a batch of 3D rendered images of a a virtual woman named "Samsung Sam" went viral and millions have been talking about her all across social media.
The original images weren't even released by Samsung. In fact, the collection of images and sketches were made by a Brazillian design studio named Lightfarm. The studio worked on a draft of the assistant in collaboration with a marketing agency owned by Samsung named Cheil. While the images had been sitting on Lightfarm's webpage for a while, somebody found the images and posted them on Twitter.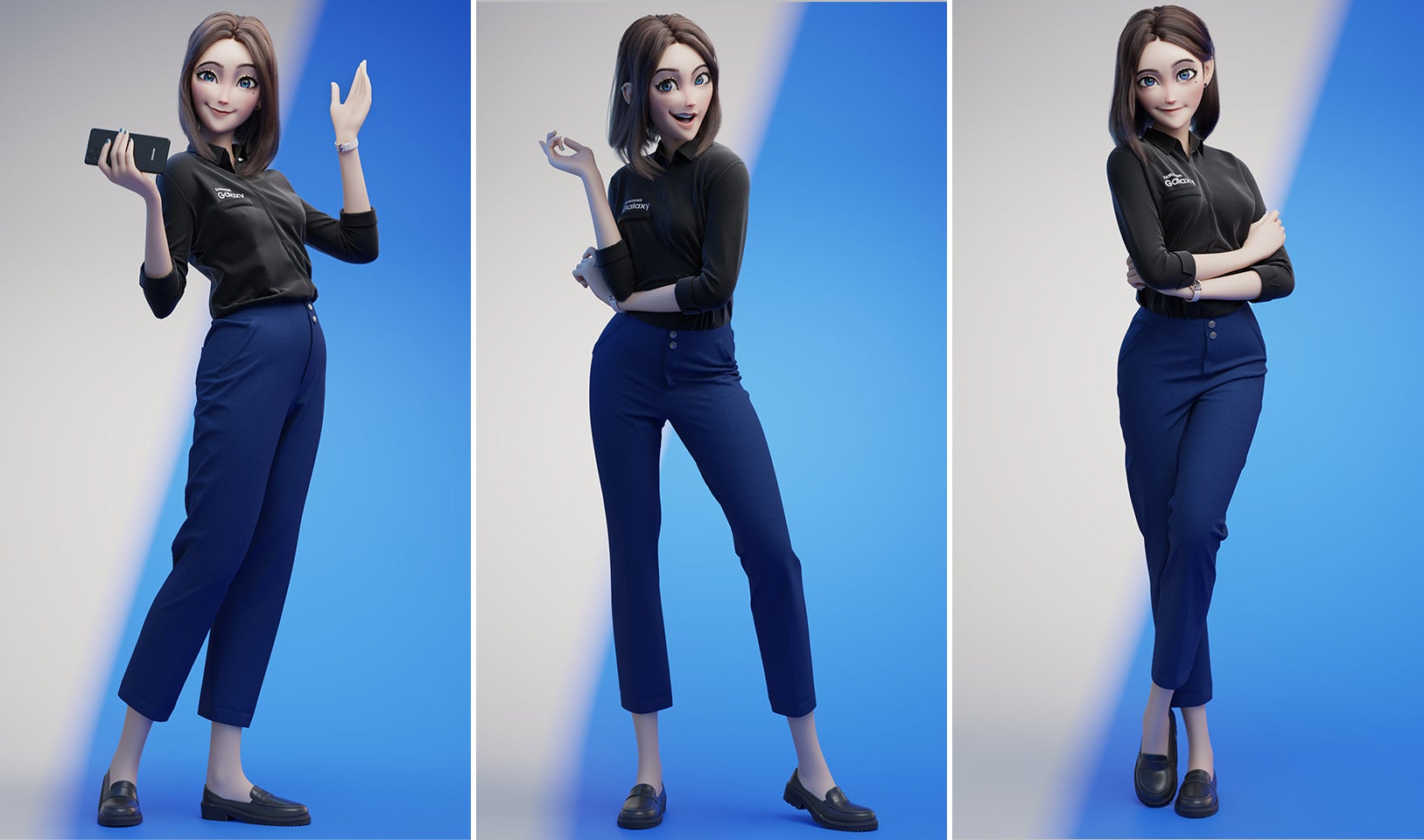 The images immediately went viral, with many commenting on her appearance being like a Pixar version of Flo from Progressive. While the images are no longer on Lightfarm's website, the original images have been compiled on a separate site.
It's no surprise that with all the fame Samsung Sam has been getting online, cosplayers have been scouring their closets to find the perfect cosplay for her. The cosplay is luckily not hard to make either. If you have blue slacks, a black button up shirt, blue nail polish, a light pink watch, and a brown bob-styled wig, you're good to go. Some cosplayers have also gotten blue contacts for her, which could easily be acquired through several cosplay contact sites.
Getting a Samsung Galaxy would be a little more difficult to acquire, unless you already have a Galaxy. Cosplayers like lilya0o actually already had one, and she was able to perfectly recreate one of the images.
Other cosplayers such as Strawberry Chocola and Mr. Yosuke already had button up shirts so they took photos of the character and put on the "Samsung Galaxy" logo in while editing the photos (which is a great way to save money instead of trying to embroider the logo on!).
Another way to add the logo would be to get an iron-on transfer paper and print out the logo. That way you don't even have to worry about embroidering and it's an easy addition to the cosplay. Cosplayers Candylion.cos and Onisuna appear to have used iron-on printing materials to add the logo to their shirts and it's perfect!
While nobody knows if Samsung is actually going to be implementing Samsung Sam (they still haven't fully acknowledged the virtual assistant on any social media accounts), we're sure that many cosplayers will still continue to dress up as the character for the foreseeable future.