Abby Roberts: Taking Cosplay Makeup To The Next Level
The 18-year-old TikTok star discusses makeup looks, fame, and social media.
Make up can be a hugely important piece of the cosplay puzzle. It can make or break some looks, elevate others and, with a little bit of skill and persistence, it can completely transform you. Eighteen year old TikTok sensation Abby Roberts knows that more than most. With 9.7 million followers on the platform - plus a further 1.9 million on Instagram - she's one of the biggest stars in the make up game. While a lot of the most popular online make up artists stick to beauty or fashion looks, Roberts has a much greater range, transforming herself into Ariana Grande, Billie Eilish, Walter White, the Corpse Bride, Barbie and even the Burn Book from Mean Girls, as well as a litany of beauty looks and high concept designs.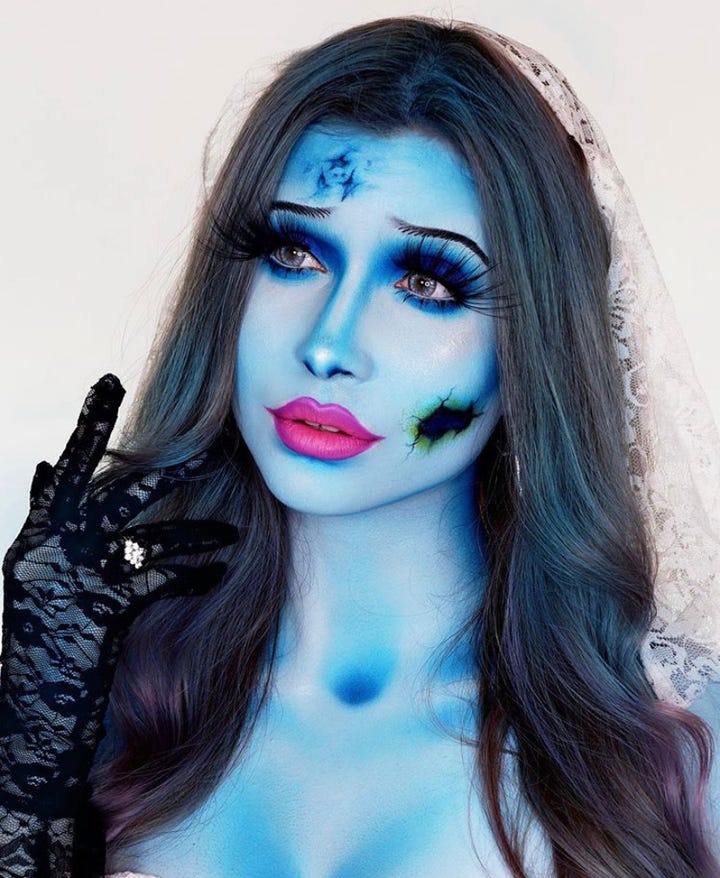 "Beauty looks generally are super easy to come up with, you can create them usually from just using what you have at home and there's not as much thought that needs to go into the design of the look," Roberts told us, and suggested they would be a good place to start for anyone looking to get into make up. "I found youtube tutorials super helpful when I was learning to do these types of makeup looks - Madeyewlook is amazing for body painting tutorials, and Glam and Gore is great for special FX as well as other more edgy looks!"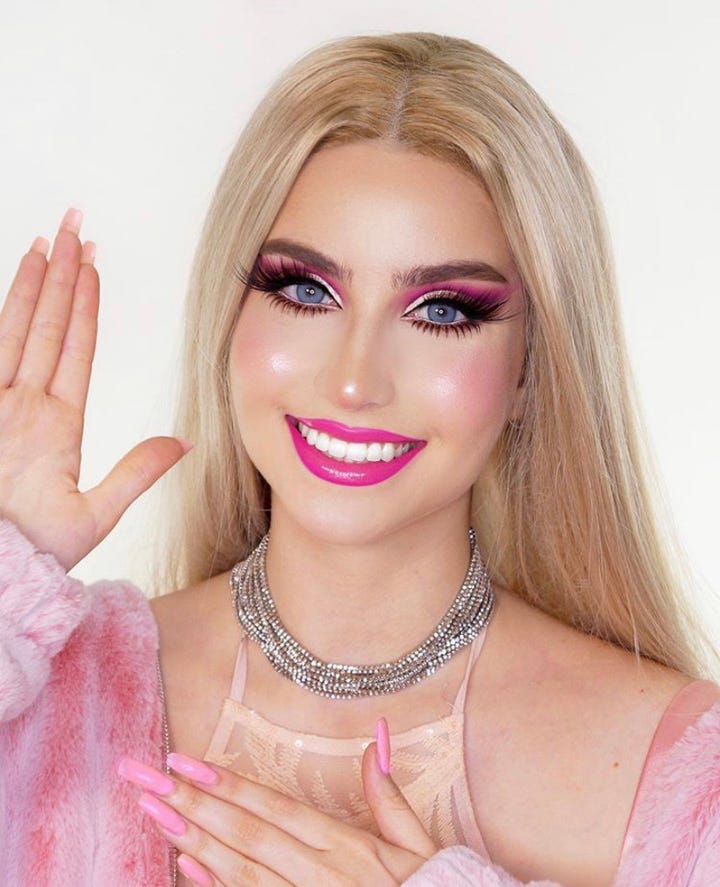 Make up looks are about far more than just looking pretty though, with Roberts admitting her Barbie look was one of her least favourite ever. "I hated this look!" Roberts laughed, "Being pink and girly is really not my thing so it was kind of a painful process to do. I saw a Barbie audio on TikTok that was trending though, and that's what made me think that my followers would like to see me do something related to that!"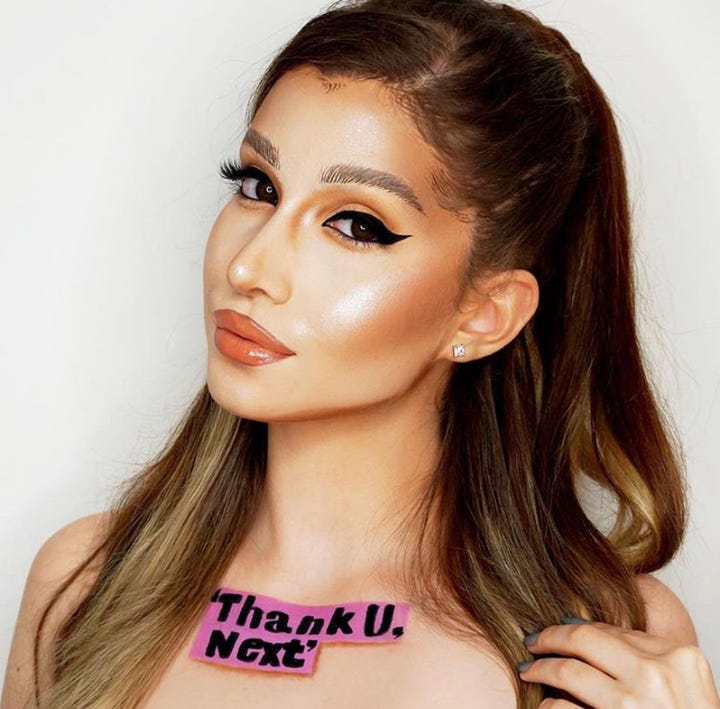 Once you've mastered the beauty looks, you might want to branch out into the more elaborate, character driven make up like Roberts' Foxy from Five Nights At Freddy's, or her Venetian masquerade look, one which Roberts says "holds a special place in my heart... it was one of my first tutorials that really blew up online."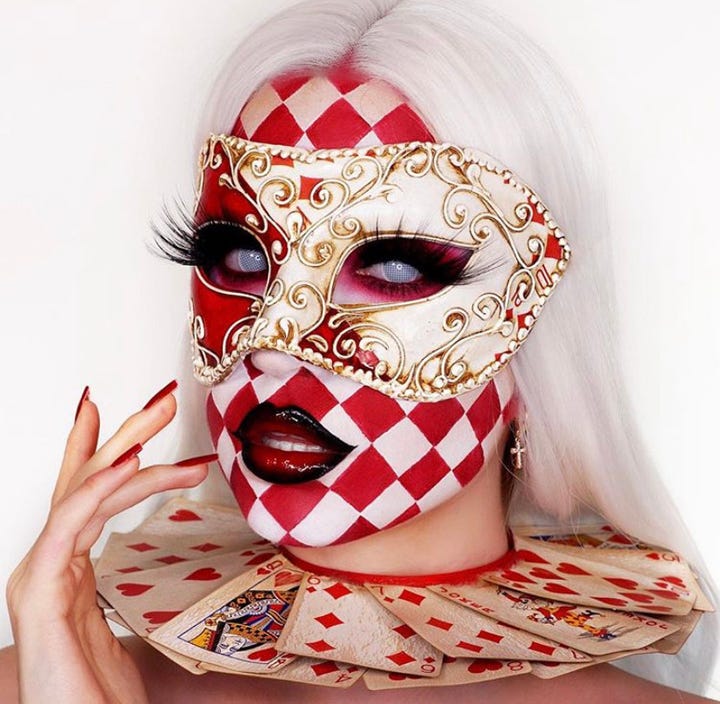 If you are interested in going deeper than just a beauty look, Roberts has you covered there too. As well as posting tutorials and walkthroughs of her looks on TikTok and Instagram, Roberts told Cosplay Central, "Cosplay/character looks can be a little more tricky. In terms of designing the makeup if its something I can't instantly visualise in my head I will occasionally sketch these out beforehand using procreate on my iPad, I sketch the design onto an image of my face so I can get an idea of how I want the layout to be. From then on it's a pretty straightforward (but long) process of doing the makeup look, putting on my outfit, and styling myself ready for the image."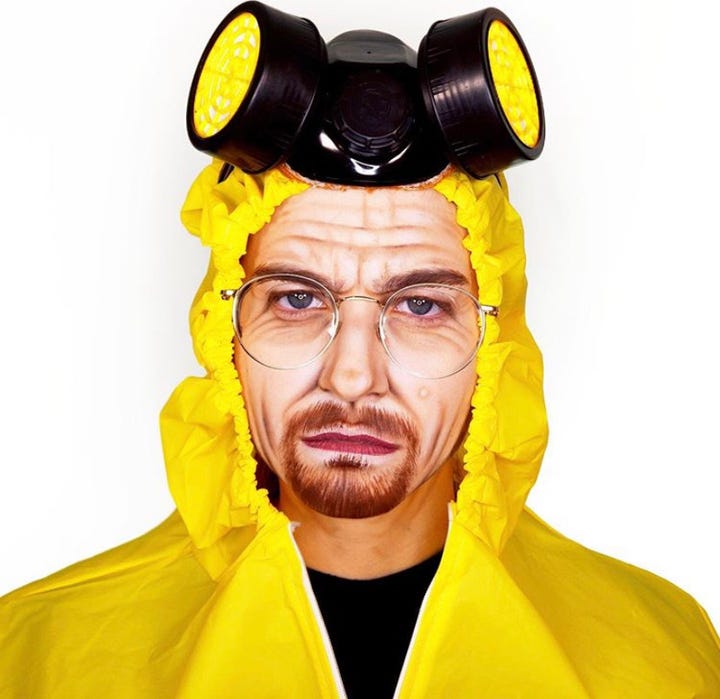 As for props, trying to make do with what you've got and using a simple backdrop is the way forward, "If props are needed, I either buy these online or make them myself from scratch depending on what I have already laying around the house. For the photoshoot I always just shoot in front of a white wall so I don't really change much of this every time!"
For anyone wondering what Roberts' secret to her success is, there's no quick fix, unfortunately, though she did offer some solid advice. "It takes hard work and dedication. I've been doing make up consistently and trying to post almost every day for the past two years. There's no shortcut to becoming successful, it's just if you have the motivation to get there and the willingness to put in the work."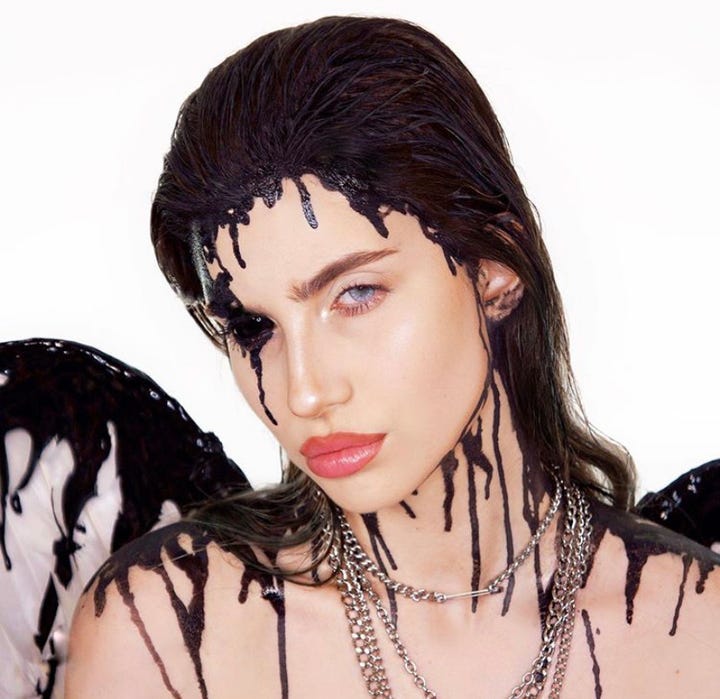 While there's no doubting Abby has indeed worked hard to build up a prolific portfolio, there might be something in the water at the Roberts house too. Her younger sister Charlotte is also a make up sensation, but as Abby explained, they try to keep their ideas to themselves. "Me and Charlotte have a great relationship and are not really competitive with each other, but for the most part we are quite separate with our ideas - we both have our own styles and original ideas and tend to go with these rather than sharing every idea we come up with," Roberts said, "I think if you share too much its hard to be original, but this doesn't take away from the fact that we do still inspire each other and help each other out with the creative direction of our looks. Of course collaborating together is always fun too."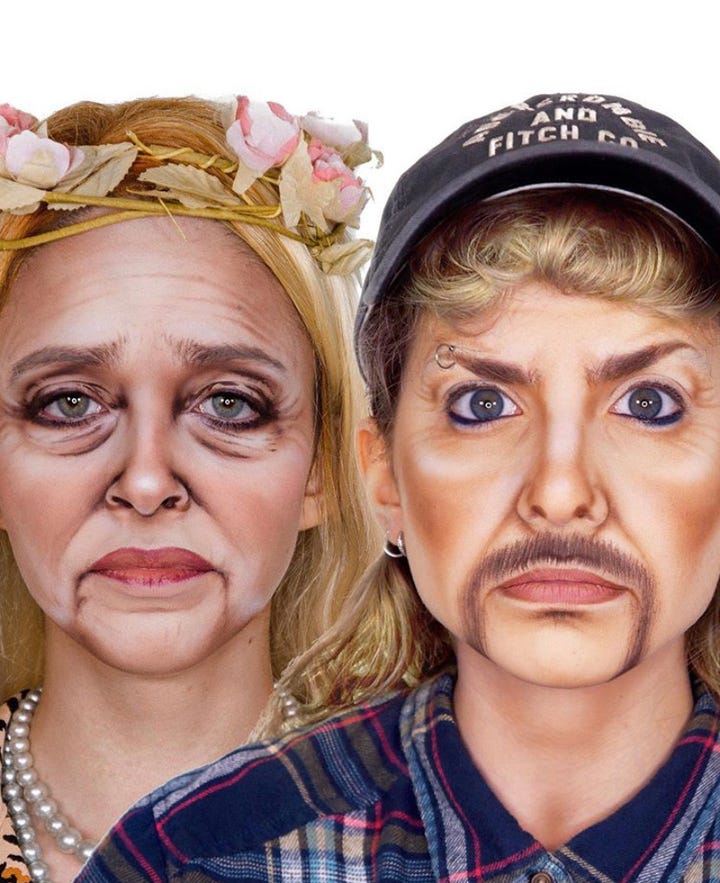 The pair recently collaborated on a Tiger King look, with Abby as Joe Exotic and Charlotte as Carole Baskin, as well as combining previously on Walter White & Jesse Pinkman from Breaking Bad.
As Roberts pointed out however, getting fresh ideas can be the hardest part of the job. "I think being inspired is by far the most difficult part, it's so hard to constantly be motivated and coming up with new and original ideas in a world where it feels like everything has already been done," Roberts said, "I think people also don't realise just how long it takes to produce my big looks, they average on 5 hours per look but can take anywhere up to 12 hours and it can be super exhausting."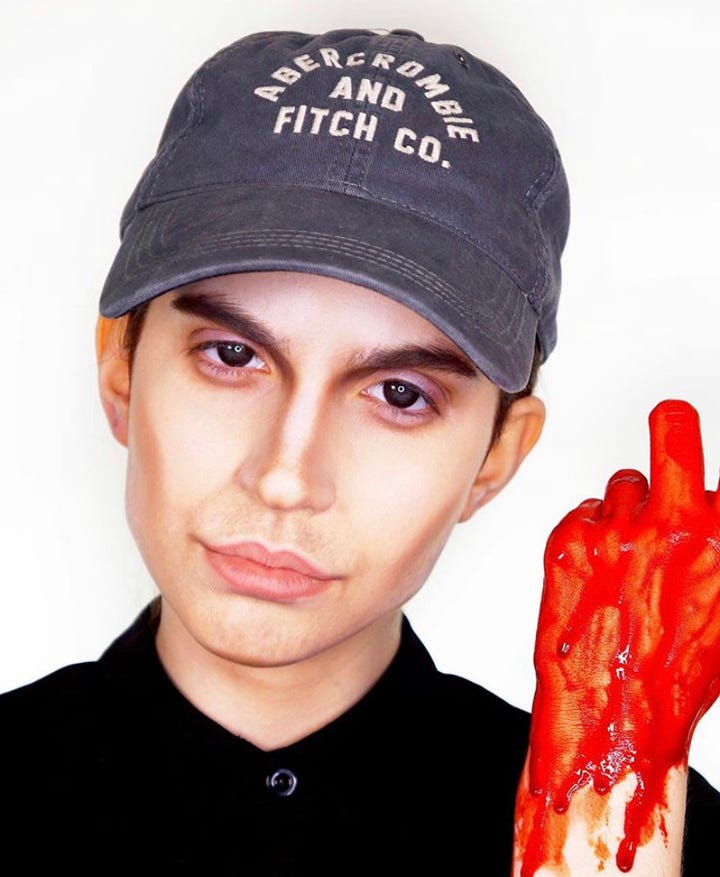 While inspiration can be difficult to find, Roberts' advice for anyone wanting to get started was to look everywhere. "I find inspiration everywhere from daily life but also I tend to look to pop culture a lot; new movies, TV shows, online trends, music, etc. I think using these trending topics is what keeps my looks fresh and relevant."
While a lot of cosplayers use make up to complete their looks rather than constructing them entirely out of make up like Roberts does, her advice should be helpful no matter where you are in your cosplay career.