CDawgVA: YouTube's Best Worst Cosplayer
An interview about his budget cosplay YouTube series.
If you're a fan of the anime side of YouTube there's a good chance you're familiar with CDawgVA, the channel created by voice actor Connor Colquhoun, who has amassed over 1 million subscribers sharing his unique brand of humor and exploring Japanese culture. In one of Connor's latest series, he steps into the world of cheap cosplays from famously questionable online shops putting himself out there as he shares the full experience from the unboxing to getting dressed all while on camera. It's the YouTube haul you didn't know you needed, watching Connor awkwardly fumble in to costumes modeled after iconic characters while looks jump between surprisingly impressive to crumbling apart before he even gets to strike his first pose. His notable comedic charm turns every undeniably awkward moment into YouTube gold that hooks you in for hours and we got to talk to Connor about the creation of this series along with the possibility of future collaborations with his favorite cosplayers.
Your channel has a lot of series focusing on topics such as voice acting and anime, but your cosplay series is still fairly new. What made you want to dive in to adding cosplay to your channel's lineup?
I always loved cosplay and I just felt that a lot of people were always trying to be the best at it, but no one was really trying to be the worst. There's a kind of humor you get when you're trying to be terrible at something but also half expecting it to have decent results. I feel like there's something humorous in watching everything just go horribly wrong. I love embarrassing myself and I love being an idiot for the camera and I feel like that series in particular is great because everyone stresses over making amazing cosplays and it's always funny to just watch someone be an idiot with it. I always had this brand where I could say "I'm not good at things, let's do them anyway". With voice acting I can bring a lot of insight and experience, but this is one way I can tie in other things I enjoy doing that I'm just not very good at and we can all laugh at it.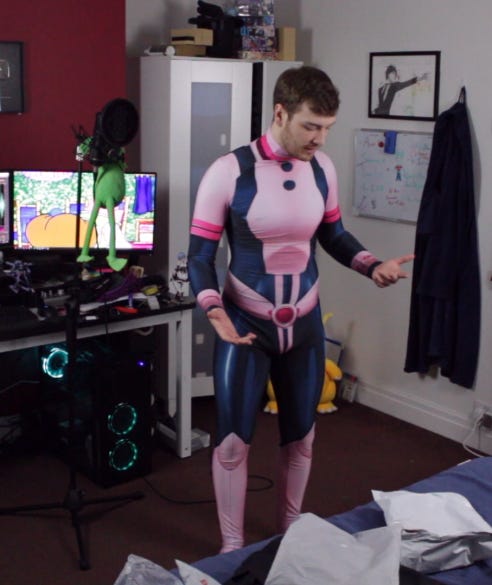 So, you're in on the joke here- it's really all about laughing at yourself.
I'm definitely aware that it's all a joke. There are definitely some people watching it who think I'm being serious about it all, and expect these amazing results but no, I know it's terrible and I kind of love that. When a costume arrives and it's even worse than what was advertised, I get happier than if it arrived and was good. Because then I think "I can work with this, this is material. I can make jokes about this." but there are also times it arrives and it's actually better than expected and I really like the look which is just as much of a surprise. I've had one or two that I genuinely liked it, but most I just leave in their bags after and just don't talk about them again.
I know you've had a few mishaps on camera, for example your 2B costume as you were trying it on completely tore apart in the back, and you just continued to roll with it. Is that something you ever considered taking out of the footage if the look seems unwearable?
Yea there's a lot where my main worry in a video is that ALL of the costumes I got fell apart like that. Like if all of them break and none of them fit, I feel like it wouldn't be that fun. But as long as its just a couple that rip, I can keep going. I always hope they don't all just break on me. I do feel like if I catch the moment it rips on camera, which I should because I'm filming the try on process nonstop, it's pretty funny for the video. The 2B one I was so sad because I honestly wanted that one to be good! I definitely wanted to wear that one to a convention if it was good, know what I mean? I was so heartbroken inside but the show must go on.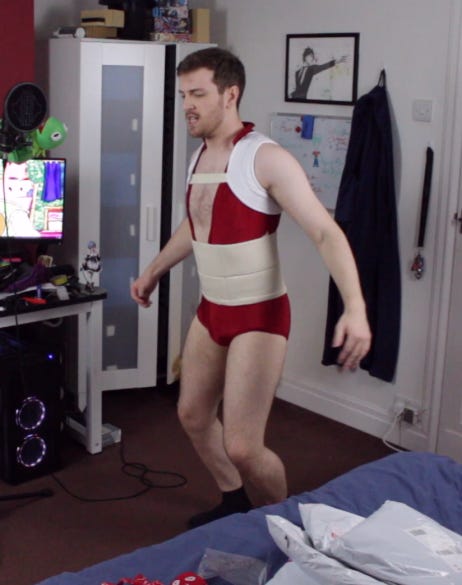 I wish we could've seen that happen- It would've been such a great con look! With all the looks you receive for these hauls, was there ever one you absolutely drew a line at and said no to?
I wish I could say yes to this but I've gotten to this point where I just accept that everything is going to make me look dumb. I feel like there's no point in me drawing a line by now, I've put myself out there and it's all in good fun. Unless there was something that would basically make me look full on naked- I mean I'm always half naked but I feel like that's okay.
In the series you have your friend and fellow youtuber Akidearest act as your judge, giving honest reactions to each of your modeled looks. Does she ever help you pick out what you are trying on or give advice?
I pick the looks myself, sometimes I've asked my followers on twitter for help but usually I have a good idea of what I want. Aki just gets to give me disappointed looks at the end result. I feel like she's getting sick of me but in that friendly way where it's like, "God dammit Connor please". She's had this idea where she would buy the cosplay looks and I wouldn't know what they were until they arrived and I think maybe we could do that some time. I feel like she's as invested in the series as me at this point, she always has ideas on how to improve it.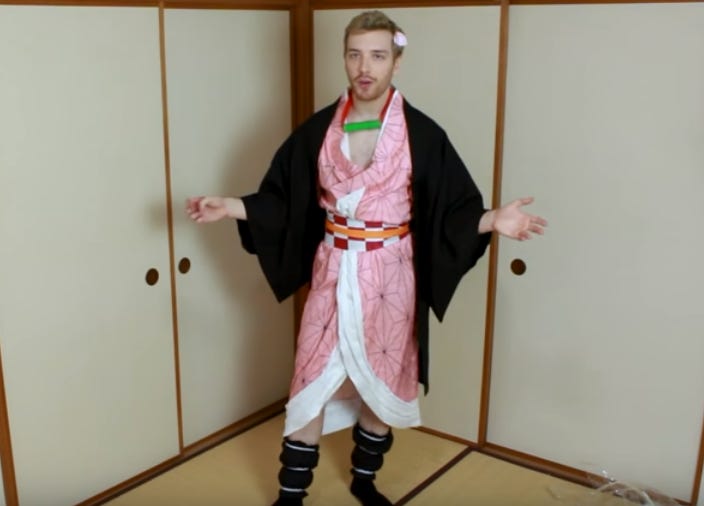 Do you have any favorite or least favorite looks you've tried on so far in the series?
My favorite is probably the Krul Tepes one from Owari no Seraph, it was this dress and I don't know why but I LOVE the dresses. They're just so fun to put on. I think because I never get to wear them and having the freedom is just so nice. Jeans are too restrictive you know, can't move around much. When you put a dress on it feels like you could do anything. The least favorite is kind of hard, I think it would be when I bought this No Game, No Life one and it was just meh. It was Shiro and it wasn't really bad but it wasn't even amazing. It was in that annoying spot of, "I guess" and just didn't impress me like I wanted it to. I ended up giving it to my friend who actually used it for her own cosplay photos and that was funny to think it started out as my costume.
Recently you did a new makeup cosplay video which was a new take on your cosplay videos. There was A LOT of eyeliner involved and I have to ask, were you really trying in these?
Absolutely not- not at all. I was really thinking there's no way I would be able to do this right so I'll just do it. Didn't want to plan or think it through, I just wanted to go for it and copy things how I see it. Because let's say I really tried my hardest and followed along, I feel like the results still would've been cringeworthy to anyone who wears makeup so I decided I just wouldn't do it right at all and just let get people annoyed in the comments.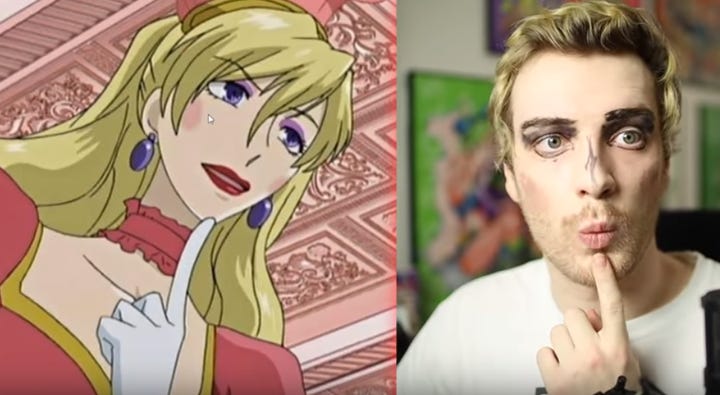 Would you ever try that kind of video again with someone who actually does body paint cosplay?
I would totally do that. I don't know how I would do it on my channel but if someone asked me to do it on theirs, I would be down for it. I did a video on Akidearest's channel recently where we had a cosplay artist transform us in to pretty anime boys and it's so creepy I can't look at it. They contoured my face or something and I got so many comments from people who didn't recognize me.
Are there any cosplayers out there you really want to collaborate with in the future?
I'd really love to do something with Jessica Nigri in the cosplay series, I just feel like her roasting me would be very fitting. She's so funny, and one time she messaged me that she loved my host club video and I was just like what the f***?! "Wow, thank you. That's crazy!" It was great so I don't know, maybe it's possible someday.
For more content from Connor on cosplay, voice acting, anime and Japanese culture be sure to check out CDawgVA on YouTube.