Promising Young Woman Costume Designer Talks Costumes From The Film
Costume designer Nancy Steiner explains how costumes can be both sourced from stores and made.
In Promising Young Woman, Cassie, the protagonist, dresses for revenge. During the day, she wears cliché-feminine clothes in bubblegum pinks, baby blues, and soft greens. But at night, she hits the clubs – sometimes in buttoned-up business attire, but sometimes showing skin. To draw men's attention, she pretends to be drunk – but it's a trap. Cassie becomes her own costume designer, creating disguises that allow her to mislead, to camouflage, to hide in plain sight.
Designer Nancy Steiner considered that Cassie didn't have a big budget for her wardrobe, so she sourced the outfits from vintage shops and retailers such as Urban Outfitters, Uniqlo, and ASOS. (A rainbow-colored wig for the final look was actually two wigs sewn together.) Steiner won the Costume Designer's Guild Award for Excellence in Contemporary Film, and Promising Young Woman itself has drawn several Oscar nods. Steiner shared with Cosplay Central her journey to becoming a costume designer, her work in the film, and what movie fans can do to help costume design get the love it deserves.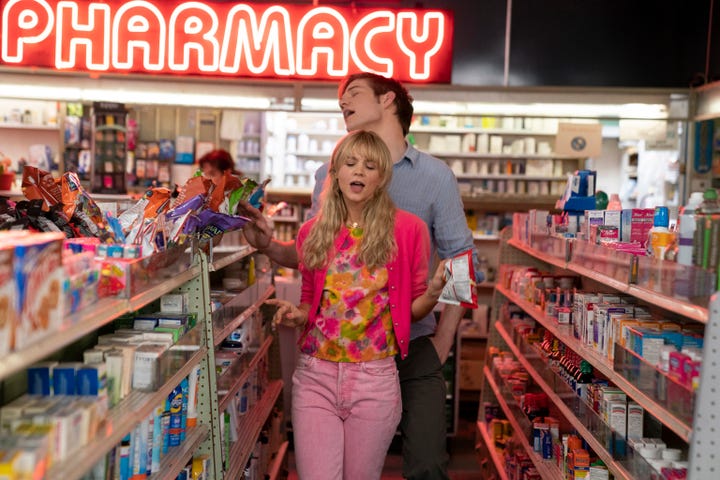 Cosplay Central: I used to make pilgrimages to NaNa, my punk rock mecca. You were the original manager. How did that position you towards the career you have now?
Nancy Steiner: Yeah, it was a big deal, right? It was where most people in L.A. got their first Dr. Martens. We were the first distributors of Doc Martens in the United States. Creepers, too. It's so cool that people remember the store. It was kind of a big hangout, because we were all into music. I have a lot of friends from NaNa, still. At the time, I had gone to Los Angeles Trade Tech to study fashion design, and when I got out, I realized I didn't really want to do fashion. It just seemed too limiting to me. I didn't know about costume design, really. But I met some stylists who would come into the store, and a couple of them said to me, "You've got good taste. You've got good style. You should call me." And I started assisting on music videos and commercials. My boyfriend [Kevin Kerslake] was a director. [He directed Nirvana's "Come As You Are" and "In Bloom."] I was costume designing music videos so that I could start moving my way up. I interned on a film, I'm Gonna Git You Sucka, because I wanted to know what it was like to work on a film. I begged my friends who were producers on it to get me into the costume department. And I kind of eased into the film world with Safe.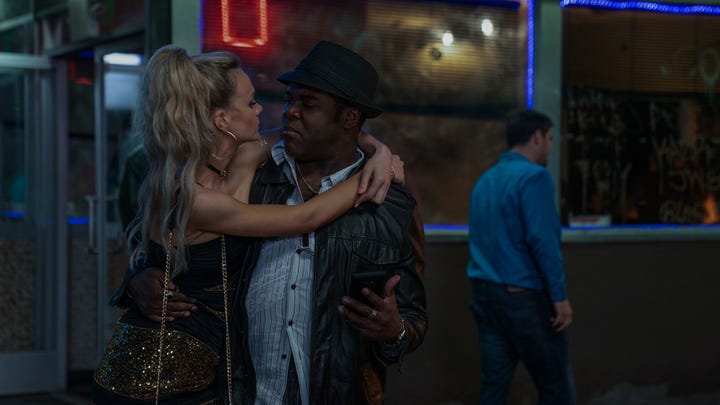 Your personal style influenced Winona Ryder in Reality Bites, Claire Danes in Shopgirl, and Gwen Stefani in the "Don't Speak" video.
NS: At the time, I was probably just wearing '40s dresses, I probably had red '40s hair. I wasn't punk rock punk rock, I was '40s punk rock, whatever that means. I'm pretty sure the "Don't Speak" polka dot dress was from my closet. In the beginning, Gwen wasn't really into wearing the dress, but the director, Sophie Muller, really thought it would be good for the song, so we talked Gwen into it. It's so funny that the dress made a big impression, but that's basically how I used to dress. I'm actually in that video, in the background. You can barely see me, but I have blue hair and I'm in the mirror.
Let's break down the looks in Promising Young Woman. People can just buy new or used versions of Cassie's outfits, if they know where to look. The baseball T-shirt and one of the floral dresses are designed by the director's sister, Coco Fennell. Where else did you source these from?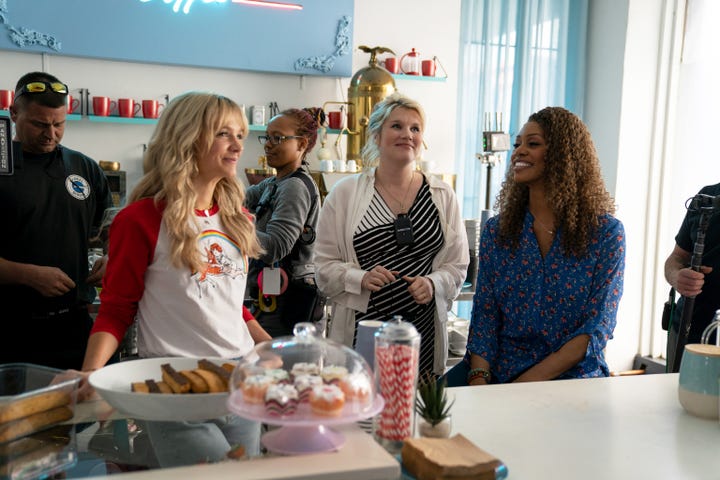 NS: I'm pretty sure that the light blue dress is from Reformation. Was there a pink sweater with yellow sunflowers on it at one point? That came from Urban Outfitters. So did a rose bodysuit. I'll tell you some of the places I like to shop vintage. My friend has a great store in Highland Park called Avalon Vintage. I also love Squaresville in Los Feliz.
How did you approach the design for the naughty nurse disguise? You custom-built it?
NS: There were elements from different dresses I found online that I wanted, but I couldn't find the dress that I wanted. We wanted a fuller skirt, because of the action that's going to happen on the bed, and I wanted to give her room to move. It's not super short. It's longer. We wanted a zipper in the front, so she could play with that. We wanted the sleeves to be a little bit longer. It goes almost down to her elbow. You can see the heart with a cross. She's wearing garter stockings, with white lace on the top of the stockings. And there's the headpiece, and you'd have to make that out of something, whatever fabric you're using. It's a latex fabric, but you could make it out of something else, maybe a shiny white cotton with a heavier weight to it.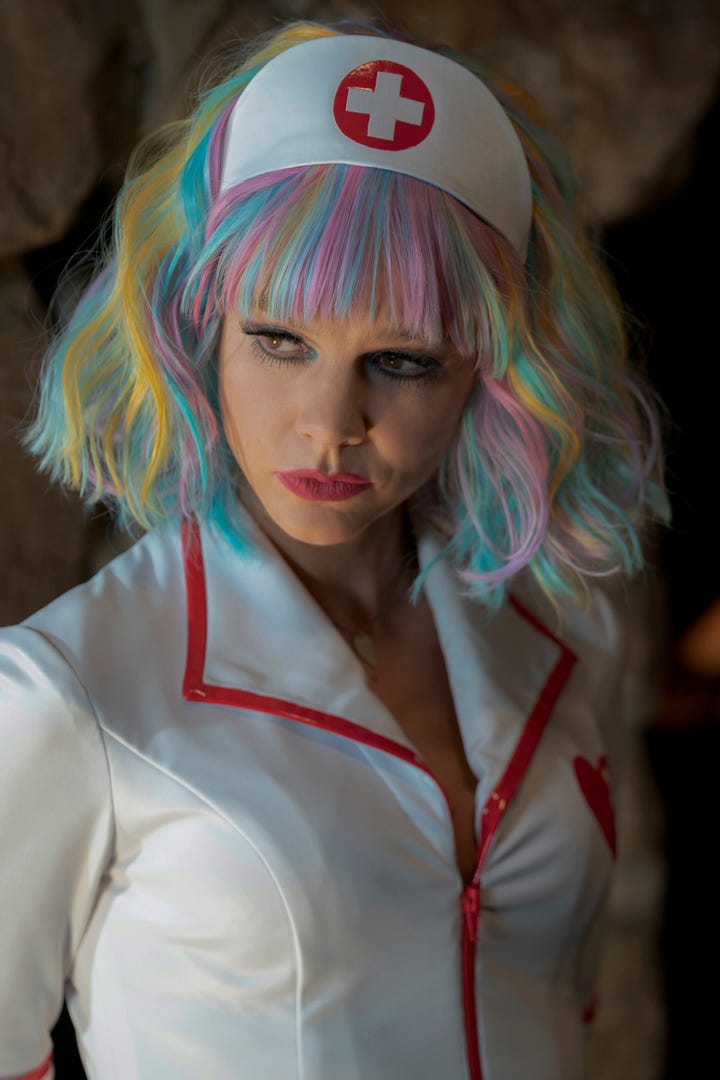 Have you seen people cosplay your designs? It's not quite cosplay, but Pom Pom Squad recently paid tribute to the Lisbon girls from The Virgin Suicides in the video for "LUX."
NS: I have to admit, I haven't seen a lot. If you see anyone doing Cassie, please send that to me. That would make me so happy. God, I would love it. I have been to Comic Con, and I was blown away and so inspired by the time and effort that people put into their costumes. It was really amazing. I did a movie called Paul, which had to do with Comic Con stuff. I'm sure it's changed a lot since then. But yeah, I think cosplay is fantastic. I would love more contemporary costume to be involved in the panels, because it feels like the panels are more about Marvel, DC, and sci-fi.
If they knew costume designers were interested and available, I'm sure they would feature them. Costume designers are the rock stars of the cosplay world.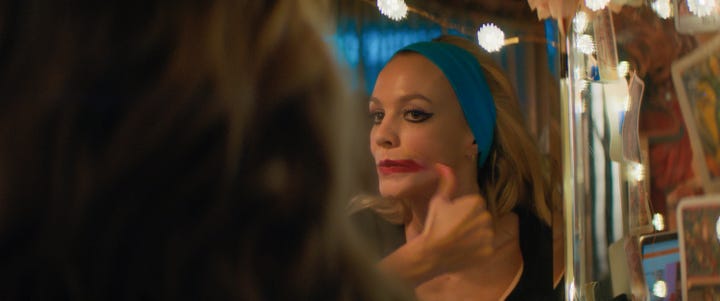 NS: That's very encouraging, because I'm actually on the executive board of my union, and we just started a pay equity committee and a marketing committee. You'd be horrified to know what costume designers make, compared to other heads of department. We're also paid a flat fee, based on an old studio protocol that production designers and costume designers are on call, because we all used to work on the studio lots, in costume shops, making clothes for different films at the same time. You didn't have to be on set all the time. So that has turned into a thing where we can only get paid 12 hours a day, when we usually work many more. We lose the extra hours that we don't get paid in our pension and medical benefits. It's a whole domino effect. Sometimes we make less than our staff, depending on the budget of the movie, because they work on an hourly basis and get overtime pay.
It's a travesty, basically, so we're trying to raise our profile. Financially, we really add value to all of these films. It's a big issue. And we're over it. We are over being treated like this. We're tired of being treated like we're not worth anything. Ultimately, it's a gender issue. I'm just going to say that, because clothing is considered women's work.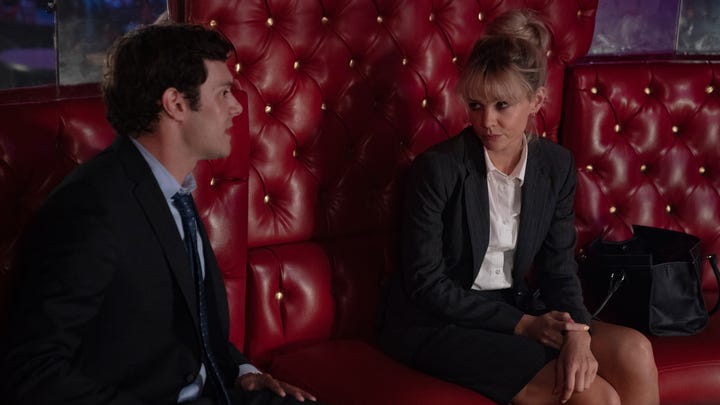 So what can fans do to help?
NS: I would say, know who the costume designers are. Look up the costume designers you like and give them props on social media. Talk about how you love the costumes and how much they add to a production. I mean, why do you watch Bridgerton? Yeah, it's hot and sexy and diversified, but it's the costumes, right? The costumes live on. Who talks about the chair in the background? It's really about what the actors look like, the costumes, the hair, the makeup. So hashtag the costume designer. Hashtag the studio. Hashtag pay equity. Get the word out. That would be fabulous.
Promising Young Woman is available on Amazon Prime. Follow Nancy Steiner on Instagram.