Umbrella Academy Costume Designer Gives Cosplay Advice
Christopher Hargadon discusses the elaborate costumes from the hit Netflix show.
Umbrella Academy cosplayers are pretty advanced students, so you would expect them to have lots of questions. Costume designer Christopher Hargadon fields a lot of them on social media – everything from how to knit one of Allison's Season 1 sweaters to how to maintain the circular shape of Grace's retro skirts. (One word: Plasticine.) "It's very endearing," he told Cosplay Central. "People want the stories behind certain things, to know how certain things were made, or where they can source the material." He's happy to share, so we decided to quiz him about his own history as well one of the show's more difficult character costumes: The Handler. The hats! The corsets! The spiders! Here are Hargadon's inside tips.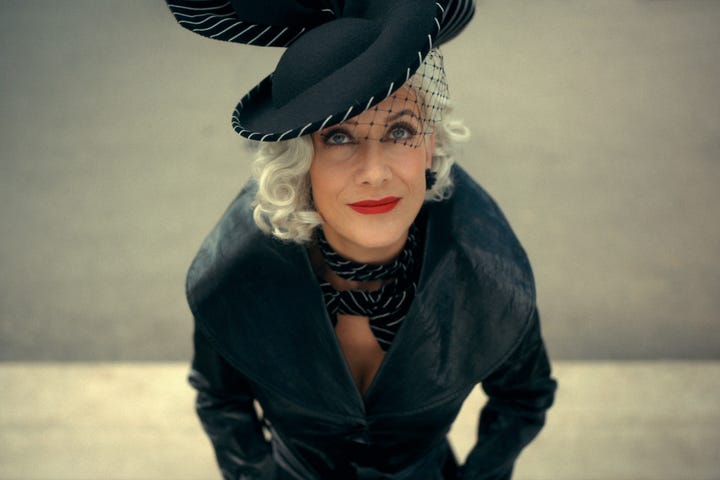 Cosplay Central: Let's talk about how you got into all of this. You were working in the Caribbean as a translator, right? How did that lead to becoming a costume designer?
CH: I was actually trained as a translator. I always loved language, and I took a German/French combination, along with fine art. I ran out of money, and a friend of mine said, "They're interviewing for Club Med right now," so we interviewed, and they hired both of us to be tour guides in Haiti. I knew nothing about Haiti. I didn't even know where it was. They had just built this club, and we were responsible for establishing all the tours, all the gallery visits, all that sort of thing. We had a hurricane, and my family was very worried, sending missives through the consulate asking if I was alive and okay. So as I was waiting for the phone lines to come back, I started talking to this lady, Catherine Salvet. She was an ex-model who had transitioned into being a fashion designer with a company in France. I said, "Do you ever hire apprentices?" And I don't even know why I said it, but the next thing I knew, I was on the plane to France and I did an apprenticeship there for over two years. That's how it happened, and I never did become a translator as a job.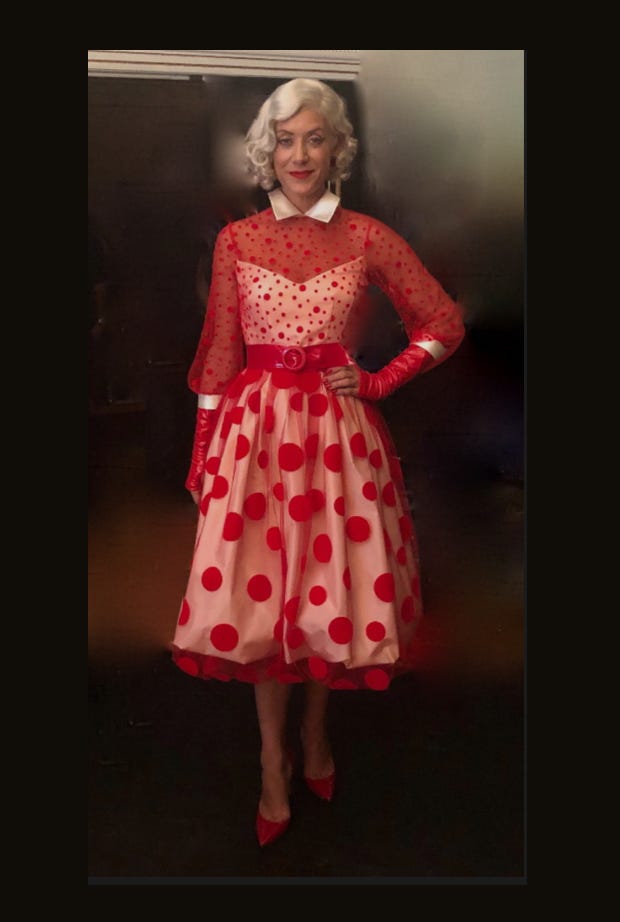 The fashion company never hired apprentices, so everybody in the company thought I was some kind of spy or something! The designer was like God, and then it was a pyramid of people going down – the sample makers, the pattern makers, the drafters, the graders – and everybody wore white lab coats. When she introduced me, she said, "I want you to teach him everything," and I'm there with my hair down to my shoulders and wearing jeans, while everybody else was is in white lab coats. The overseer gave me a spot at a table and said, "Take all these graded patterns, line up the notches, and make sure they're in the right places." I looked at him and said, "What's a notch?" I mean, I never had any inkling about getting into clothing design, but once I got into it …
CC: In a way, this designer was your Handler, recruiting you to work with her Time Agency. You were kind of her Number Five.
CH: So true. I was a little less disruptive than Number Five. [Laughs]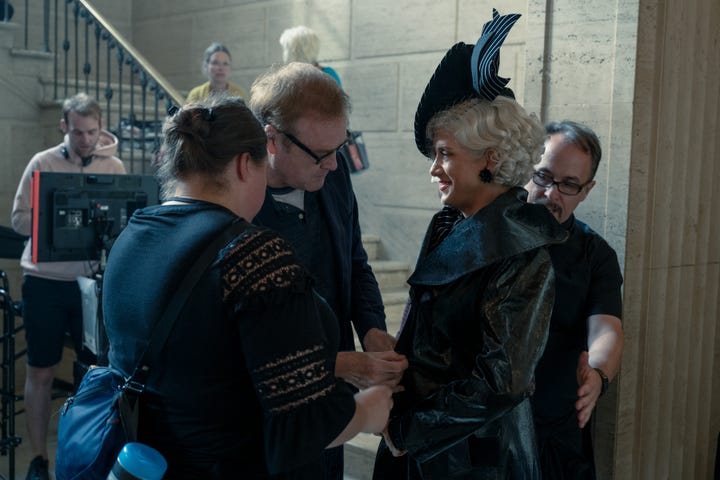 CC: What was your approach to The Handler?
CH: Any of the other characters, with the exception of Luther, would be easier to copy than The Handler. She's so specific, and it's not stuff you can buy in a store. She's very structured and very molded, probably more so than anybody else on the show. I think that's why people dig what she's wearing, because it's just so off the wall. Nobody in normal daily life could function in something like this. We always started with the structure of a corset. The corset is something that can give a person carriage. You can't slouch. Of course, they're kind of uncomfortable, but once you have it on for a while, some people start to like it, because it makes them look great and they stand really nicely.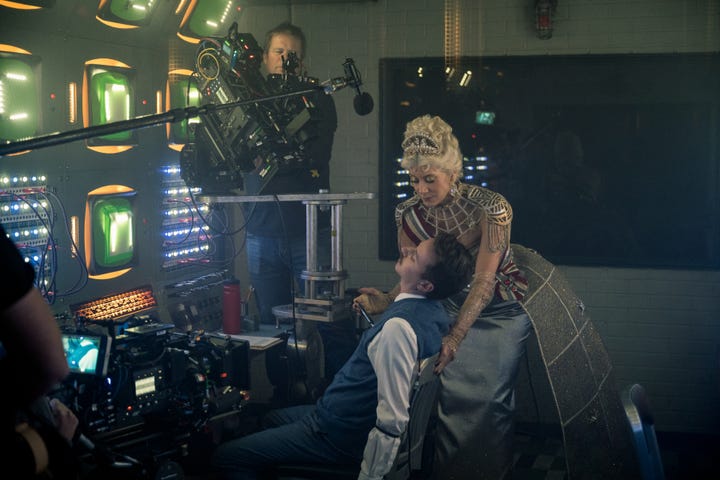 Kate Walsh had a very fitted red corset, and almost like dance pants with black sheer stockings -- sort of an Ann Margaret Fifties-style underneath. But even if she had a big baggy coat on – the one that was gold and sort of leopard-looking underneath – she would have something ultra-fitted on. Sometimes we put the corset on the outside of the outfit. She had a couple of dresses where we decorated the corset and made it exterior. You could just put a corset over a piece to give it the shape and paint it.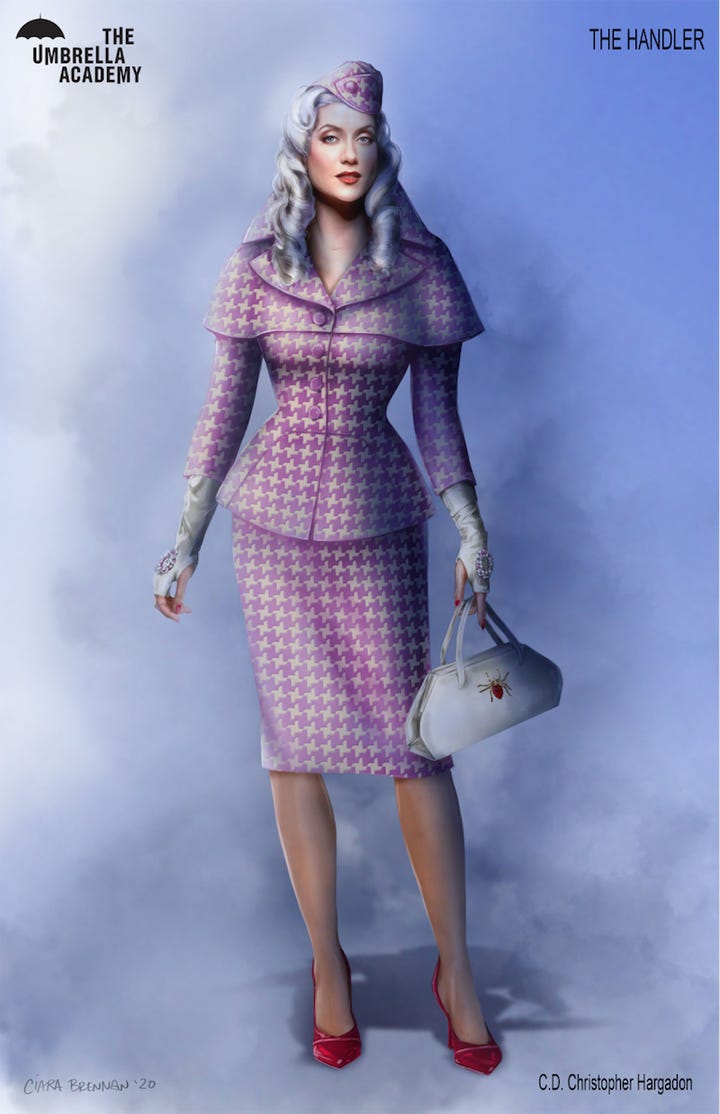 For me, I have to understand the psyche of the character, what direction they're going in, how they present themselves. Once I have that in my head, I go out looking for fabrics that sort of jump out and will have an impact. So for The Handler, because of the nature of who she is, I always went with a color combination or a pattern that reflected whatever decade she happened to be in. And when Kate would blow into town, she'd come into my office and we would just start looking at silhouettes and fabrics. She's really into clothes, and it was such a gift. She does love quirky things.
There's a scene in the hotel room with a yellow Sixties-style robe, and it was scripted to have cranes on it, so it has big white cranes with red beaks. When I saw the fabric in the store, I literally gasped. It was so beautiful. And then we ended up adding an under layer to stiffen it, so it would have real structure. There was a herringbone skirt suit with a little capelet on it, and if someone wanted to emulate that fitted jacket and suit, you would have to buy a fabric with a heavier weight, like a wool, and stencil on the pattern. It would take a lot of work and a lot of love. I don't doubt that some people would be up for it.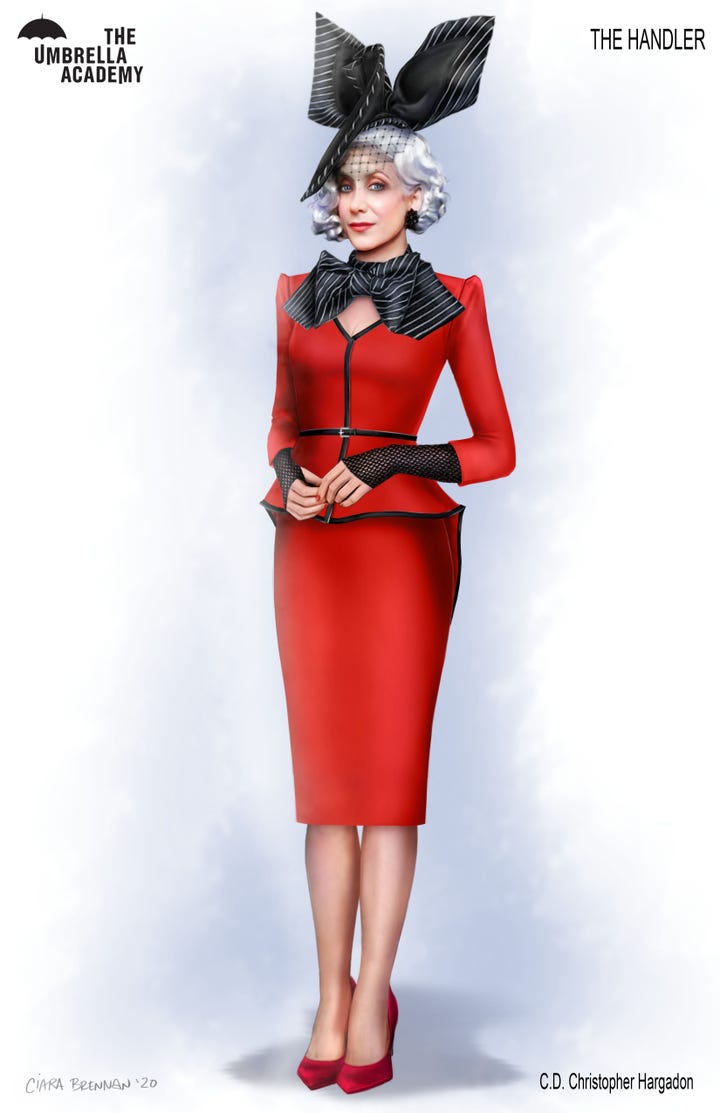 CC: What about accessories?
CH: When Kate was able to have one, she always wanted a hat. Sometimes they don't like hats on set, but in her case, every head piece, every bit of jewelry, no matter how over the top, she demanded it, really. She made sure that she got it, and I appreciated that. And it goes to show that it was worth it, because people are responding so positively to her looks. I have to applaud her.
CC: There seems to be a subtle insect theme connecting all of The Handler's looks. She has a spider web armature. She has bugs all over her, like the blood-red and gold spider on one purse.
CH: Right? Yeah. We wanted her to be creepy on some fundamental level. I actually had a large collection of metal and plastic bugs. Some were finds at the dollar store, and some other ones were vintage, or whatever else we could find that looked like it had multiple legs. I had a stash of them on hand, and we would apply them at the last stage in fitting.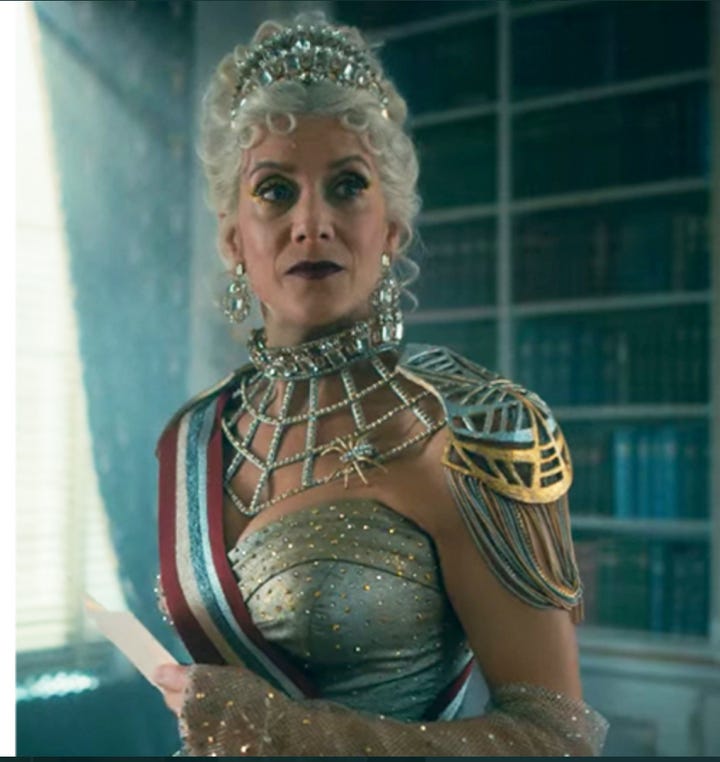 The armature was like a sort of battle dress. It's obviously impractical for actual protection, but when you think about chest plates in medieval battle, it has that kind of feel. And she has epaulettes on her shoulders. Originally, it had armature right down her arms, with a sort of cutaway metallic structure running right up them. We decided to go with mesh metallic fingerless gloves instead, just to soften her up a bit.
CC: Have you seen any Umbrella Academy cosplay so far? What did you think?
CH: I'm happy to see any interpretation emulating the characters, as long as there is effort put into it. It doesn't have to be a hundred percent accurate. I just think it's so cool. I went to a Comic Con in Paris, and I judged a cosplay competition, and it was heartbreaking to choose between them. The person who actually ended up winning first place had adopted something from Vikings, so she had researched all the dye methods for the fabrics and her costume was so authentic, down to the smallest detail. It was very impressive. It made me sad to have to choose, because everybody put so much love into their costumes, and we could only choose three. Honestly, it really opened my eyes to the playful nature of cosplay. It gives people joy to get into these characters. It's too bad the outside world isn't like this.
The Umbrella Academy is available on Netflix. To see more of Chris's work, follow him on Instagram.