Umbrella Academy Costume Designer Talks Klaus' Costumes
If you've been wanting to cosplay Klaus, here's some tips from the designer himself!
Umbrella Academy cosplayers have already mastered Season 1's costumes, but Season 2 is a little trickier. Costume designer Christopher Hargadon previously gave us a tutorial on how to do The Handler – all of her many looks and accessories. But what if your taste or body shape lend themselves more to someone like Klaus? Sure, you could shop vintage, wrap yourself in a boa, and slink around in lace-up leather pants. But what if you wanted to be Klaus as cult leader? Some of it might seem easy – the pants, the beard, the sunglasses. That sherwani coat that captured fans' imaginations, however – that's a serious challenge. Luckily, we have inside help from Hargadon himself. Here are more of his tips.
Cosplay Central: Let's talk about how you got into all of this. What were some of the first things you made?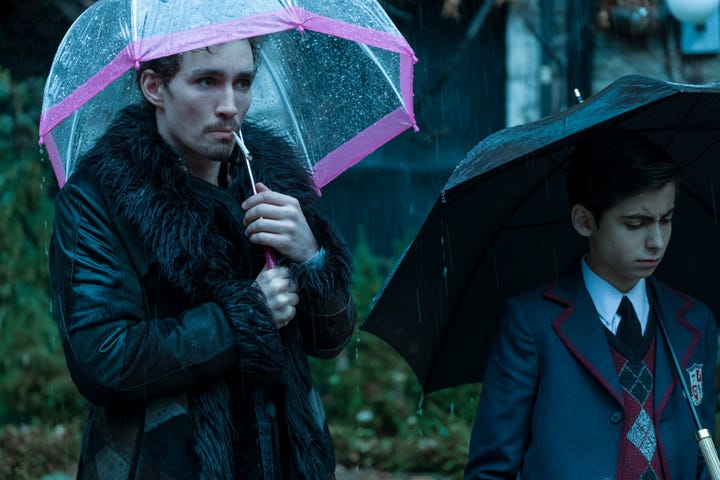 CH: I'm a tall guy, so when I was a teenager, they didn't actually make a lot of clothes for tall guys. They made the average sizes, probably up to six feet, and I'm 6'3". So the sleeves on shirts were always too short, they didn't have any interesting fabrics for pants… This was the 1970s, and it was just sort of a desolate decade. There were great clothes, just not for tall men. And if you went to a specialty store, they had clothes meant for your great uncle or something. So I actually started making my own clothes when I was 15, 16, with my grandmother's sewing machine. I would take apart a pair of pants, or I would pin plastic over the pants, and wherever there was a seam, I would mark a line. You pin it so that you're keeping the plastic as flat as possible, and when you lift it off, you've got a pattern. That's how I made my pants and shirts. If I liked something, I would make a pattern from it.
Another way to do it would be to just go to a thrift store and find something cheap and cut it up so that you have a sleeve piece, a front, a back, a collar… If it's something that's more fitted, put it on and then fit it the way you want it to be, and then make the pattern. I would still do that, if I was going to duplicate something that I really liked that was falling apart or wearing out. For me, fit is really important.
CC: How did you custom-build Klaus's sherwani?
CH: A sherwani is kind of a longer dress jacket/coat in Southeast Asia. I knew I wasn't going to be able to buy one for Klaus, but I bought one just to see what they're normally like, and they're very heavy and structured. And it has a lot of horse hair in the front of the jacket. It was just very stiff, and I wanted something that was going to actually flow and have some movement. I wanted him to be able to wear it open or off his shoulders, and just let it fall naturally.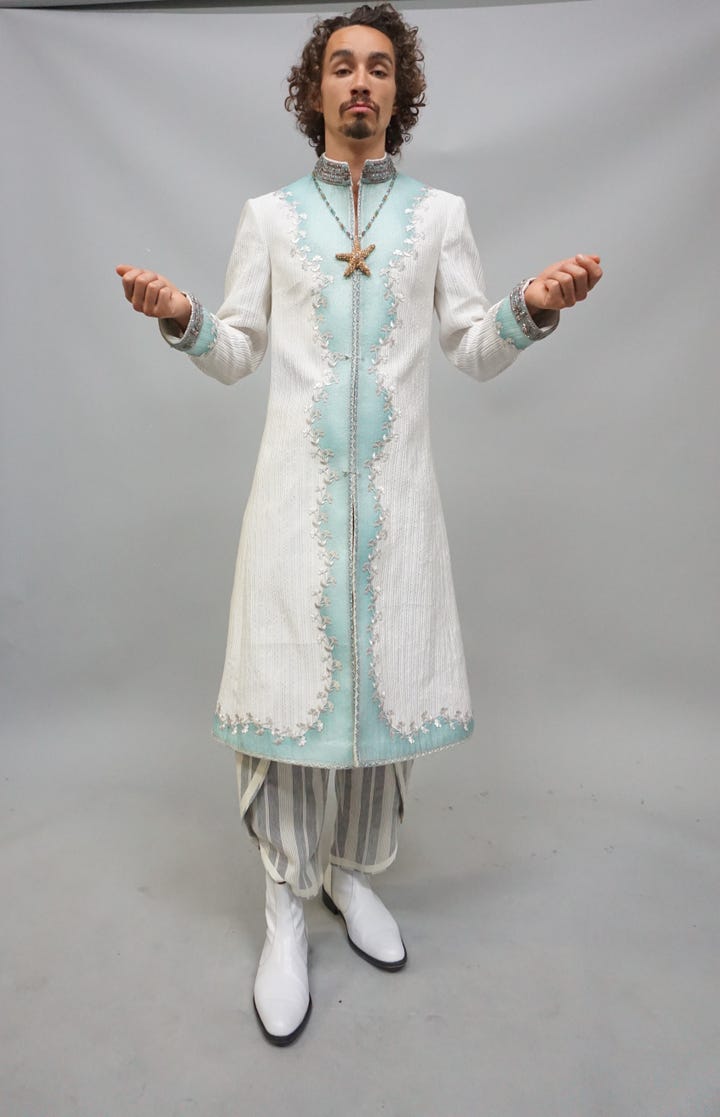 So I started looking for fabric for that, and I came across this fabric that was really great. It was white, but it had all these linear ridges all along the length of the fabric, so it gave it a really interesting texture. But then we ran out of the fabric. So I asked some of my crew if they could buy iridescent, pearlized puff paint, so we could do an experiment on a base fabric, like canvas or something, which would soften when you washed it. I don't think they liked the idea. They thought I was crazy. [Laughs] But we did it, and the effect was actually almost exactly the same, so we did that for the multiples, for the stunt doubles. It was time-consuming, because you had to trace the pattern on the fabric beforehand, and then run lines of the puff paint up the fabric, one after the other, in rows. It didn't have to perfectly even, because it's white.
Then the turquoise fabric that was the trim just along the center front, on the cuffs, and around the bottom, it was probably pretty synthetic, but it had a lurex thread woven into it, so it had a sparkle. And we had a leaf-type pattern, but before we applied that, we airbrushed it to darken it around the edges and give it more relief. That kind of finishing work doesn't always show up on camera, but it was quite pronounced in person. And then we applied the trim, and the trim needed to be brushed with a darker pewter and a bit of black as well, just to make it not too flat and light.
This wouldn't be a hard one to build. That's the kind of thing where you could make a pattern out of a shirt, to loosen the shoulders, just extend the length, and cut the fabric out.
CC: All you need is a starfish pendant necklace to top it off.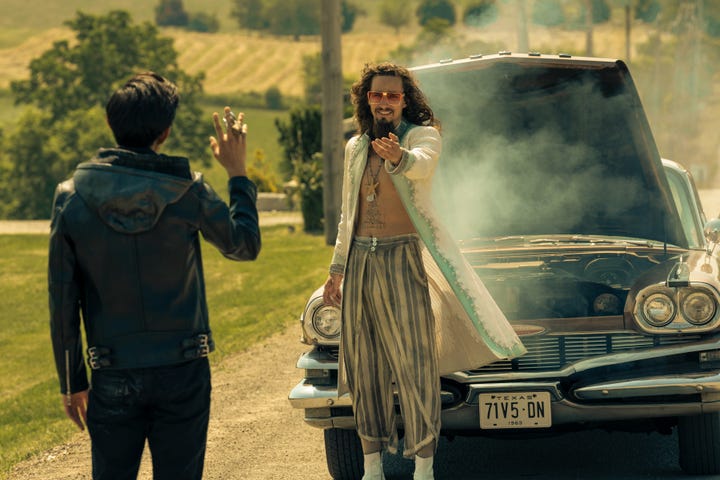 CH: That was actually a piece I found in Dallas. There was a costume designer who had a rental house, and he was selling off his inventory. It was so serendipitous, because we were shooting the 1960s in Dallas, and he had amassed a large part of his collection in Dallas, and he sold me all of his '60s stuff. I was beyond thrilled about that, because it really was of the period and the location. And while I was down there, I went into a consignment shop, and this vintage piece, I think it was more from the 1980s, but it was in the jewelry case. It had a sort of jazzy, crazy necklace that went with it, which I removed, and we made something simpler, but the star was kind of perfect. We made about ten of them, in softer material that wouldn't hurt people, since it had been really hard gold metal. That's something that could be sculpted.
CC: How did you manage to make Grace's outfits devy gravity?
CH: I actually get a lot of emails asking about her. The whole thing with fabric is the feel of it. If you haven't had any kind of exposure to building things, you might make things out of the wrong fabric, and it will fall incorrectly. What I like to do is unroll some of the fabric off the roll, hold it up to my waist or whatever, and see exactly how far it extends off of my body. Just see how you can play with the fabric, and what it's going to do for you. That sort of tactile exchange really informs where you're going to go with it, ultimately.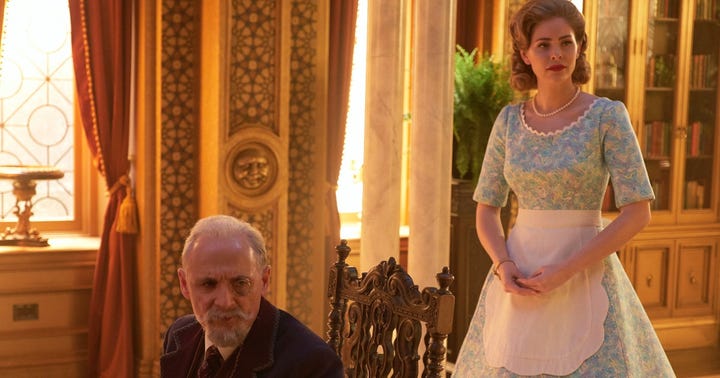 Sometimes I'll find a fabric that I love, like the one that I used for one of Grace's dresses, the swirly, squished plasticine. That fabric was a very floppy stretch, almost like a Spandex, except it wasn't super shiny. But by fusing it to foam, a thin roll of foam, it didn't matter, because we could sculpt what we wanted with it. I found probably eighth of an inch-wide foam on a roll. It had almost like a polyester or some shiny fabric on the foam backing. You could also starch it or spray-glue it or something. I took the fabrics I wanted for her designs and basically fused them to this foam, and that's how her skirts kept their circular shape. Often times we would take a nylon or plastic banding or tubing to run inside the hem around the bottom of the skirt, and that would really reinforce the hold. I loved the effect. There are always ways of making things conform to your desires, if you really love something.
The Umbrella Academy is available on Netflix. To see more of Chris's work, follow him on Instagram.