Watchmen Costume Designer Gives Cosplay Advice For Bringing HBO's World To Life
Designer Meghan Kasperlik goes deep on the show's unique styling and what cosplayers can learn from it.
As Watchmen returns to our cultural consciousness – aided by a re-launch by HBO for free this past Juneteenth – a new round of viewers can savor the show's timely examination of systemic racism. The fact that this subject is explored in a world of comic-book-style superheroes -- Doctor Manhattan, Silk Spectre, Ozymandias, Hooded Justice – seems possibly more brilliant now than it was in Alan Moore's celebrated 1987 graphic novel, which deconstructed the whole concept of superheroes and questioned their wearing of masks, which can often enable cruelty and injustice.
Of course, Damon Lindelof's HBO adaptation of Moore's work invites mask-wearing itself, and why not – the show has a fun side, and cosplay is fun. For some tips along these lines we talked to Meghan Kasperlik, one of the show's three costume designers, who gave us some inside tips for Watchmen cosplayers.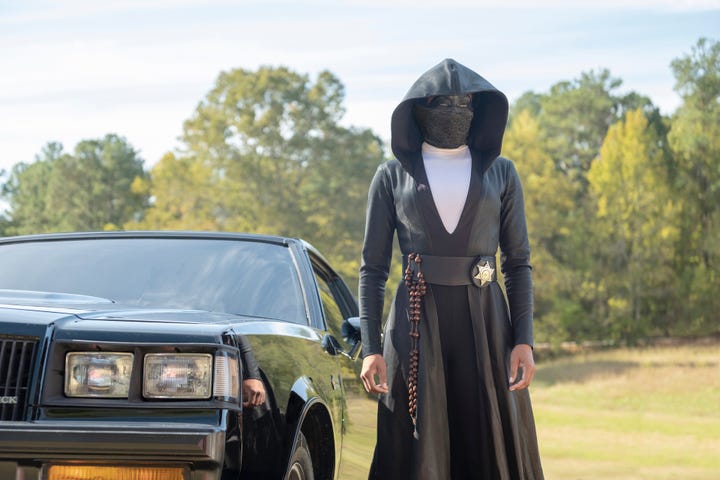 Cosplay Central: Let's talk about how you got into all of this, because apparently it had something to do with your roommate?
MK: [Laughs] I was doing fashion PR in New York, and I decided that it wasn't the direction I wanted to go in, so I left PR, and started doing styling again. My roommate at the time did extras casting, and he said, "Hey, do you want to be a PA on a TV show?" I should have just said yes automatically, but I was like, "Well, who's the costume designer?" And it was Patricia Field.
So I instantly said yes, because of her work on Sex and the City. My first job in the business was with Pat, and I worked with her for three-and-a-half years [on Hope & Faith, Ugly Betty, Six Degrees, Dirty Sexy Money, and Cashmere Mafia] and learned the ropes and worked my way up from wardrobe assistant to costume coordinator to costume designer. It was an amazing experience.
CC: How did working with Patricia Field help shape your approach or your aesthetic?
MK: She's a designer who does high end and low end and mixes it together. So we would find stuff at garage sales and thrift stores and K-Mart and put it together with Dior or some other big designer piece. The high and the low was really fascinating to me. And she was never afraid to mix patterns. I do use a lot of colors, too. I'll sometimes do lots of crazy patterns on color. And then I started working with Michael Wilkinson – I did American Hustle with him – and then I saw what was possible on a grand scale. So it's been a really interesting way to come up. I've had some really good mentors.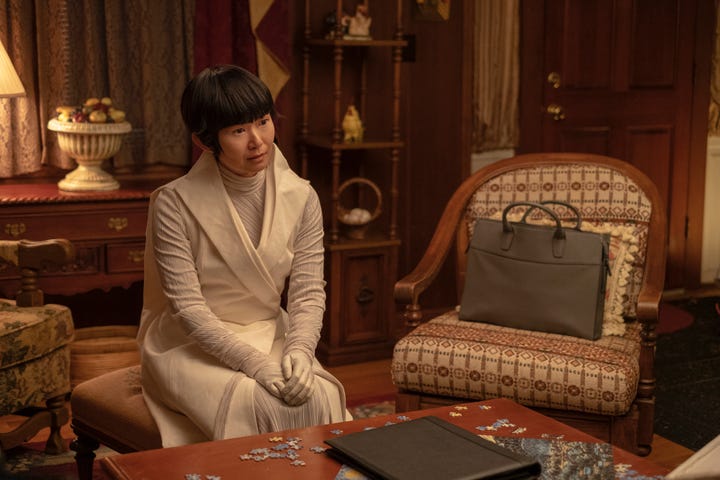 CC: It seems like you might have taken a Patricia Field approach with what you did with Lady Trieu on Watchmen, because that was a high and low mix, plus some non-traditional material? She's the most interesting character in terms of costume design, because her character is rich and mysterious.
MK: Yeah! I put a lot of different combinations together for her. She wears a seafoam Zara dress in Episode 4, but with Margiela Tabi shoes. I custom-made a lot of her pieces. I call it a coat, but it's more like a sleeveless cape-coat, and that was made out of a faille upholstery fabric that I found at Jo-Ann Fabric and Craft. It just has a heavier weight. And then I worked with the on-set tailor to drape it appropriately.
CC: Did you ever deconstruct an outfit for her out of something else?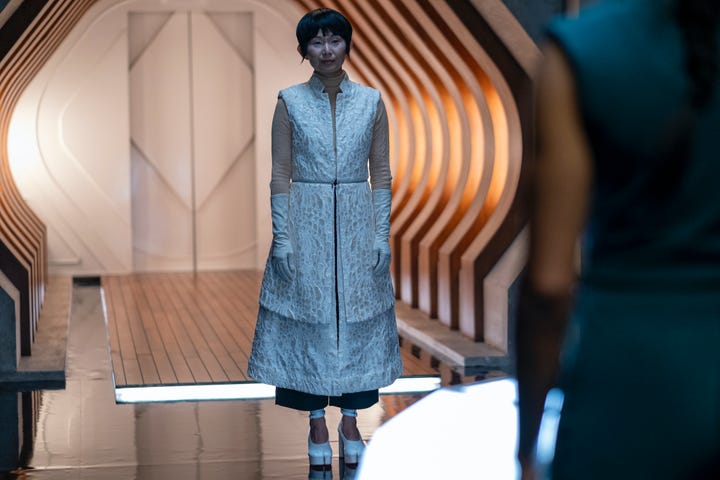 MK: The embossed silk jacket. We were filming in Macon, Georgia, and I went to Chicos, because it was a store that was close-by. Out of the corner of my eye, I saw an interesting flimsy jacket, kind of a sand, tannish color. When I looked inside the jacket, it was a creamy pearlescent tone. I realized the jacket could be reversed. So I bought three of them in a bigger size than what I would need, to give me extra yardage to utilize.
I had the tailor cut it open, and there were actually three layers of the pearlescent fabric that had been pressed together. It wasn't that translucent because it's an embossed silk. So that was kismet! It was just amazing. We reconstructed the jacket into something that had a bit more structure and texture than the original flimsier jacket, with a bit more heft to it. We were able to make multiples of that jacket, because of those layers. It came out brilliantly. So now I will always look at the reverse side of any fabric, or turn garments inside out and see what the reverse looks like.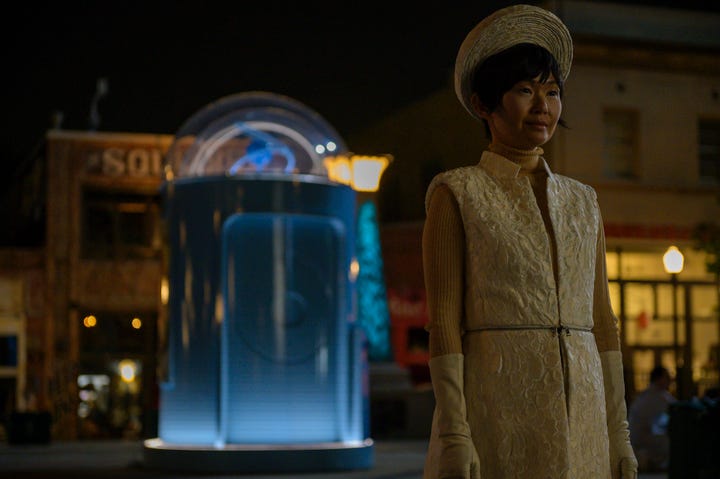 The headpiece she wears is based off a traditional Vietnamese ceremonial headpiece. We bought a headpiece and then we deconstructed it and lined the entire thing with that same Chicos fabric.
CC: What other unusual fabrics did you source? Any other costume hacks?
MK: We worked with some white blinds from Target. I popped open the plastic from it – instant pleated fabric! Pleated fabric is kind of expensive at the fabric store, but you can go and find a shade, like an accordion shade, at Target or Walmart or even a hardware store. The pleated fabric from those window treatments won't be as super-bendy, but they will keep their structure. We then take it to someone who specializes in pleating and they press it, and that takes anywhere from three days to three weeks, depending on how it's processed.
CC: Lady Trieu's look always includes gloves.
MK: She wore a different glove in every episode, but they were all a cream or white base. A great resource for gloves is Amazon, and I was lucky to be able to find the color we needed to match her costumes without having to dye them. Dyed gloves, the fingers always shrink. That's never fun.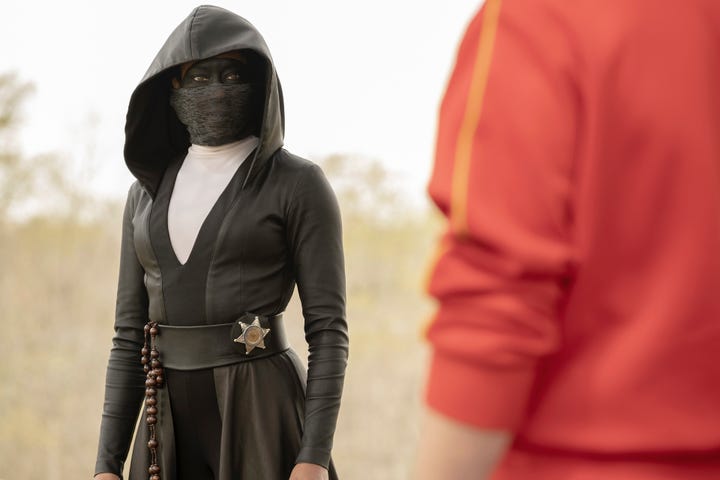 CC: Regina King's Sister Night costume was first developed by Sharen Davis, but when you came on, you made a crucial tweak – you found a way to make the hood hold its shape. How did you do that?
MK: When I inherited the pilot, the costume was already pretty amazing. The challenge was that the costume is made up of leather and a stretch-like spandex. I reconstructed the hood a bit, and I put a layer of Neoprene in there, so it could maintain the shape and integrity and stand up, but also to give it some buoyancy. Leather, when it gets hot, kind of melts into your body, and we needed something that would hold its shape, but also bounce back and not impede fight scenes. If you're trying to make the hood stand up for cosplay purposes, maybe also put some hat wire in there.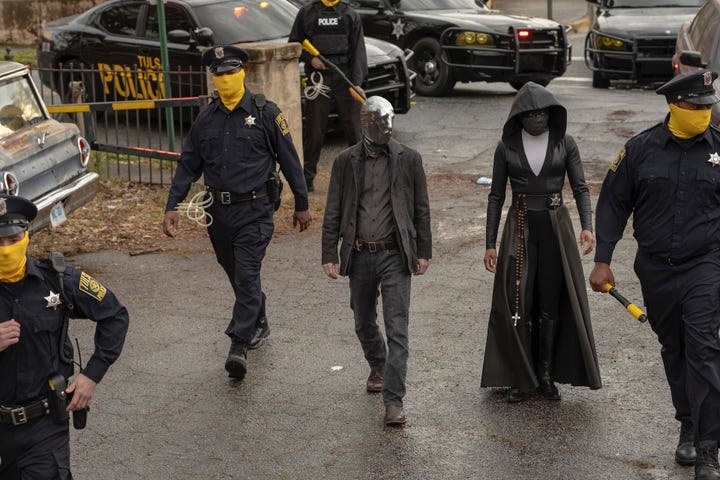 CC: Another tricky thing to replicate for cosplay purposes might be Looking Glass' mask, since part of that was CGI and motion capture. What would you recommend people do instead, to approximate that?
MK: You can get a reflective Jersey stretch spandex that is like what Tim Blake Nelson was wearing. We had some faraway shots, when we were not doing the CG effects, where we had that. We put a gray mesh over his eyes. You couldn't see that from a distance, and he could still see. That's a cheat that could definitely work. If you make the hood, turn it inside out, and mark where the eyes are, take a sander and sand away some of the fabric. You'll have to be gentle. You'll still have the reflective fabric on the outside, but on the inside, you'll be able to kind of see. Before doing that directly on the part where the eyes are, practice first -- take an extra piece of fabric and sand it a bit, shave it down, so you can find the point where you can see through it. His jacket was from All Saints.
CC: Pirate Jenny's mask might be a fun one to recreate: fishnet and a chainmail pattern?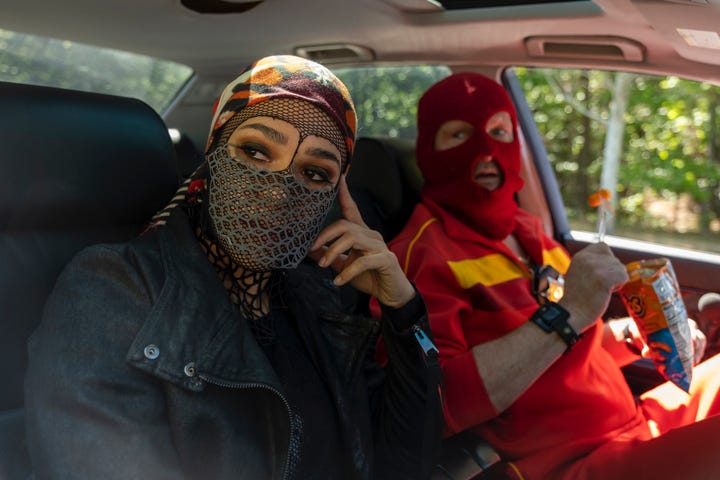 MK: That was a big trial-and-error. It's actually a cut-off fishnet stocking with a scarf on the head, hiding the hair, and then the chainmail across the mouth is from a sticker book. We cut it out of vinyl with a vinyl cutter and snapped it on. That allowed the actress to eat. There's a website called Dolls Kill, and they have cargo pants and jackets just like Pirate Jenny wore. The whole point of these vigilantes is that they created their own costumes, so they can't be heavily processed the way Marvel characters are done. Everything should be obtainable from materials found at local stores.
CC: Unless you're Adrian Veidt.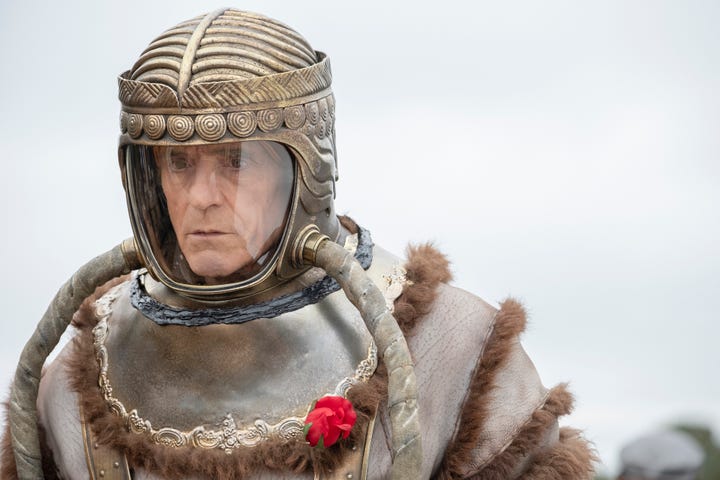 MK: So with Adrian Veidt, I made his buffalo spacesuit. The helmet and a couple other pieces were made by Ironhead Studio in Los Angeles, and then the suit itself is made out of leather. The story is that he killed the buffalo and used buffalo fur. We made a leather pair of pants and then a tunic top, two separates because it's important for the actor to have the capability to go to the bathroom.
The leather corseted cinch belt at the center of the waist covers up the separation, to make it look like one suit. The boots look heavy, but they were light. They were vacuformed foam boots, and the secret with all of these boots is that they put Sketchers on the inside, so there is actually a very comfortable, squishy shoe in there. Sketchers all the way, if you're walking in these.
CC: Have you seen any Watchmen cosplay so far? What did you think?
MK: Only online. I was so impressed. I've seen so many good Sister Night and Looking Glass costumes. I'm excited to see what people do for Adrian Veidt and Lady Trieu, because there's a little more leeway to what they could look like. Also, there are little Easter eggs in the costumes, so it's nice that people pay attention to what could be the hidden messages behind things. I had an amazing time doing the show, so hopefully everyone enjoys watching it and emulating their favorite characters.
Watchmen is available on HBO. To see more of Meghan's work, follow her on Instagram.