Westworld Costume Designer On Creating Futuristic Looks
Shay Cunliffe discusses the HBO show's unique styles and why stilettos should be banned from the future.
Have you ever seen anything so full of splendor? The Emmy-nominated costumes on the most recent season of Westworld manage quite a feat -- so gorgeously futuristic, but timeless, too. Cosplaying fans might find it easier to recreate classic Westworld looks, based on the characters' time in the park – and if you want to dress up as the rancher's daughter, the Man in Black, a brothel madam, or even a clean-up technician, there are plenty of how-to guides to help you out.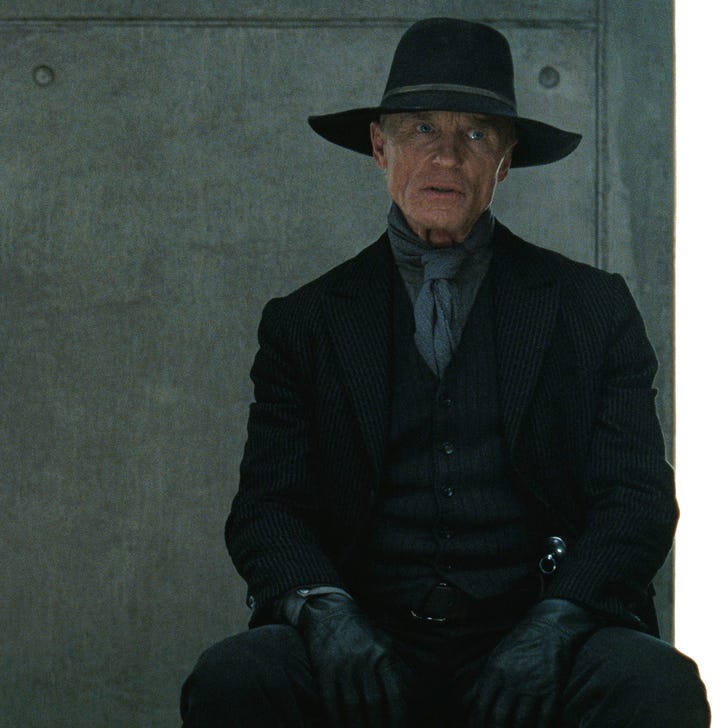 But recreating the looks of Season 3, is trickier (and possibly more expensive). A few pieces can be bought online – Dolores wears a vintage Hervé Leger bandage dress and a Black Halo jumpsuit, Charlotte sports a stunning BCBG cape blazer and a lot of Cushnie, and Maeve dons a marvelous Manning Cartell dress. That last one is a little harder to find and in fact almost didn't make it into the show. Says costume designer Shay Cunliffe, "It was an awesome piece, and I think I actually tried it on every actress, because I liked it so much."
The dress came with a matching jacket and Cunliffe thought the ensemble might work for Dolores, but "it never quite flew." Then, on the morning of a shoot centering on Thandie Newton's Maeve waking up at Serac's compound, Cunliffe got a 5 a.m. text from showrunner Jonathan Nolan, who wondered if she still had that white dress? She did, of course. "Even if I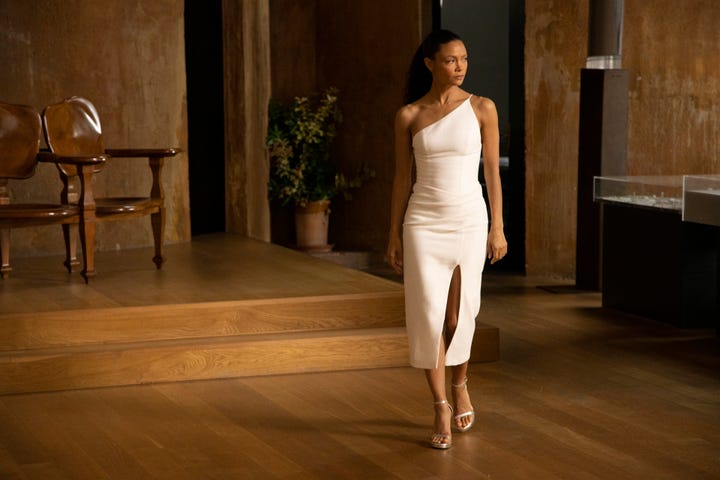 don't know where it will work, I hang on to great clothes," she says. "About 98 percent of the time, it finds a home." Cunliffe talked with Cosplay Central about how she wound up in the field of costume design, how she approached the creation of this season's most futuristic outfits, and the one disappointment she still hasn't gotten over.
Cosplay Central: Although you knew early on that your passions were costuming and theatre, you didn't pursue costume design at first, because you didn't think you could draw. How did that change?
SC: I was about 26 years old when I started to try to become a costume designer. I loved costumes. I had always loved them. As a child, I would go to vintage markets, collect vintage clothes, and make all my own clothes, generally without a pattern. I loved figuring it out. They weren't fabulous at all, but they were mine. But I had never tried to draw. I didn't feel I was particularly artistic in that way. I had done a degree in theater, along with French. By my mid-twenties, I was living in New York, and I was working for director/producer Mike Nichols as an assistant, doing all the boring chores in the office. One day, I spent the day ordering limousines for people. This was not how I wanted to spend my life. I needed and wanted a life that was more creatively engaging.
Luckily, I met costume designer Nancy Potts, and I said, "I love costumes, but I can't draw." She said, "Drawing isn't something you can or can't do, you know. It's something you learn." And she gave me all the guidelines that I needed, especially for the exam you take to get in the New York theatre union. You have to draw an entire project in a room over eight hours, and that was nerve-racking. So Nancy said, "Start going to drawing school." The Art Students League has classes. I have friends who still do the odd drawing class there. She also recommended a night school, Lester Polakov's Studio and Forum of Stage Design. She said, "Take the fabric construction class. Take the script breakdown class." So I did. It cost more money than I had …
CC: So how did you manage to pay for it?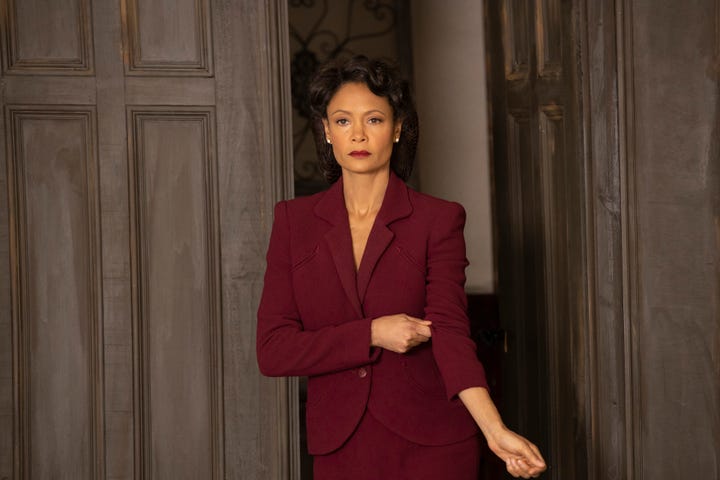 SC: In a vintage market, I had bought a wonderful, crinkly sort of silk dress, and I was hanging around in it like a nightgown. I thought it was in the style of Fortuny, that wonderful Grecian-looking style from the early 20th Century. It has a very special method of pleating. So I took my dress to the Met Costume Institute to ask, "Might this be a real Fortuny?" They looked at it and said, "Absolutely. This is a very special early Fortuny." I sold it at auction for $1,600, and that paid for all my classes. It was kind of kismet.
CC: How did you get your first job in costume design? What was it?
SC: Nancy Potts also advised me to get a job in one of the costume houses. She said not to get stuck in the workroom, but to get a job as a shopper. I got an introduction to Barbara Matera Costumes, and on the first day at work, I discovered they were doing a revival of West Side Story with the original team, including designer Irene Sharaff. She had come out of retirement, and she needed an assistant, so they said, "You do it." That was a dream.
The costumes from the movie were an important light bulb moment in my life. The Sharks jackets, the dresses, those full skirts – I fell in love with them when I was eleven. So when I was shopping for fabric, Irene laid out all her original sketches, which was thrilling. The right fabric is tremendously important, and a year of buying fabric for other people's sketches and talking to the workroom about what they need that fabric to do is great training.
CC: Let's talk about some of the fabric needs for your sketches. How did the transformative aspect of some of these outfits fit with the show's overall concept of the future? I'm thinking specifically of the little black dress that becomes a floor-length gold gown from the season premiere. Didn't the crew burst into applause when they saw that on set the first time?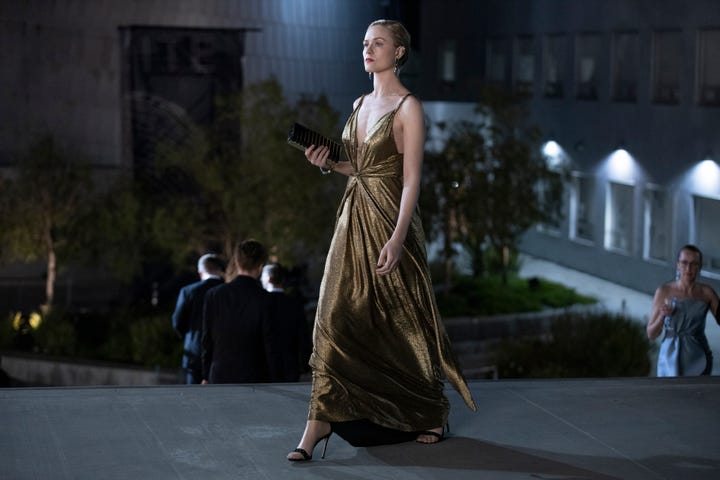 SC: That was a first! That was awesome, because the crew didn't realize that it wasn't going to be a visual effect. That was a really great surprise. You know, even in my first meeting with Jonah Nolan and Lisa Joy, when I was interviewing for the job, we were chatting about future clothes, and Jonah mentioned that he liked that all clothing had special properties. Even the little Blanc Noir leather quilted jacket that Dolores runs around it, we kind of hoped that it feels like it's way more armored than it looks. That armor could be much thinner.
We didn't have the budget or the time to make really high-tech clothes, but we wanted them to feel like they could contain something within them. He said how much he loves transforming dresses, and I said I did, too. One of my favorite things is hiding one costume in another. It's a classic theatrical thing, dresses for quick changes, such as when Cinderella goes from a shabby dress to a princess dress.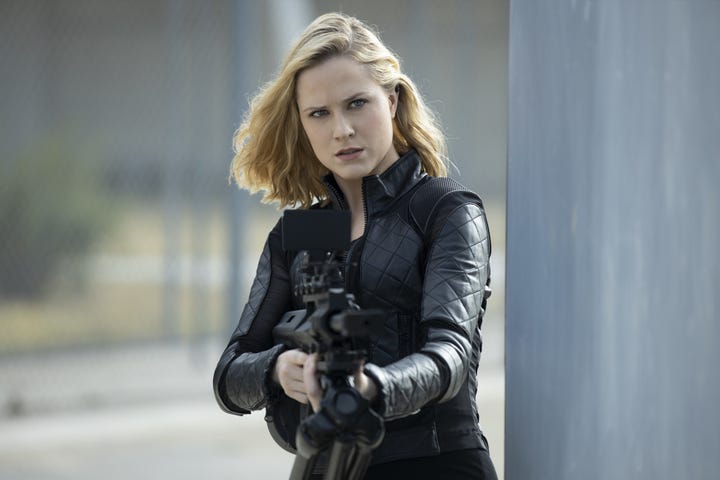 The transforming dress is tricky, but it's actually surprisingly simple. The first problem is that you have to hide that a dress is stuffed inside another dress. We were helped by how incredibly slim Evan Rachel Wood is, but if you were a larger person, you would need to accommodate that in your design. It's also a bit dependent on the fabrics. The gold dress underneath is not expensive fabric. It was really sort of a cheap knit, two-faced fabric – gold on one side, black on the other – that kind of slithered, which really helped the falling down effect. You need to think about how if something is folded up, and if you let it go, will it look good as it falls?
The other real key of the dress was the waistline. The bodice was already there in existence, but the waistline is the anchor. It doesn't move. The waistlines of both dresses are sewn together at the waist. The gold skirt is rolled up origami-style, so that it fell very simply inside the bodice. We had to design the black bodice to hide any sign of the gold bodice underneath, so we did a wide neckline. We did a blouson look, so that it looked like it was meant to be a puffy blouson jacket, to hide the gold skirt inside.
The dress was not sewn at the shoulders or side seams – the black bodice had tiny snaps, so that it didn't present much resistance. You pull hard enough on the neckline to pull all the snaps free, the black top slops down, and the gold skirt unrolls. While you're wearing the gold dress, you essentially have a short black skirt and a black top hanging inside your gold skirt, so we created a bit of fullness in that skirt to hide that. You can't do this with a skinny dress. We had some ties that we cut out of the same fabric, and they also helped disguise that there was another dress hiding underneath. It's really not that complicated, but you have to be prepared to do fittings and practice pulling it. It did take two people to roll up the gold skirt, as flat as possible, pushing the excess fabric to the center of the back.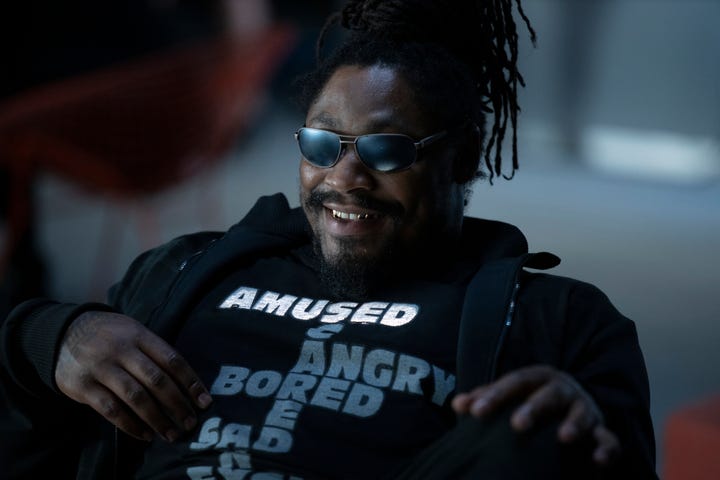 CC: One of the other transformation looks this season is Marshawn Lynch's mood-shirt, which is like a mood-ring, but a T-shirt, reading "Amused," "Bored," or whatever he's feeling.
SC: I wish I could say it was as simple as the black/gold dress, but it got complicated. Jonah liked the idea of clothing responding to mood, and I suggested that we write his emotions on the shirt, like a puzzle, so they slot into each other and the shirt has a bit of visual interest. And then I cursed myself. [Laughs] I spent a few days messing around with those words on a piece of paper, and my crew were like, "Please stop that and come do the background fittings?"
We printed the words on a fabric that was fine enough to see the LED lights through them. There was a button in Marshawn's pocket that he could click, and there was a technical person standing behind the camera also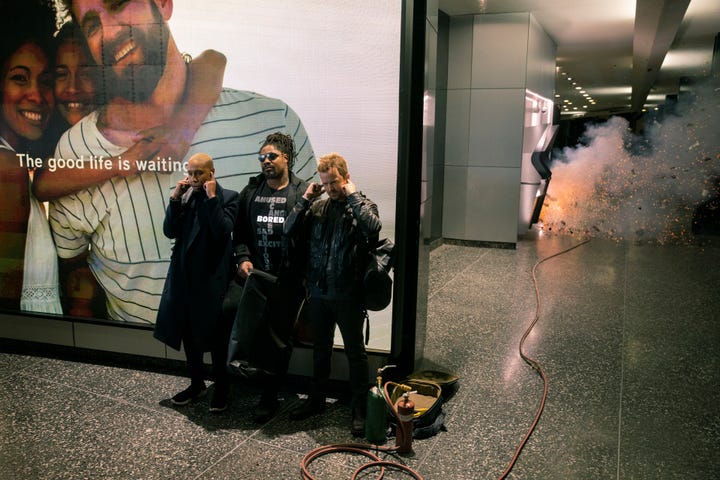 clicking something. Unfortunately, it got incredibly hot and it was burning his chest, so we had to create layers of padding to protect his chest. And then they kept writing it into other scenes! We thought it would be a one-off, but it became his signature outfit. Back in the costume department, we were like, "Oh, no! We've got to figure out a better padding for that poor man's chest." I think it's for sale now, without the LEDs? You can get LED things printed fairly cheaply. I had looked at companies online that do that, and probably for about $75, you could get it done, but we wanted more control than that would have offered.
CC: Speaking of control, an interesting thing about the future is its footwear -- women are still wearing stiletto heels. For Dolores, this reflects her manipulation of men. But for Maeve, it's about being dressed by a man with the power to switch her off. Since you prefer flats, I was wondering about your thoughts on this?
SC: Dolores, right from the get-go, has assessed what it takes to be powerful in this modern world, so she completely styles herself at first as the trophy girlfriend, to hook her extremely powerful boyfriend. Then she ends up in sort of stiletto boots, and by the end, we did get her in more kick-ass boots. Some people on production were like, "No, we love the look of stilettos,' but Evan and I were like, 'No, let's be comfortable. Let's be tough.'
I'm a little disappointed in myself that there are so many stilettos in that cold vision of the future, but I hope stilettos will actually become a thing of the past. They're the most retrograde aspect of women's clothing, and I'm disappointed that women are buying into them, still. That would be my one feeling of disappointment with myself, that we couldn't make more of a statement about women liberating themselves from some of these tropes. When we see them in the end, Maeve is wearing boxing boots, so we did slowly get these women into things that are realistic.
EXCLUSIVE BONUS: Shay Cunliffe demonstrates the bend and snap of the transformation dress.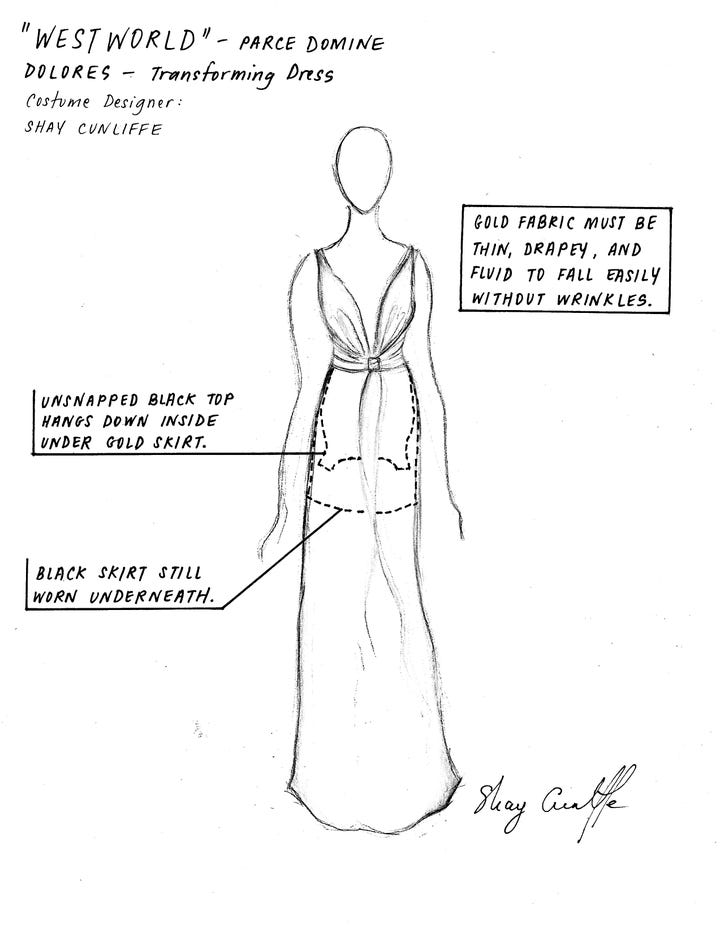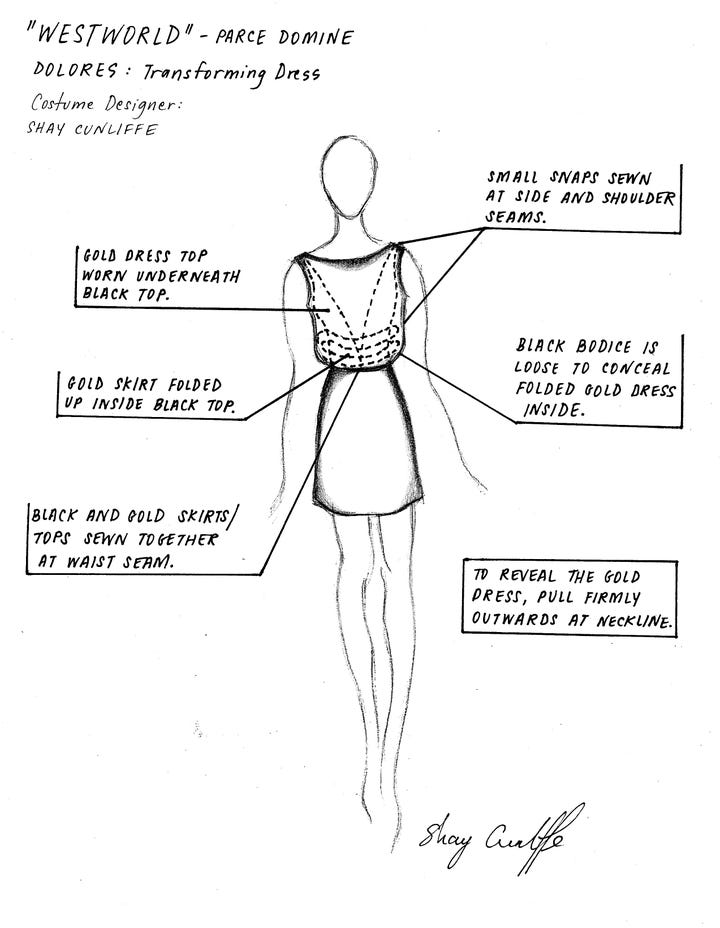 Westworld is available on HBO. Follow Shay Cunliffe on Instagram.