Pride Week: The Rise of Drag In The Cosplay Community
Some drag queens are expressing themselves in new ways through cosplaying.
Drag is far from some new concept, but in recent years it's gone as mainstream as superheroes thanks to RuPaul and his various ventures that have put drag queens everywhere from reality competition shows to short-lived Netflix series. Because of that, people who wouldn't necessarily find themselves at a Drag Show on a Thursday night have come to know more than just the typical pageant-looking queen. It's not all about big hair and flashy gowns. Today, drag has transformed to include everything from lewk to alternative to cosplay. Each brings their unique beauty to the table, but today we're all about the queens who come at us with more than just fashionable looks, but also portrayals of ours and their favorite characters thanks to D'Manda Martini, Dotte Com, and Medusa Chaos.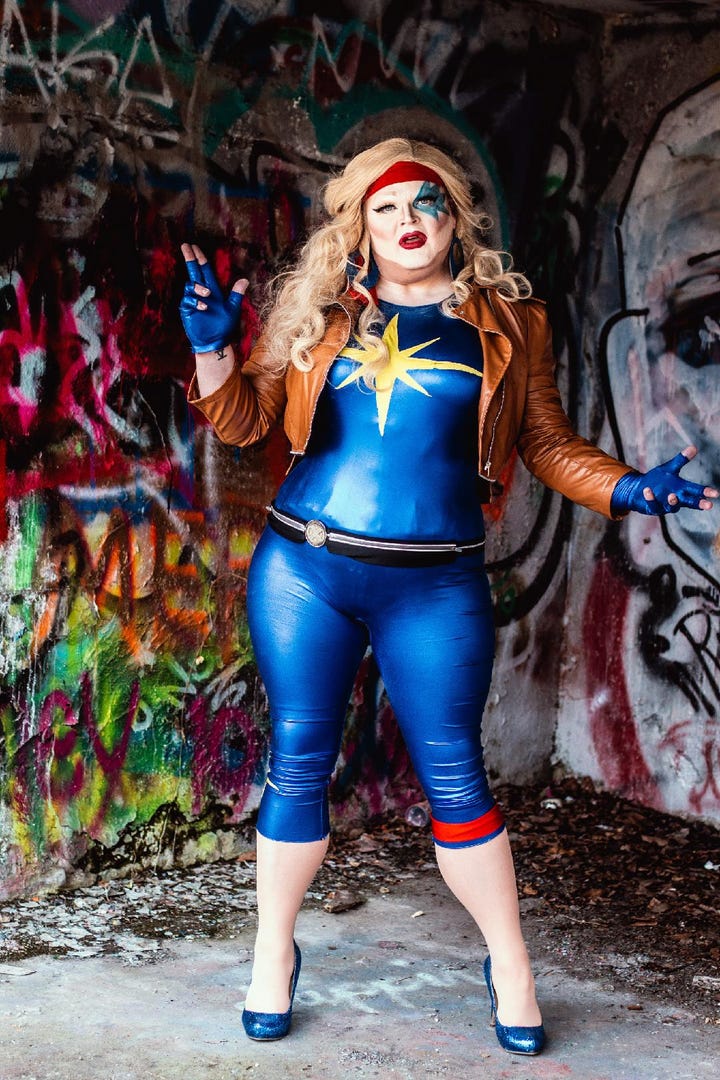 Each of our Cosplay Queens didn't just fall into this genre of drag by accident. Each of them flew their nerd flag high as cosplayers, convention goers, and like D'Manda Martini, avid comic book readers, "I started reading comics (specifically anything to do with the X-Men) around 1991 when a cousin of mine introduced me through Marvel's first set of trading cards." And her love of comics runs deep because her introduction into Drag Cosplay wasn't your run of the mill Storm or Rogue, oh no. She went as Dazzler in her Outback uniform, "She has always been a favorite character of mine, and this is a favorite look. It was Halloween time, and right after was Southern Maryland Comic-Con, and I thought, WHY NOT? Let's go for it!"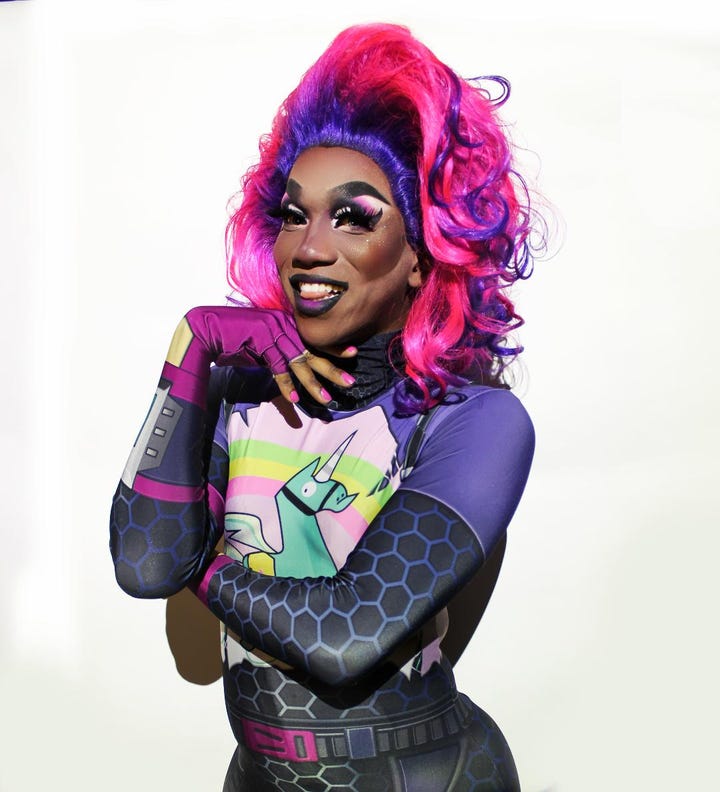 Dotte Com is another Marvel fan turned Drag Cosplayer. She remembers begging her dad to take her to local conventions and dreamed of cosplaying but had to resort to what her closet held, "I would always try and do a closet cosplay since I could never really afford anything expensive while I was in high school. So I would throw on an iron-on symbol on a t-shirt and call it cosplay," but later found her footing and got to let her creativity fly when she went at it with full force, "I thought it would be sooooo much fun to dress up as Sailor Venus and do a mashup of "Venus" by Lady Gaga and "Venus" by Azealia Banks. It was the perfect amalgam of pop! I always loved the idea of magical girls even though I never really had the chance to watch Sailor Moon growing up. Getting to be that character in drag allowed me to express my interests that were once 'socially-forbidden.'"
Then there is Medusa Chaos, the cosplayer who realized that drag was way more up her alley soon after her best friend's costume party where she went as Edna from The Incredibles, "At the end of the day every drag queen can relate to her."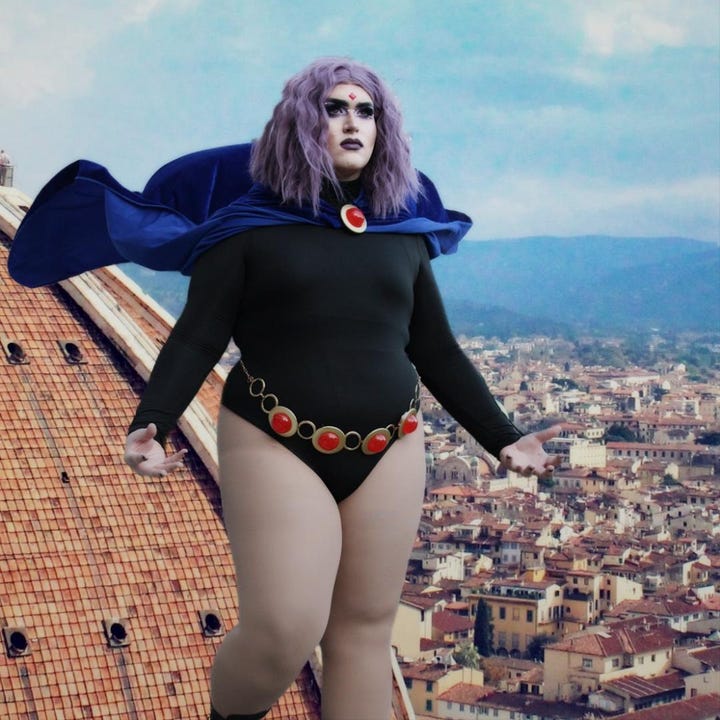 Relating to something, that's kind of the underlying element of fandom. Yeah, being entertained by something is a big part of it too, but at the core of our dedication to a particular movie, TV show, character, etc. is the relationship felt with it. I think that's also one of the many similarities between everyday cosplay and the drag as a whole. Cosplayers pick these characters because they feel connected to them, the same for not only Cosplay Queens, but all Queens. The character they take on in Drag is someone they identify with and relate to on a grander level. Drag has also always had impersonation at its core.
"Drag and female celebrity impersonation was already a very big part of drag before cosplay was born or became popular," said D'Manda Martini. Dotte Com agreed, "Back in the day, drag was popular for celebrity impersonation. People couldn't afford to see their favorite divas, so the queens would dress up as your Tina Turner's and Cher's. So in a sense, cosplay has always been there from the start!"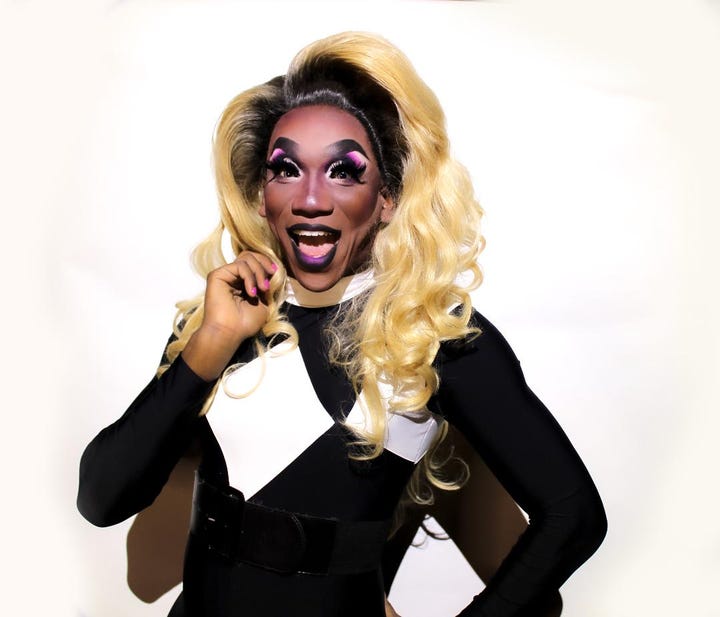 And for those who've been to a drag show, they know that Queens are not there to just look good. They are there to perform, which Dotte Com points out is the biggest difference between the two, "When I perform at a bar, I can leave that night with a few hundred bucks. Getting tipped is a huge part of drag culture that helps fund my drag. I haven't found out exactly to get that type of cash with just cosplay. Straight-up cosplay is more like… a labor of love. Self-funded love."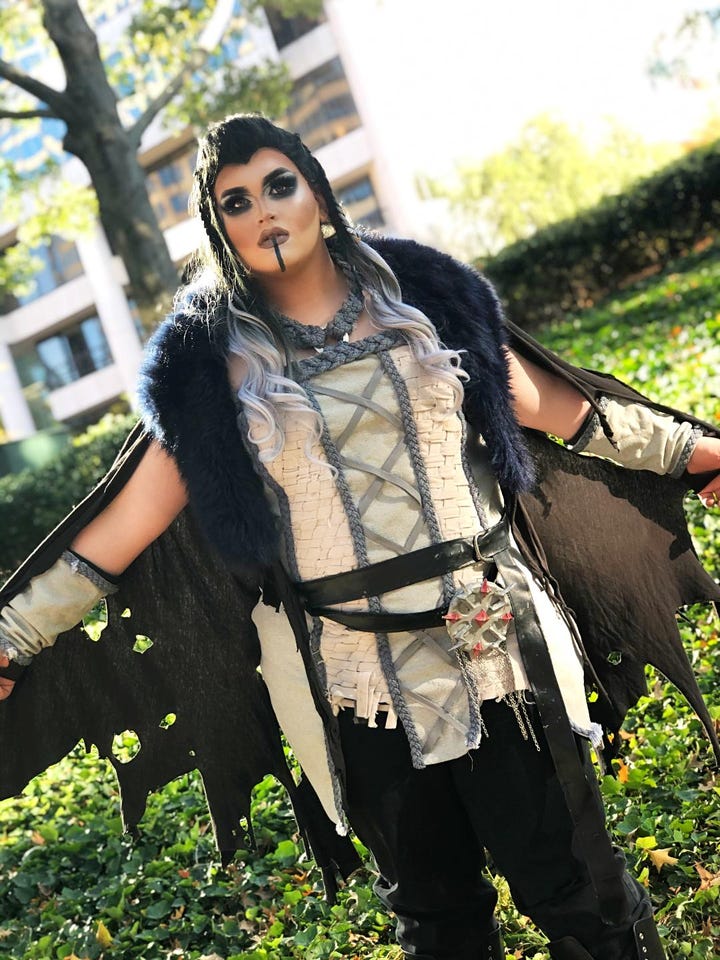 A self-funded love that comes with various layers of creativity and originality as Medusa pointed out, "In the drag world, it's all about originality. While originality in the cosplay world is a thing, you're still looking at a reference at the end of the day. Whereas in the drag world, you have to come up with your drag persona and be original when doing so. It's like you are your original character."
Which at the end of the day, is 100% true. Thanks to Drag Race and other incarnations, people all over the world have gotten to take in drag queens on a broader level and in turn have turned Drag Race queens and their Drag Queen personas into pop culture icons that fans now dress up as at RuPaul's annual Drag Con; from sporting Trixie Mattel's signature makeup to rocking Sharron Needles spooktacular ensembles.
However, while the show's must-see "Snatch Game" episode gives way to cosplay in a way and multiple-season participant Phi Phi O'Hara has provided some cosplay goodies, the show hasn't brought a full-on cosplay queen to the mainstage. That is likely due to the copyrights the show would have to get and all the legalities that go into it, pointed out by Dotte Com and D'Manda Martini. And while Medusa is ready for the show to stop "sleeping on some of these cosplay queens," perhaps it may never come fully, but at least we did get a surprising Frozen runway during season 12, so who knows?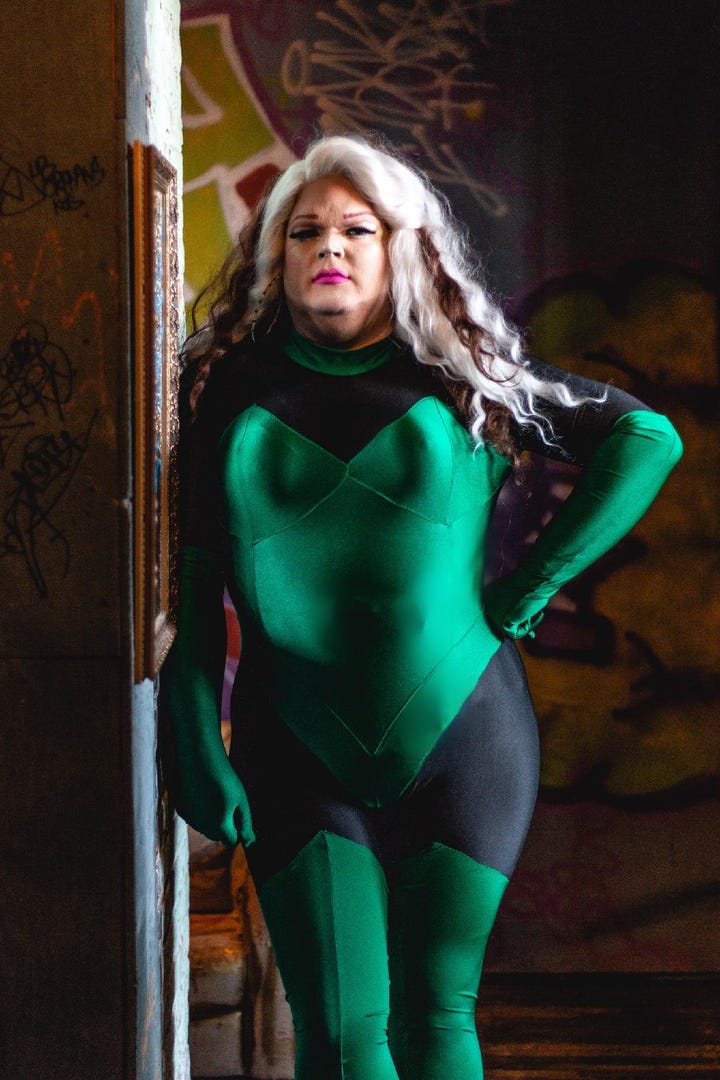 Cosplay Queens may have to wait for the hit Vh1 show to get more copyrights, but until then they have their local scenes, conventions, and the always growing online community, something Medusa has taken advantage of being one of the few Drag Cosplayers in her local Charleston. Dotte Com and D'Manda Martini said more or less the same thing, while they have a handful of cosplaying sisters or sisters who do a bit of cosplay in their act, the Drag Cosplay scene isn't as big as other genres. Which made me wonder, where they felt their particular style of drag fit into the ever-growing landscape of the art form.
"Honestly I feel like it depends on what type of a queen you are outside of your cosplay looks. You have to have versatility, and I feel like cosplay helps with that. To be honest, I feel like it's slowly becoming its own category of drag, but it does lean more towards lewk queens," said Medusa. While D'Manda Martini noted, "It's it's own kind of style. I'd say it fits somewhere in the realm of impersonation, which is still highly popular ("Snatch Game," amiright?) as you are personifying a known character."
With drag queens becoming such a staple in pop culture and entertainment, we've seen more and more young people getting into it. When Drag Race started, season 10 winner Aquaria was 13-years-old. That's the same age her peers were probably getting into their own fandoms. So while she was creating lewks, some of her peers were probably going as Iron Man for Halloween. That's the beauty of all of this. Drag, comic books, movies...they all inspire the next generation to show who they are and express it in various ways. Drag and cosplay is all about expression and as each continues to grow and reach new levels, the future seems a bit brighter for all those involved.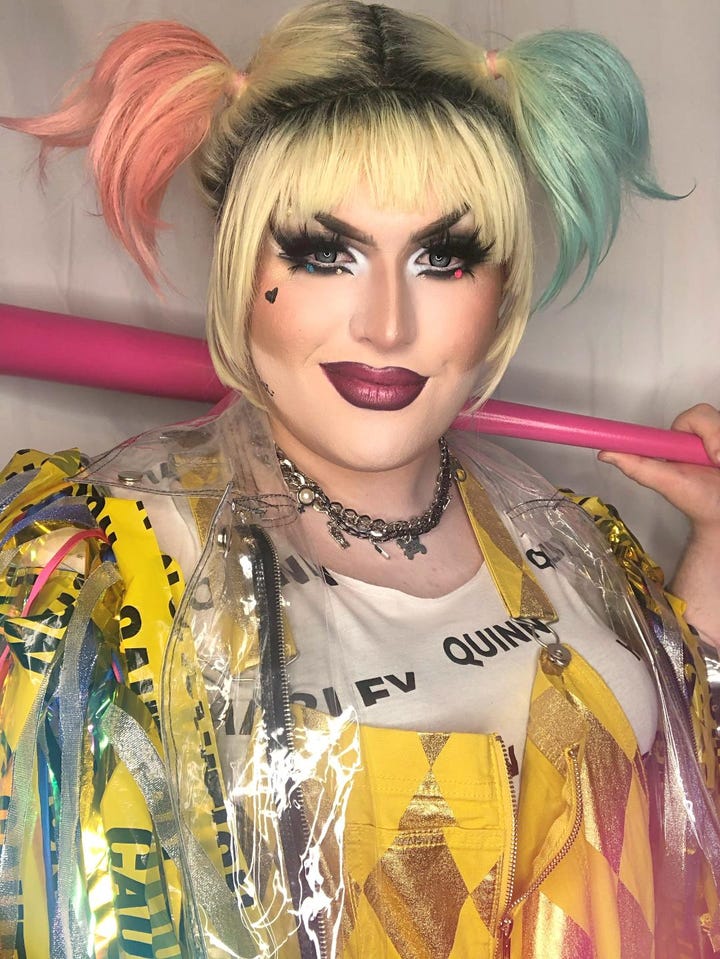 Medusa said of the future of the two, "The lines will definitely continue to be blurred. So many people are 'crossplaying' in general and don't realize that they're doing drag in the first place. Cosplay is drag in its own sense, but it is a different form of drag. I feel like the younger generation of cosplayers are going to mature and come into the realization of either their gender identity or realization that they want to do drag," adding, "Overall, I think it's going to be an advancement, and will shake up both communities."
"With Drag Race being on Vh1 and Avengers: Endgame being one of the biggest movies of all time, we're going to see an influx of new generations become avid fans of both. It used to be impossible to learn how to do drag makeup; you could only learn from another queen in person," said Dotte Com adding about the impact the internet and social media has had, "Now there's almost a surplus of tutorials of how to do makeup and create costumes. Instagram has been a huge help too, everyone tags where they got their costume and accessories from. It's so much easier to get custom dye-sub spandex artists just by following hashtags. With a new multitude of tutorials and online communities that are stronger than ever, this is a great era to be a drag cosplayer."