Squid Game Costumes Banned In Schools Around The World
Schools in the United States, Canada, and Ireland have banned costumes from the popular show, Squid Game.
Ever since it launched on Netflix in September 2021, Squid Game has gone viral, reaching heights, viewership, and buzz that only a few shows enjoy. That attention and water-cooler talk (not to mention the simplicity of the costumes themselves!) meant that the show was the perfect fodder for Halloween this year, while also attracting some unwanted attention. According to USA Today, a handful of schools in New York prohibited students from wearing costumes from the game, because they were trying to reenact the show's dangerous premise.
Set in Korea, the series follows a desperate man named Seong Gi-hun, who, along with hundreds of other people in similar financial dire straits, are recruited to take part in a mysterious competition. Knocked out and taken to an unknown location, they're identically dressed in green jumpsuits and prompted to play in high stakes versions of children's games, like red light/green light, sugar honeycombs, tug of war, marbles, and others. Those who succeed in the competition will win a ₩45.6 billion prize (around $38 million), but those who fail are brutally executed.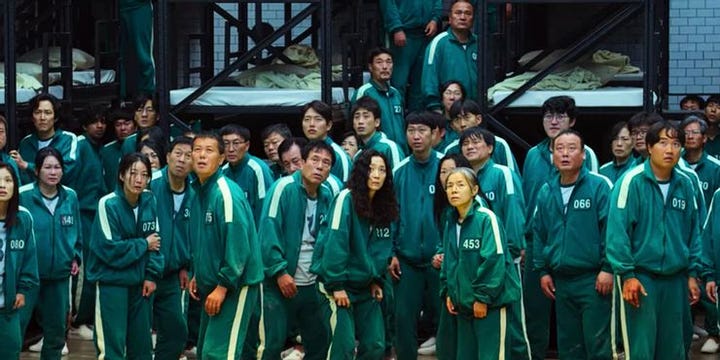 In a statement to USA Today just before Halloween, Fayetteville-Manlius School District Superintendent Dr. Craig Tice explained to the publication that it would be "inappropriate for any student to wear to school a Halloween costume from this show because of the potential violent messages aligned with the costume," and that school district staff had observed students "mimicking" some of the violent games that are depicted in the series.
"Some of our younger students are talking about and mimicking aspects of the show/game at school," Tice wrote, and noted that the prohibition extended to items that "can be interpreted as weapons should be brought to school, such as toy swords or guns, and that costumes should not be too gory or scary so as not to scare our younger students." School officials urged parents to have a conversation with their children about their behavior.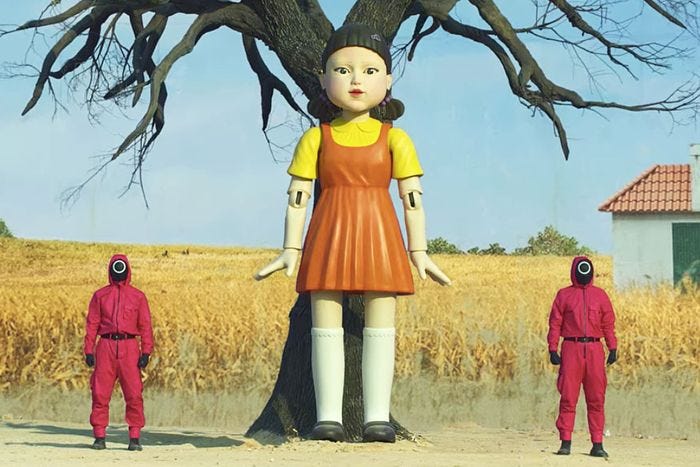 The Fayetteville-Manlius School District isn't the only school system to ban the costumes this year: the Boisé elementary school in Montreal, Quebec informed parents that students wouldn't be permitted to wear the costumes, drawing the ire of Quebec Premier Francois Legault, who called the decision "unacceptable," and noted that he felt it was against the spirit of the holiday. In Dalkey, Ireland, the Castle Park School reached out to parents after noticing students reenacting the games during recess, and informed them that the costumes wouldn't be appropriate.
The school districts find themselves in the midst of a contentious issue: balancing safety against a student's ability to express themselves. The issue highlights an ever-present issue for parents and schools: finding the right time to expose children to content that's appropriate for them, and explaining to them the difference between entertainment and the real world. With Halloween over for 2021, there'll undoubtedly be other shows and costumes that'll bring the same issues to a head in 2022 and beyond.