Tutorial Tuesday: How To Make A Shoe Slip Cover And Attach Armor
In this tutorial, Plexi Cosplay shows you how you can reuse shoes for different cosplays.
Costumes are varied and designs can be wildly different from one cosplay to the next. There are a few pieces, though, that span the gamut and can actually cut down on your costs if you are willing to reuse materials and plan accordingly.
One hack for veteran cosplayers is reusing a single pair of shoes for several cosplays. In order to do so, rather than remaking a pair of shoes or attaching costume pieces directly to shoes, the cosplayer will instead draft a slipcover pattern for their shoes and simply remake the cover for each cosplay.

In this fashion, your base shoe retains its quality, and your slipcover with armor or costume attachments can be removed and stored with the rest of the matching costume.
Even if pattern-drafting isn't your 'thing', these 5 easy steps will help you create your very own shoe slipcover that you can use time and time again!
1. Pick the right pair of shoes.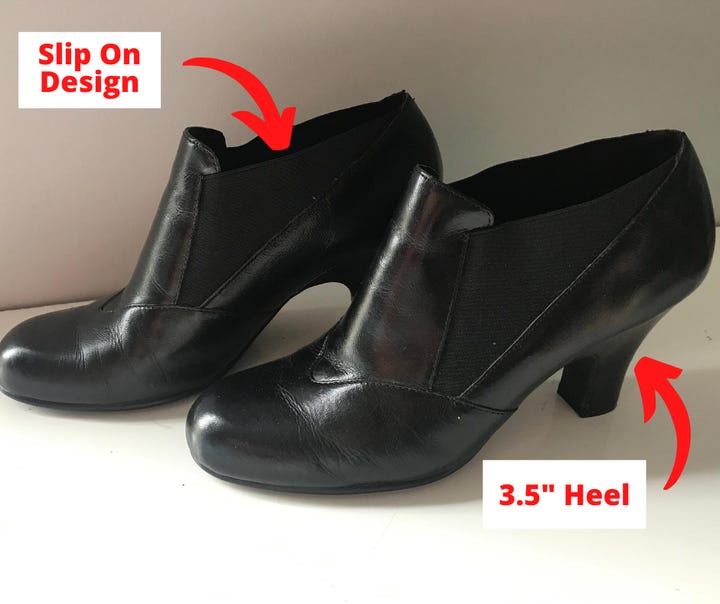 It seems simple, but this step is the most important. While you can remake your slipcovers to fix mistakes, your shoes will be the constant in this entire process and should last you several years if chosen correctly.
When I'm choosing the right shoes for cosplay, I look for a few key things:
Comfort. This means that when I put them on, I have no rubbing points of contact. Make sure you can walk easily and that there's padding to keep you on your feet comfortably for the duration of a convention.
Design. Most of my cosplays look best in heels, as female designs tend to beg for a feminine shoe and structure. Pick a pair of heels that have a wider heel point (easier to walk in!) and that aren't too tall. I tend to stick with heels that are around 3.5" tall.
Slip-On. I don't want to spend all of my time messing with ties or dealing with a rubbing zipper. For me, the most essential piece to picking shoes is making sure they can slip on without extra hands to help. It makes dressing up much easier, and then there's nothing for your slipcover to snag on!
2. Put one shoe on and wrap it in Cling Wrap followed by Duct Tape.

To create your pattern, you really only need to work with one shoe, as you'll just mirror the pattern for the other!
When wrapping your shoe in Cling Wrap, make sure your leg/foot is placed on the ground as it would naturally when you stand so your pattern isn't warped. I typically wrap around the arch first and then work my way over the toe and around the back of my heel. Be sure to wrap up your leg for as far as you want your pattern to extend. I usually go to crew sock height.
With the Duct Tape, begin by wrapping up around the arch to the top of your foot. Then, place a piece of tape at the toe and lay it firmly along the midline of your foot up to the top of the 'crew sock' line. You won't need to Duct Tape the actual pointed heel of the shoe. Rather, start at the base of your foot's heel and do a midline tape up to the crew sock height. Tape around the ankle (making sure not to pull the tape tight but simply lay it on the Cling Wrap) and then tape over all exposed sections including the bottom toe area and bottom of your foot's arch. Avoid the pointed heel.
3. Trace and Cut Your Pattern!

There are three main lines to draw for your pattern.
Draw the top midline from toe to crew sock height.
Draw the back midline from heel base (not including pointed heel) to crew sock height.
Draw around the bottom edge of your shoe from the actual heel (not including pointed heel) to the toes and back around.
After your pattern is traced, simply cut along each line through both the Cling Wrap and Duct Tape (be careful not to cut your socks/shoe!). I typically start by cutting down the top midline to the toes, pulling the entire pattern off of my shoe once I reach the bottom pattern line.

Cut the back midline and then cut the bottom edge line. You will end up with an 'inside' shoe piece, an 'outside' shoe pattern piece, and a bottom piece. Cut the bottom piece right where the base of the shoe meets with the pointed heel, as you are not putting your shoe cover on the pointed heel itself. Instead, the cover will wrap around the shoe above the pointed heel, and the bottom panel will stop where it meets the pointed heel.
After this, I flatten each piece, label them 'inside', 'outside', and 'bottom' with an arrow pointing to the inside or outside panel AND an arrow pointing to where the top midseam meets the bottom panel. I then trace each of the three pieces onto heavy cardstock for longevity purposes.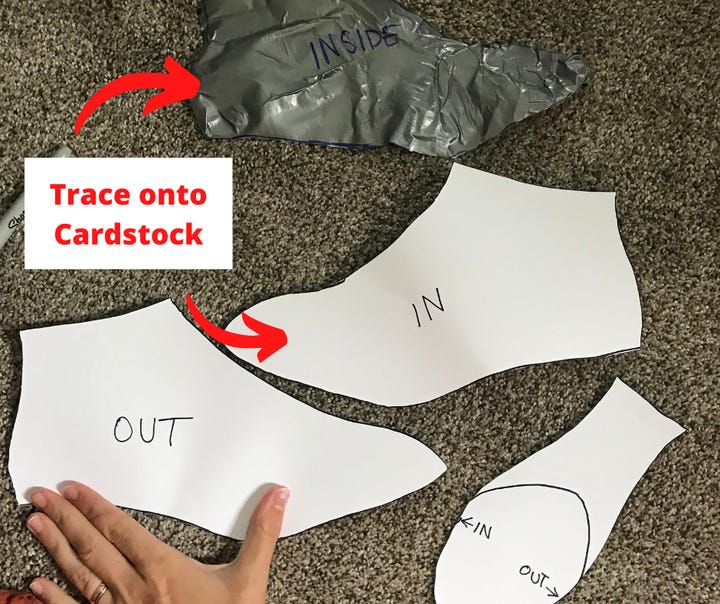 4. Transfer your pattern onto 4-way stretch fabric and sew your pieces together.
The key here is the stretch, and because of the stretch, I typically consider my pattern edges as having included the seam allowance. You'll need to test this out for your fabric though, as some stretch more than others and may need more or less seam allowance depending on the fabric.
After each panel is cut, sew the top midseam together first. Keep the back midseam open and sew a fastener -- whether it's a zipper or velcro or snaps - as your closure. I usually opt for velcro for my shoe covers.
After the top midseam is sewn, then align your bottom panel by matching the arrow you made for your top midseam. Remember to sew with right sides in. After this is complete, turn right sides out, and you should see the shape of your shoe cover come together! Don't forget to sew your back midseam attachment.
5. Put the shoecover on and glue armor pieces with Fabric Glue.

At this point, your shoecover is essentially complete. Now, you can easily attach armor pieces permanently to the slipcover with adhesive.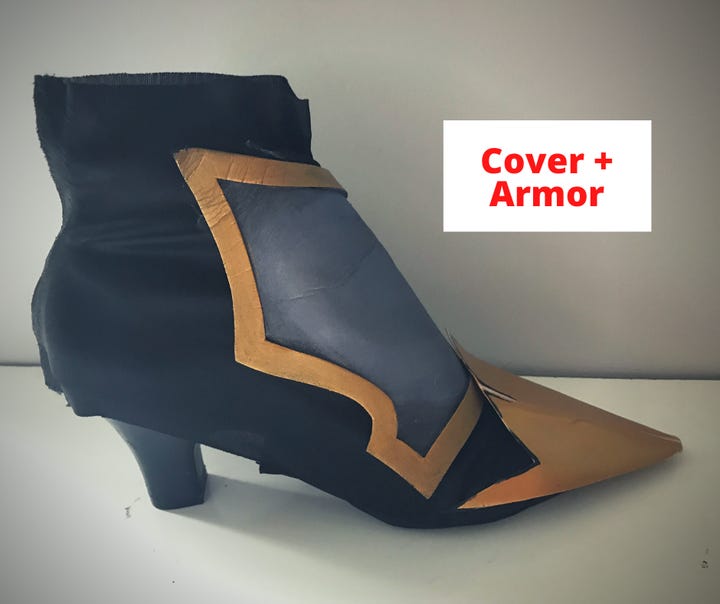 I've found that the best choice for this is Super Fabric Adhesive by Aleene's Original. It's ultra flexible (which is great since it's going on a stretch fabric) and has the best hold over time.

When gluing armor to your shoecover, always make sure to have a protective shield underneath (I use Cling Wrap under the slipcover) and have the slipcover ON YOUR SHOE while the glue dries.
If you're looking to add a little more traction to the bottom where you covered the shoe tread with fabric, glue some rubber shoe soles to the base. Large sheets of rubber shoe sole can be purchased on Amazon and cut to the size you need for your shoe.
Save your shoes and try a slipcover for your next cosplay. Your wallet (and your feet!) will thank you for it.