How To Style Sephiroth's Wig From Final Fantasy VII
Become the ultimate Sephiroth cosplay with this wig tutorial.
Sephiroth has been one of the most iconic characters in all of videogame history. His cool demeanor with the signature Masamune sword and long silver hair is engraved in every gamer's head since fighting him in the original Final Fantasy VII. With his reveal as the new character in Super Smash Bros. Ultimate last week, as well as the Final Fantasy VII Remake that was released back in April, Sephiroth is bigger than ever.
Since many are looking to cosplay Sephiroth, I thought I'd put together a guide on how to create his wig. It may look daunting at first, but with a little practice and patience, you'll have a wig fit for a One Winged Angel.
Before we start, here are the materials you will need.
Materials:
Long White Wig
Silver Sharpies
70% Rubbing Alcohol
Spray Bottle
Pliers
Scissors
X-Acto Knife
Hair Dryer
Got2Be Glued Hairspray
Wig Stand
Styrofoam Wig Head
Step 1: Preparation
For my wig, I ended up buying WigIsFashion's white synthetic lace front wig. The wig itself is 42 inches long, which goes down to just above my knee. This is the perfect length for me, but you can always add wefts into your wig if you're wanting it to be longer. I have also seen other Sephiroth cosplayers add more hair in the front to make him have more of a widow's peak, but for me the lace front worked fine.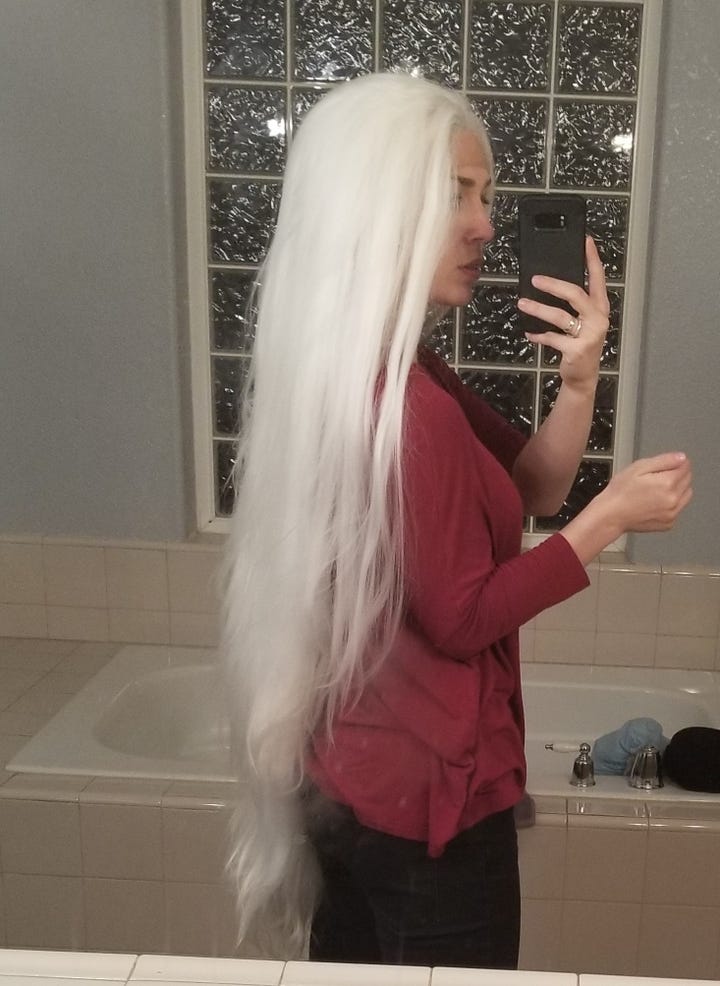 Note: I did not cut my lace until the very end to help keep the wig pinned in place properly. You can cut it if you'd like, but I wanted to have something to pin that wasn't the hair while I was dyeing it.
You are also going to want to have a wig stand (I used my tripod to save money) and a styrofoam wig head so you'll have something to put the wig on. I also suggest doing this outside or in a garage if you have one since there is quite a mess with this process. If you have a newspaper to put down or plastic bags underneath the wig, that will help keep the floor from looking like a silver sharpie exploded on it.
Next you are going to take your silver sharpies and rubbing alcohol and mix them together in your spray bottle. For this, you are going to need to open your sharpies. First, take off the cap of the sharpie. Then take your pliers and pull apart the sharpie where the colored piece meets the gray piece. The video below by Get Crafty Crafty on YouTube shows how to best cut open a sharpie.
Once you have done this, you need to open the inside with an X-Acto knife so that you have the most amount of dye possible. I usually sliced one side of the pad so the foam inside is exposed. Take that pad and put it in your spray bottle and mix it with the 70% rubbing alcohol. You can add more sharpie pads to darken the silver if you'd like, or leave them overnight to get all the ink out. Since I was on a time crunch, I simply shook the spray bottle for about 10 minutes to try and get as much ink out as possible. I ended up using almost 15 silver sharpies for this, so make sure you have a lot of them!
Note: I also recommend wearing gloves for this, as your hands will end up silver if you don't. Trust me, it takes a long time to get out.
Step 2: Dyeing
Now that you have your dye concoction and your wig on the wig stand, it's time to start dyeing! Start off by taking a small section of hair at the bottom and spraying it with the dye. There is a LOT of hair to dye, so keep spraying on the dye until you are satisfied with how it looks. Alexa Poletti has a good video showing her spraying dye on a wig to see how it looks in action.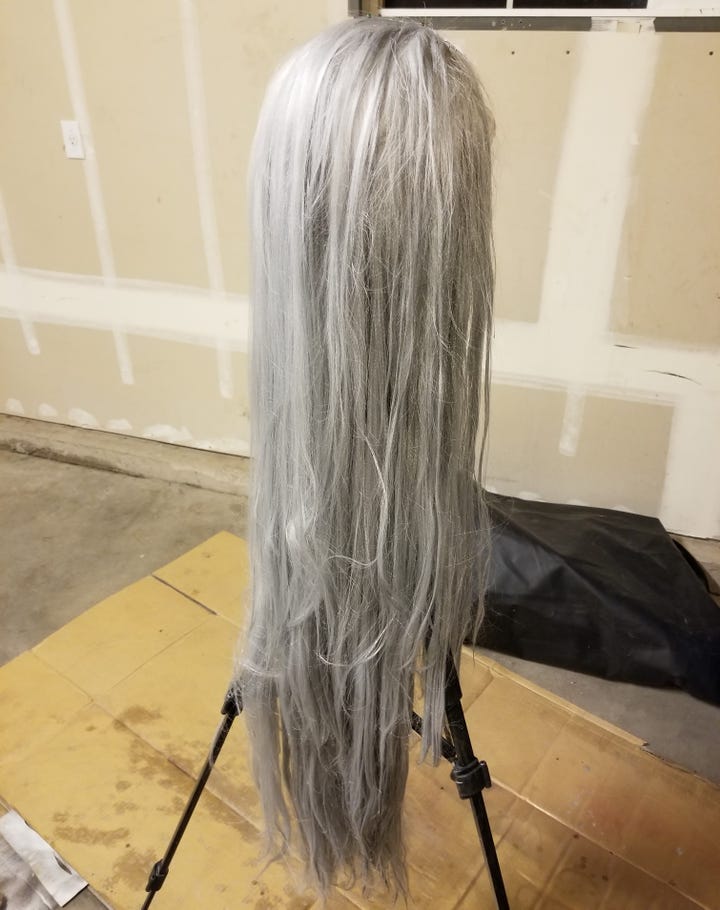 After about two hours of spraying later, the wig is dyed "Sephiroth silver". Now you can leave it out overnight and let it drip on your towels/plastic bags/newspaper. It will take about 24 hours to dry, so be patient and let it sit for a while to fully dry.
Step 3: Rinsing
Once your wig has dried, it's time to rinse! I ended up rinsing my wig three times in my bathtub to make sure all the excess dye was out. After all the rinses, I went ahead and dried the wig with my hair dryer (and brushed!) while it was still in the bathtub in case there was any sharpie residue still dripping off the edges that can be washed down with water.
Step 4: Styling
Now comes the styling! To start off, I sectioned off some hair in the front of the wig and started trimming it with scissors so that there is less hair to style in the end. I cut my Sephiroth bangs to be about the same length as his Crisis Core look, but you can always make them longer if you're looking for more of the classic hair.
After I finished trimming, I started to style the bangs. My first attempt was to use the Got2Be Glued hairspray and try lifting them up while drying them quickly with the hair dryer. When I was done, I just didn't like them at all because they looked too bulky and not straight enough for Sephiroth.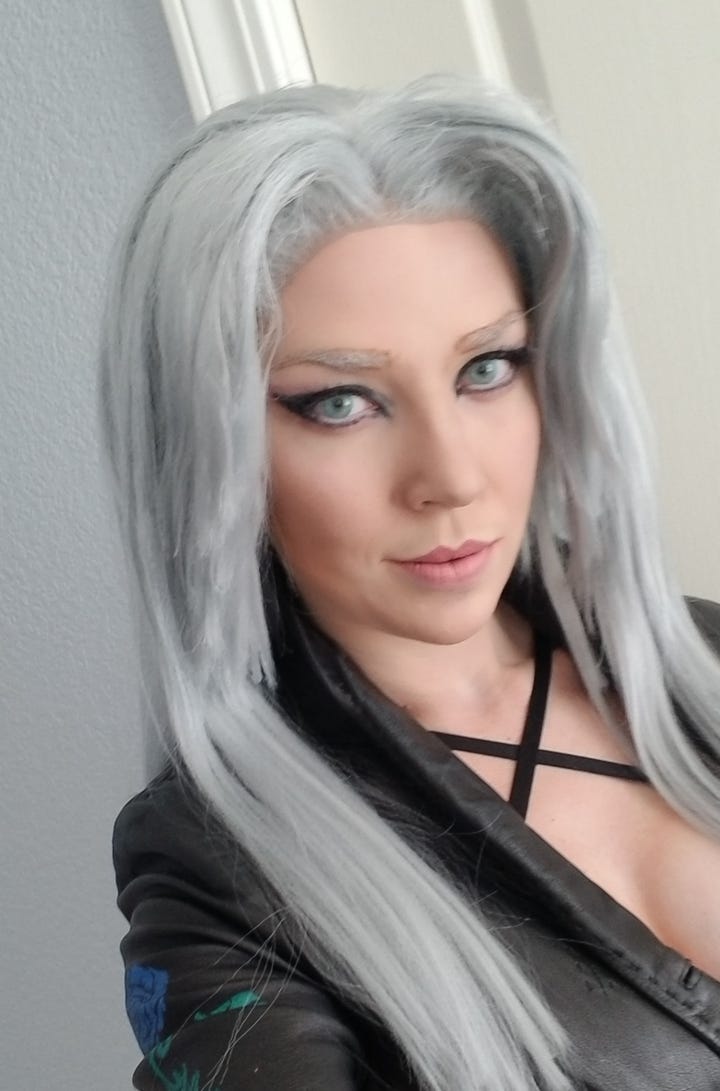 I ended up finding an Aerith wig tutorial on YouTube by Arda Wigs that shows a teasing trick called "Backcombing with Hairspray". For this method, you need to start with the back of your bangs and tease them as high as you want with hairspray and a hair dryer. Once they are teased, push them forward and shape with a comb and use your hairspray again. The original video seems to have been taken down, but you can watch this new one by Arda Wigs to see the same effect.
Finished!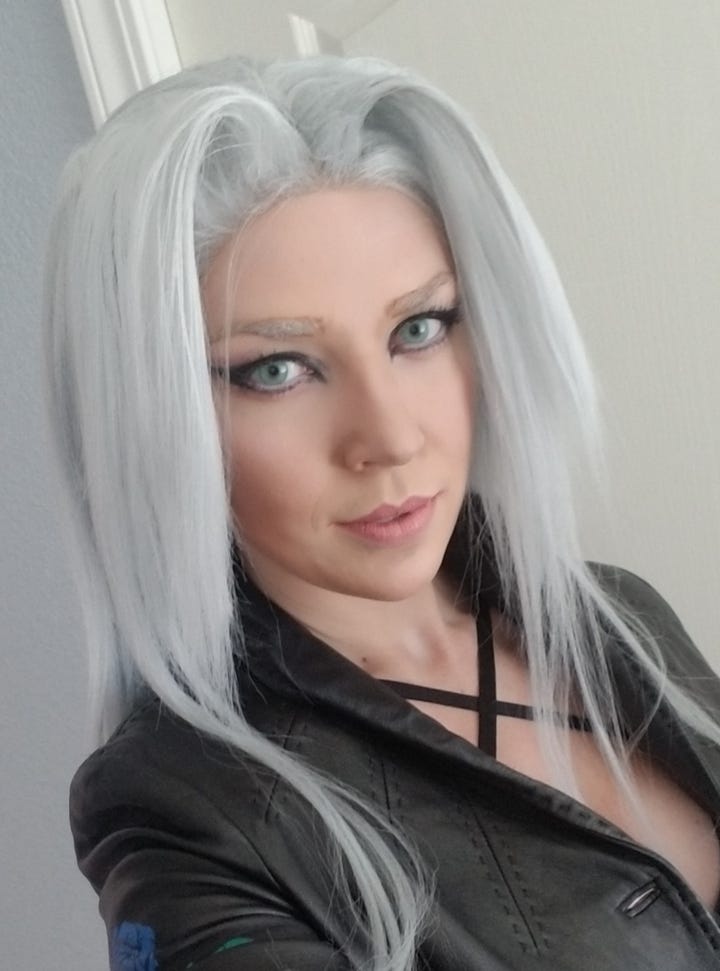 The only drawback to this method is that the Sharpie still leaves a little bit of silver residue in the hair, and it made the back of my Sephiroth coat a little shiny. If I were to dye a new wig, I would probably dye it with the Copic markers method instead, even though it takes a little longer to do.
Whichever way you decide, at the end of the day you'll be ready to face off against Cloud. Just don't go burning down Nibelheim.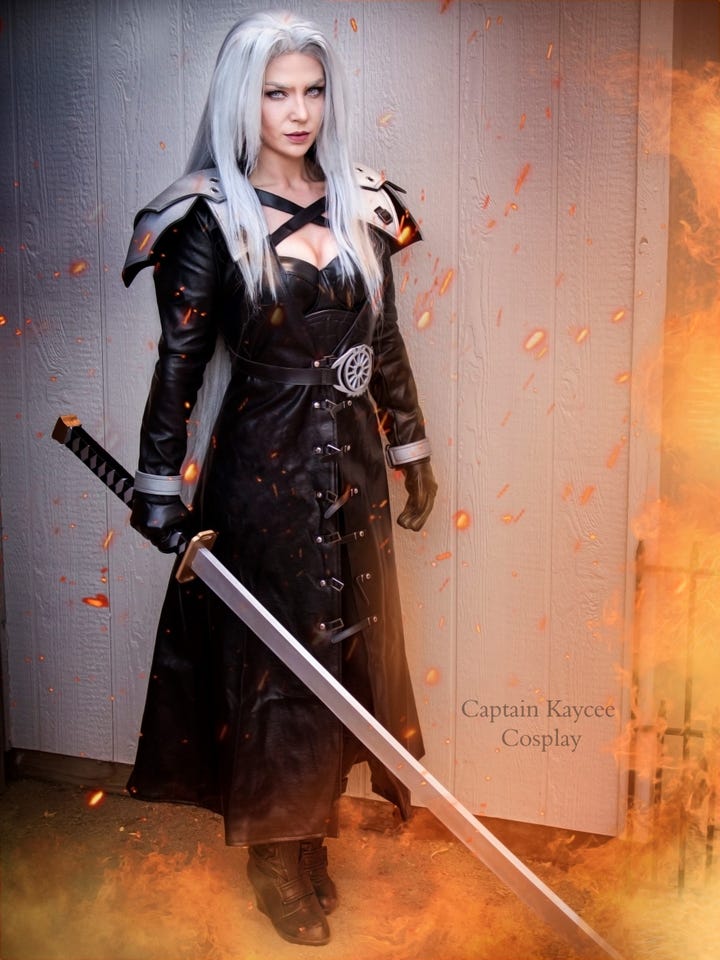 Like this article? Be sure to check out our other Final Fantasy VII features including Holly Wolf and Aerith Voice Actress, Briana White!