Amber Arden Cosplay - The Real Life Disney Princess
Cosplayer Amber Arden is a spitting image of Disney's Snow White.
Many people dream of going up and becoming a Disney Princess. Few people actually make it happen. For Amber Arden, the power of cosplay made that possible. Here, she shares her journey, from Disneybounding all the way to becoming a Hot Topic stylist.
"When I was a little girl I always had a big imagination, optimistic and fun loving. I believe that good can come from anything and you alone can create your own fairytale," Arden told us, "the Disney Princess is the ultimate fairytale, the plot in which the princess is of royalty, defeats evil, and finds true love in the end. These stories brighten those children's lives and inspire them to dream, imagine, and strive for big things."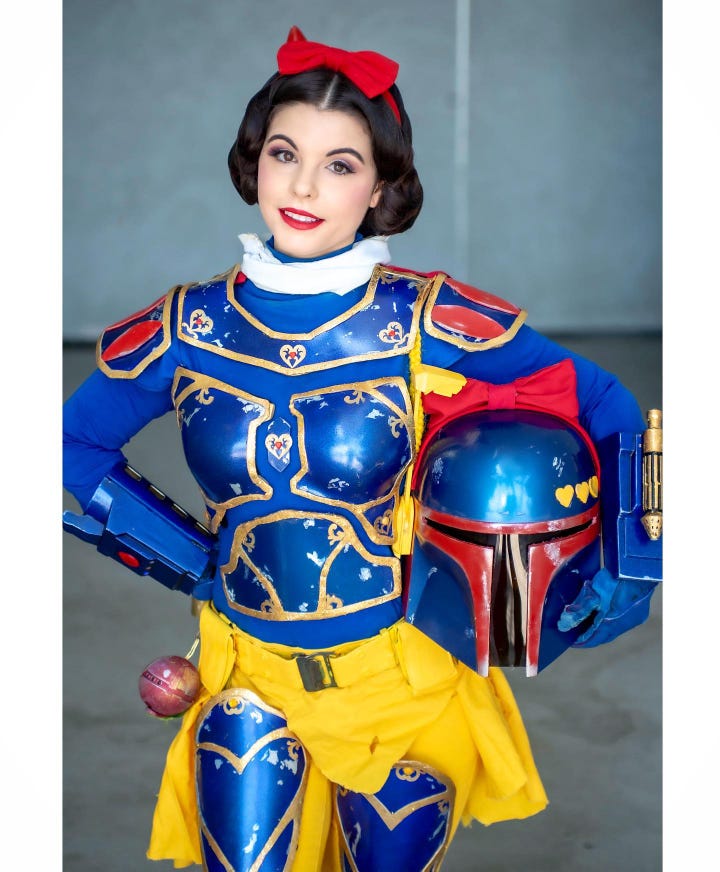 Arden is anything but your average Disney cosplayer though. She's most known for her Snow White mashups, including an Edwardian Snow White, Rococo Snow White, Noir Detective Snow White and Flapper Snow White. Perhaps her best known work however is her Star Wars crossover: Snowba Fett.
Taking inspiration from the iconic armor of Boba Fett, Arden admitted that while "All of [her] cosplays have a special part of [her] heart," Snowba Fett stood out as her favorite. "After visiting the Mandalorian Mercs Booth, I fell in love with the armor! I was in awe of all the cosplayers and their costumes as well. So I decided to mash up my two favorite characters! Snow White and Bobafett. Inspired by Sabine from Rebels, I constructed my armor for the first time for Anime Expo and after that I surprisingly generated a 30+ group of Armored Disney Mandalorians! That group blew my mind and was truly a sight to see!"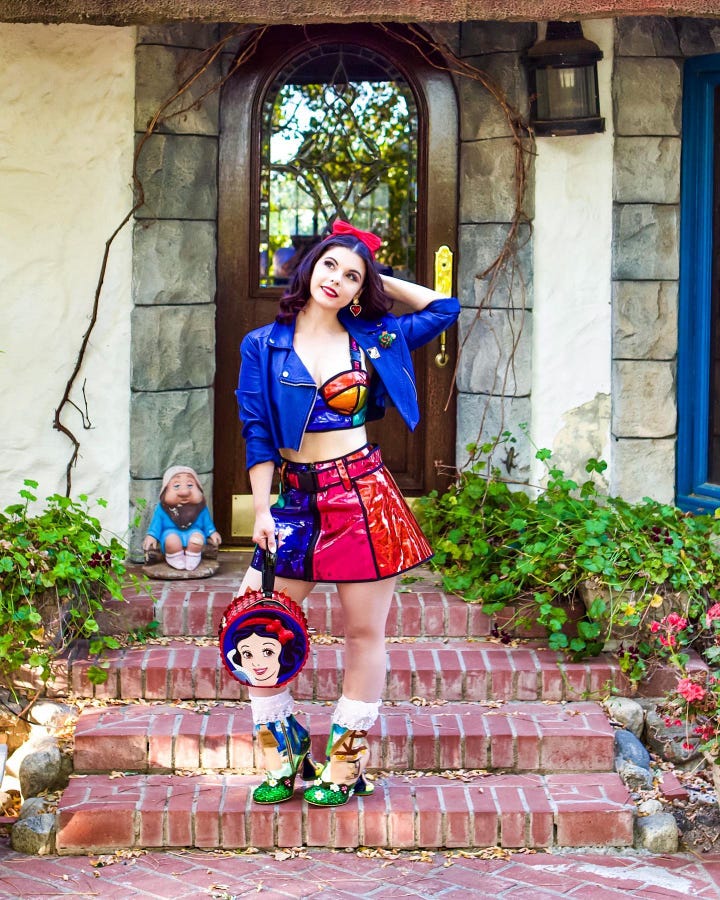 Like any artist, Arden is always looking to improve her craft, and spoke to us about the ways she's rebuilt the Snowba Fett armor, adding in more details each time. "The first time around took a month, second time around took two months and ever since, I've been remaking and enhancing her for six years now. Now, after completing my Female Legacy Stormtrooper armor I'm planning on making her again, along with a whole new Mando! "
You might have noticed that Arden's portfolio contains a lot of Snow White. While it's true she bears a remarkable resemblance to the character, there's a lot more to her connection to the role than that, Arden explained; "Snow White is the first Disney Princess and she has such a unique way of acting and talking! It's contagious. Her upbeat, kind and cheery personality truly marked her character. Her smile and her innocence are not only classic but also iconic. Snow's facial features, hair, and overall look stands out from all the other Disney princesses which makes her very special."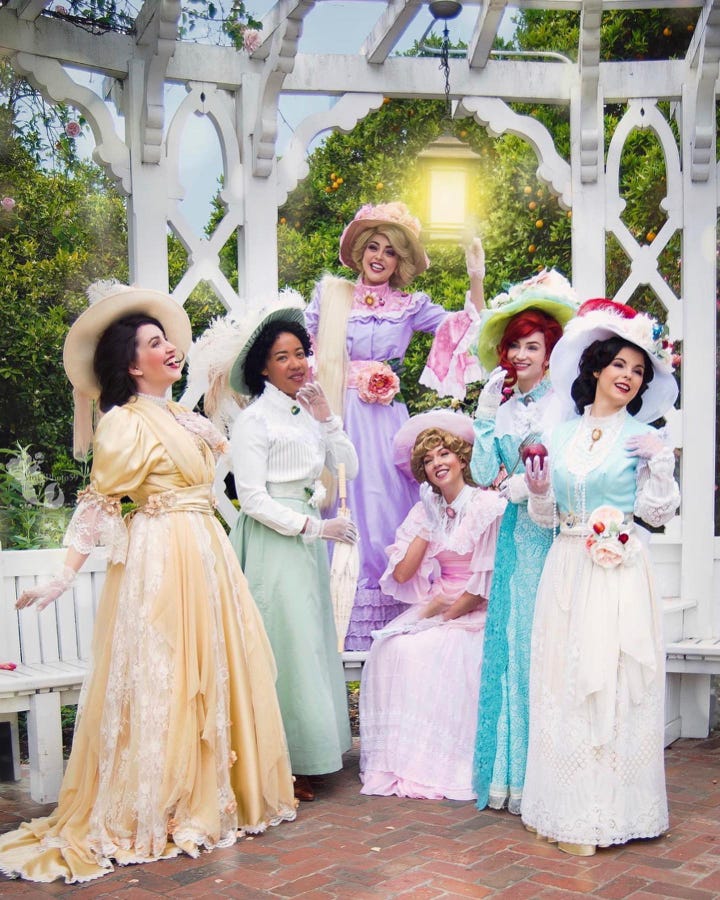 How did she go from admiring the character to being arguably the most notable cosplayer in the Snow White community? It all started in the most unmagical of places; the garage. "For many years I was told I talk and act like Snow White, so one day, I decided to put a Snow White cosplay together! After that, I did my first photoshoot in my garage and then upgraded by making a new dress and wore it to a few conventions. That's how I met a lot of my cosplay friends who share the same passion as I do," Arden said. Passion which includes not just looking like the character, but taking on the role completely. "One of the top things we have in common was consistently acting like the character. Even when I get ready for a cosplay, I get in that mind set. I also research heavily beforehand! It makes it fun for the people around you, when you're in character, they all have a ball. My ultimate goal is to emulate the character as best I can!"
Given that Arden was taken in by the "classic" and "iconic" look of Snow White, it's no surprise that when she lists her favorite non-Snow White cosplays, they remain a constant theme. "I love to do vintage classic actresses like Annette Funicello, Judy Garland, Betty Page, Elizabeth Taylor! I'm also planning to do Audrey Hepburn. I resonate with old Hollywood actresses, [and] I hope to do more vintage shoots!"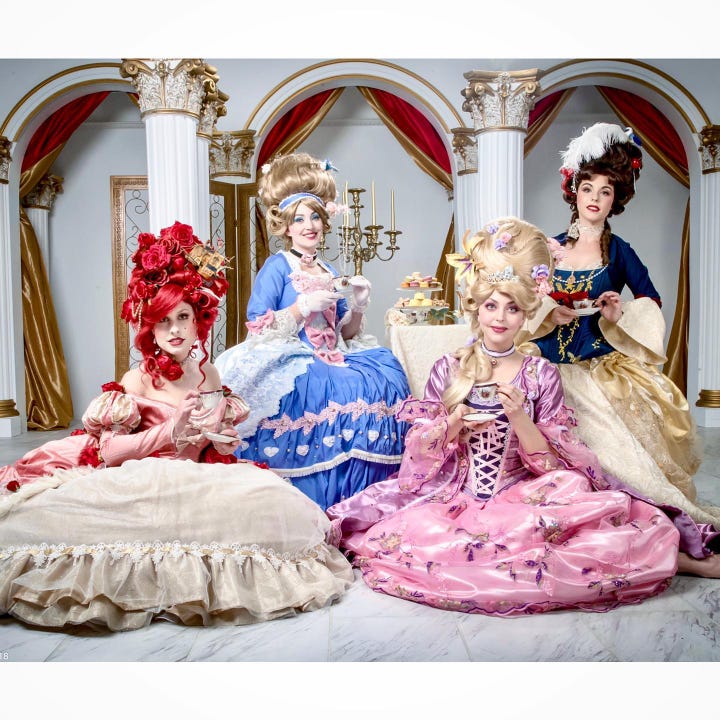 Arden's path took her from Disneybounding to Hot Topic, but how exactly did that journey go? "Disneybounding blew up in 2012 when founder Leslie Kay created outfits inspired by her favorite Disney characters through color blocking and accessorizing!," Arden explained. "As a fashion coordinator and stylist, creating outfits surrounded by "my" favorite characters is not just fashionable but nostalgic, for adults and children alike. Which sparked Instagrams like @DisneyStyle and @MinnieStyle who collaborate with numerous fashion designers all over to come together to bring a little fairytale to everyday life! Basically, outfits with a Disney twist!"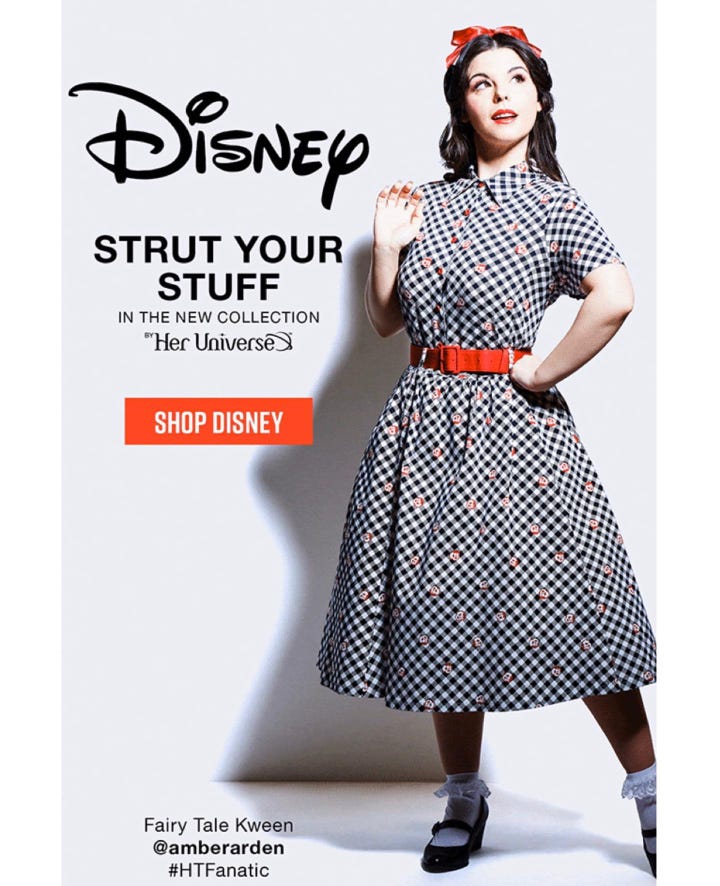 As for Hot Topic, it was just a question of honing her style and putting herself out there. "I started tagging my photos with fashion brands I was wearing, and they liked my style! I also started going to many conventions for the past 6 years and made connections with people! I modeled in fashion shows and did online interviews, then I applied to Hot Topic's fanatics program and I was accepted to stylize looks for trade! Now I cannot believe how far I've come!"
If you're looking to make a character your own the Arden has, she has some suggestions on how to make that happen. "I say pick a character that you always wanted to do and plan it out. Work on it bit by bit. Don't rush. I started with Snow White because she's my favorite Disney princess and channeling her came so naturally! I usually start out with a simple character design, complete the cosplay as best I can, then take some photos around a scenic area to match the cosplay as well! The art of cosplay is creating an illusion, bringing a character to life, but remember have fun doing it! You don't necessarily need to look like the character, just do your best and the rest will follow!"