Wretched Hive Creations: The Creators of the Ahsoka Tano Headpiece
Check out the studio that creates impressive builds for Star Wars cosplays.
Nestled in the middle of Lowell, Massachusetts alongside the Pawtucket Canal, maker Bob Gouveia lets me into the narrow studio space that is Wretched Hive Creations. The shop is part of the Western Avenue Studio, which occupies a former factory mill that once produced industrial fabrics for the country in the 1800s. Now, it has been reconverted, housing dozens of potters, artists, musicians, painters, and makers. From this historic space, Gouveia has been making a coveted item within the Star Wars cosplay community: latex headpieces that transform cosplayers into The Clone Wars' Ahsoka Tano.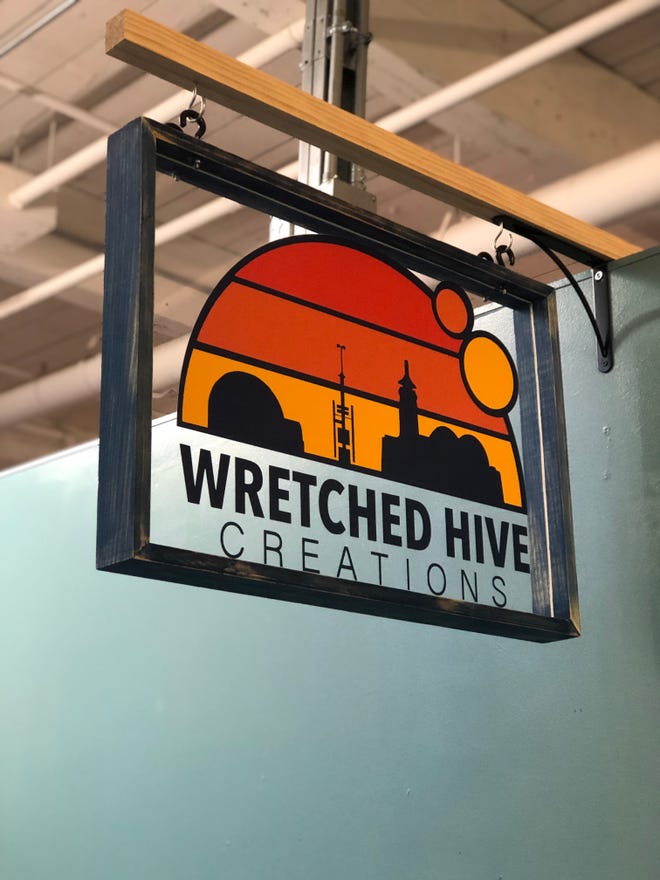 In 2008, Lucasfilm released The Clone Wars, the animated film that kicked off its seven-season Cartoon Network series by the same name. The show, set between Star Wars: Attack of the Clones and Star Wars: Revenge of the Sith, set out to show off the events bridging the two films, and accordingly, introduced a number of additional, original characters, including Ahsoka Tano (voiced by Ashley Eckstein), a teenage padawan apprentice to Jedi Knight Anakin Skywalker. After The Clone Wars' abrupt cancelation, the character headlined her own novel, jumped over to another animated series, Star Wars Rebels, and will soon reportedly appear in the upcoming sophomore season of The Mandalorian.
The bubbly, headstrong Ahsoka wasn't well-liked at first — Roger Ebert called her "annoying," and it looked as though the character would sit alongside despised characters like Jar Jar Binks. But over the course of the subsequent seasons, the character quickly became a fan-favorite — a rare female character who grew in personality and stature, and who quickly amassed a devoted fanbase of her own, many of whom began stepping up to cosplay as the character.
"I've always been artistic," Gouveia told us as we sat in his shop, "ever since I was a little kid. I'd get a blue ribbon in the [school] art contest, and I eventually became an art major." Gouveia channeled some of his artistic impulses into costuming. As a kid, he made his own costumes, like an alien from the TV series V for one birthday in the 1980s, and eventually, he found his way into Star Wars costuming and the 501st Legion, constructing costumes such as Boba Fett and Darth Vader.
Steel shelves line both sides of Wretched Hive Creations' narrow space, loaded with resin mixes, paints, tools, and in-progress creations. After leaving working as a graphic design contractor for more than a decade, a friend invited Gouveia to freelance with outdoor gear brand Timberland. That opportunity led him to create a couple of side projects for the company: product displays for their stores.
Over the years, he put his skills to work alongside other local legion members, helping with parade floats, new costumes, and big props. "There weren't a lot of sculptors locally that I knew," Gouveia explained, "but as I started fishing around on forums, you'd see build threads on the Replica Props Forum." He noted that he began thinking to himself "I wish I could do that," which eventually transformed into "why can't I do that?" He began to try out projects himself, watching tutorials on YouTube and reality shows like Face Off.
With the release of The Clone Wars in 2008, he created an Ahsoka costume for his daughter Julia, and created his first headdress sculpt for her. That fall, she marched alongside the 501st during that year's Halloween Parade in Woburn, Massachusetts, and a couple of years later, the two attended Star Wars Celebration in Orlando, Florida, where he co-hosted a Clone Wars costuming panel. When the panel ended, Dave Filoni, the supervising director for the series, congratulated him on the costume.
After the convention, word of mouth spread. Gouveia made a new version of the headdress for an older version of the character and began to reuse the mold that he had created to make more. The headdress was a hard thing for cosplayers to make themselves or find, and he sold a handful before eventually shelving the project.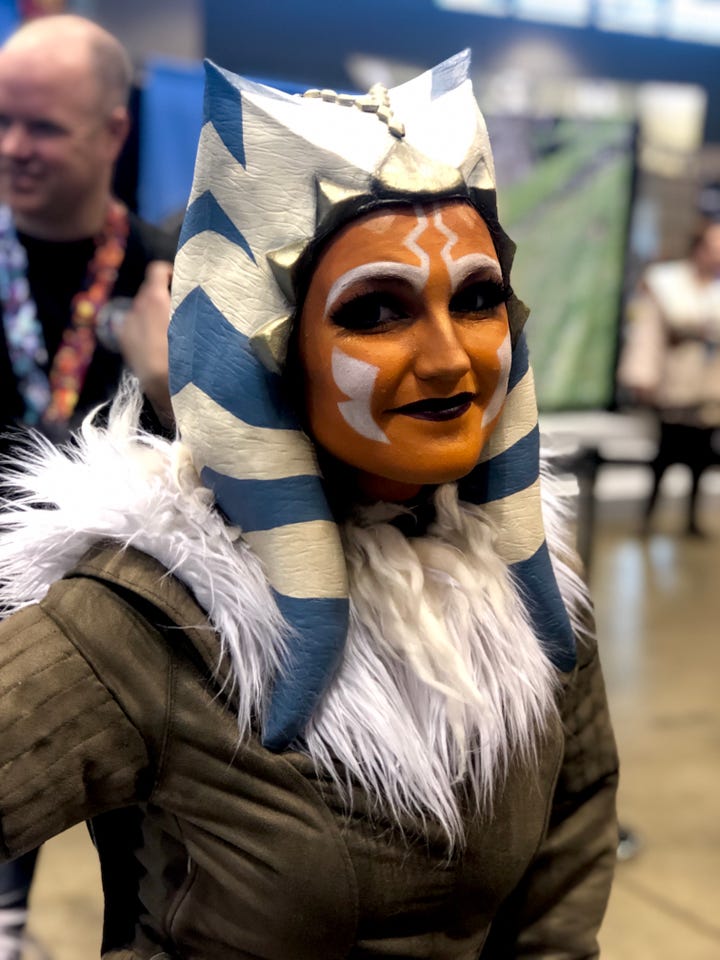 When Gouveia started up Wretched Hive Creations alongside his projects with Timberland in 2017, a local cosplayer contacted him to make a new sculpt of the adult Ahsoka. While the series had gone off the air following Disney's acquisition of Lucasfilm, the character remained a fan-favorite, and became a popular one for Star Wars cosplayers to portray. Now, he had a workshop, supplies, and considerably more experience sculpting. After dusting off his old molds, he re-sculpted the headdress, creating an adult version of the character, improving the accuracy and adding in new detail. He collaborates with fellow cosplayers to create the finished pieces: M. Blackburn, another Ahsoka cosplayer, often helps him paint the headdresses before shipping them off to buyers.
Up close, the raw molds feature some incredible detail: small lines and wrinkles that add a live-like quality to the pieces. Compared to other fan-made pieces out there, "mind definitely has the most texture and realism to it. I love the texture on the skin — most of the ones you see out there are flat, like rubber. It's a living thing — it should look like a living organism."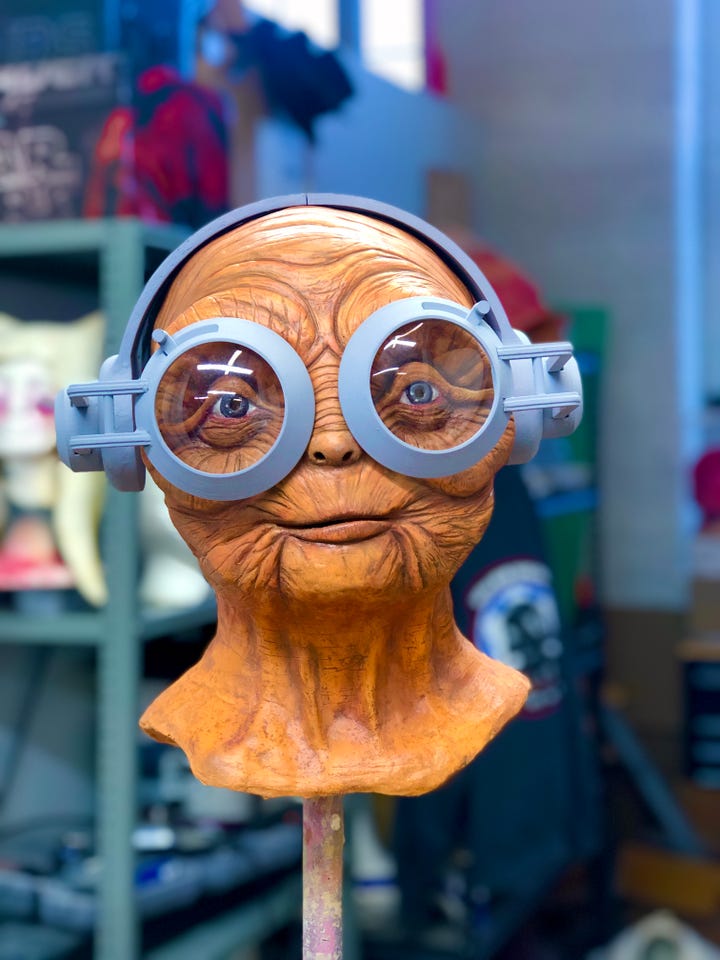 When Lucasfilm announced in 2018 that it would bring back The Clone Wars series for a final season, demand for the character skyrocketed. Gouveia noted that compared to the other masks that he's made — Emperor Palpatine, Bith musicians, Maz Kanata, and others — Ahsoka remains his top seller, with a waiting list that's months long. Ahsoka recently returned in that new season of The Clone Wars, and with a live-action version of the character reportedly appearing in The Mandalorian, there's little doubt that the character will remain popular with cosplayers for years to come — something that will keep Gouveia busy in the months and years ahead.