Cosplayers Attend Black Widow Premiere In Hollywood
We went to the Black Widow premiere in Hollywood and interviewed cosplayers at the event!
Cosplayers from around the globe gathered to celebrate the Black Widow World Premiere and Fan Event yesterday on June 29th, 2021. While other Marvel fans must wait till the theatrical and Disney+ release on July 9th of 2021, this lucky batch got to see the movie first and walk the red carpet.
There were four showings in total from Melbourne, London, New York, and Los Angeles. Several Black Widow cosplayers wore different looks of the Avenger that ranged from her comic-accurate variant to her Infinity War suit. This female-forward action-packed film is the final farewell to Scarlett Johansson's Black Widow, and though we may be sad today, we will forever be grateful to our first female Avenger.
With plenty of cosplayers in attendance strutting the red carpet and enjoying the movie, we caught up with a few of them from the Los Angeles premiere and asked them questions about the film and their experience on the red carpet.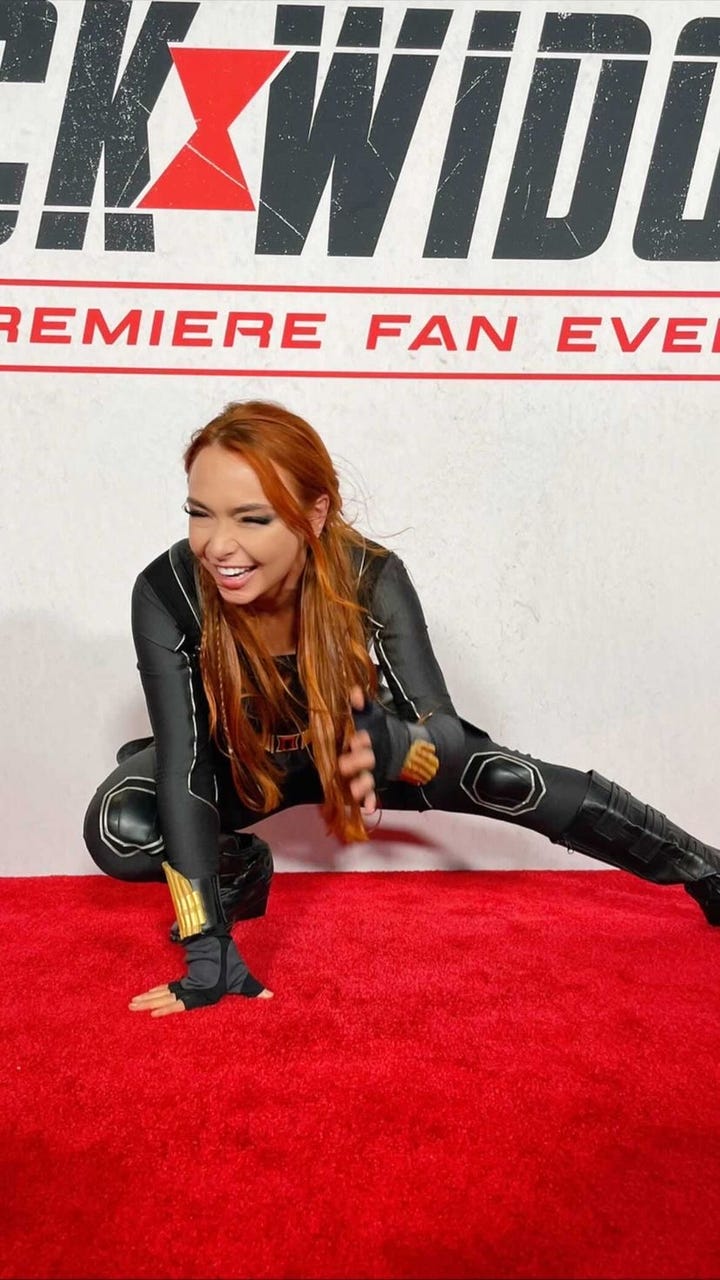 CaitlinChristinee: "It was such an incredible experience! It's been so long since anyone has been able to get together like this since the pandemic. So it was amazing to be able to celebrate this movie with everyone on the red carpet! They had so many photo opportunities, and it made everyone feel at their best in their looks. So grateful for what they put together for all of the fans!"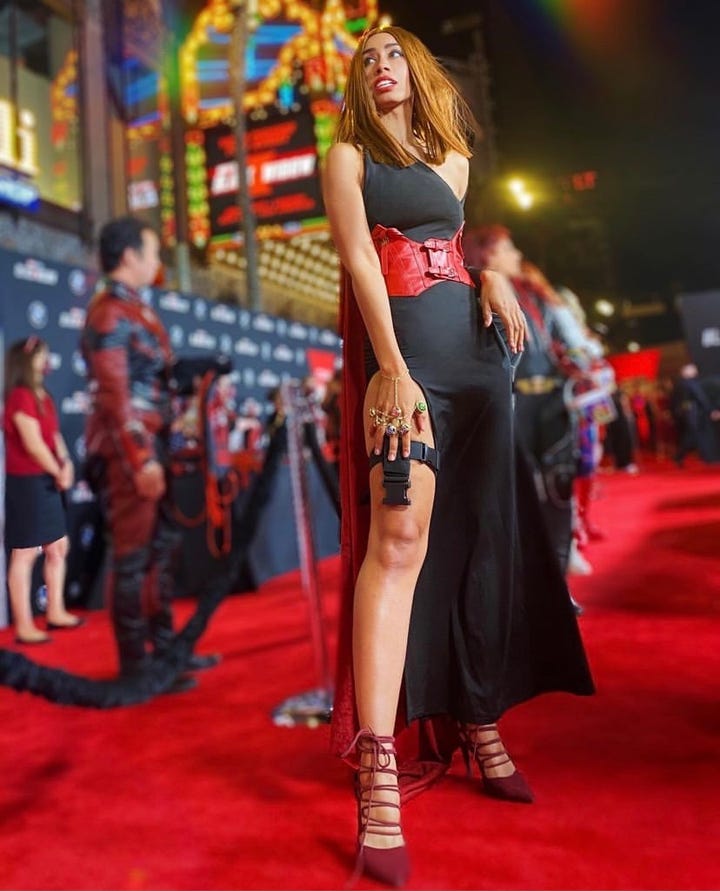 Jasminepaigemoore: "Walking the red carpet, there was an overwhelming and unanimous feeling of "it's finally here." We have been waiting for Natasha's origin story for well over ten years, and this film, as Victoria Alonso explains in her surprise appearance at the start of the feature, was ready to be viewed for years but kept being shelved."
"However, getting to walk the red carpet, surrounded by friends, fans, and a community of marvel fanatics, I could not help but feel… home. Black widow is an Edgy, raw, and cinematically intense film, and the way The TaskMaster wields their shield will make you feel as though Steve Roger was flicking paper plates."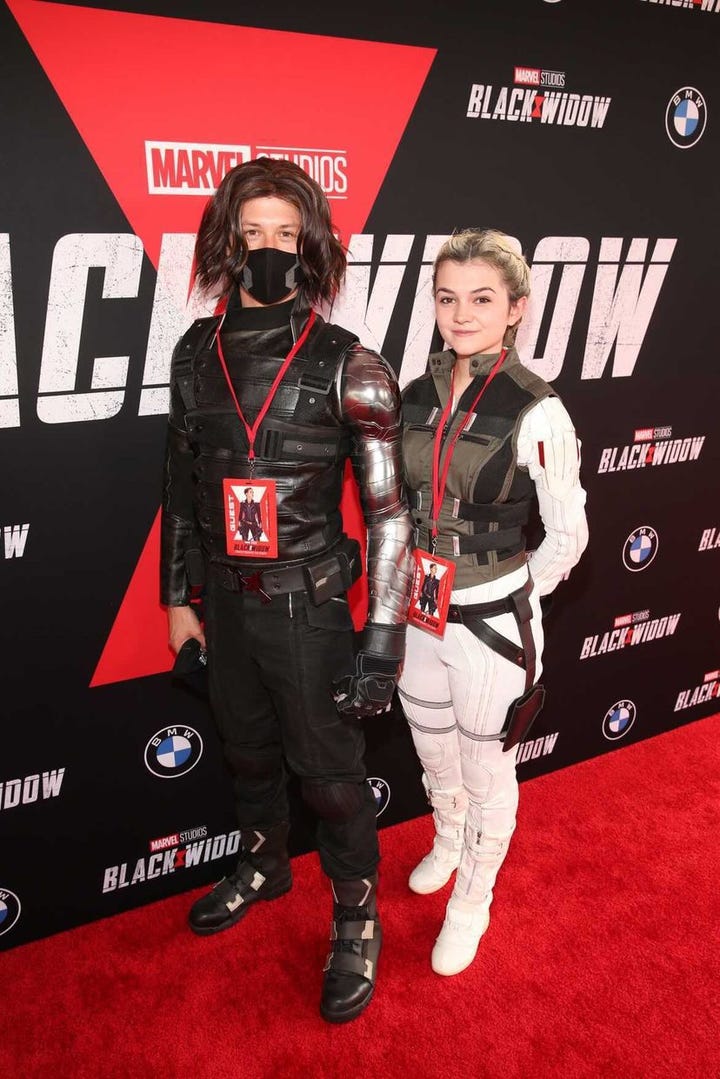 Minakess: "I love Florence Pugh, and I didn't know anything about comic Yelena going into this movie, but I knew Florence was going to absolutely crush whatever they gave her. She's so talented. And I was not disappointed for a single second. Yelena is fun, adorable, well-rounded, charismatic, and every bit the badass Widow that Natasha is. Their sisterly dynamic felt so genuine. I can't wait to see more of her in the future."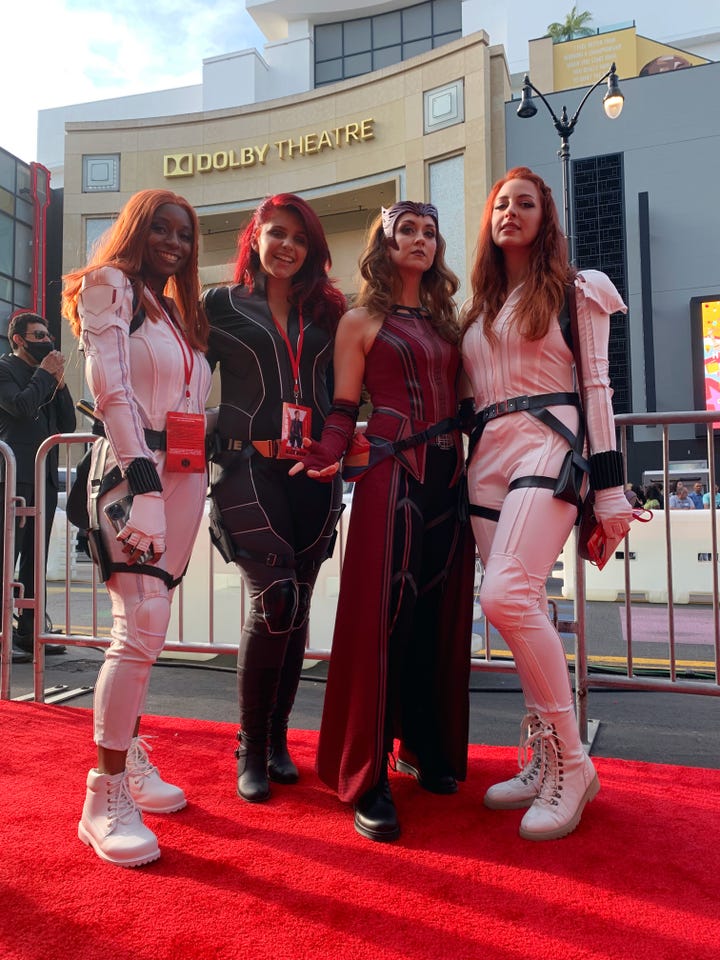 Misskrisskosplay: "It was an incredible experience. It's been about 2 years since the last big Marvel movie, and for most people, the first time being back at the movies. So being able to experience this with other cosplayers and content creators that I admire so much to finally witness Nat's story is a moment I will never forget!"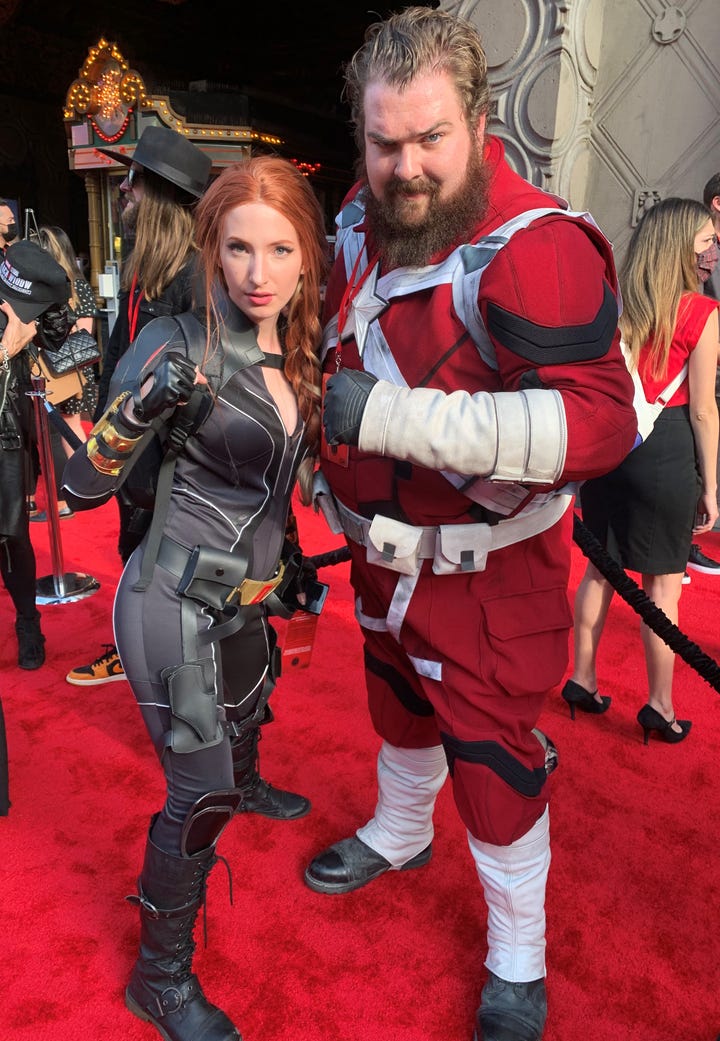 Codecosplay: "Any time David Harbour was on screen, his presence was known. His immersion in Alexi was such a delight to see, and I hope we get to see more of him in the MCU."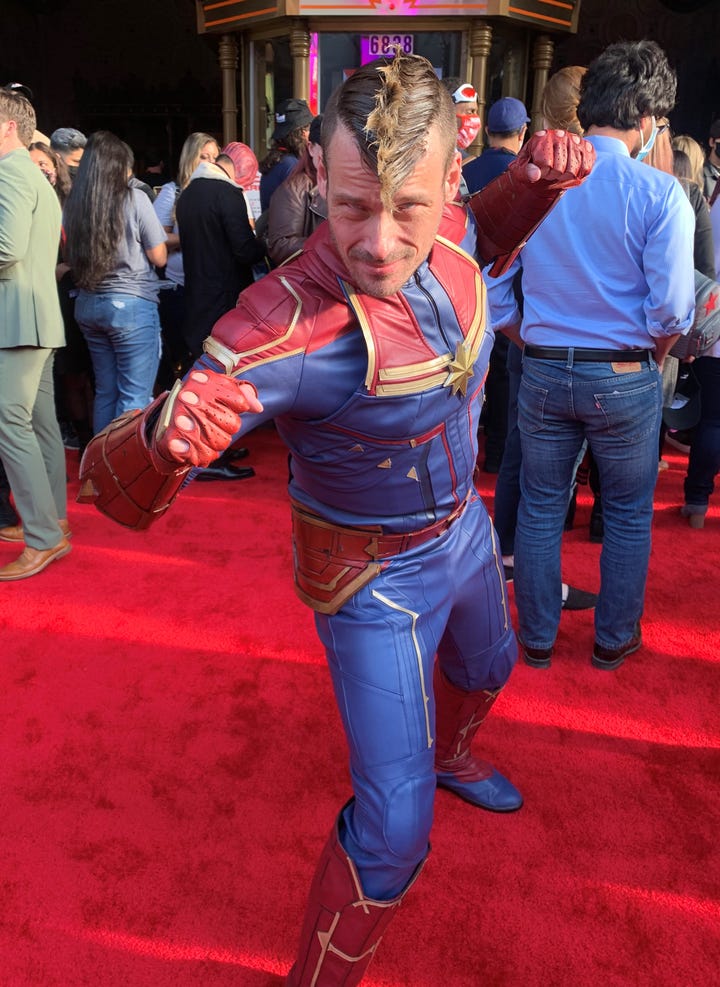 Rockus: "The absolute best part of this film was Yelena Belova! She had all the best lines and was really funny."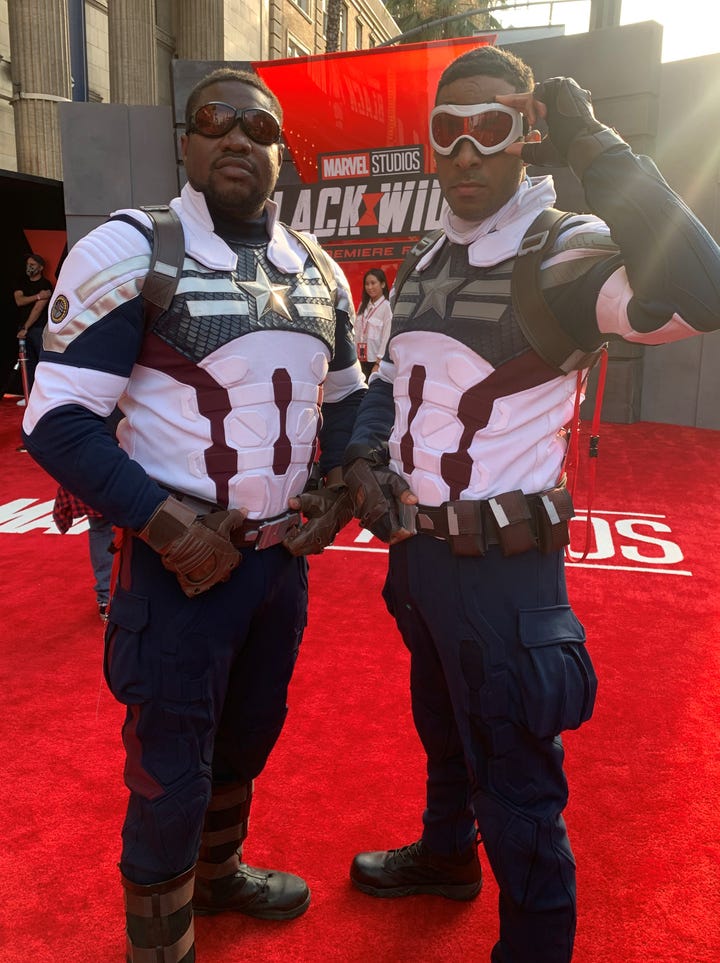 Chiefgeekphotography: " Being a lifelong Marvel fan and then being invited to an MCU Hollywood Premiere was a dream come true. After being in a Global Pandemic, not sharing the movie experience with friends and family like I used to, made the Black Widow Premiere all the more magical."
"I am such a hard-core fan and to be surrounded by other hard-core fans was so exhilarating. I saw so many of my friends from the Marvel Cosplay community, I got to take selfies; just an all-around geek out and to do it in one of my favorite Sam Wilson Captain America Cosplays. But to be able to get out of the house and have some fun with my community that has shown me so much love and support during the recent tragedy of losing my wife, best friend, and mother to my beautiful son meant more to me than words can express."
"My beautiful wife Nancy loved Marvel and was the biggest supporter of my extremely geeky lifestyle. Every Marvel or nerd movie that would drop, we would experience it together, and I know in my heart she would be so very happy for me as she always has been. Every time I did something in the Cosplay community, she would tell me how very proud of me she was, and at that moment, I could hear her voice. Lastly, the movie was absolutely phenomenal, and I really enjoyed it so much. It was a long-overdue film. Marvel Cinematic Universe has created another Marvel masterpiece for the fans to enjoy."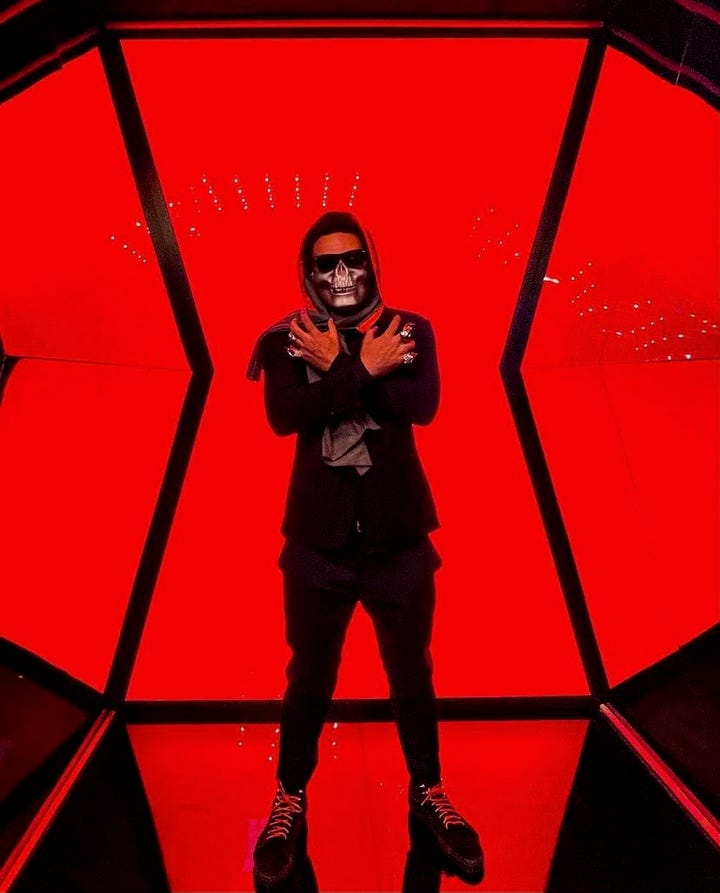 Akcromwell: "It was definitely Yelena that surprised me the most because of the amount of depth and development she got! She wasn't there JUST for comic relief, she had a lot more to her arc, and I connected with her at multiple points through the movie, which surprised me. I think audiences will LOVE her character and be very surprised by the dynamic and overall feel of the film. I know I definitely didn't expect it to go in the direction it did, but I loved every second of it!"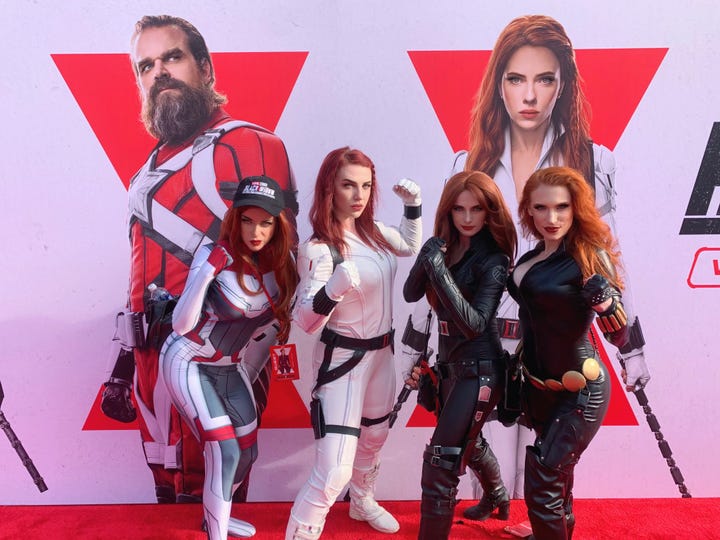 Graciethecosplaylass: "Watching Scarlett Johansson as Black Widow for the last time was bittersweet for me. Her getting her own movie was long overdue, but SO glad it finally happened. I thought her performance was terrific. It was great to see her one last time as Black Widow but sad to see her go."
"However, the best part of the premiere was going with friends. Getting to not only experience such an amazing event but getting to do it with awesome friends made it even more fun and special, especially after not getting to go to theaters with friends for over a year. It was so refreshing to get to do that again and was definitely a great reminder to appreciate the time we get to spend with friends."
Black Widow Premieres in Theatres and on Disney+ July 9th, 2021.