Halloween Costumes Originally Started On Thanksgiving, Not October 31st
America's original costume holiday was Thanksgiving, so why did it change?
If you're a science fiction or fantasy fan like me, Halloween likely holds a special place in your heart: a holiday where budding cosplayers can discover the joys of costuming by dressing up as your favorite character as a kid, or by throwing something together for a costume party when you're older.
The holiday has long, deep origins that brush up against agricultural celebrations from Ireland and Europe, days in which early societies celebrated the transition from the summer growing season to the colder days of fall, when the boundary between our world and the supernatural was thinnest. Over the centuries, the day became known for other celebrations: All Saint's Day, All Hallow's Eve, Guy Fawkes Day bonfires, and The Day of the Dead.
But in more recent decades, Halloween has become a defacto celebration of all things pop culture: an evening in which people of all ages can celebrate their favorite movies, cartoons, TV shows, books, comics, and more. But originally, those parades of costumed characters were seen on American streets not for Halloween, but Thanksgiving.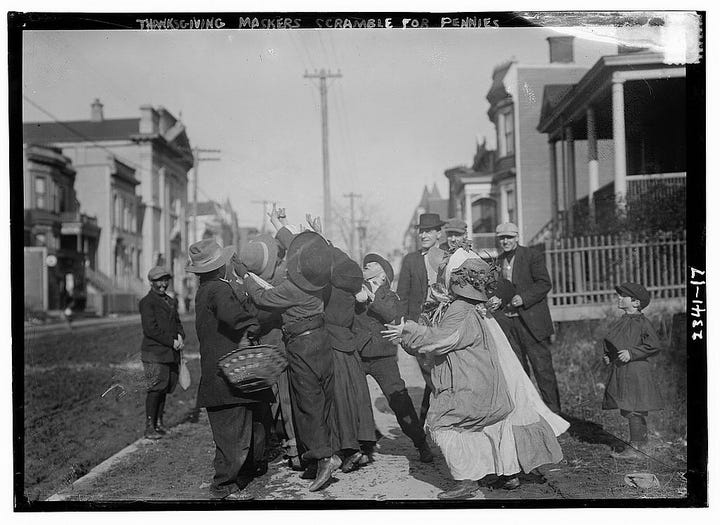 Halloween in America has existed for centuries, brought over by immigrants to the growing country in the 1700s and 1800s, while supernatural stories by the likes of Nathanial Hawthorne and Edgar Allan Poe helped set the tone for the general spookiness of the holiday with stories of Young Goodman Brown and The Legend of Sleepy Hollow.
For many of its early years, Halloween encouraged a certain amount of pranks and general mischievousness, which often resulted in property damage, ranging from minor vandalism to outright destruction, prompting many municipalities to ban the holiday, enact curfews, or generally put more police officers out on the streets to keep some amount of order. This is certainly a practice that has persisted, as anyone who's had their house toilet papered or found their pumpkins smashed on their doorstep.
To try and get a handle on the chaos, outlets like the Ladies Home Journal began to encourage communities to keep their children indoors by throwing themed parties, ones filled with games like bobbing for apples, fortune telling, and so forth. Companies like the Dennison Manufacturing Company of Framingham, Massachusetts began to sell holiday-specific decorations for these gatherings, selling everything from paper decorations to books filled with ideas for games and costume suggestions.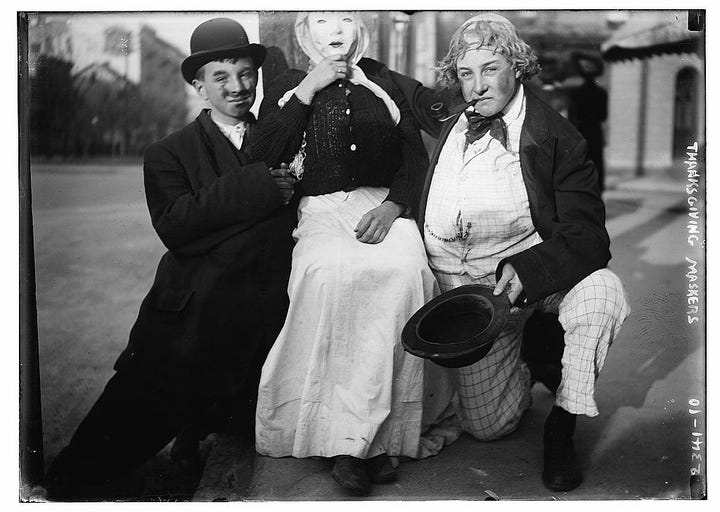 But while dressing up in a costume or disguise and going from door to door asking for treats has its roots in Halloween, it wasn't a major part of the evening until much later. Rather, it was another holiday that saw the practice grow and become more widespread in the 1800s: Thanksgiving.
Thanksgiving has its origins starting shortly after the formation of the country, when President George Washington declared the holiday in 1789, after which it was celebrated sporadically until President Abraham Lincoln formally declared the day a national holiday. Along the way, a particular tradition emerged in New England, according to The New York Times in 1893: servants and workers would go to their wealthier neighbors to beg for food, relying on their sense of hospitality to share in the spirit of the holiday.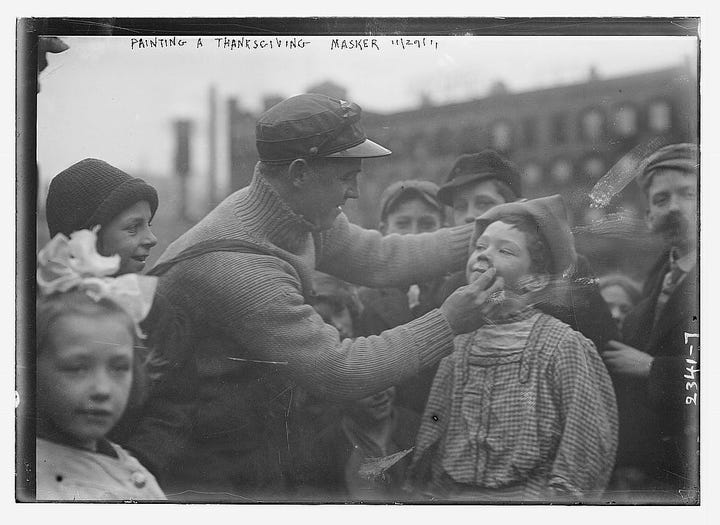 Over the decades, that tradition transformed. It migrated to New York City and became more of an occasion for children. Known as Ragamuffin Day, it saw kids dress up as beggars and go door to door, asking for treat, asking their neighbors or pedestrians: "Anything for Halloween?". In return, they'd usually get a penny, candy, or an apple.
According to Carmen Nigro at the New York Public Library, the practice appears to date back to 1870, and over the years, the costumes drifted from beggars to other characters, such as pirates, devils, princesses, and more. Local neighborhoods featured parades of children dressed in costume, and the result was a loud, chaotic day on the streets of New York City and elsewhere:
"Dressed in all sorts of ragged and ill-fitting garments, or gay with fantastic costumes that savor of the circus ring, every child masked, they make grotesque and (to themselves) delightful processions in the streets. They march in groups and wingly, tooting their horns, shouting, and racing, and then go from door to door, begging for gainties to put in their baskets."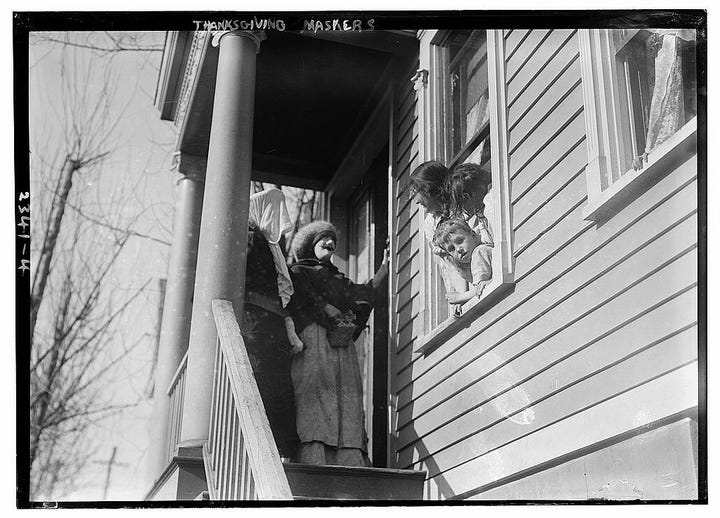 The noise appears to have gotten to the residents of those streets. Children didn't just beg for pennies or apples: they'd play pranks on those who didn't dispense treats: they'd bang on doors or hit them with socks full of flour — it seems likely the propensities of Halloween carried over — and over the course of the 1930s and 1940s, schools and organizations began discouraging the practice, and organized counter events, like the Macy's Thanksgiving Day Parade.
Faced with the opposition of neighbors and major competing events like the Macy's Thanksgiving Day Parades, the original Ragamuffin parades and begging quietly faded away in the 1950s. While some neighborhoods clung to the tradition, Halloween took over across the United States. But it still holds on: some neighborhoods brought back the events in places like Bay Ridge, which began holding an annual Children's parade in 1966. (Sadly, this year's festivities were canceled because of COVID-19.)
But while the Ragamuffin days didn't last in New York City, the day's activities transferred themselves over to another, earlier holiday: Halloween. While parents and communities had tried to limit the pranks and low-level destruction that characterized the day, supervised costuming on the streets was more acceptable, and easier than throwing a party.
The real push for trick or treating came from companies that specialized in candy and costumes. With products like The Bogie Book, the Dennison Manufacturing Company featured suggestions for themed costumes made of paper in the early 1900s. While parents could likely throw together costumes of beggars or pirates with items out of one's wardrobe and some grime, companies like Ben Cooper, Collegeville, and Halco began producing ready-made masks and costumes of a variety of types, expanding the possibilities for what children could dress up as. Companies like Disney began to licence patterns for their characters, allowing parents to create their own versions, and after the US economy went into overdrive following the Second World War, the companies that sold costumes and candy began to tout Trick or Treating as a regular activity for the holiday.
Since then, Trick or Treating has solidified itself as a part of the annual Halloween festivities, and as the holiday has grown over the decades, it's become a prime opportunity for children and fans to fall in love with dressing up as their favorite characters.