Historical Interpreter Brings Black History Into The Spotlight
Not Your Momma's History is helping historical sites on the African experience within 18th and 19th century America.
When it comes to historical costuming, many costumers also become reenactors and interpreters to share their knowledge on the time period. Whether it's the 1940s or the 1770s, these costumers love both the fashion of the time period as well as telling the history for those to learn.
Black history in both the 18th and 19th centuries have been glossed over for decades, with many history textbooks giving little to no information on the lives of both freed and enslaved people. Sometimes those textbooks even give incorrect information.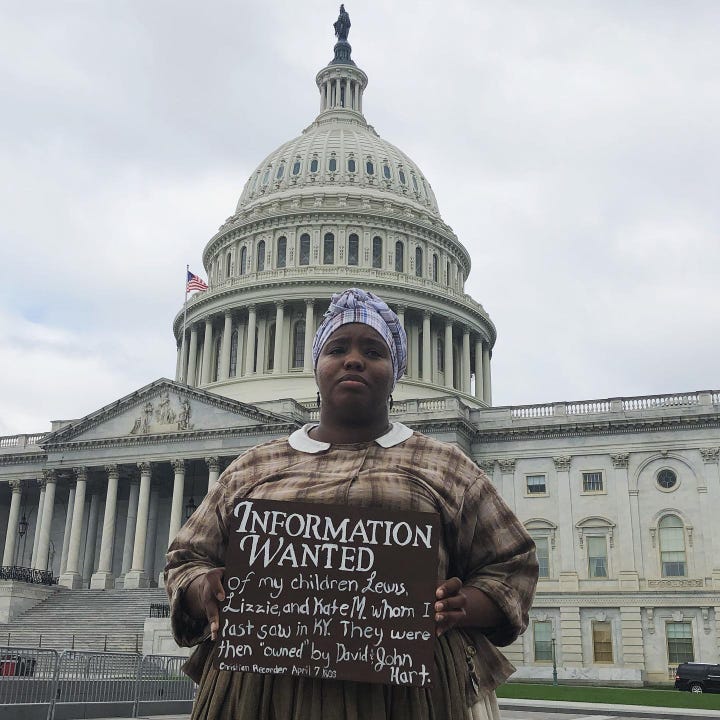 One historian and interpreter by the name of Cheyney McKnight (known as Not Your Momma's History online) has become a major figure for interpreting 18th, early 19th and mid 19th century slavery. She has become a go-to historian for many museums and historical sites by consulting with them in developing specialized programming about slavery and the African experience within 18th and 19th century America, as well as training staff from all backgrounds on how to talk about slavery with diverse audiences.
Cheyney has also been an advocate to explaining the history of clothing for enslaved people. She has worked with many different costumers and small businesses to show the typical clothing for the time period. In one instance she worked with historical costumers to find historically accurate fabric to create an enslaved person's petticoat. You can also check out her Instagram post below which shows her working with a Turkish shoe workshop who have been handcrafting shoes since the 1880s.
She has also been featured in the American Duchess book 18th Century Beauty, where she explains the enslaved people's dress in the time period. Not only did she do all the research herself, but she also worked to recreate it into her own historical garbs. Cheyney also discusses examples in the video below, where she speaks at the National Arts Club in New York to help promote the book.
Cheyney gives lectures online through her Patreon, while also teaching history through her Instagram, Facebook, and Youtube. If you're interested in seeing more about her company, Not Your Momma's History, you can check out her website.