10 Bad Batch Cosplays Ready To Take On The Galaxy
These cosplayers could create their own live action Bad Batch with these cosplays.
The galaxy's new hope is here with the original Disney+ series, Star Wars: The Bad Batch, premiering on May the 4th, 2021. It is without a doubt the best Star Wars day gift ever! The show's debut will have a 70-minute first episode with new episodes premiering every Friday beginning on May 7th. After waiting over four months since watching The Mandalorian, Star Wars fans worldwide are ready for the rise of this batch of clones.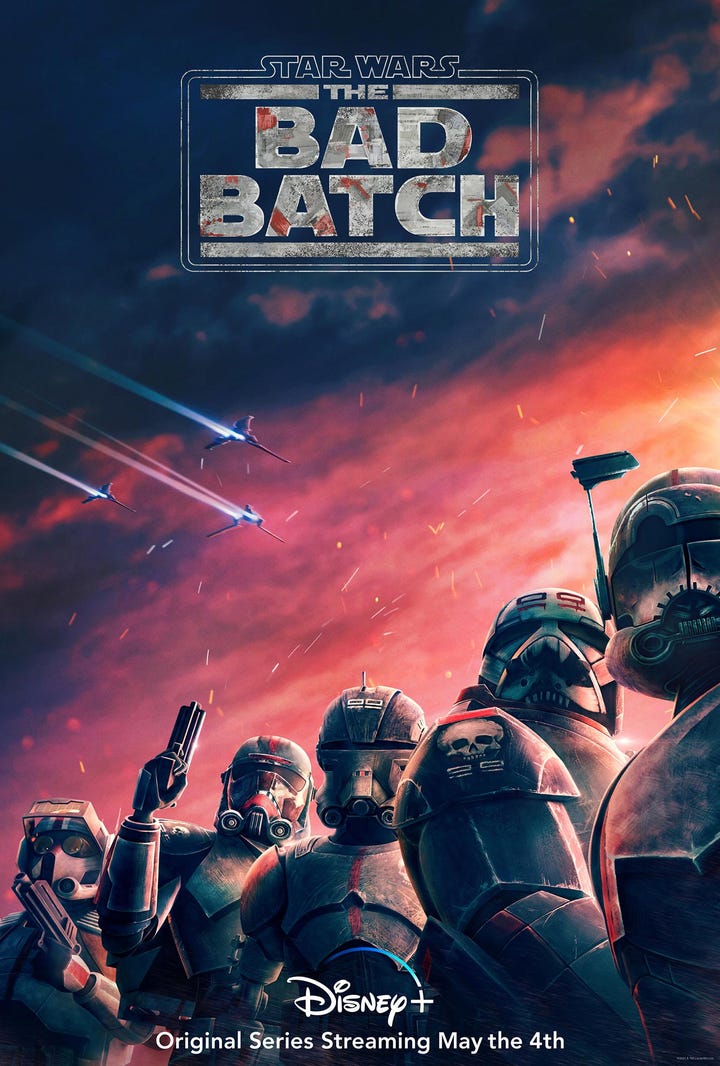 If you have no idea what or who The Bad Batch is, let us clear that up for you. In a four-episode story arc from season 7 of Star Wars: The Clone Wars, Captain Rex meets an elite clone squad who aid in a stealth operation to steal a strategic algorithm and recover an essential asset: CT-1409. These clones are an experimental unit that was deemed defective yet valuable due to their individual mutations. Together they make up a calculated and well-organized team of misfits called Clone Force 99 or better known as The Bad Batch.
Due to The Bad Batch's popularity, Disney created the spinoff series starring Dee Bradley Baker as every clone trooper ever. From what we can tell, the show will be about The Bad Batch and their newly adopted member Echo, navigating through the galaxy after order 66.
Aside from the members of the Bad Batch, infamous Star Wars characters like Admiral Tarkin, Fennec Shand, and Saw Gerrera look to be making cameos in the series. With this many characters, some cosplayers have hit the hyperdrive to lightspeed on their Star Wars cosplays.
Alphaignition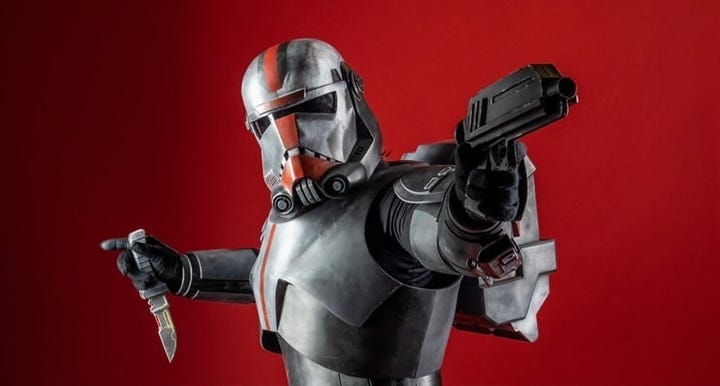 Whatever possessed Alphaigniton to make a cosplay like this needs to be praised because it's beautiful. As the leader of The Bad Batch, Alphaignition cosplays the Rambo-like character Hunter who has extreme heightened senses and patience when dealing with his crew of misfits.
His armor is made of fiberglass resin and came as a kit. He had to plastidip the entire interior to avoid sharp shards of glassy fibers from making him itch. He also painted the whole kit (his favorite part) and fitted it to himself. The armor kit is from the Philippines, and the helmet kit is from Russia.
Before Alphaignition dived into the 501st, he cosplayed as a Jedi first and foremost back in 2016. Hunter's mutation of enhanced senses helps him feel electromagnetic signals meaning while maps of enemy-controlled regions may be incorrect, Hunter never is. The character also displays characteristics of confidence and leadership which ultimately led to why Alphaignition chose to cosplay him.
Willbrozinc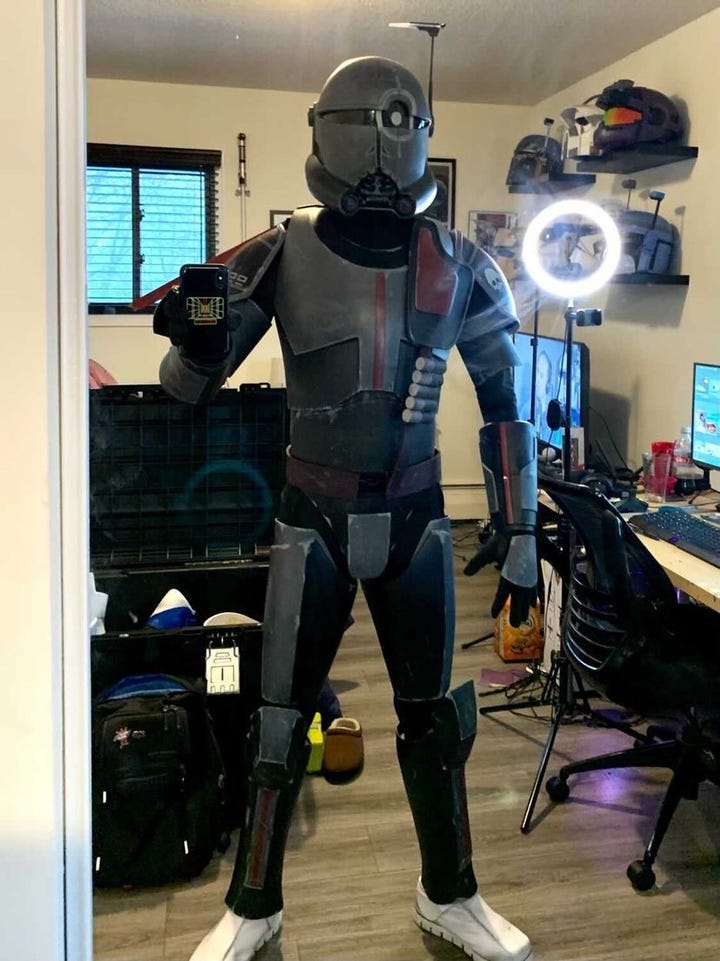 Willbrozinc may shoot your eye out with these work-in-progress pics, which are always the best pics of Crosshair. Willbrozinc is an up-and-coming Twitch streamer with the plans of opening up his own Prop shop.
His armor for this cosplay is entirely 3D printed. Willbrozinc told us that the Bad Batch has such a unique armor that everything had to be created from the ground up. Once he found a model of Crosshairs armor online, he took it into some programs on his computer to prepare it for printing. There was some modification he had to do to make the files accurate to the show, but it took about two weeks to print everything out on his single 3D printer. That doesn't include all the time it takes to assemble, paint, and weather.
Before Willbrozinc owned a 3D printer, he used cardboard as a kid to create his own trooper armor. Since then, he's built three armor sets and hasn't looked back. He chose to cosplay Crosshair not only because it's his favorite Bad Batch member but because a few friends of his Rexin_Around and Jaig_Eye_Hunter wanted to create a group cosplay. Crosshair may not be much of a conversationalist in the show, but he's an essential part of the team as a precise sharpshooter.
Tech.BadBatch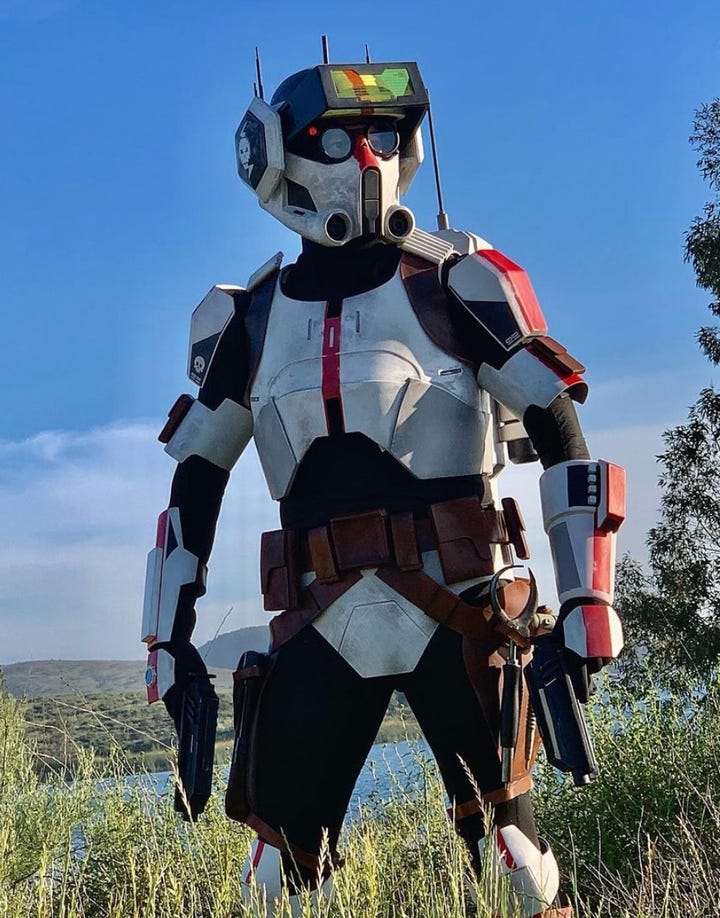 As an early morning workout enthusiast and SoCal e-bike rider, Tech.BadBatch started cosplaying last March! During the seventh season of The Clone Wars, he was inspired to build Techs armor after watching The Bad Batch arc.
To learn how to build Tech's gear (since he was so different from other clones), Tech.BadBatch made Waxer's armor first as a learning tool. His armor is 3D printed using PLA filament and strips of ABS plastic inside larger pieces. While the helmet was well designed, the body armor 3D files were not screen accurate. He had to learn to either modify the model/file or modify the raw print.
His helmet file was from the Galactic Armory and required no modifications. However, the lens for both the helmet visor and Tech glasses was designed by Tech.Badbatch and made on a GlowForge laser cutting/etching tool using sheets of transparent acrylic. The leather belt was designed by Delta Leather Works, and his boots were designed by CrowProps. Tech's character appealed to Tech.BadBatch because he served as a code-breaker for the US military and worked inside Special Ops for about ten years.
Prettyfaceprettysoul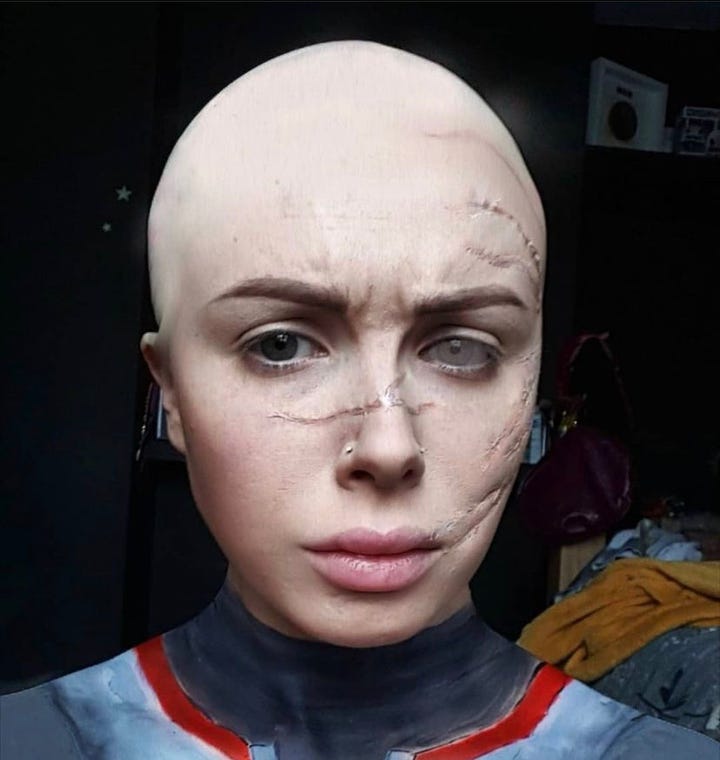 The cavalry has arrived! A bit manic and weapon obsessed as well as incredibly strong from the time he lifted an entire gunship off of Commander Cody, it's Wrecker cosplayed by Prettyfaceprettysoul. To replicate the distinctive scarring of Wrecker, she used a mixture of rigid collodion and scar wax. As for the bald head, she simply took a bald cap and latex and continued the scarring up onto the cap using body paints as the rigid collodion only works on skin.
Prettyfaceprettysoul also applied body paints for her "armor" by mixing cream paints with powdered shadows to create different textures and highlights. Other Star Wars characters she has cosplayed include Iden Versio and Asajj Ventress, whom Prettyfaceprettysoul would love to see in the upcoming Obi-Wan series.
Her reasoning behind choosing Wrecker as a cosplay/makeup look is his positive attitude, fighting style, and passion for explosions. She also said that "I chose to cosplay as Wrecker as I thought he was amazing in The Clone Wars, and I am so excited for The Bad Batch to come out on May the 4th to get a better look at Clone Force 99 and their adventures. I just know it's going to be epic," and we couldn't agree more!
The_echo_cosplay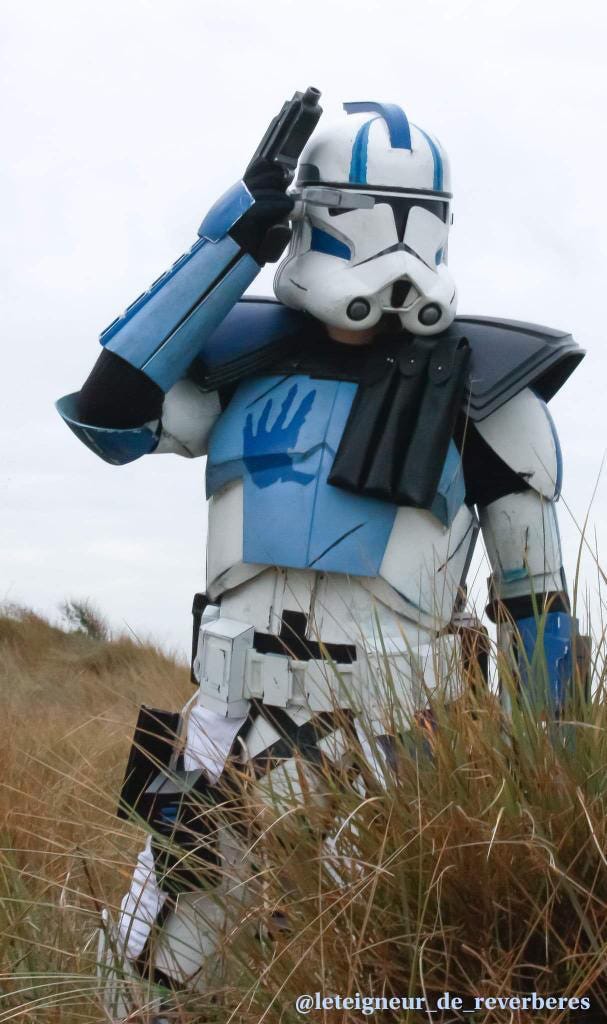 The_echo_cosplay's cosplay could make Han Solo awake from carbonated sleep; it's just that stunning! This may not be the version of Echo we will see in the show, but this is what Echo looked like in his prime during The Clone Wars. Plus, The_echo_cosplay promises he has some plans of updating this cosplay to the most current version of the character.
The_echo_cosplay began his cosplay journey back in 2018 when he learned that cosplay existed. Because of The_echo_cosplay's admiration for Star Wars since he was a kid, he decided his first cosplay would be a Stormtrooper kit he assembled entirely on his own. A bit ambitious, and we love that energy.
He got this armor from a friend, Cillytek3dprinting, who made him realize he wanted to begin building his own Echo. Three years later, the_echo_cosplay has expanded his cosplay collection to four and soon to be five costumes in total. Echo is the newest team member of The Bad Batch and long-time friend of Captain Rex.
Unidrone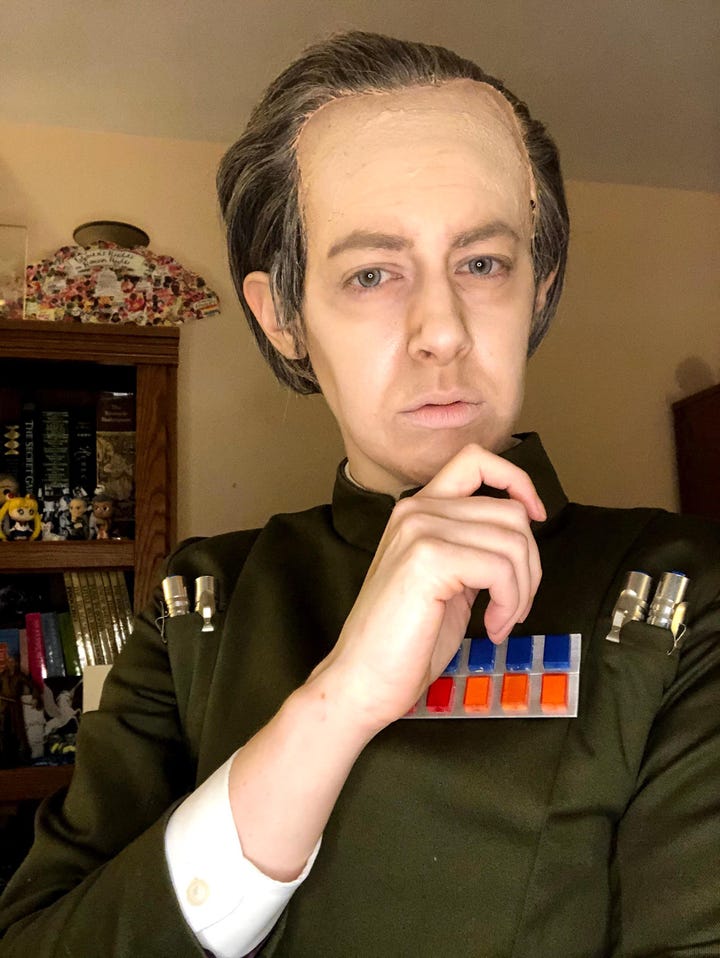 Unidrone looks impressive in her Grand Moff Tarkin gender-bent cosplay. Just look at those cheekbones! They could cut you like a lightsaber. Unidorne patterned her uniform by starting with a sloper based off of her measurements. She then put on a chest binder and fitted the garment to her altered silhouette. Chest binders are pretty restrictive, but after several fittings and alterations to the pattern and figuring out all the seam work, she had a perfect uniform.
Her Tarkin's wig/headpiece has a thin plastic layer attached to it that helps create the look of a receding hairline. She reported that the wig was built for a bigger head than hers, so she had to cut into the plastic and reshape it to fit her forehead better. Then, she preps the headpiece by applying liquid latex while her wig is on a plastic head. After letting it cure (sometimes for a few days), she uses prosaide to apply it to her forehead. The final steps include a lighter liquid latex to help with blending.
Before cosplaying as one of the galaxy's baddies, she cosplayed as Queen Amidala for Halloween of 1999 when The Phantom Menace first came out. However, her proper cosplay crafting began in 2015 and has since cosplayed Mon Mothma and gender-bent closet cosplays of Luke Skywalker and Han Solo.
Unidorne's inspiration for cosplaying as Tarkin took place after meeting a fellow female cosplayer who cross-played Director Krennicshe. This made her realize she should be her favorite Imperial Officer, Grand Moff Tarkin, no matter his gender.
Shawshank.props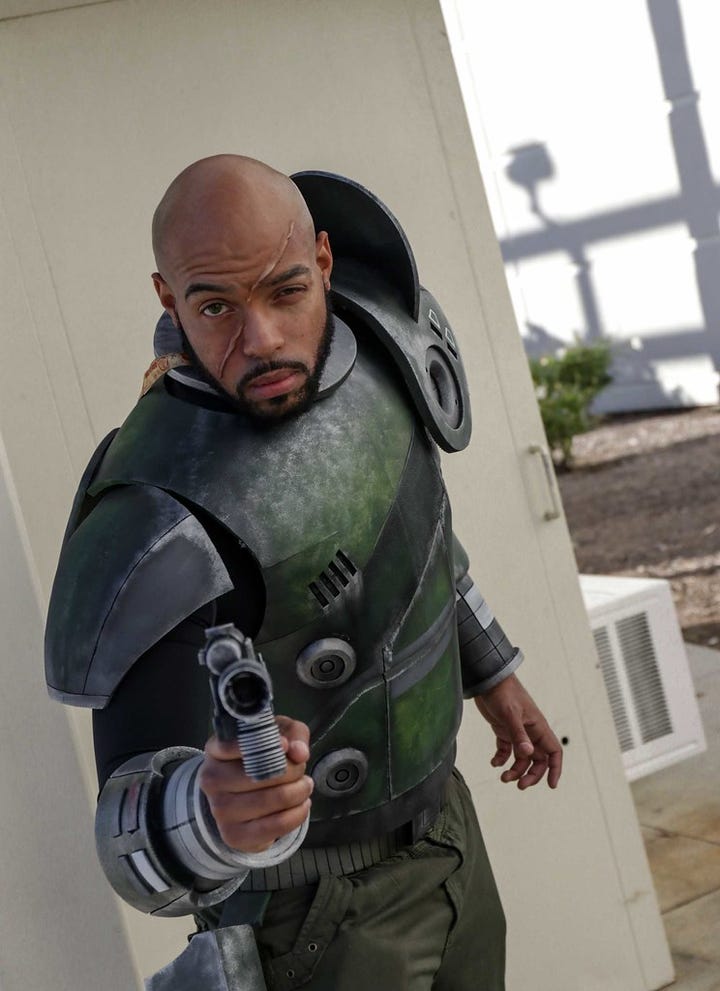 Behold! It's the one, the only, Shawshank.props as Saw Gerrera! We don't have to squint to see how brilliant this cosplay is! Saw Gerrera looks to be making his return to the big screen as the extremist leader Rebel radicals who continue to fight in the ongoing rebellion against the Empire.
For his Saw Gerrera, he does the Rebels version, which may be a bit older than the one we will see in The Bad Batch. We just hope that The Bad Batch Saw looks just as incredible as Shawshank.props does. Made almost entirely of foam, his armor even contains LEDS he embedded into the shoulder of his pauldron.
Known for his Black Panther cosplay which he wore to the Endgame premiere, and his movie-accurate Deadshot costume, Shawskank.props also cosplays with his kids. Their Dragonball Z group is beyond super.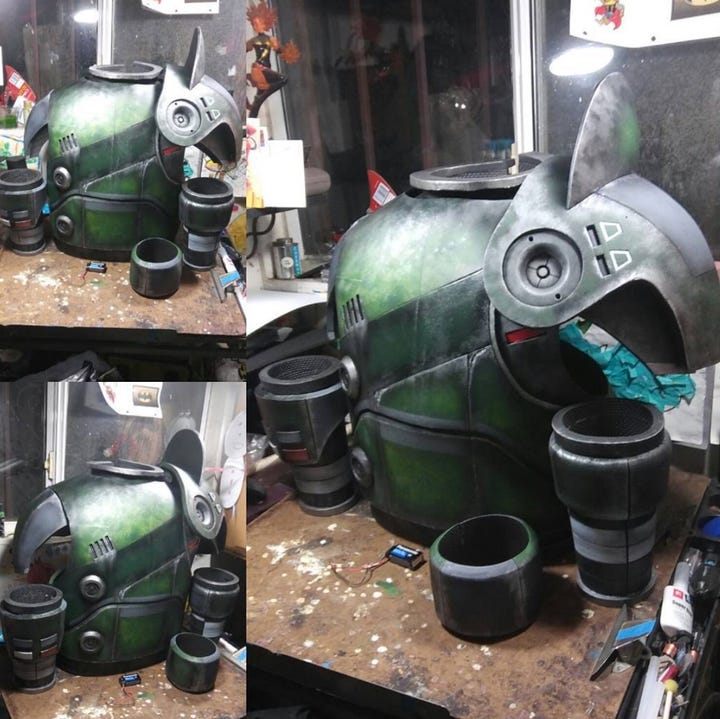 Additionally, Shawshank.props has a Mustafar Darth Vader cosplay that may be our favorite Vader cosplay in existence. For updates on his cosplay builds, follow his Instagram, where he posts crafting progress with several image references. Plus, his page is full of promoting acceptance and positive vibes.
Tdoutpost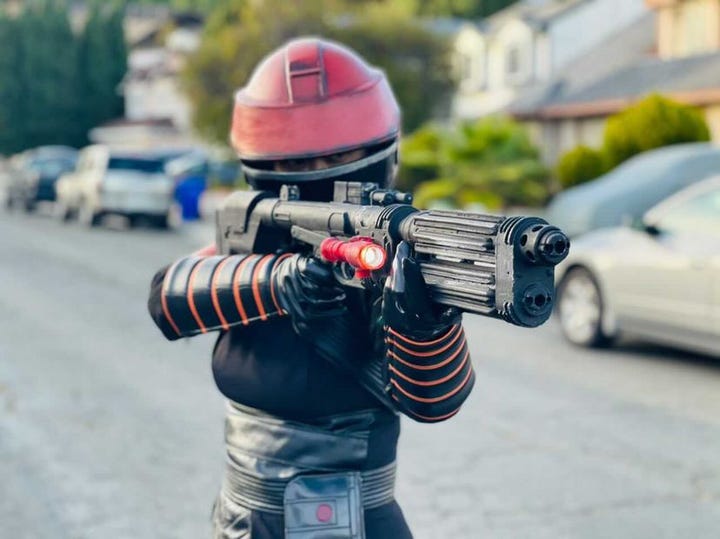 Tdoutpost is a family Instagram account run by husband Ermer of cosplayer and wife Michelle pictured above. Ermer does the armor and painting, and Michelle is the seamstress. Together, the duo makes some pretty astonishing cosplays that even their children have to join in on the fun.
The Fennec Shand helmet was designed by Nikko.industries, and the entire suit was purchased on eBay from SkyCostumes. This version of Fennec is a template/prototype for what's to come! Ermer has since finished armor accessories and is currently working on the sniper rifle to further complete this cosplay.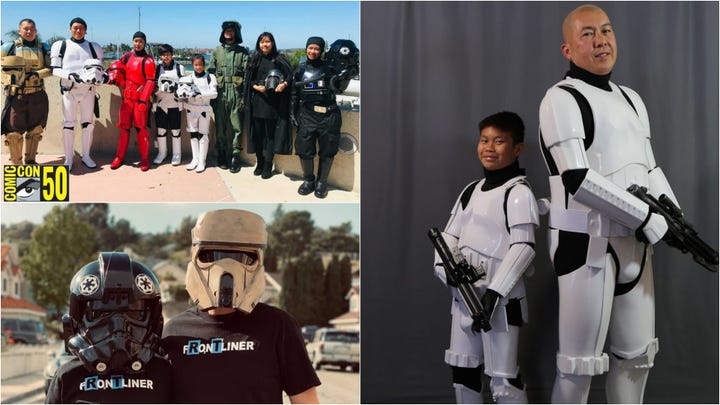 As official members of the 501st legion, Ermer didn't start by making ridiculously awesome Clone cosplays. His first Star Wars-based costume was a store-bought Rubies Stormtrooper helmet. After seeing other stormtroopers at a con, Ermer wanted to make his costume movie-accurate like theirs were. He wanted to make it cannon. The passion for building Star Wars cosplays or full-size props grew and became what they do now. Currently, they have a full-on droid factory and produce custom props too. A family that cosplays together sticks together.
Rexin_around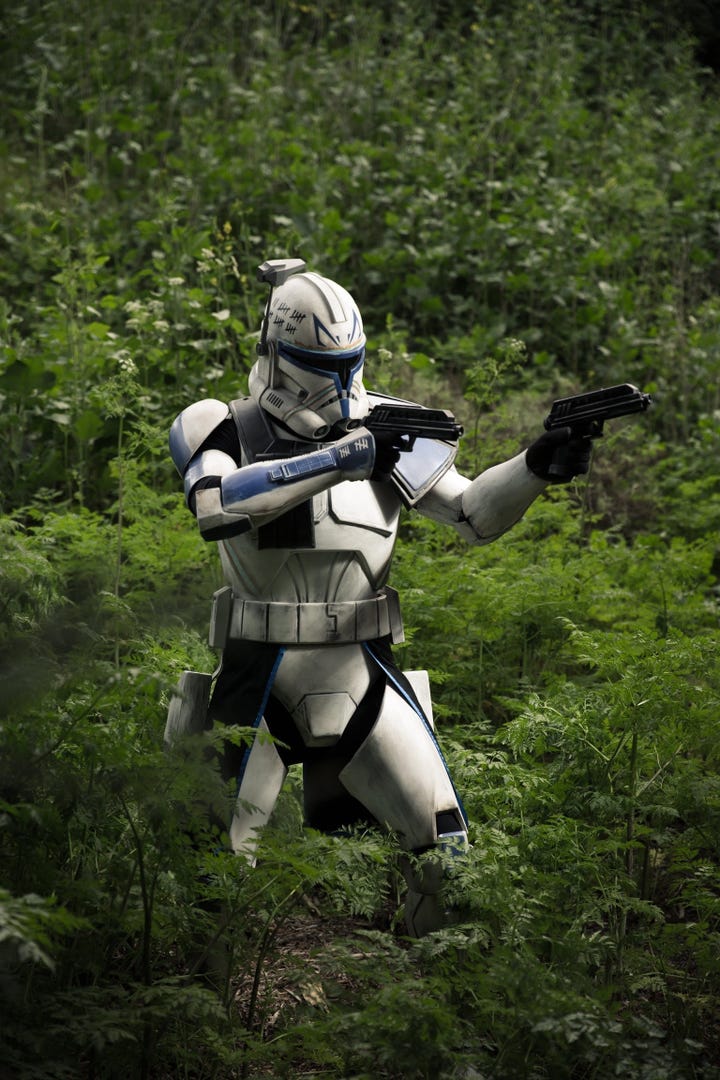 Rexin_around isn't playing around when it comes to sporting Badass cosplays. He's one of the founders of Super73, an electric motorbike company based out of Southern California. In 2018, he turned two of the bikes into speeder bikes from Star Wars and raced them through Manhattan with YouTube stars Jesse Wellens and Casey Neistat. Rexin_around recently got the opportunity to build a suit of Mandalorian armor for Snoop Dogg from that relationship.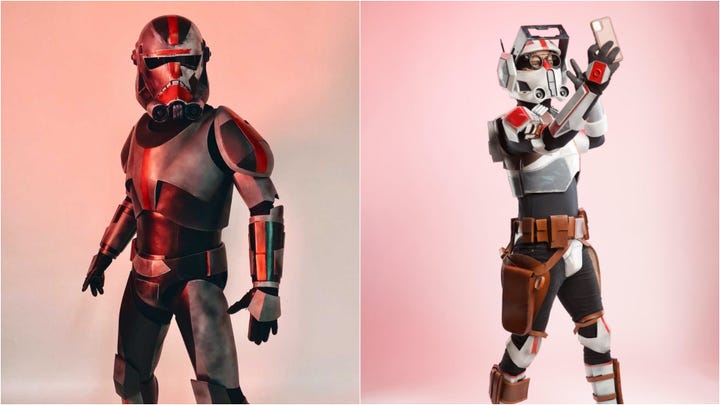 He hopes to eventually make his hobby into a full-time job. His Captain Rex suit is based on a kit sold by Imperial Surplus. The kits come in raw, vacuum-formed plastic pieces that have to be trimmed, shaped, glued, bonded, and painted. He says it's one of the easiest ways to get into clone armor, but there's a lot of work and tools needed to make it look screen accurate.
The attraction to cosplaying Captain Rex began as admiration towards the characters' loyalty, individuality, and ability to see humanity beyond orders and systems. Rexin_around says, "It's so important to be an individual while still being a part of something larger. Individuality is what brings saturation and vibrance to life. Without it, we'd be a bunch of non-thinking droids". We think Captain Rex would agree and be very proud of this cosplayer.
Madame_highsea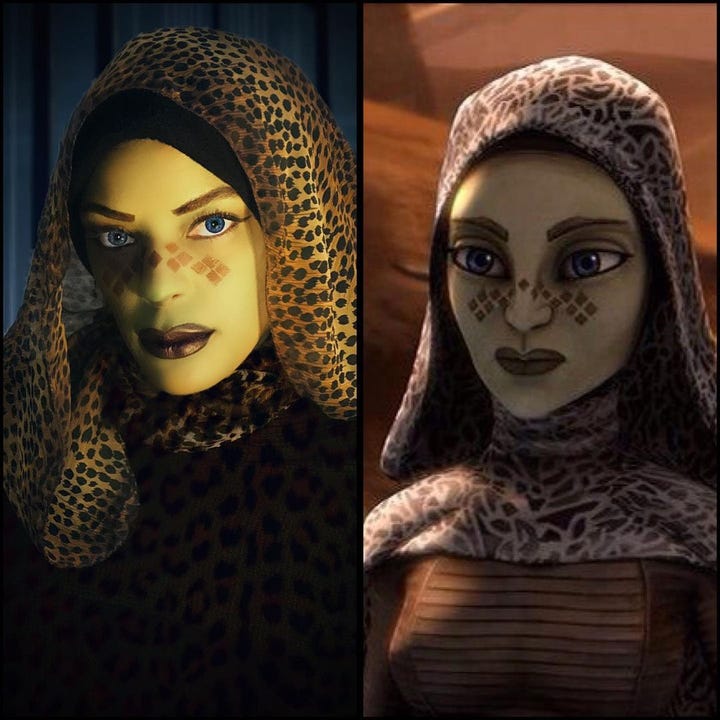 While Barriss Offee isn't a part of The Bad Batch, many fans have speculated that the show's characters may face some inquisitors on their adventures through the galaxy. The inquisitors are a group of force-sensitive Darkside agents sent to wipe out any straggling Jedi. Perhaps The Bad Batch will give us the answer to what happened to Barriss Offee after The Clone Wars? Did she become an Inquisitor, as so many fans believe?
While we have to see if she will make an apperance, in the meantime we can gasp over the incredible Madame_highsea who looks straight out of The Clone Wars with her Barriss Offee cosplay! Her makeup and face paint were purchased from ccbeauty_us. Other characters Madam_highsea has cosplayed include Ahsoka Tano, Calypso, and the Lumpy Space Princess. We highly recommend checking her Tiktok, Highsea_stark, for good vibes and tons of silly content. Plus, her openness about mental health and witch knowledge makes her an amazing cosplayer to follow. We love this energy!
Barriss Offee was once a padawan until she grew disillusioned by the role of the Jedi during the Clone Wars. She then turned against her friend Ahsoka Tano and almost allowed her to be framed for a crime Ahsoka did not commit. The Jedi council then took Barriss Offee away, but little is known about what happened to her, especially after Order 66.
The Bad Batch premieres May The 4th, 2021 on Disney+.
Want to be part of our next Star Wars article? Submit your cosplays by tagging us on Cosplay Central's Instagram, Twitter, or Facebook.
Embrace others for their differences, for that makes you whole. - Star Wars: The Clone Wars "The Bad Batch"