10 Genshin Impact Cosplays To Bring You Into The World of Teyvat
These Genshin Impact cosplayers created amazing cosplays based on the hit game.
Genshin Impact recently released update 1.5, which was eagerly anticipated by its fans. It brought new quests, characters, weapons, and more! To celebrate that, we are highlighting ten amazing Genshin Impact cosplays to hype you up even more after the new update!
Genshin Impact is an anime-style video game reminiscent of Zelda: Breath of the Wild. It has a gorgeous, open-world setting, an amazing soundtrack, and a ton of playable characters. You originally play as one of two siblings, and spend your time journeying through the expansive world of Teyvat, trying to find your lost sibling, and stop monsters and enemies from running rampant.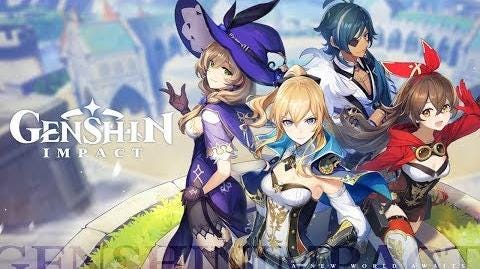 As you progress through the game, you also unlock several new characters, each with their own unique appearance and skill set. In addition, you can spend 'wishes' to have the chance to unlock other new weapons and characters, adding to your playable arsenal.
The game has around 30 playable characters, each with their own unique appearance, skill set, and personality. And more are being added all the time! Even though this is still a relatively new game, many cosplayers have already created amazing costumes for it, bringing the characters to life in incredible ways.
Below, we have ten amazing cosplayers who have worked hard to create cosplays from Genshin Impact, showing just the smallest portions of the characters in the game, and the awesome cosplays that have been created.
Chiisaisaku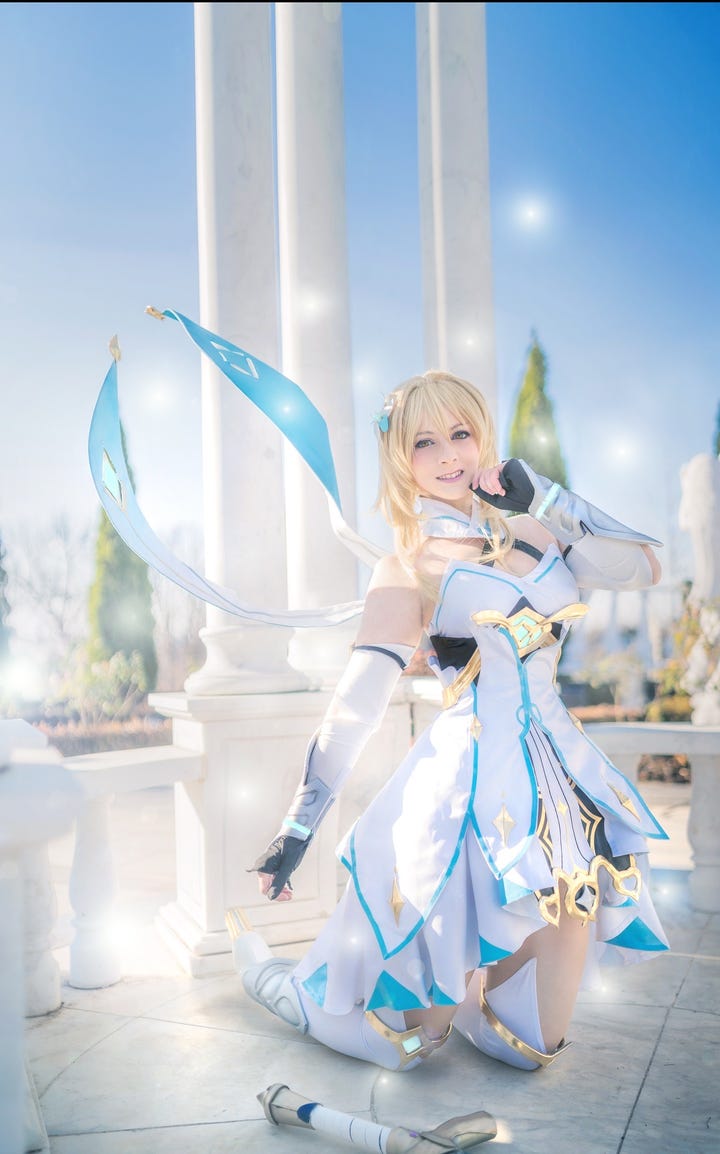 First off, we have chiisaisaku, who cosplayed as one of the main characters, Lumine. While she says she typically makes most of her own costumes, for Lumine she purchased the base of the costume, and made many adjustments to it from there. The ribbons on the back, the shoes, the wig, and many other portions were created solely by her.
Chiisaisaku started playing Genshin Impact on the day it was released, and Lumine was one of her favorites right from the start. "I found her very lovable," she says. "To this day she is still the character I love to play with." Lumine truly is an awesome character, and we think chiisaisaku did an amazing job cosplaying her!
Hakuna.cos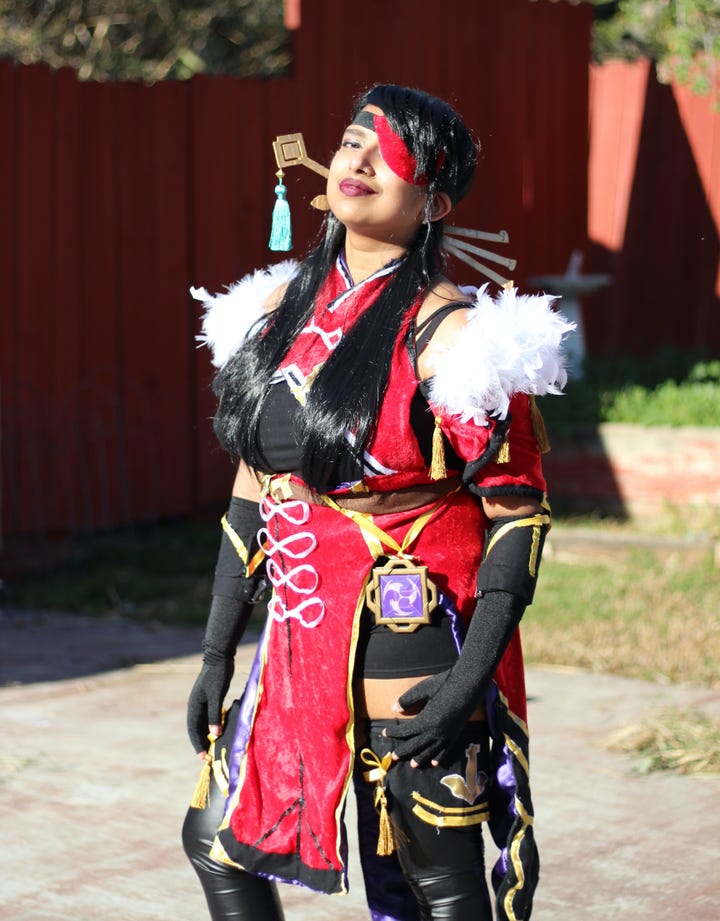 Second, we wanted to showcase Hakuna.cos, who did a great job cosplaying Beidou! Beidou is a powerful, confident pirate in Genshin Impact, and hakuna.cos says she can feel a different level of confidence while cosplaying her, like she is exuding that presence. The cosplay itself was created by clover._.cosplays on Instagram, and Hakuna.cos really brings her to life!
About the interview we had with her for this article, Hakuna.cos said, "There aren't very many known South Asian cosplayers in the community, so I hope this can help more South Asians who have been interested in cosplay to start!" We absolutely hope so as well! And after seeing such an awesome cosplay, who wouldn't be more interested in starting their own cosplay journey?
Clover._.cosplays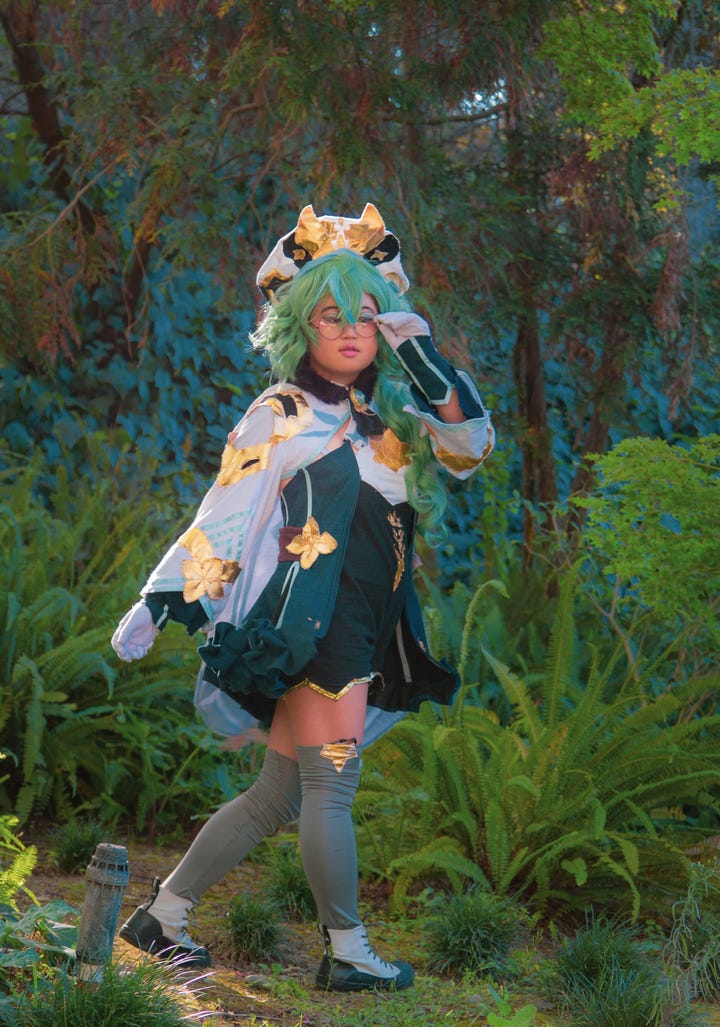 Clover._.cosplays was mentioned earlier as the cosplayer who made the Beidou cosplay featured above, but she doesn't just make cosplays for others! Clover has made a ton of cosplays for herself as well, and many of them are from Genshin Impact. We especially love this Sucrose cosplay she made. In-game, Sucrose is a curious, timid alchemist, and Clover brought her to life incredibly well with this cosplay.
Genshin Impact cosplays can be pretty complex, and Clover's advice for creating them is to spend a lot of time studying the character's whole outfit. "They have a lot of details, and some of them are really hard to figure out," she says. "But you can figure them out if you look through multiple references.' With 3D turnarounds available in-game for all the playable characters, Genshin Impact makes finding references for cosplay really easy, which is a huge plus.
babratos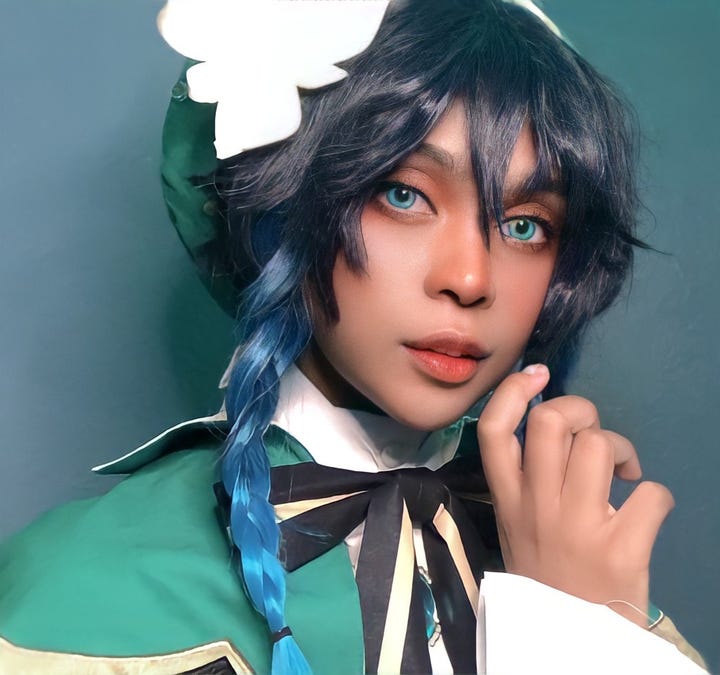 The world of Teyvat in Genshin Impact has seven archon gods to go with each of it's seven nations, and one of those gods is Barbatos, also called Venti. This amazing Venti cosplay featured above is from babratos on Instagram, who originally purchased the cosplay from Dokidoki.
They say one of the most difficult parts of doing the rest of the cosplay was finding the right contact lenses for him: "I'm really picky when it comes to the way things look," babratos says, "and when it comes to contacts I want the color to be as close to canon as possible." And they definitely did a great job with that - the bright, vibrant lenses look just like Venti's eyes in-game! Babratos actually has a ton of other Genshin Impact cosplays that they've done, and they all look amazing — you should definitely check them out as well.
naarucosplay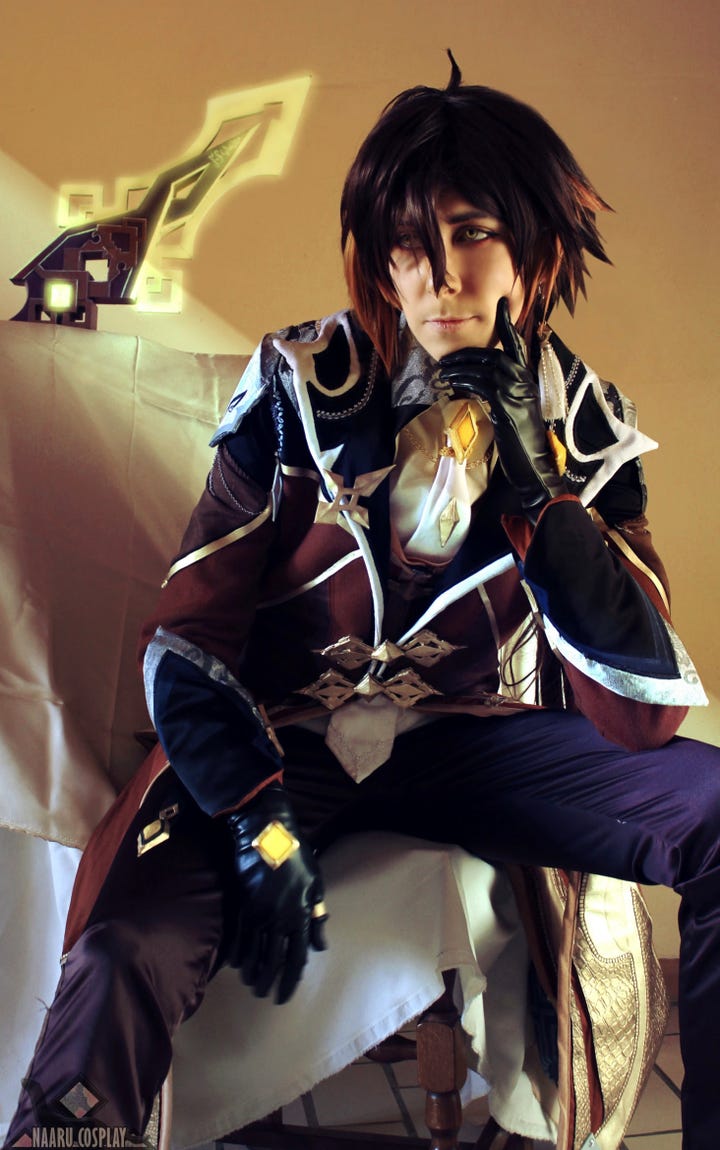 Speaking of godly cosplays, here's another of the seven archon gods in Genshin Impact — Zhongli, cosplayed here by naarucosplay. This skilled French cosplayer chose to cosplay Zhongli largely because of his design, saying that "It's quite unusual, and the colors match each other really well."
This cosplay was created entirely by naarucosplay, down to the intricate embroidery work, which she says was one of her favorite parts to complete. "This part is always number one because when I come with my needle in hand, that means that more than 80% of the cosplay is done. It's details... that bring my costumes to life."
In the embroidery designs, she incorporated aspects of Zhongli's personality and roles in-game, including the round, shiny embroidery meant to remind people that Zhongli is the god of commerce, wealth, and money. We're super impressed with the level of detail naarucosplay put into her cosplay!
Lyrical9901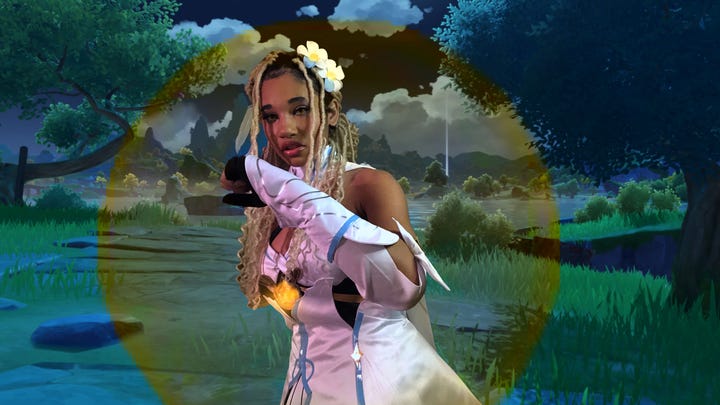 We may have already shown one Lumine cosplay, but this one by Lyrical9901 on Twitter is so good we couldn't leave it out! She started playing the game after seeing some fan-art for it, and immediately became obsessed. The game had only been out for a month when she decided to cosplay from it, choosing Lumine both because she loved her, and found it was one of the only cosplays available to purchase from Dokidoki at the time, as the game was still so new.
For the photo featured above, Lyric did her own photoshoot in her room, taking her own pictures, and doing the impressive editing on her own as well. To anyone who wants to cosplay, Lyric says to just go for it and have fun!
She also says emphatically that people in and out of the cosplay community need to be more accepting of cosplayers, of all colors, shapes, and sizes. "To all my black folks out there wanting to cosplay, please ignore all the idiots and do it! Cosplay your faves, make great friends, and enjoy being your true self!" Very well said, and we couldn't agree more.
Tokkitan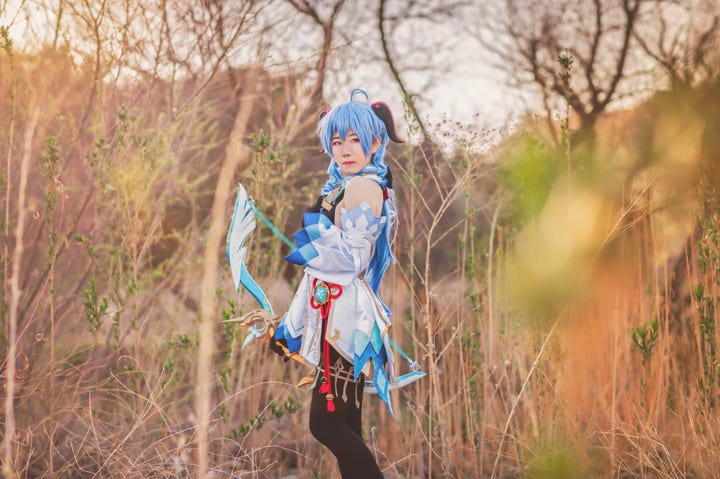 Tokkitan started cosplaying from Genshin because it was a game she and her friends played in their free-time, and it sparked a lot of inspiration for her creative self. Ganyu is one of her favorite characters, so of course she had to cosplay her!
Tokkitan says the sleeves took the longest out of the whole cosplay: "There were so many details on them." Almost all of Genshin's character designs are detailed and complex, and Tokkitan truly did an amazing job bringing them all to life for her Ganyu cosplay!
Personally, our favorite part is probably all the intricate layers on the skirt — so much attention to detail there. You can see a ton more great photos on her Instagram.
Lordzwiebelback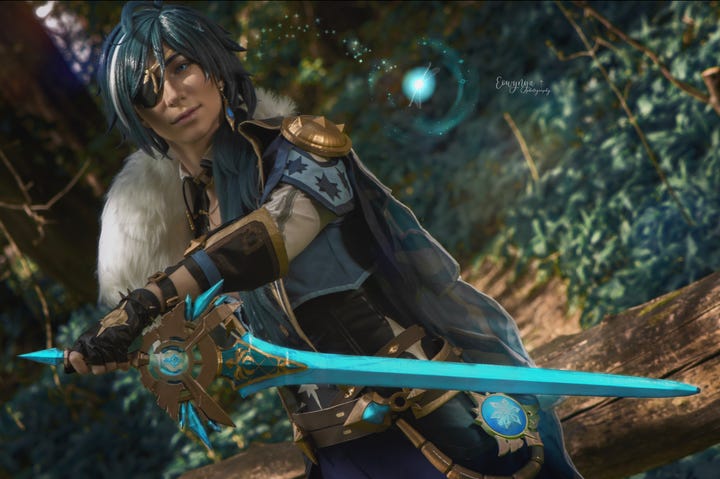 Lordzwiebelback is another passionate Genshin Impact player and cosplayer, and she had this to say about the game: "I really started loving the game and it's aesthetic from the beginning... And since I fell in love with Kaeya, I wanted to do his outfit so much." Kaeya is one of the first playable characters you can unlock in the game, and he has an awesome character design.
Lordzwiebelback's cosplay definitely does it justice — there are so many layers and details, and she has crafted them all so carefully, and so well. After having spent a long time creating the cosplay, her advice for anyone wanting to cosplay from Genshin is to study the character and the artwork for them carefully, and plan ahead, since video game designs don't always work in reality. Definitely some great advice!
Anime characters are notorious for not always translating well to real-life, and we're constantly impressed by the creativity cosplayers come up with to make it all work. Lordzwiebelback's hard work on this cosplay is a great example of that.
EpicPandah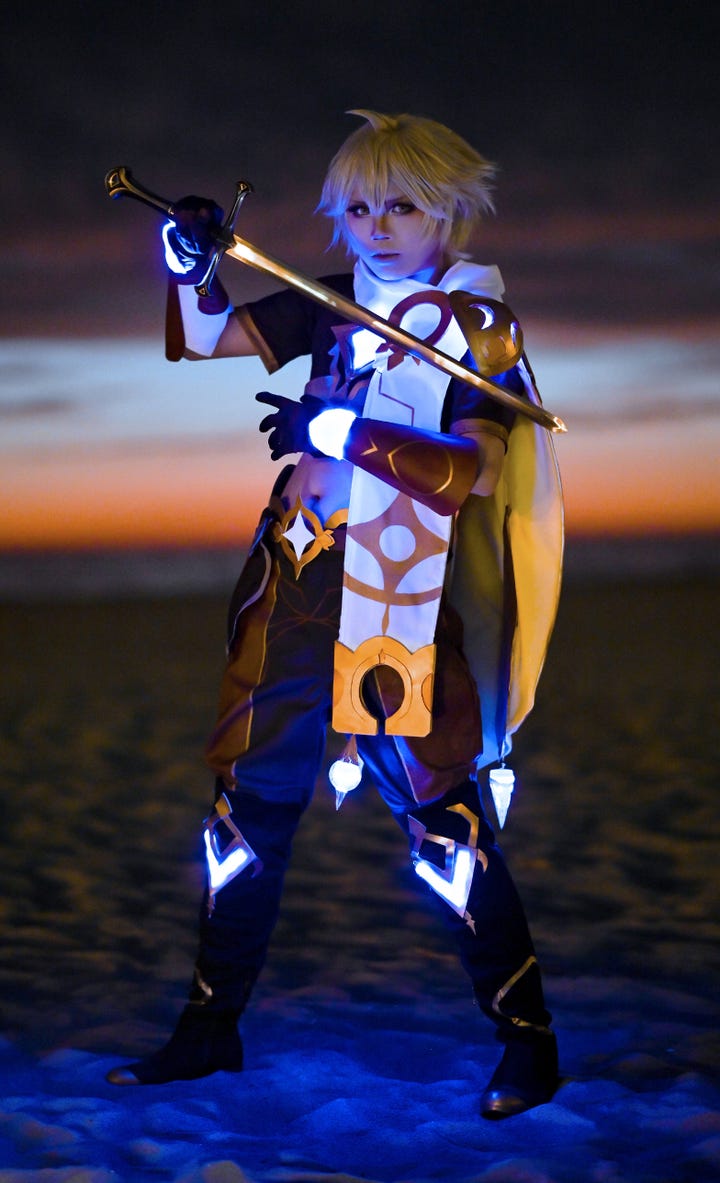 As mentioned previously, are two main characters you can choose between in Genshin Impact. We've already shown two cosplays for the female traveler, Lumine, but we wanted to show a cosplay for the male main character as well.
EpicPandah created this cosplay herself, and our personal favorite part about it is probably that it glows! There are multiple aspects of the cosplay that include LEDs, so the cosplay looks even more stunning in a dark setting than it does in the daylight.
Implementing these lights in a cost-effective way, EpicPandah says, was the most challenging part of the cosplay. In a contrast to that, she says her favorite part about it is the cape: "I feel like a hero wearing it." Fabulous capes do tend to have that effect, and we're not complaining about it!
Miackacosplay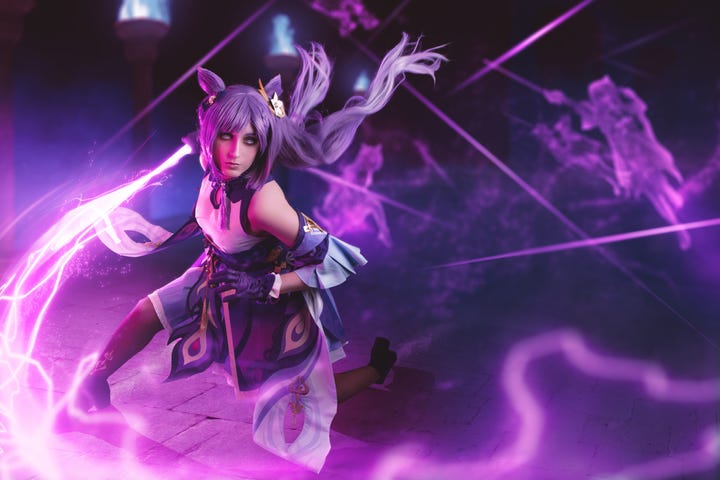 For Miackacosplay, it wasn't enough to just do one cosplay from Genshin Impact — she had to do three, and all of them at once! One of them she is in the process of making from scratch, while the other two were bought and then altered. We especially love her Keqing cosplay, which she first purchased, and then added more changes and details from there.
About the cosplay, she admits, "I often get carried away, and add a few more shiny details to the costume." Nothing wrong with adding a few more shiny details — we personally love seeing so much attention to the little things in a cosplay. Especially since these details actually ended up being her favorite part, as she says they really help it "feel more unique."
Miackacosplay found out about Genshin Impact several months before it was initially released, and, once she started playing it, fell in love with both the beauty of its design, and the intriguing fighting mechanics. "I love to switch between characters, and... I also absolutely love the exploration part of the game." In her opinion, Genshin Impact was the best of both worlds!
To possibly be featured in our articles, be sure to tag us on Cosplay Central's Instagram, Twitter, or Facebook.