10 Hamilton Cosplays That Aren't Throwing Away Their Shot
These talented cosplayers are in the room where it happened.
If you're anything like us, you spent your Friday night soaking in the goodness that is Hamilton on Disney+. Running two-and-a-half hours, the filmed version of the stage musical was produced on Broadway in front of a live audience with the production's original cast. Essentially, it's as close to the real thing as you'll get without actually handing over $500 for a ticket.
Given Hamilton's period costumes, it's no surprise that the musical has generated a passion among the cosplay community. Whether it's cosplaying as the eponymous character or any of the much beloved cast, fans have embraced the show in all its glory.
So, with that in mind, here are some of the best and most creative cosplays that we've seen from Hamilton.
10. lunarjelly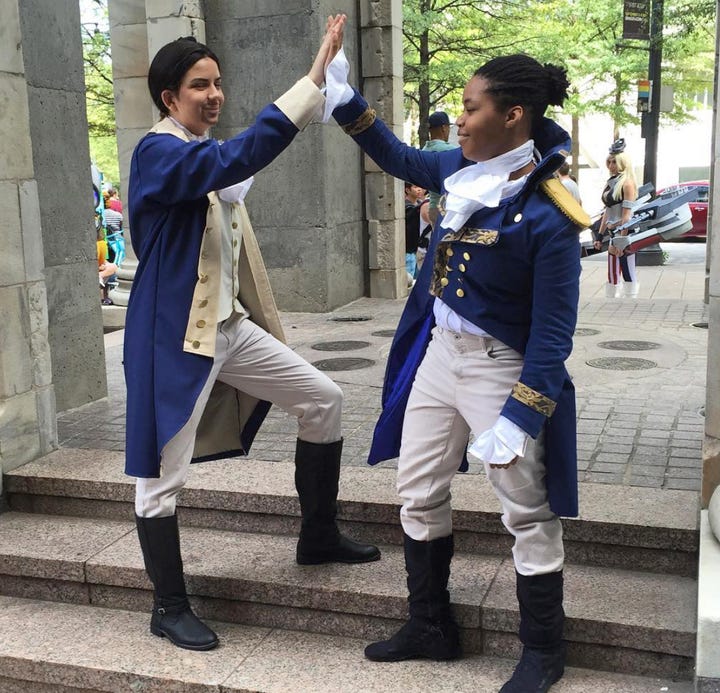 There are a ton of classic lines in Hamilton, but the one that rouses the audience the most is probably, "Immigrants, we get the job done!" This cosplay by lunarjelly, captures the precise moment when Hamilton and Marquis de Lafayette high-five each other over coming up with that timely boast. Both cosplayers are in period-appropriate outfits, making this a scene a perfect recreation of the musical! (If you know who is cosplaying as Lafayette, please email us!)
9. thenext.jeneration & sunnyrea37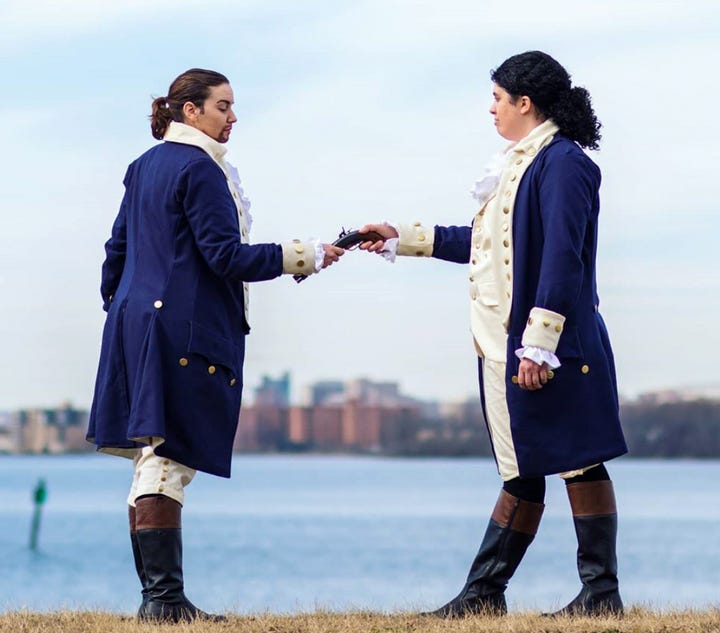 If you weren't already aware, there were a lot of duels going around during the early days of America. The most famous, of course, was Aaron Burr and Alexander Hamilton, but there was another one between Hamilton's friend John Laurens and General Charles Lee. After one round of misses, Hamilton swooped in and stopped the fight before someone could fire a second shot. This cosplay portrait by TheNext.Jeneration (Hamilton) and sunnyrea37 (Laurens) depicts that stoppage, with Hamilton taking possession of the pistol.
8. MidnightPursona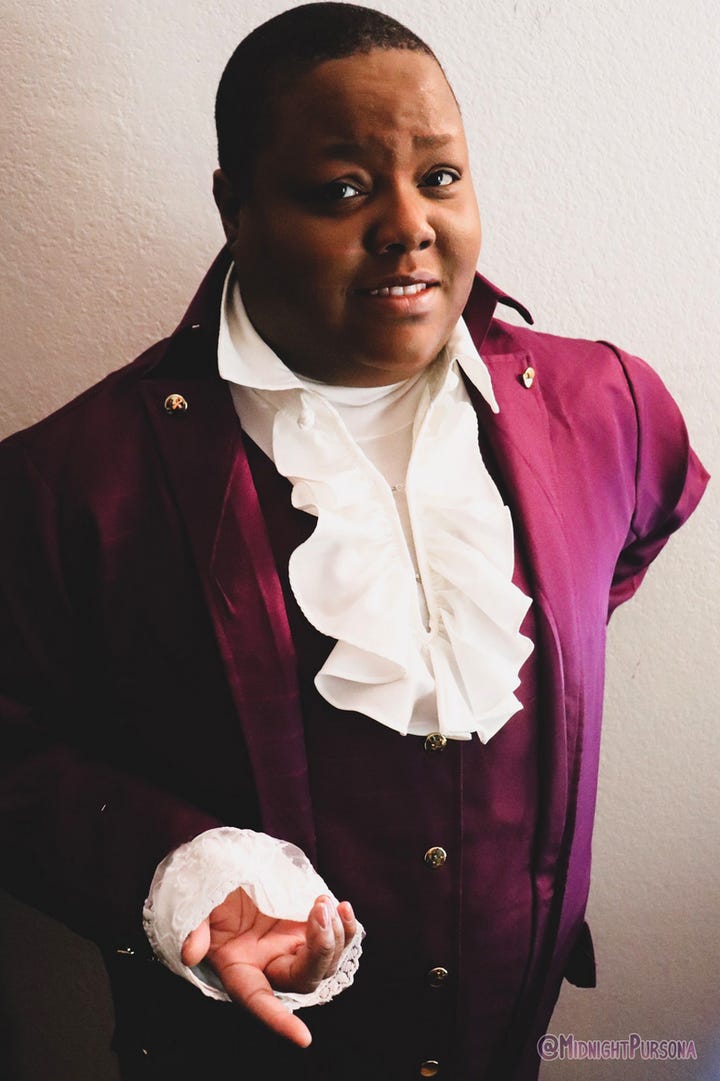 Cosplayer MidnightPursona suited up as the "damn fool who shot" Alexander Hamilton, Aaron Burr. Played by Leslie Odom, Jr. in the stage production, Burr is known for his conservative approach to the revolution, telling his compatriots to "lower your voices." MidnightPursona manages to channel that personality with her facial expression and pointed figure.
7. katphan13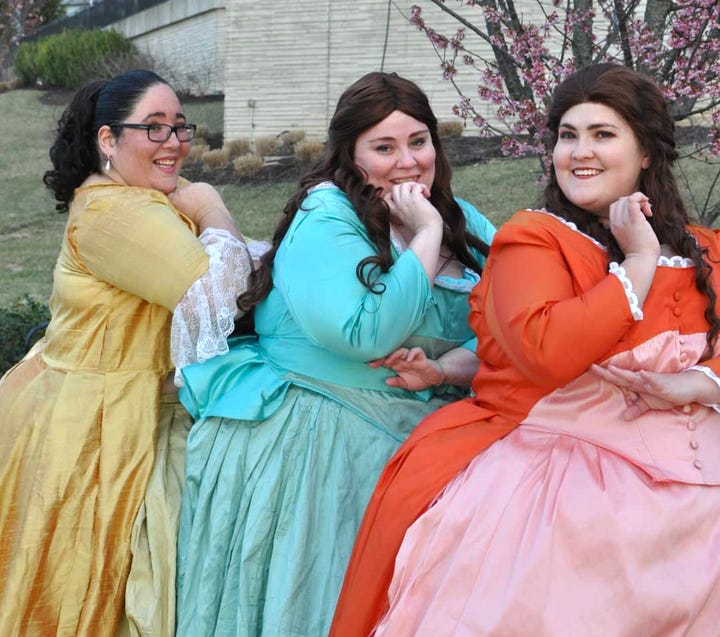 Cosplayer KatPhan13 pulled together a perfect trio for a colorful group depiction of the Schuyler Sisters: Eliza, Angelica, and the Marcia Brady of the group, Peggy. The era-authentic dresses feature ruffles and the multilayered fabric of the time.
6. inevitablebetrayal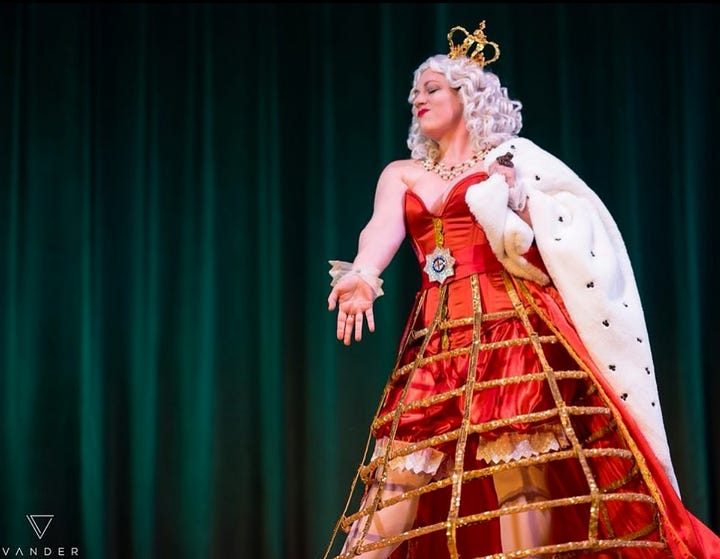 InevitableBetrayal goes royal for her crossplay as America's arch-nemesis, King George III, played by Jonathan Groff on Broadway. This burlesque creation took approximately a year to construct, hand-setting both Union Jacks out of rhinestones on the bust, building her first cage hoop, adding bloomers, cuffs, overskirt, and more rhinestones. All hail the king!
5. sparrowstyle_entertainment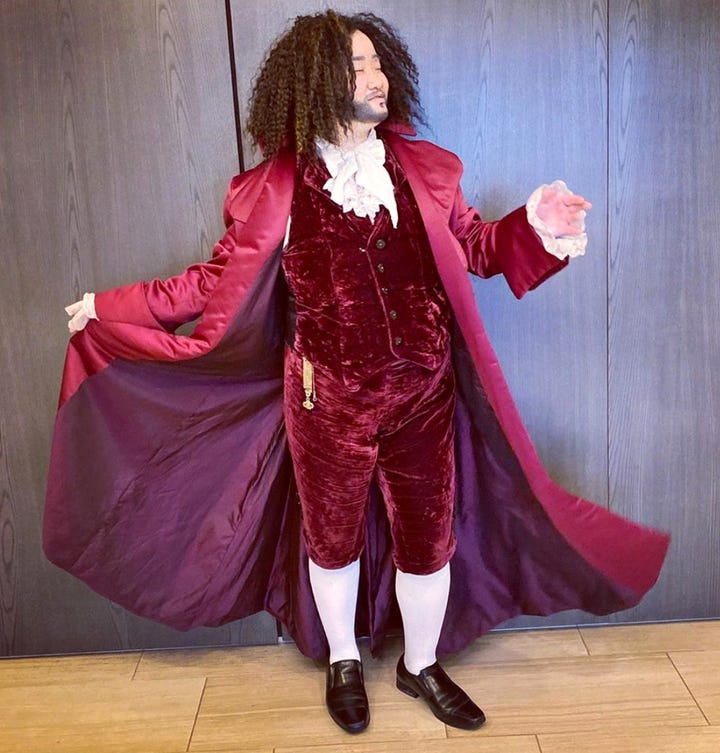 One of two Thomas Jefferson's on our list, SparrowStyle's brings a sense of flair to the character, which looks period authentic with a velvet suit and flowing cape. This crossplay is one of multiple Hamilton cosplays that SparrowStyle has created, which includes Lafayette (Daveed Diggs plays both in the musical).
4. ourshieldmaiden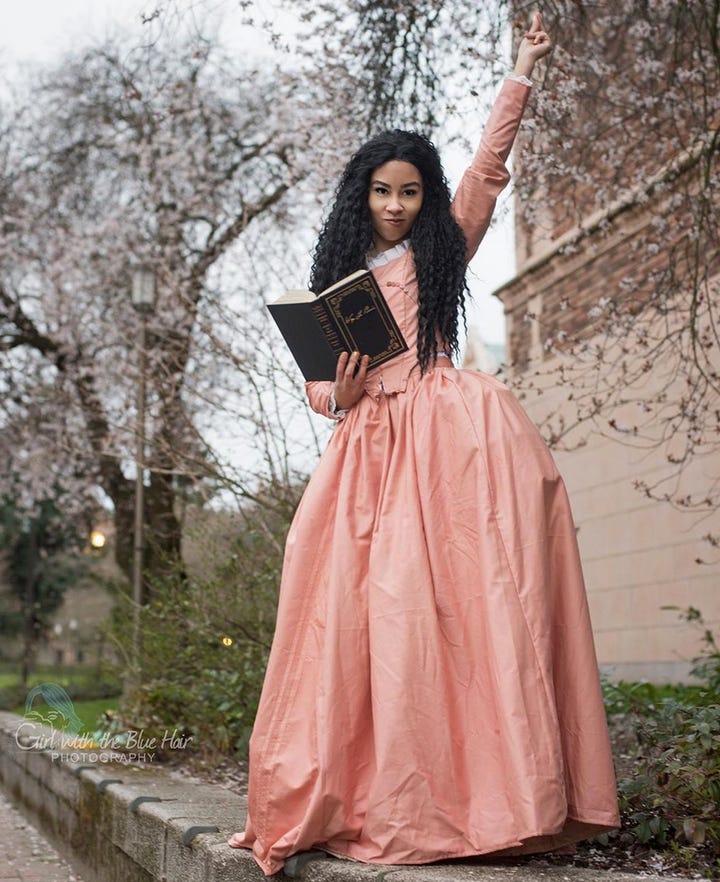 Not only does this cosplay look incredibly authentic, but Ourshieldmaiden even hand-wrote Angelica Schuyler's songs into the lining! The dress was designed by Ourshieldmaiden herself from a $7 bed sheet she purchased from a thrift store. Angelica, of course, was Alexander's sister-in-law, and rumored to be more than that. But in any event, she makes a terrific cosplay so congrats to Ourshieldmaiden on completely inhabiting this character!
3. historic_heroine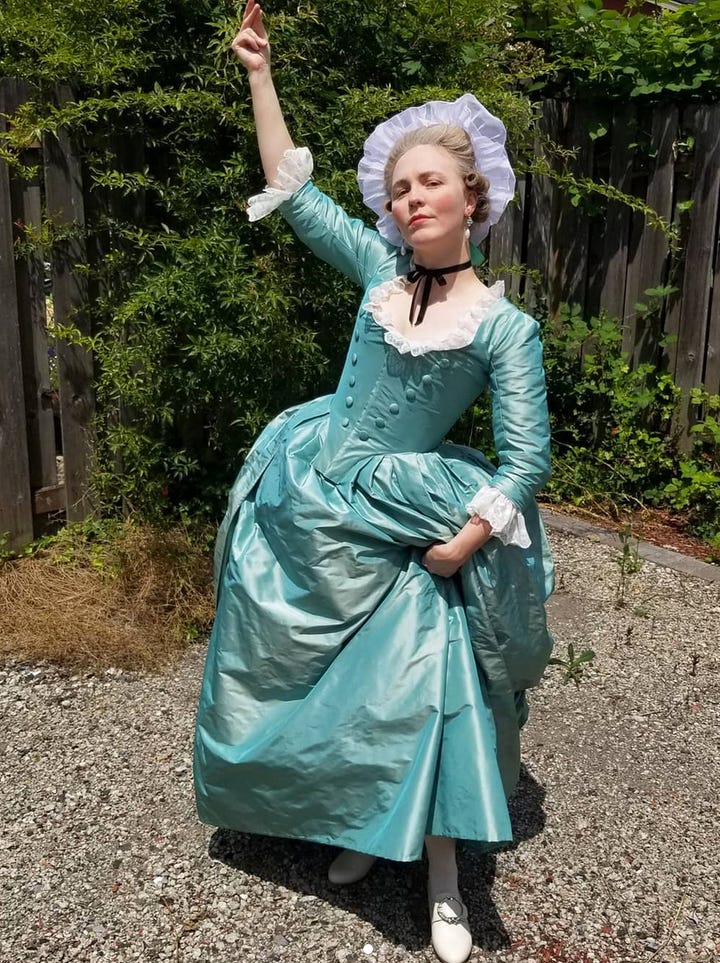 Historic_heroine's historically accurate depiction of Eliza Schuyler, Alexander Hamilton's wife, is incredible impressive. According to her Instagram post, the dress is entirely hand-sewn with each piece sourced to make it as legit as possible. Historic_heroine says she "wanted to do an interpretation of what that gown might actually look like in the 1770s/1780s." You succeeded!
2. arcillabrationa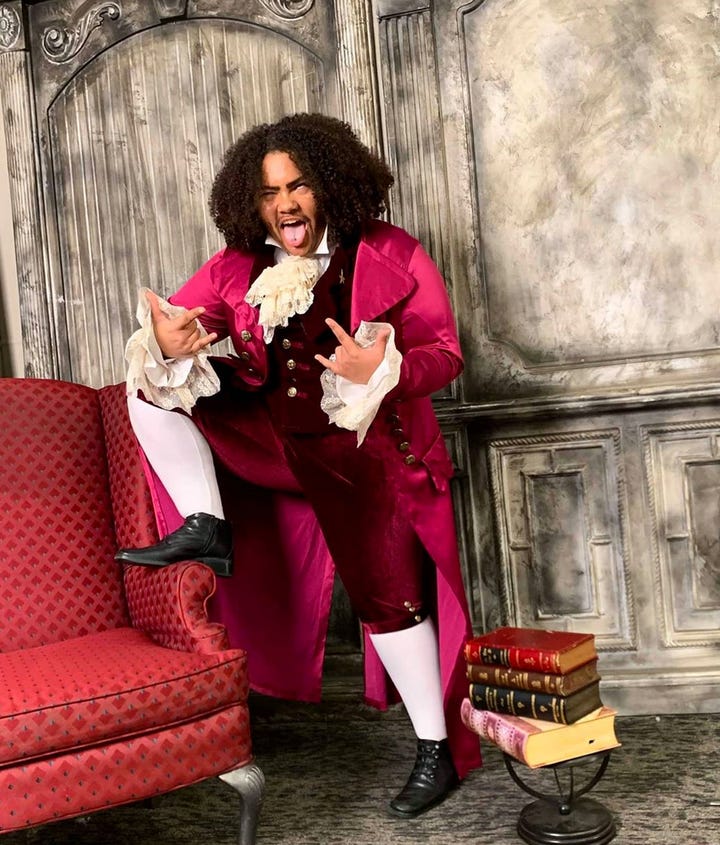 What do you get when you mix a smattering of rock 'n' roll, a dose of crossplay, and our founding fathers? Obviously you arrive at Arcillabration's perfect pose as our nation's third president, Thomas Jefferson. Adorned in a spectacular velvet suit complete with white ruffles, Arcillabration adds an extra dose of fun to an already super enjoyable musical.
1. shelipost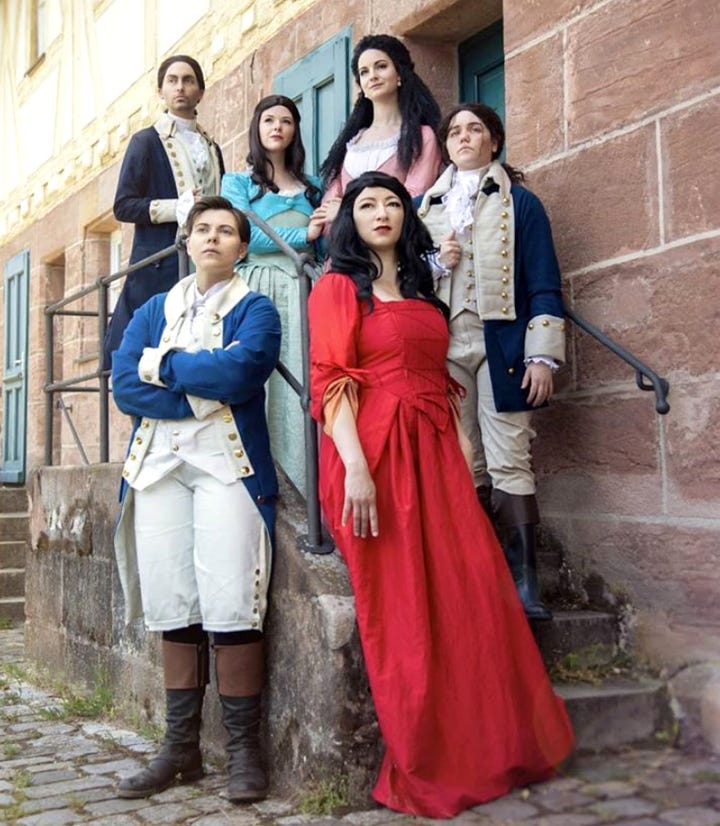 As the old saying goes, the more the merrier. Here, Shelipost brought together a group of likeminded cosplayers for a colorful group shot which includes Angelica Schuyler (@althaia_cosplay), John Laurens (@tiashipyon), Aaron Burr (@vrooono), Eliza Hamilton (@paperplanes.cosplay), and Shelipost herself as Alexander Hamilton. Way to coordinate!
Congrats to all of these cosplayers on an amazing job! If you liked this, be sure to check out our gallery of another Hamilton cosplayer.