11 Castlevania Cosplayers Who Bring The Characters To Life
These 11 Castlevania cosplayers perfectly show off the iconic characters from the Netflix series.
After centuries of waiting, fans are sinking their teeth into the newest and final season of Castlevania. Season four premiered on May 13th, 2021, on the streaming service Netflix. Castlevania is a horror animated television show based on the video game series by Konami. The series took inspiration from specific video game plotlines of the 1989 Castlevania III: Dracula's Curse, the 1997 Castlevania: Symphony Of The Night, and the 2005 entry Castlevania: Curse of Darkness. This adaptation follows Trevor Belmont, Alucard, and Sypha Belnades as they defend the nation of Wallachia from Dracula, his minions, more vampires, a horrible bishop, and just all-around evilness.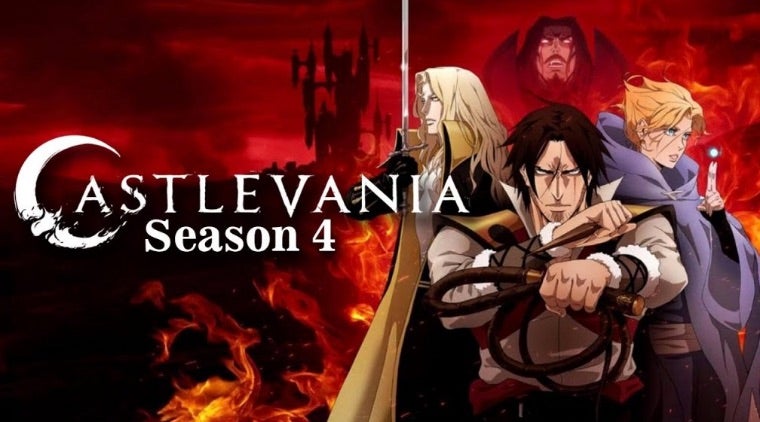 Being one of the most in-demand Netflix originals, the series debut was back in 2017. The show received a 79% fresh rating on Rotten Tomatoes, making Castlevania the first-ever adaptation of a video game to not get a Rotten score of 59% or lower.
Castlevania is also notably one of the only series where fans arguably prefer the English dub. The voice actors of Castlevania, Richard Armitage, Alejandra Reynoso, and James Callis, stole our hearts. They didn't literally steal our hearts though; that's more of a Carmilla thing.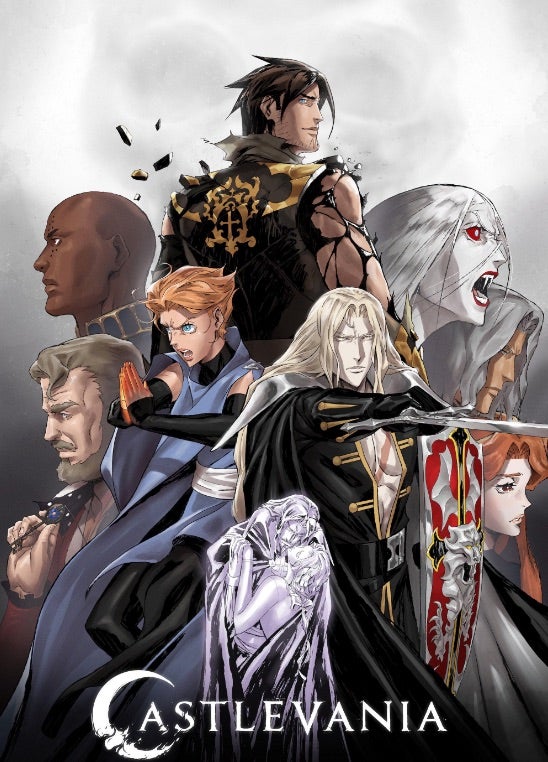 With season four wrapping up all the loose ends of our favorite characters, we feel a sense of sadness as we say goodbye to them. But with every end, there is a new beginning. And that beginning may be a rumor about a new series set in the Castlevania universe that's currently in the works at Netflix. There are already so many interesting and unique characters within the show that cosplayers worldwide can't help but transform into them. Here are eleven Castlevania cosplayers who are too batty for their own good.
Silverliningcosplay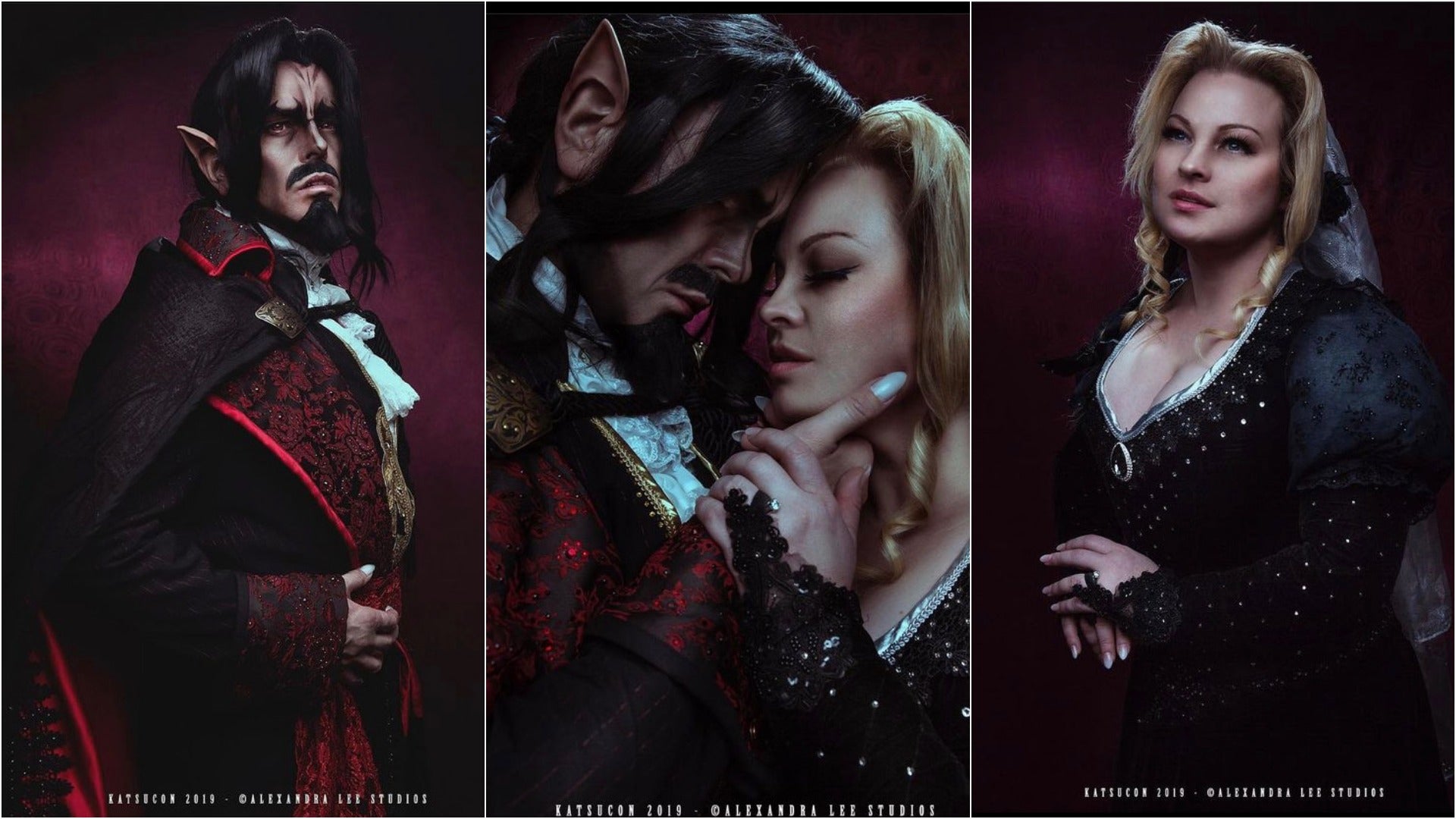 And one of the best couple cosplay awards goes to Richard and Lindsey of Silverliningcosplay! Honestly, this is some neck-romancing love. Lindsey made both of these costumes entirely from scratch, with Dracula's based on a Burda 2767: 19th Century three-piece suit and Lisa's velvet dress custom draped maxi skirt. She told us they took artistic liberty in a few areas, staying with the dark black hair of Dracula from the Netflix series but following the ornate detail of the original Symphony of the Night game design.
Lisa's costume gained a lace belt, quilted sleeves, and a two-tier organza veil. They also incorporated hand-made flowers, a crepe wool beard, and satin stitch embroidery on paisley-designed upholstery. Overall there are over a dozen different fabrics to give the shapes and textures they were looking for. Richard also helped with a bit of labor assistance by cutting some fabric.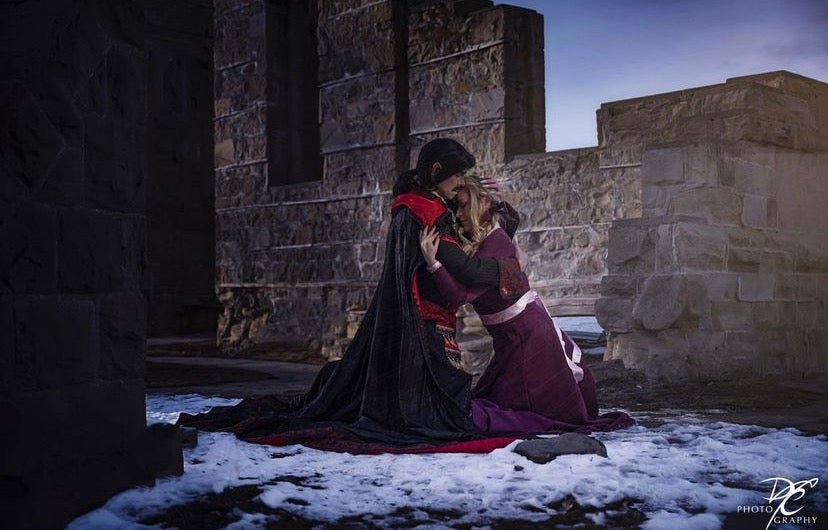 For the C4 2018 Clara Cow's Cosplay Cup qualifier, the couple decided to enter in hopes of becoming the first Canadian representative. Because of that event, they took their costumes to the next level by adding over 100 yards of trim, tooled leather accents, 8500 Swarovski rhinestone crystals, and incorporating a complete costume change on stage for Lisa into her black velvet sparkly form.
They proudly placed runner-up (2nd) and loved the positive sportsmanship atmosphere of the event. Their costumes continue to evolve as they continue to improve on their own skills. For the future, they plan to build yet another version of these two characters. Lindsey told us that "We love Dracula and Lisa so much, we cried at the end of every season, so we plan to keep their love alive through our cosplays for years to come."
Maywedacosplay
Alexa, play Bad Blood by Taylor Swift because this cosplay by Maywedacosplay is fantastic. Maywedacosplay is a crafting genius! Check out her saved story titled WIP to see some of the wonderful work-in-progress images of her cosplays. For Carmilla's dress, Maywedacosplay had her friend womans_armor_workshop sew it for her since she's an excellent tailor! The gold accessories are handcrafted, and she toned the finished dress because the devil is in the details. Her fangs are also made out of plastic.
Maywedacosplay typically gravitates to cosplaying video game characters, with some of her top looks being Albedo from Overlord, Tyrande from World of Warcraft, and Saber from Dark Souls. Like most vampires, Carmilla possesses supernatural speed comparable to Alucard's agility and physical strength; however, her most deadly weapon is likely to be her charisma and intellect.
Hollowqxween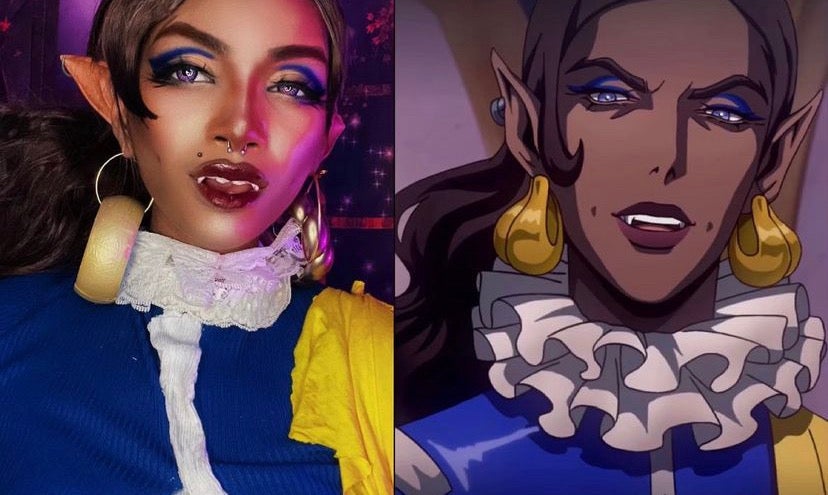 Even holy water couldn't put out the fire that Hollowqxween is as Morana the strategist member of the Council of Sisters. Hollowqxween specializes in making cosplays swiftly and efficiently. Her Morana cosplay is no different. She crafted her ultramarine blue and white dress paired with a yellow shawl basically overnight. That yellow shawl is kaunakes styled, hinting at Morana having Mesopotamian or Persian origin. Other cosplays Hollowqxween has done are Lady Dimitrescu from Resident Evil, Miranaigus from Soul Eater, and Mai from Avatar: The Last Airbender.
On Hollowqxween's Instagram account, there are plenty of videos of her cosplays, but there is also a link in her bio. That link shares this artist's work and art, and ways to support and educate people on issues within our society. Hollowqxween positively influences her followers on important matters. In season three, Morana is the main administration official of Styria, meaning she is Styria's master accountant. It's heavily implied she is the one in charge of the country's economy, wealth, and commerce.
Gobalysstic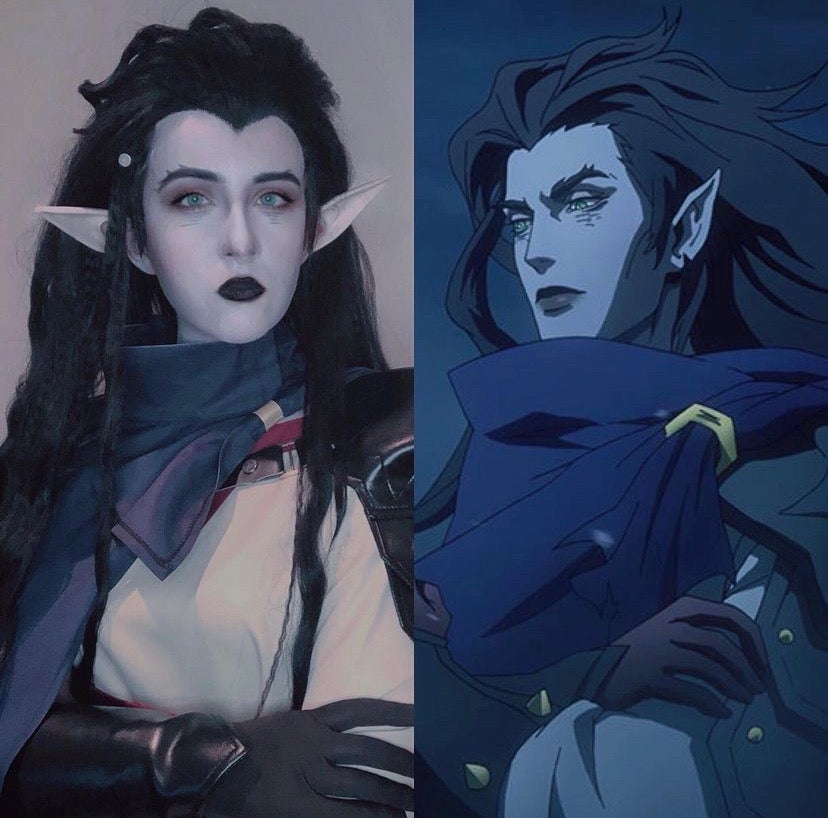 Gobalysstic is as fierce as they come with her Striga cosplay. The physical costume itself is a mixture of pieces pulled from her closet while using the Ezcosplay Striga costume as a base. The dress, cloak, and armor pieces were bought off the website, but she has distressed those to look a bit more worn. The boots, accessories, and so on are things that she put together herself. Her wig is a purchase from Arda (the Tauriel classic) that she crimped, curled, and teased the heck out of until it seemed big enough to do Striga justice. We think it's phenomenal, and Striga would be proud.
As for the facepaint, Gobalysstic used a light grey mehron paint. She then contoured and added various other details to complete the look. Some of her makeup tricks include using a wet brow brush to draw out the bushy, spiky shape of her brows and her lip color is an NYX liquid lipstick. The reason Gobalysstic gravitated towards cosplaying Striga is that the character is tall like her. Gobalysstic is about 6'0" and tends to cosplay amazons like herself.
Fenixfatalist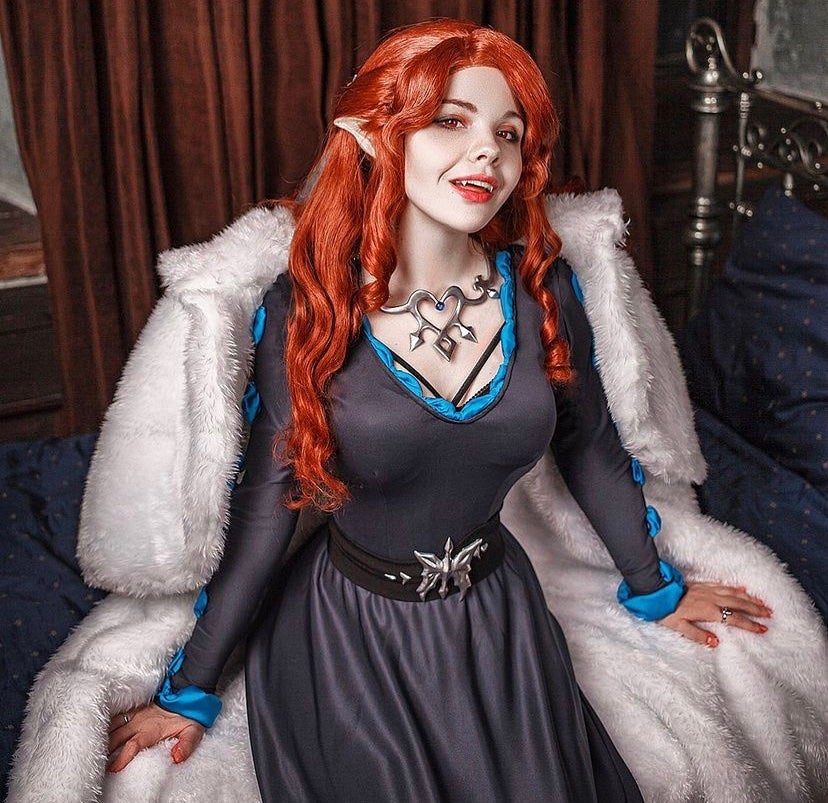 Fenixfatalist as Lenore is the best thing since sliced garlic bread. We're talking vampires here. Her coat is a warm high-quality fake fur, perfect for those winter months in Russia when you still want to do outdoor photoshoots.
Fenixfatalist specializes in costume crafting and works at fdcosplaystudio as a manager/producer. She's also the creator of the Cosplay Planner! Her Cosplay Planner is perfect for outlining when you will craft cosplays and how. There are sections for drawing your designs, notes, ideas, and to-do lists. You will never be so organized.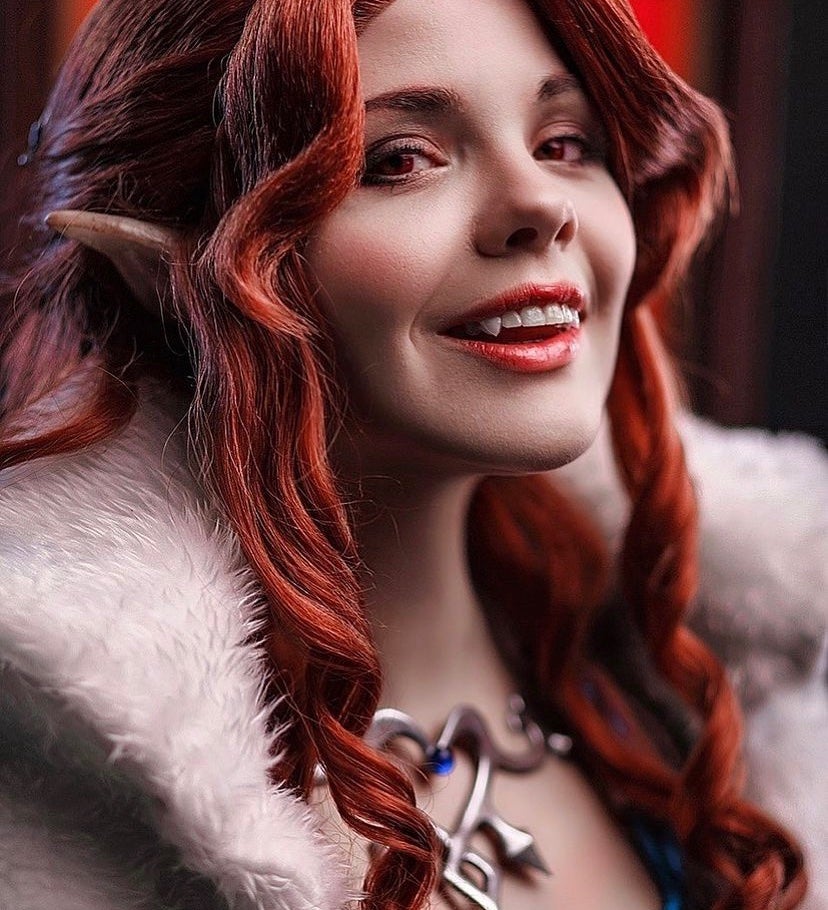 Lenore possesses the ability of Bat swarming. She is essentially able to transform her body into a swarm of bats. This proves to be a necessary power to provide a rapid means of displacement or gain a vantage point in the middle of battle. Plus, this provides her with an easy escape from an adversary's grasp. Lenore primarily uses Bat Swarming as a way to fast travel around the castle of Styria to either battle plan or to hang out and manipulate her favorite pet.
Zuri_cosplay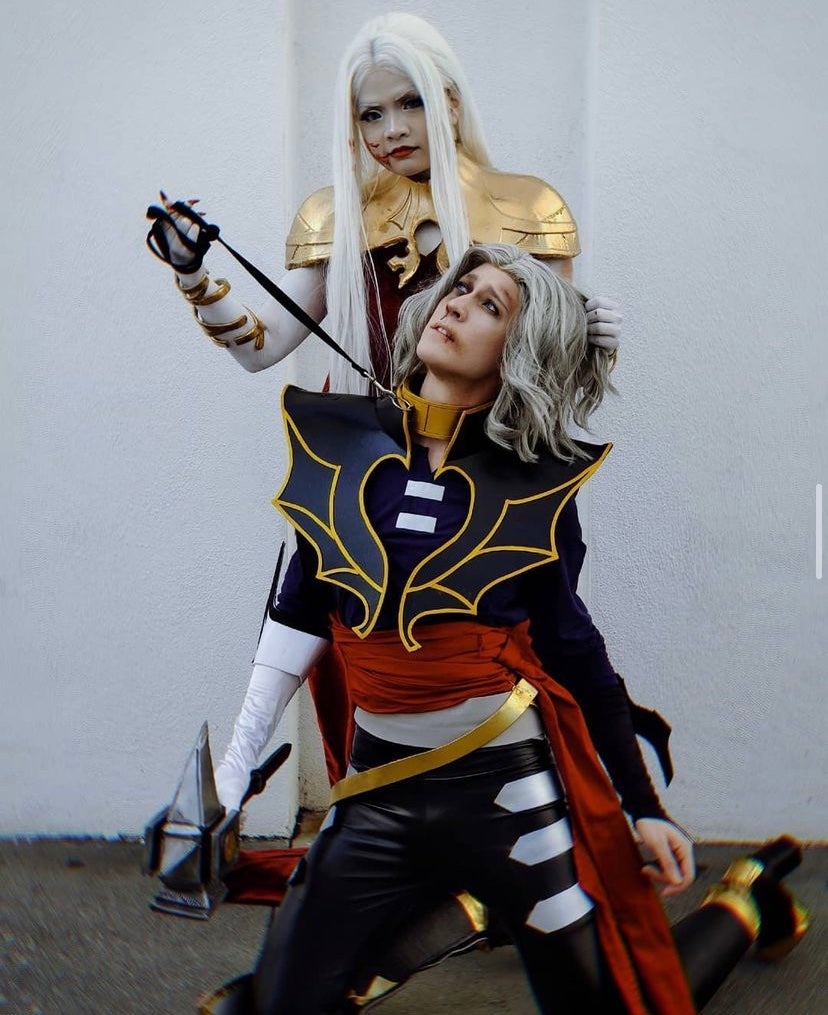 Hector may not be having the time of his life in these last few seasons, but his hair looks so good, or at least Zuri_cosplay's hair does. Zuri_cosplay is a lute playing, prop making, High Heel wearing enthusiast, and we are here for it. His chest armor is a template he crafted out of EVA foam right before he made his first con appearance as the character; literally, like the night before.
Other templates he created for this cosplay include the boot covers made out of thick interfacing and fabric and the gold collar made with foam and magnets to clasp the back. The rest of Zuri_cosplays outfit was made by altering clothes. For example, his high-waisted pleather leggings were altered with silver embellishments on the thighs, which he made out of craft foam.
Zuri_cosplay told us that walking around the convention on a leash actually made things easier because he didn't get lost in the crowd. Also, his Carmilla (RottenCoreCosplays) is a good friend of Zuri_cosplay, so they had a tough time being serious for photos. They are currently updating their cosplays from the last couple of seasons, and Rottencorecosplay plans on doing Lenore next!
Pebblecrumbs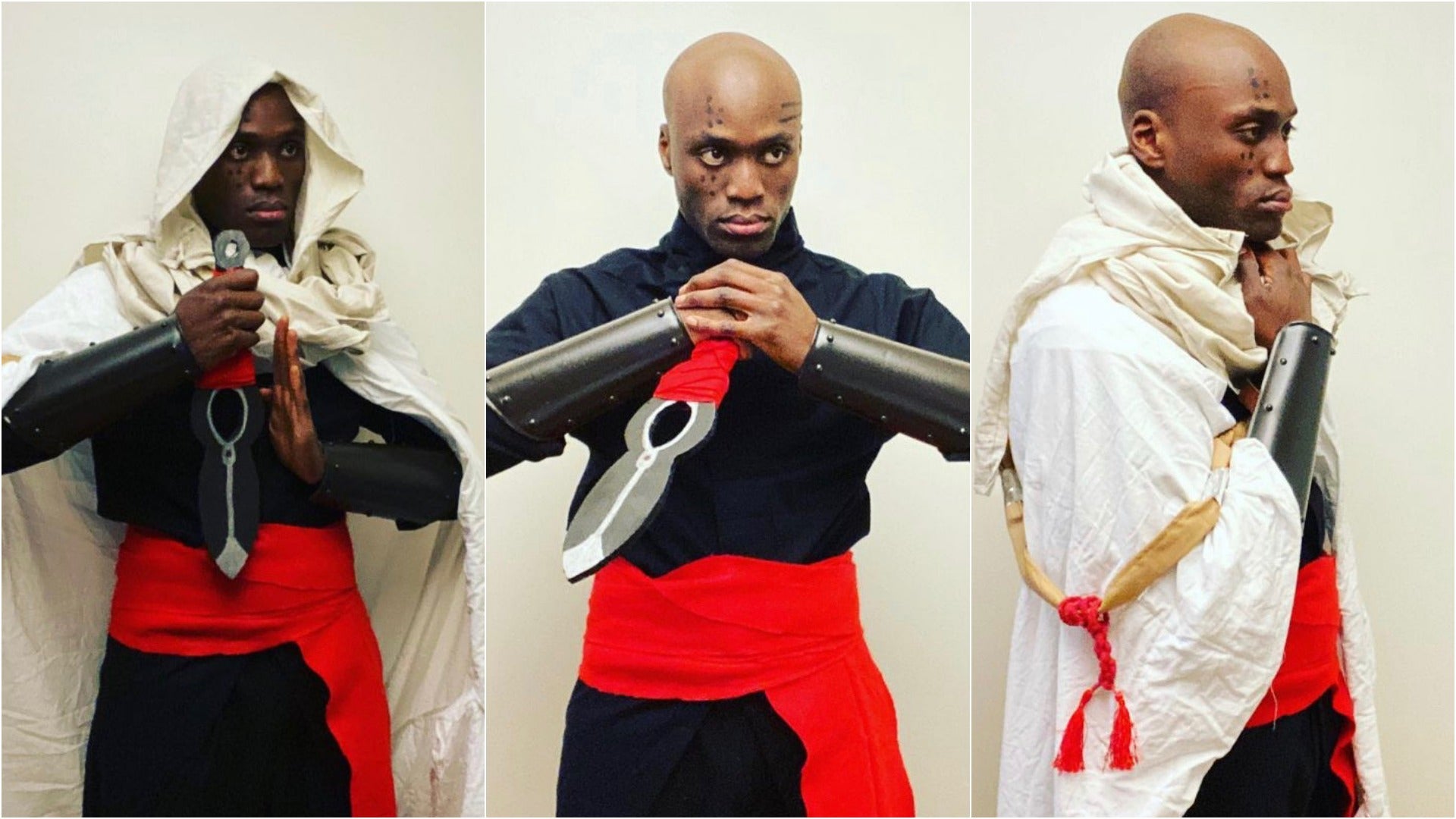 Pebblecrumbs has mastered Isaacs's brooding, intense gaze perfectly! Let's hope he doesn't master anything that has to do with devil foraging or unconditional loyalty to a particular vampire. This cosplay is very impressive due to Pebblecrumb not working with armor before and not having a heat gun or a Dremel. The gauntlets and the forge master blade look professionally made for a novice.
Pebblecrumb's Instagram is full of incredible content, including cosplays of Aang from Avatar: The Last Airbender, Kanametousen from Bleach, and his very own created characters for larping. This cosplayer regularly speaks out on his TikTok and on his Instagram about different heritages on their celebrated months and educates his followers on some important people who have made a difference in history. He truly honors those stories.
This may not be canon, but Isaacs's physical appearance greatly resembles that of the voice actor, Adetokumboh M'Cormack, who plays him.
Baeloid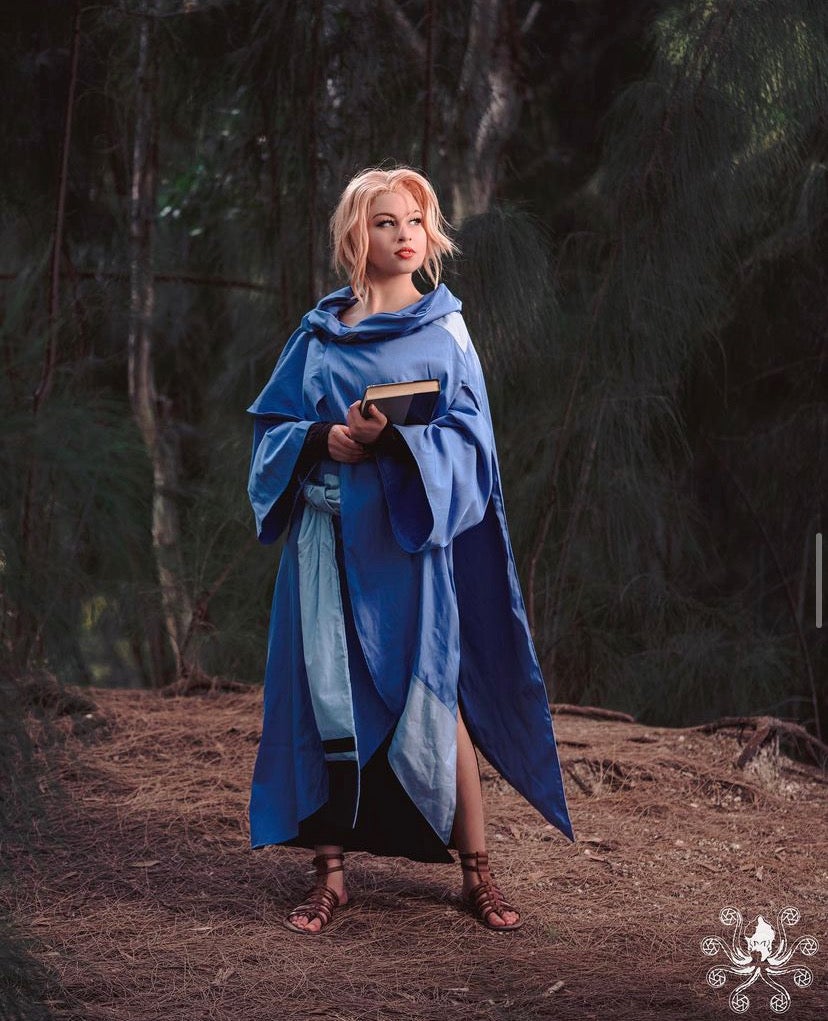 Baeloid looks ready to tell us a story about how she and only she saved the universe… Maybe Trevor Belmont and Alucard were there, but that's not important. In all seriousness, Baeloid looks stunning as everyone's favorite speaker in her costume, created by her friend bridoof, who is an amazing seamstress. Baeloid also styled and cut her wig, which was a bit tedious to make, but looks as accurate to the character as possible.
This shoot took place in a local park in Florida where she and the photographer, mijares_productions, faced many obstacles. The day of shooting included rain, being questioned by a local park ranger, and horse manure. But these two adventurers didn't fret; they continued on their journey and created beautiful imagery. To watch the video they made, click here.
Baeloid has cosplayed for over ten years and is an actress, dancer, and makeup artist. The cyclops that turn Sypha to stone in the series directly references Castlevania III, where the cyclops is one of the more iconic bosses to defeat.
Taryn_cosplay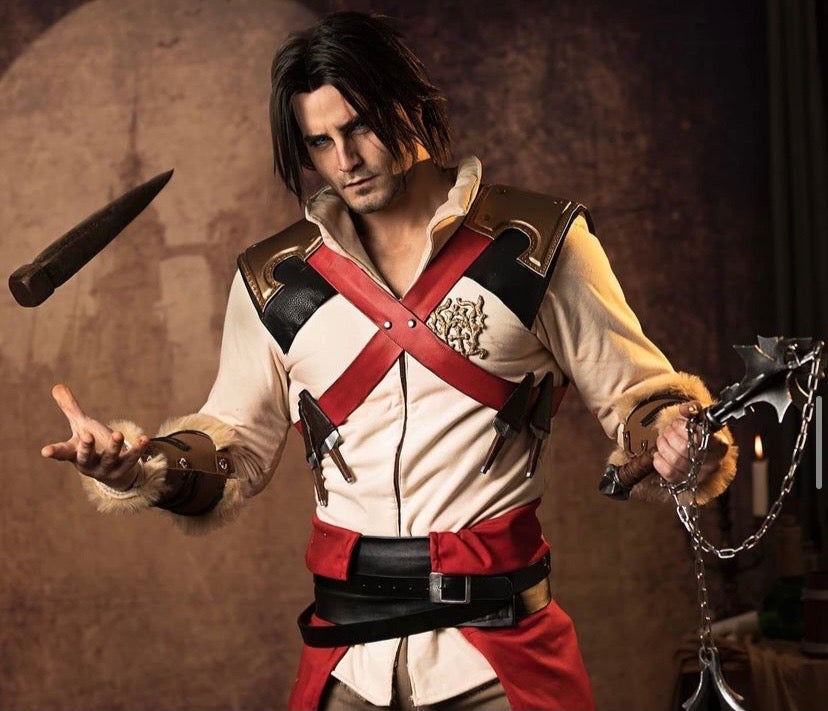 Taryn_cosplay cosplaying as our favorite arrogant monster hunter and the last descendant of the Belmont family, Trevor Belmont, may be the best thing in all of Wallachia. Like, this cosplayer looks as if the animated version of Trevor Belmont came to life! Okay, okay, we will stop gushing. Taryn_cosplay made his cosplay without a pattern and worked as he usually does by crafting "on the spot."
For his Belmont jacket, he modeled it off of a shirt he already owned and went from there. As for his weapon detail, he wouldn't recommend them for larping. The Belmont family whip is a wooden stick hidden inside a vein of metal. It's then attached to a chain that Taryn_cosplay covered and sculpted with forex covered in black worbla. Pretty strong stuff.
In the video games, Trevor Belmont receives his scar from a duel with Dracula; however, in the show, Trevor has the scar before even meeting Dracula. This proposes the idea that Trevor gained it during an altercation with the church.
Kuroni_ravenia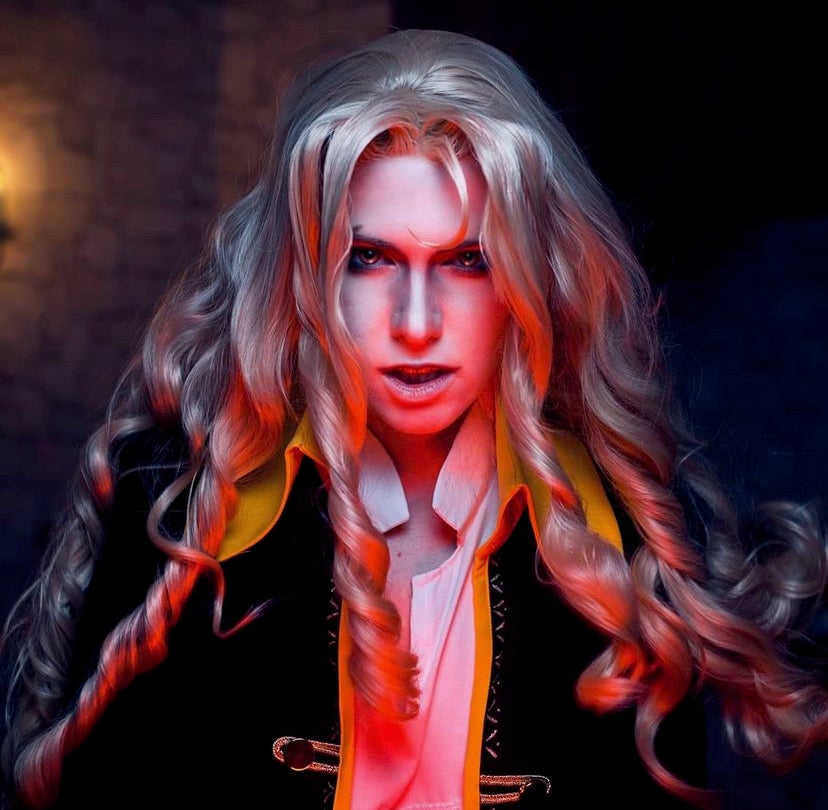 We have thrown down our stakes and surrendered to the glory that is Kuroni_ravenia as Alucard. She composes absolute fierceness and command in her facial expressions with this cosplay captured so beautifully by photographer kaywinnith. Kuroni_ravenia stitched ornaments inspired by the original Wallachia folk design onto their jacket. She also did an exceptional job at replicating the design of Alucard's lips by shading them with the perfect color.
As a cosplayer/crossplayer and makeup artist, Kuroni_ravenia has given herself the title of shapeshifter, of which we totally agree. One moment she's dressed as Muzan from Demon Slayer, and the next, she's transformed into Draco Malfoy from Harry Potter. She is also an artist who specializes in sketching, digital art, and portraits. To see some of Kuroni_ravenia's art, check out her art account: Kuroni_ravenia_art.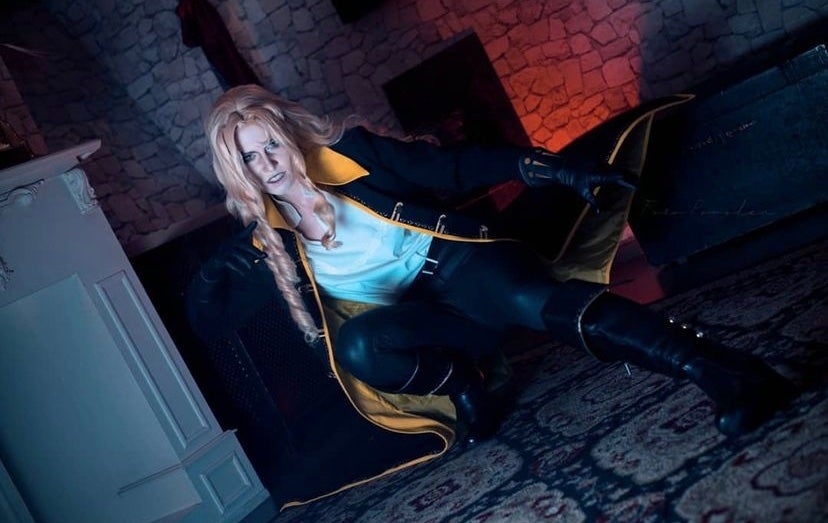 Alucard's name is an anagram for Dracula itself. To spell it out, Alucard is Dracula backward. Fan speculations suggest that the use of the name is a direct reference to the 1943 film Son of Dracula. Since that film, the name has been used in several Dracula and vampire adaptations.
Bustedjetpack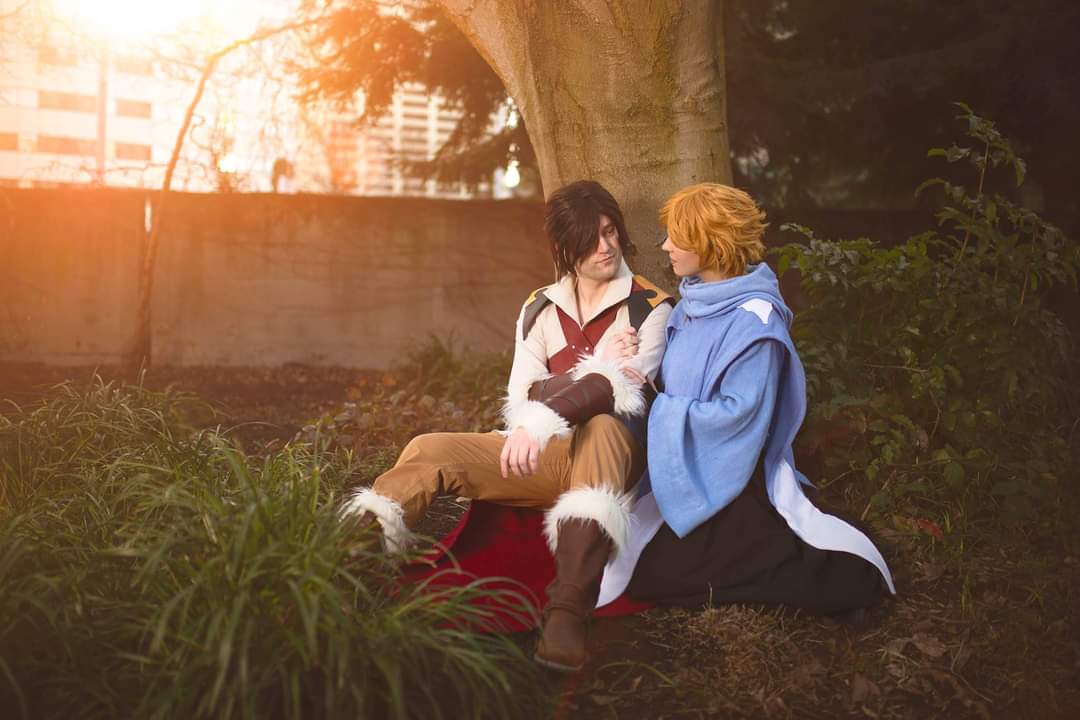 Last but certainly not least we have Alex (Bustedjetpack) and Micah as our favorite couple from the show: Trevor Belmont and Sypha Belnades. These two are not only major couple goals, but they also love to cosplay together.
Both of them made their cosplays using various materials such as pleather, linen, foam, faux fur, and even a fabric called monk's cloth. Micah explained that for her Sypha cosplay, she wanted the robe to have texture so she went with the monk's cloth fabric. She had dyed it at first but the color was off, so after several attempts to fade and phoning a friend to help get the correct color, she finally had the Sypha robes perfected.
Moral of the story is don't forget to do a test swatch first! (Also fun fact: Apparently stripping the color and redyeing the fabric gives it a soft, worn feel so it worked out even better in the end.)
Also can we just say that this photo is incredible? It truly makes it look like they're sharing a moment before having to attack more night creatures. Honestly, both Trevor and Sypha deserve a few minutes of peace with how much they travel around to save the world from vampires.
Castlevania is now streaming on Netflix.
To possibly be featured in our articles, be sure to tag us on Cosplay Central's Instagram, Twitter, or Facebook.