5 Yelena Cosplays Ready To Strike A Superhero Pose
Check out these 5 Yelena Belova cosplayers from the Black Widow movie.
WARNING: This article contains spoilers for Black Widow.
The votes are in, and Marvel's newest breakout star is Florence Pugh as Yelena Belova from the Black Widow solo movie. Florence Pugh is an English actress best known for her Midsommar, Lady Macbeth, and Little Women performances.
Aside from being one of the most hilarious characters on screen, Yelena presents so much potential in carrying on the Black Widow franchise. Yup, we said potential franchise from a dead superhero because of how brilliantly Marvel passed the torch to Florence Pugh from Scarlett Johansson.
Spoilers may be ahead, so go watch the film in theatres or on Disney+ and then come back to read this article. You've been warned (twice)!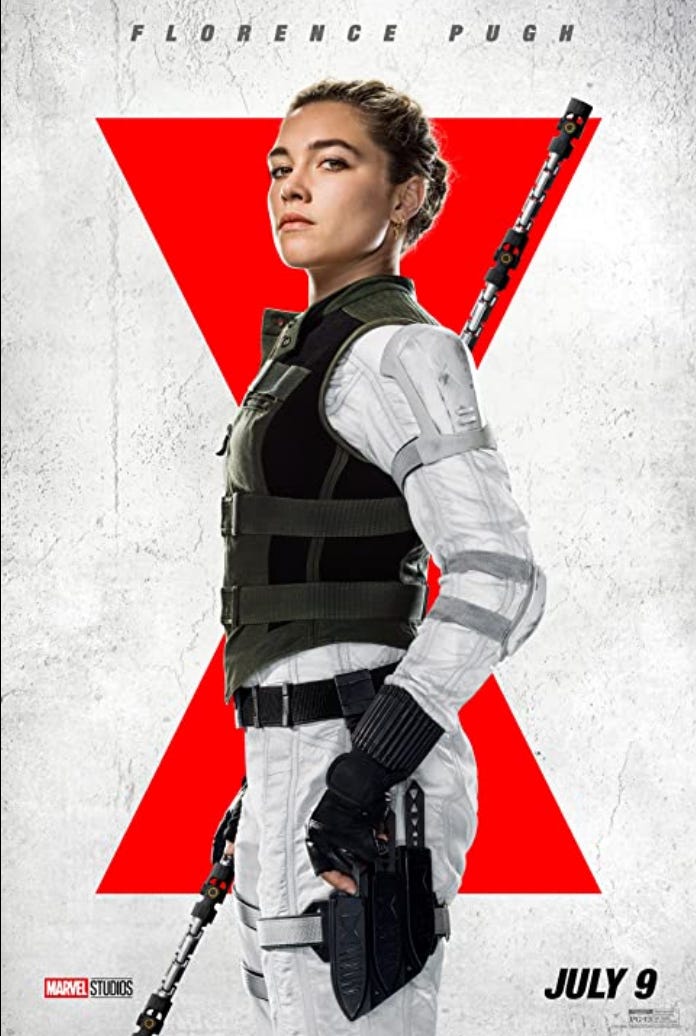 This film is recognized as the first movie of Phase 4 in the Marvel Cinematic Universe. Black Widow was supposed to set up Phase 4 but was pushed back due to COVID, and thus WandaVision took its place. However, before the film's release, Executive Producer Kevin Feige had said they were so impressed with Florence Pugh's performance that they plan to include her in future MCU endeavors. And so they have!
SPOILERS: In a closing credit scene, Yelena Belova visits Natasha's grave and is approached by none other than Countess Valentina, who was John Walker's biggest fan in The Falcon and The Winter Soldier. Valentina suggests a mission to Yelena to target the person she believes killed her sister, Clint Barton.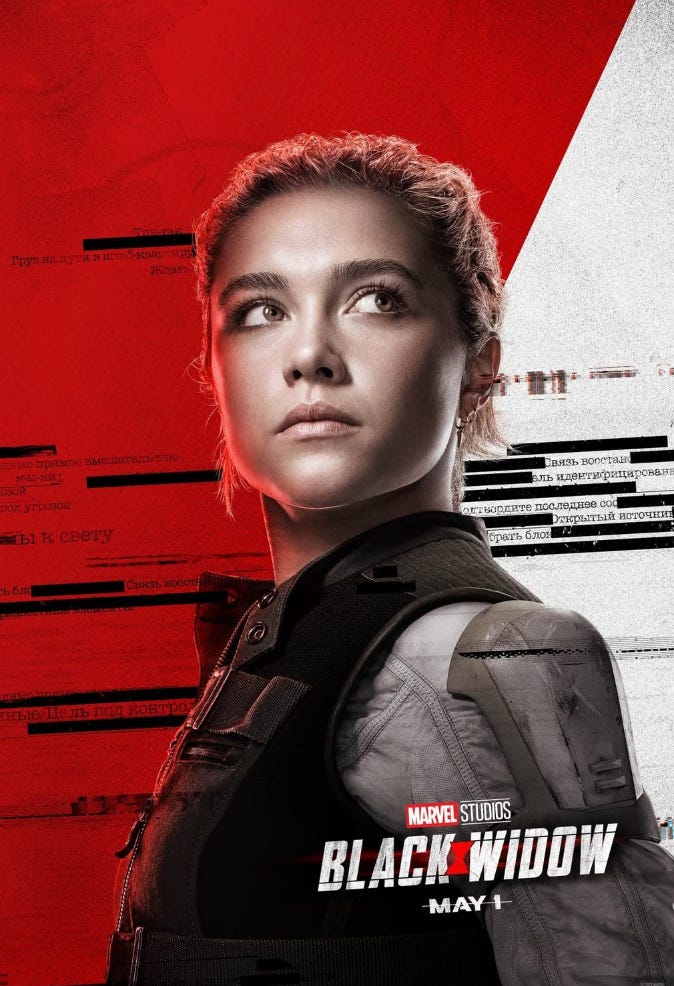 It could be said that many cosplayers took the risk of dressing as a character they had yet to see on the big screen. But after seeing Florence Pugh's performance as Yelena Belova, not a single cosplayer can say they regret it! She was by far a standout character and now a favorite amongst fans. So here are five cosplayers who took a chance on a new character who is now one of the most fantastic Marvel characters to grace our screens.
MostlyMegz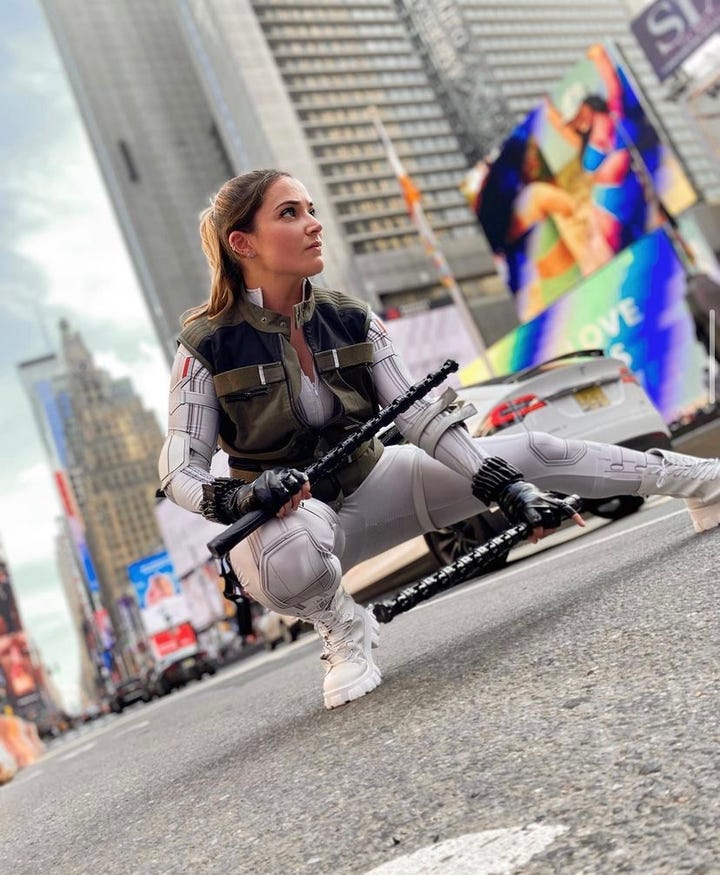 Mostlymegz is a Tiktok star who turned her account into a full-fledged influencer platform for cosplay. She creates mostly Marvel content with her cosplays of Scarlet Witch, Captain America, and The Winter Soldier but is most known for her cosplay of Yelena Belova.
Back in December of 2019, the Black Widow trailer premiered, and Mostlymegz instantly knew she had to cosplay as Yelena. As a result, Mostlymegz caught the eyes of Marvel and was invited to the New York Premiere of Black Widow, where she was amongst the first people to see the film.
After seeing the action-packed movie, this is what Mostlymegz thought of Yelena Belova: "I fell even more in love with her, and she is definitely now one of my favorite characters. I can't wait to do more with Yelena! I have a bunch of upcoming content planned for her, and I'm very excited to show everyone!"
When Mostlymegz isn't cosplaying, she's collecting Funko pops and works in healthcare as a Radiation Therapist. She works with cancer patients and treats their diseases with high-energy x rays.
Minakess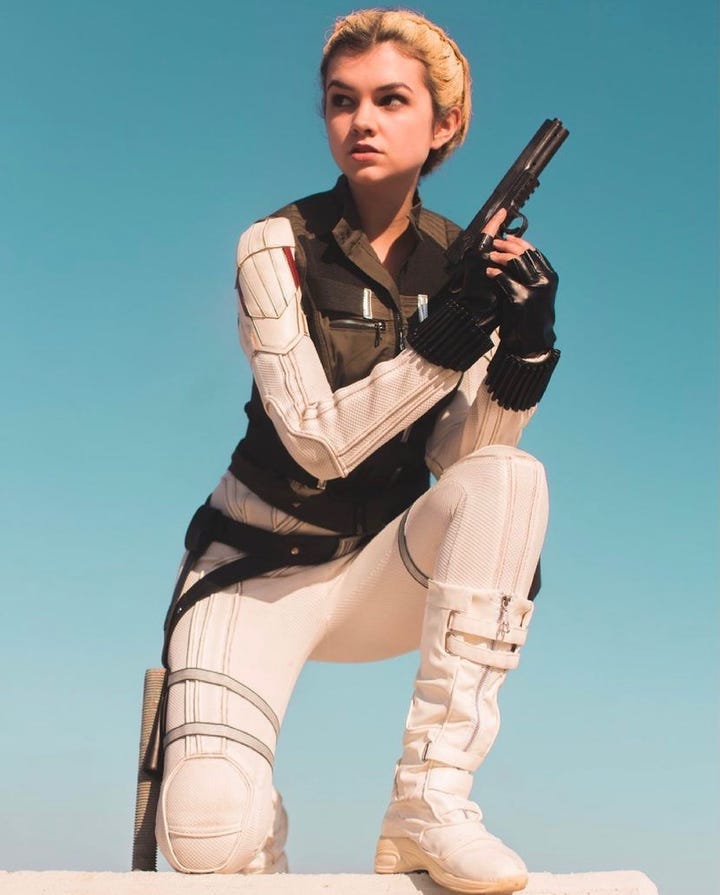 Minakess has always been on top of trends within the cosplay scene. This is due to her knowledge and love of the characters she cosplays. Her white suit is from Procosplay_official, and she was first photographed in it as Black Widow, not Yelena. Minakess was still waiting on the vest but decided to utilize the shoot for a two-in-one cosplay. #genius. Once the vest arrived, Minakess transformed into Yelena for a photoshoot with fellow cosplayer and friend Armoredheartcosplay. The two donned their sisterly costumes all the way back in August of 2020.
With the film released and Minakess continually upgrading her cosplay, we hope the two pair up for another Black Widow photoshoot with none other than TheGeekStrong. Yes, we can't get enough of this dynamic duo and need more! Minakess also went to the Black Widow premiere in Los Angeles! Read her thoughts on watching Florence Pugh as Yelena Belova in our article titled: Cosplayers Attend Black Widow Premiere In Hollywood.
Theadirodrigues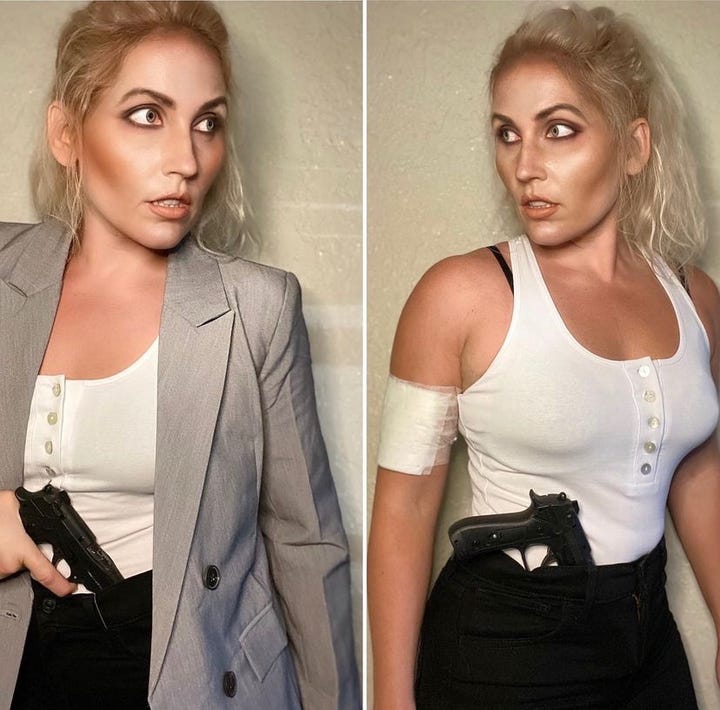 We are officially obsessed with Theadirodrigues and all of the Yelena content she's been creating. Her Instagram reels are full of great lip-syncing videos where she imitates the character perfectly. Seriously, we are impressed. Before cosplaying as the Marvel Cinematic version of Yelena Belova, Theadirodrigues cosplayed as the comic-accurate character in an all-black suit. She posted the photoshoot series along with facts about the character from the comics.
As for her thoughts about the movie, Theadirodrigues said, "The film was amazing!!! Exceeded everything I could have imagined! Yelena stole the show for me! Florence nailed it, and I still can't get over the vest." We agree the vest is superb.
Theadirodrigues is a fitness enthusiast who has replicated Gal Gadot's workouts from the actress's training in Wonder Woman. Speaking of Wonder Woman, this cosplayer has dressed not just as the Princess of Themyscira but as Hippolyta and Cheetah. You could say she's a pretty big fan and deserved the recognition she and Lis.wonder received from Director Patty Jenkins.
Pixiequinncosplay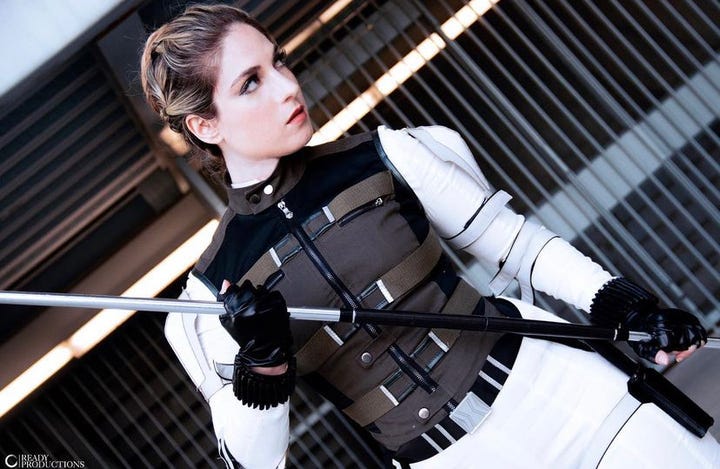 Since watching Black Widow, Pixiequinncosplay has bumped down her favorite Marvel character Thor, to second place and has given the first place title to Yelena Belova. The cosplayer was invited to the Los Angeles Premiere for the film and brought along cosplayer and bestie Superxluigi.
Though she wishes to have met Florence Pugh at the premiere, the cosplayer has yet to lose hope as Yelena Belova will be featured in more MCU projects in the future. We're crossing our fingers that they meet at the next premiere! This suit is from Simcosplay, and her hair is not a wig! That is all-natural.
When Pixiequinncosplay isn't dressed as Yelena Belova, she models other cosplays from her collection that include her infamous Harley Quinn, Jill Valentine, and Black Cat looks.
Dressesanddragons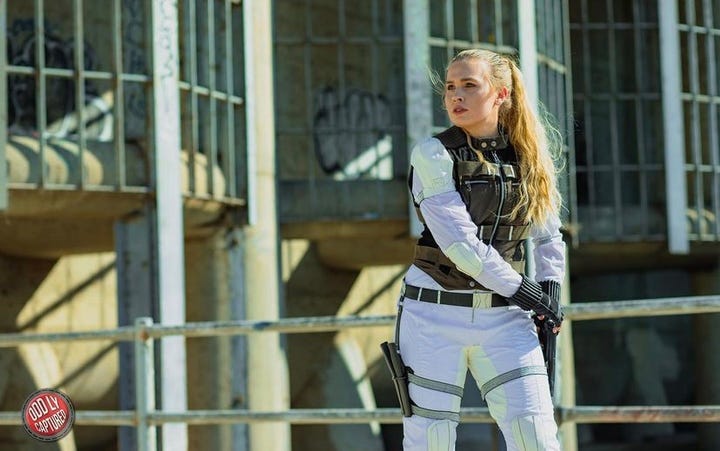 Dressesanddragons purchased this suit from procosplay_official but decided to modify it so she could be more mobile. In addition, the cosplayer wanted to be able to do some action poses for photoshoots like the character does in the film.
Dressesanddragons told us exclusively her thoughts on the film and the character: "I feel like we rarely get strong blonde females in media, as most are over-sexualized or perceived as dumb. Ever since I was little, I've been obsessed with trying to find blondes in the media to relate to. When I saw Florence Pugh was cast, I was floored because I'm such a HUGE fan of her. Her performance in Little Women changed my life. So seeing her join the MCU is super exciting. After seeing Black Widow, I felt very connected to Yelena immediately, especially as a younger sister. It was amazing to see her come into her own in the story and be so witty and badass at the same time. I can't wait to see more of her in the MCU!"
Black Widow Premiered on Disney+ and in Theatres on July 9th, 2021.
To possibly be featured in our articles, be sure to tag us on Cosplay Central's Instagram, Twitter, or Facebook.