Black Anime Cosplayers Discuss Representation In Anime
Four cosplayers explain their love for anime and why representation matters.
There has always been a huge difference between me and my younger brother. While I'm older and (arguably) wiser, he's always been insanely cooler. If we had been closer in age, he would not have talked to me at school. And while he's a social butterfly with skate tricks and a bomb afro, he's also a closet nerd who'll geek out with me over random Disney movies, Backstreet Boy songs, and the occasional '90s show.
However, there is one geeky thing he likes that I just do not understand and that's anime. I thought, how does this "too cool for school" guy like something many regard as for "nerds?" Well, that's because when it comes to anime, Black folks are here for it.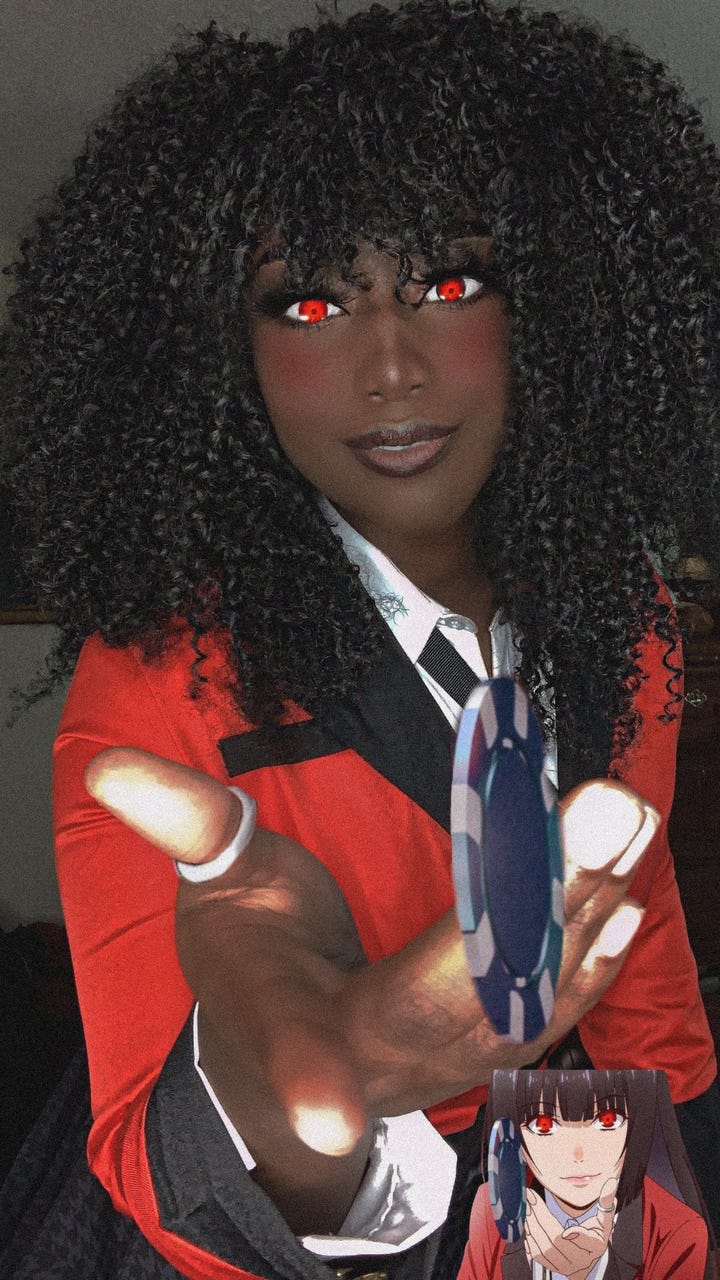 Anime has a huge Black fanbase and when you think about it, it's not that out of the box because Black people have a history of admiring Asian entertainment and culture.
Take the '70s for example. Bruce Lee and all that he inspired were and continue to be huge within the Black community with films like Black Fist and The Last Dragon being staples to many. Some think it's the differences in cultures while others believe it's Black and Asian people's shared experiences that have made some take a keen interest in aspects of Asian entertainment.
Noire Ci (@norieci_), who just started cosplaying in the last year and was inspired by 's-CRY-ed,' noted that her family enjoyed a Japanese film by the name of Azumi when she was younger and were "completely immersed in it admiring their clothes, the language, and challenges they had to face." She said it was "so different culturally and very fascinating."
While she had hearts in her eyes over the differences she saw, queen_al3xi (@queen_al3xi) feels as though the struggles Asian anime characters often face, Black people can relate to as well, "Since Asians are minorities, Black people can feel comfort in knowing that they aren't the only ones who deal with problems because of their race."
Along with Noire Ci and queen_al3xi we talked to Claude Xavier (@claudexcosplay) and Terry (@ManaKnight) who has been cosplaying their favorite characters for a decade now. No matter how long they've been putting on their best Naturo, the matter of the fact is that these cosplayers love themselves some anime and when it comes to creating designs to go with their favorite characters queen_al3xi and Terry live to put their personalities into the look, and Claude couldn't agree more as he often tries to incorporate his locks into his looks as much as possible.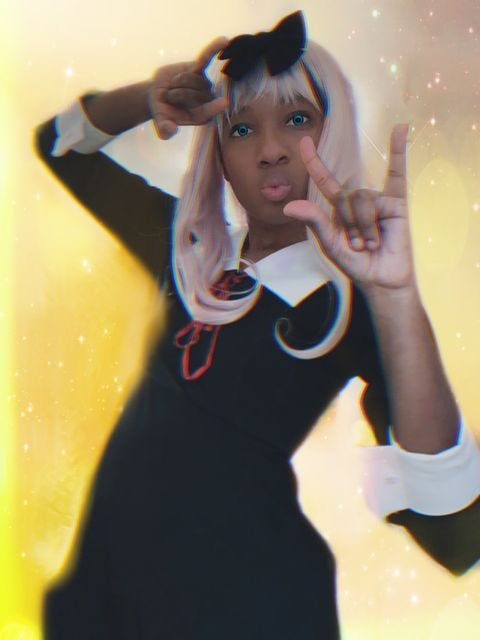 However, he noted that the most important thing to remember when cosplaying anime characters is to have fun doing it, "Once you incorporate fun, it makes it easier to become that character even if you don't have the ability to make it as accurate as possible. I'd prefer a cosplayer who may not have the character to a 'T,' but if having fun versus the 'stiff,' but accurate cosplayer."
Rocking their natural hair or adding personal touches here and there allows for cosplayers to delve deeper into the likes of Cardcaptors and Gundam Wing, because when it comes to Black anime characters there are some like Atsuko Jackson and Afro Samurai that Terry and Noire Ci agree have helped Black fans feel seen in the genre, but the latter does believe there needs to be more representation overall.
Claude looked at this another way and believes that while there is more work to do overall when it comes to representation, it's also about where fans are looking, "Although characters like Atsuko Jackson and Afro Samurai have been great for us, I don't believe they have helped us be seen more than horror, Star Wars, video games, etc. because they have been dominant for so long. Yet, characters like these are hidden gems like a 'Star Wars' need to incorporate to take them to the next level. Marvel's Black Panther proved that industries like these have been sleeping on their next big break found in strong, leading Black characters."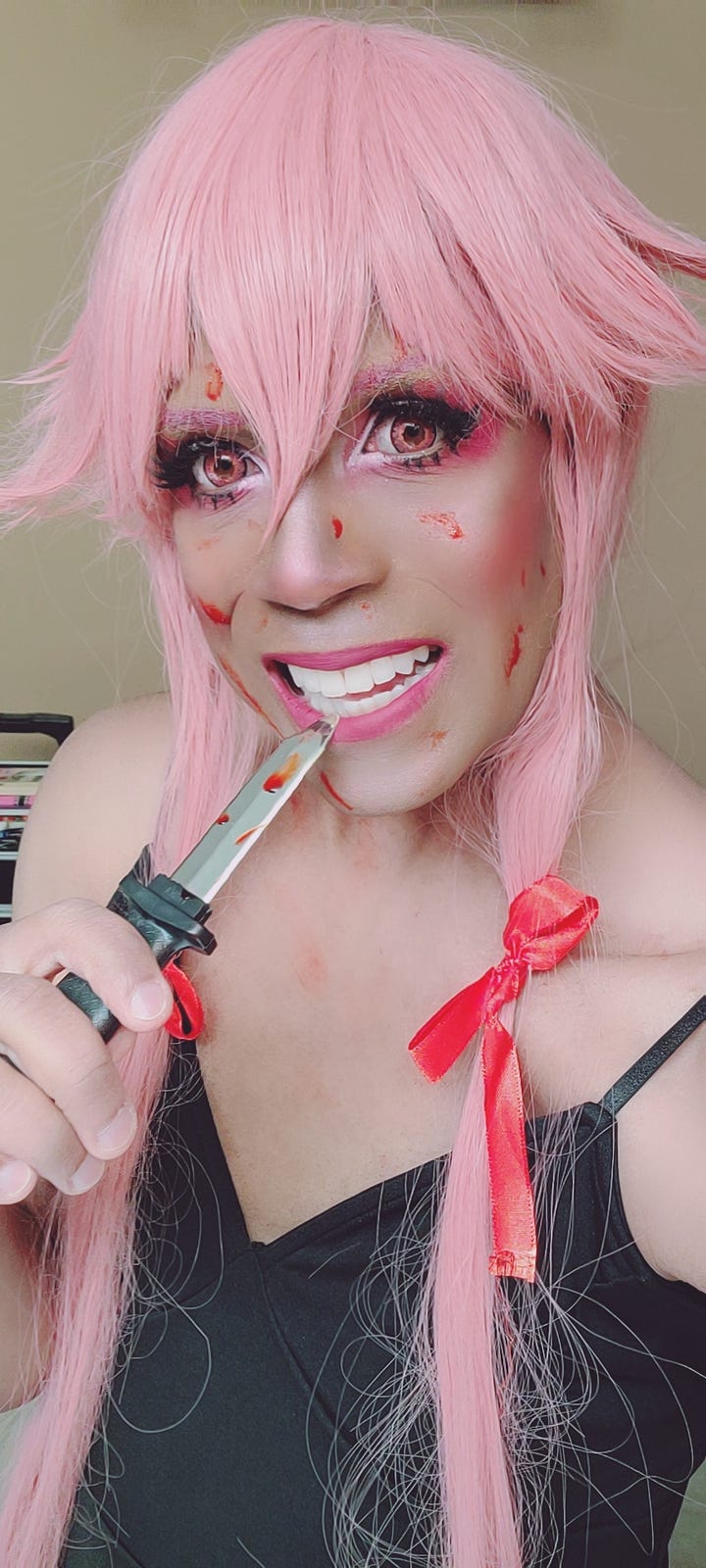 Of course, that's not everyone, "When I look at characters in anime, I more so think of them as to how they relate to me, not really about their race. That is part of why I cosplay anyone no matter what," said Terry, but they added that it is important for creative teams to be inclusive.
That's the thing, content is only as creative as the people behind it because as a mixed Black woman - I'd have no idea how to craft a story about say...a young Asian boy growing up in Detroit. That's not my experience.
"I agree. Nobody knows us better than us. If diversity is grown behind the scenes, diverse consumers will grow in front of the screens," said Claude to that notion. Queen_al3xi pointed out that creatives aren't waiting around anymore either, they're taking to social media, "On Twitter I've actually seen a trend going around where creators will create versions of anime characters that normally aren't Black, and it's so cool."
While Black characters in anime still have a ways to go, in regards to how Black fans are treated in the cosplay community, it differs from person to person. Noire Ci found herself on the receiving end of negativity for her Yumeko Jabami look, while Claude got some haters for the way he held a katana in one shoot.
Then there's queen_al3xi, who while she's never experienced it - doesn't mean she hasn't seen it, "I have seen cosplayers bashed because of how they look physically." She went on about how that only leads to people spreading unnecessary hate, and cosplayers winding up depressed. Which should never be the case when cosplaying because remember what Claude said, it's about having fun!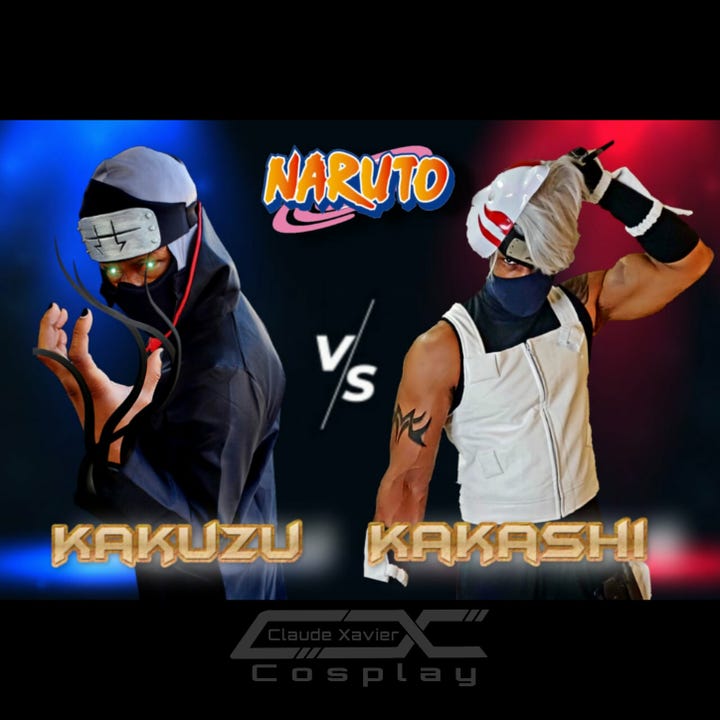 For so long we've lived with these stereotypes that Black people were a certain type of way and only liked a certain type of thing, but stereotypes aren't the end all be all truth of reality. While I found it strange when someone as cool as my brother liked anime, I realized Black people being enthralled with Asian entertainment was nothing new, and that there were a variety of reasons why so many fell in love with the myriad of anime tales out there. It was even more eye opening to talk to fans of the genre who spend much of their free time embodying the characters they feel attached to on screens both big and small.
In the end, our cosplayers showcased support for anime fans out there who may have reservations about diving into the cosplay side of their fandom for various reasons, because some were in the same boat once upon a time.
Noire Ci waited five whole years before she cosplayed due to her anxiety and was nothing but encouraging, "You're ready, go for it. You have that right, and you may never know who you may inspire. You got this, I believe in you!" Claude wanted to remind Black anime fans not to count themselves out, "Remember your money is green too! You have contributed to the success of anime and it's just as much yours as others," adding about cosplay, "Just have fun and don't forget the 'play' in cosplay!"