Star Wars Cosplayer Makes A Cameo In Obi-Wan Kenobi
Cosplayer Rexin-Around reveals his involvement in Obi-Wan Kenobi.
Cosplayer Rexin_around reveals involvement in the Disney+ series Obi-Wan Kenobi by posting screen grabs from Episode 5 of his character, named by the internet, Blue Hat Guy.
Spoilers are ahead, so check out "Obi-Wan Kenobi" on Disney+ before reading on.
Focusing on Jedi Master Kenobi (Ewan McGregor), the series follows the character ten years after the events of his most significant defeat, the downfall of his padawan, Anakin Skywalker (Hayden Christensen). Kenobi sets on a quest to save a young princess, Leia, while facing many trials, including immense guilt, lack of hope, Inquisitors and Sith Lord Darth Vader.
In the 5th episode of Obi-Wan Kenobi, the heroes attempt to leave the not-so-hidden rebel base on the planet Jabiim after gaining knowledge that the Empire is closing in. As the rebels are preparing, a recognizable face looms in the background who is none other than Star Wars cosplayer Rexin_around.
Rexin_around primarily cosplays as the infamous Captain Rex of the 501st Legion and other armored characters like Tech from The Bad Batch. He has a following of 48.9 thousand followers on Instagram and has even helped customize a Mandalorian suit for Snoop Dogg. His page features Star Wars in all shapes and sizes, and thus the surprise of the cosplayer joining the galaxy's cast as a canon character is a win for cosplayers everywhere.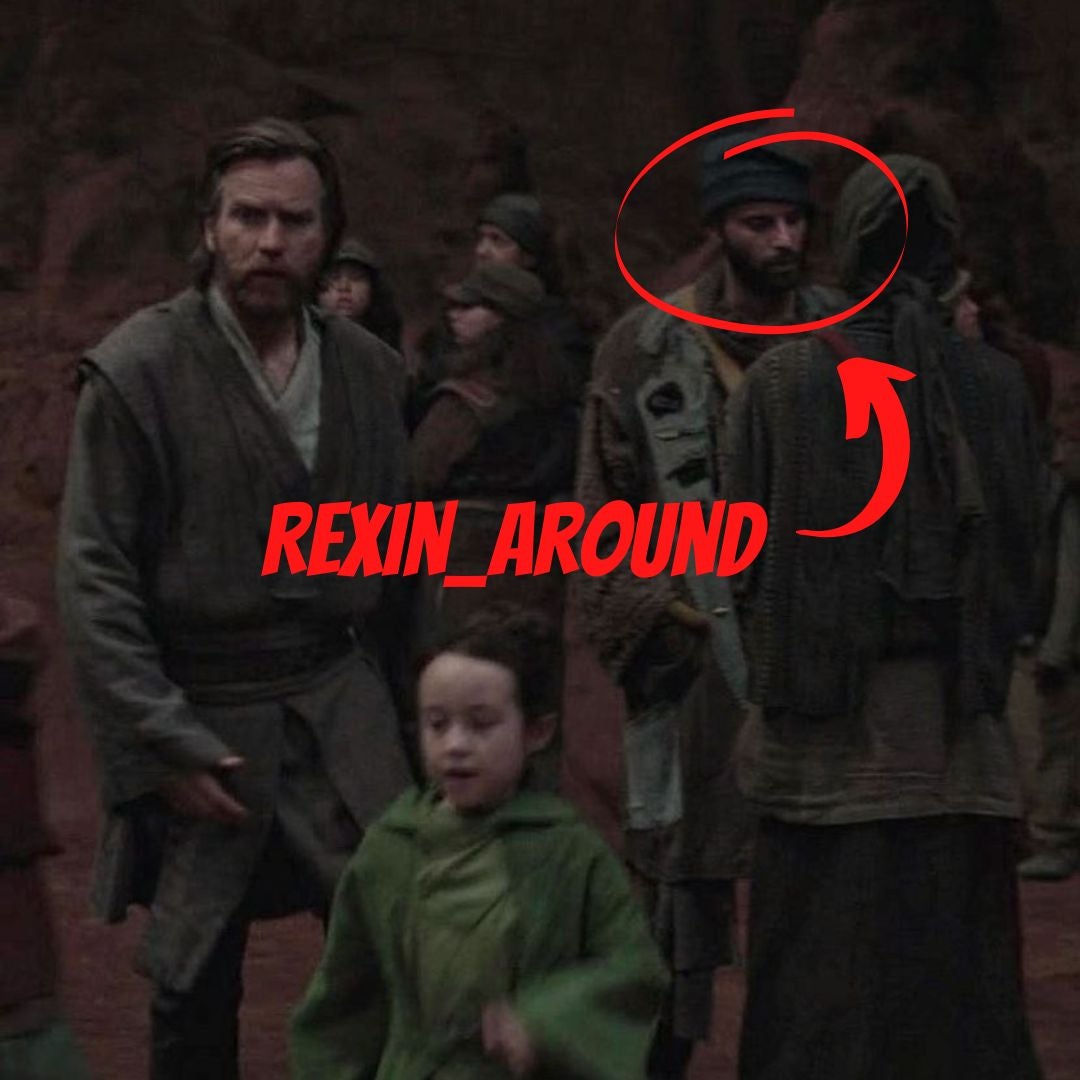 The caption of his post on IG reads: "It's hard to express this feeling with words but every single day on set, all I could think about was how I wish I could have shared these moments with all of you. I absorbed every single second of this incredible opportunity and carried it with a massive sense of reverence.
I would be awake and ready an hour before my alarm went off every morning and I would sit at gate waiting for the first van. I learned everything I could from the other amazing extras on set and I lived in every single moment of wonderful and beautiful creative chaos. I am eternally grateful to my friends who got me this opportunity and to my community who believed this wild idea was actually possible.
Thank you to @starwars for giving us this galaxy to play in and thank you for letting me be a tiny little piece of such an incredible story. We did it. (Gunna go nurse that laser wound now)."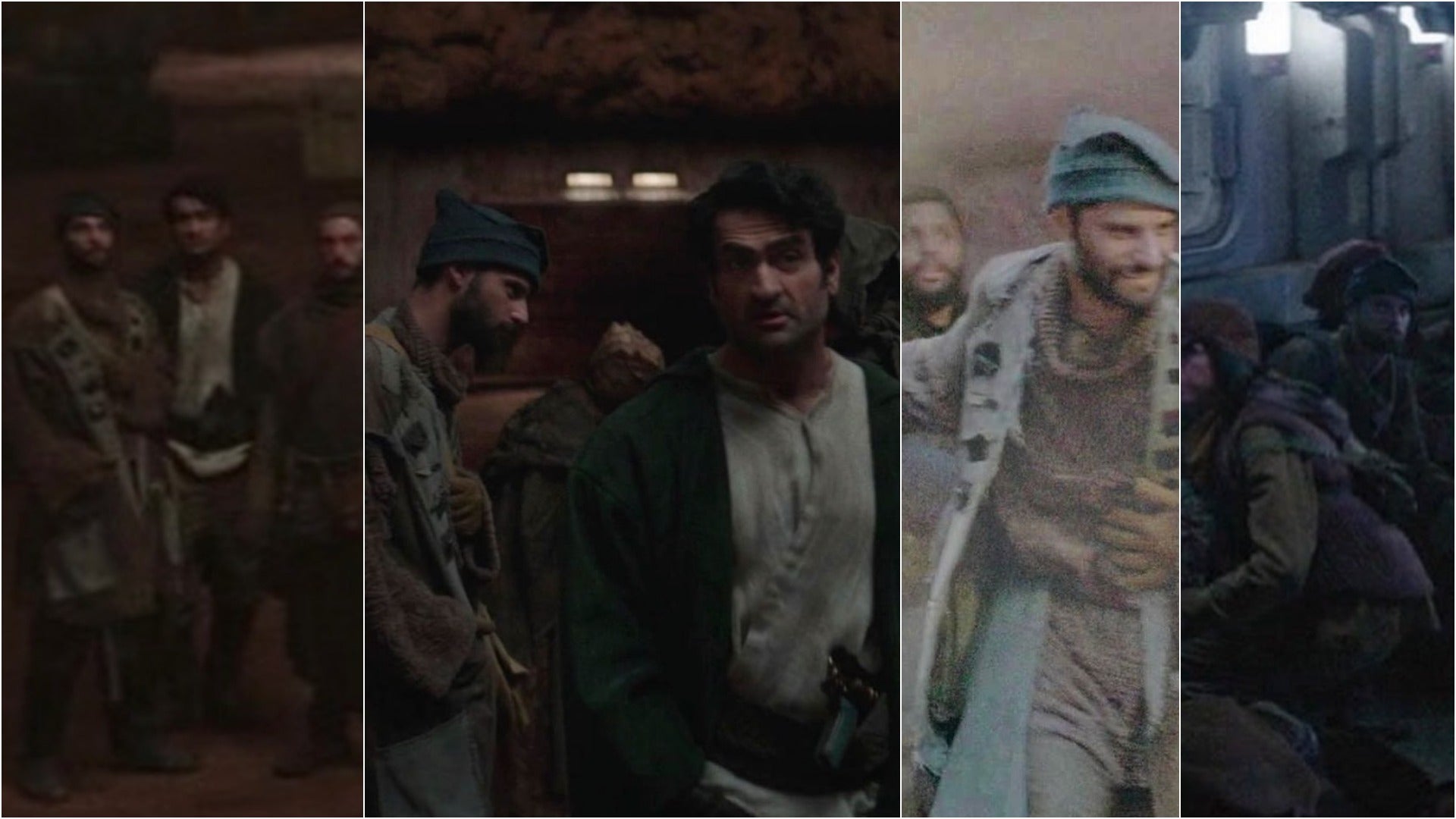 Friends, fans, and followers of Rexin_around share various screen grabs of the character's debut on their stories. Still, some dedicated artists began drawing fanart of his character, which they have titled "Blue Hat Guy," soon after the episode aired.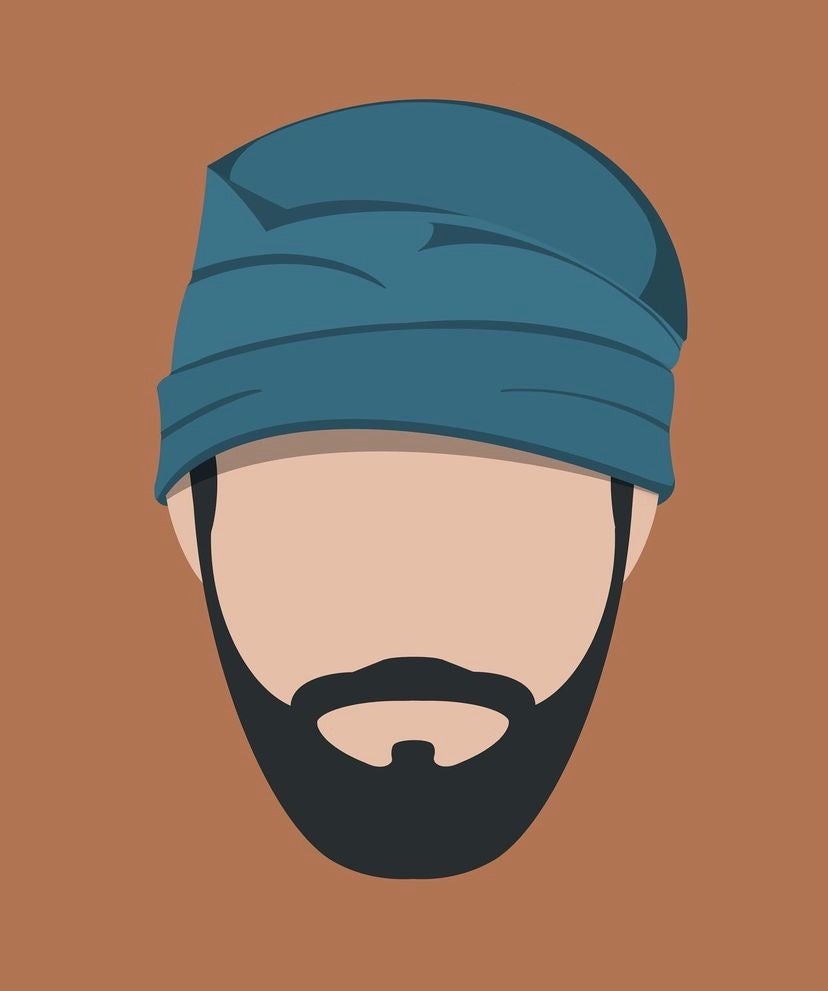 "All hail the Blue Hat Man," Printsbyporkins writes in an Instagram caption. "So, so awesome to see @rexin_around living what I imagine is a massive dream for so many of us. Happy for you, man!"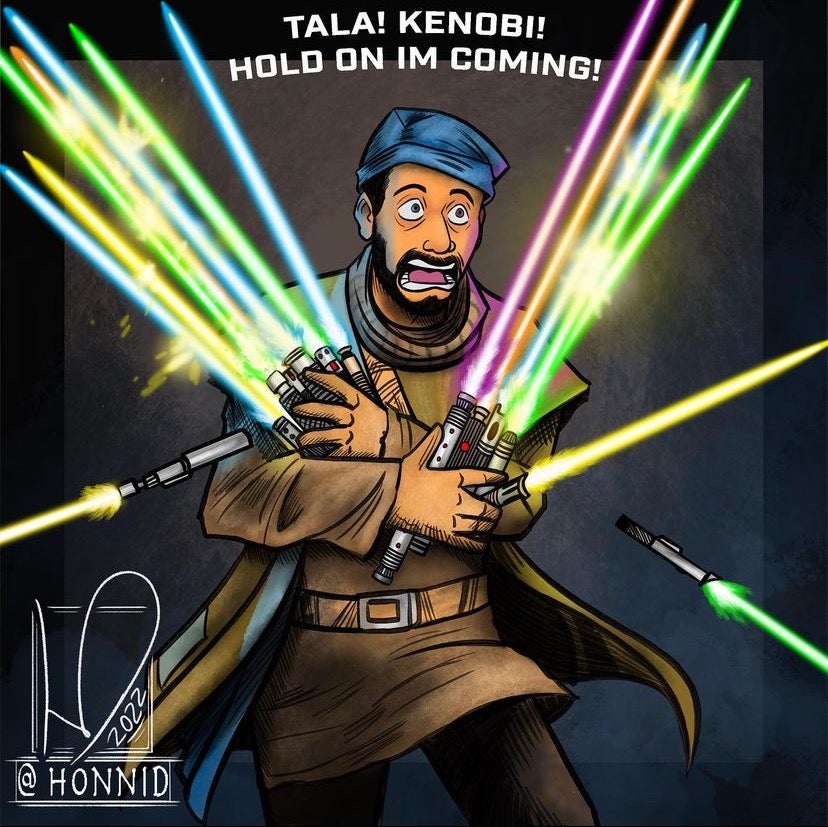 "Blue Hat Guy to the Rescue," artist Honnid writes in an Instagram caption. "Yeah clearly its a HUUUGE Win that @Rexin_around made it into Kenobi!!!"
The artist further explains the piece draws inspiration from a TikTok/Reel combined with the potential reality of Rexin_Around scooping up the lightsabers seen in the episode.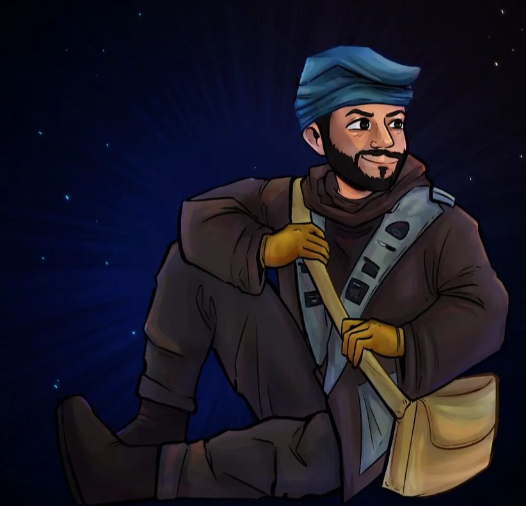 "BLUE HAT GUY my new favorite Star Wars character," artist and cosplayer Kablamme writes in an Instagram caption. "I am so excited for @rexin_around , because he finally was able to get in a Star Wars show! He absolutely earned his role by just being an inspiring and positive part of this community for so many years."
Kablamme continues to write how she is grateful the character survived the events of the episode and poses the question of merch and a spin-off show for Blue Hat Guy.
It may not be a spin-off show, but one Instagram account drew a comic strip of Blue Hat Guy exchanging a few brief words with Kenobi. It may not be canon, but it is incredibly witty and fun.

Congrats to Rexin_Around for making every cosplayer's dream come true: to immerse oneself within the world of the fandom they cosplay from by becoming a character. Perhaps we will see more of the Blue Hat Guy in a possible season 2 of Kenobi or in future series like Andor. The opportunities are endless!
Obi-Wan Kenobi is currently streaming on Disney+.