Tom Hiddleston Surprises Loki Cosplayers At MCM London
These Loki cosplayers got quite the surprise at MCM London!
NOTE: To view gallery click the "View Gallery" button above. To see gallery captions on mobile, be sure to click on the "i" button in the top left corner.
It was a momentous day for Loki cosplayers as they gathered at MCM London today. The fans gathered in the Main Stage of the convention for a Loki meetup and were surprised when they were greeted by none other than Tom Hiddleston himself!
Tom entered on stage behind the cosplayers when they thought they were joining a meetup for free merchandise and publicity photos. What they did not realize was that Tom Hiddleston walked up on stage behind them and took a photo as they were screaming, "burdened with glorious purpose!". The fans then turned around and screams of joy erupted as they realized Tom was standing behind them.
"I heard there was a Loki meetup party and I didn't want to miss out!" Tom told the excited crowd. He then continued to have all the Loki cosplayers enter a yelling contest based on which version of Loki they were cosplaying.
He wanted to see exactly how many cosplayers there were (you can't keep track of how many Loki variants there are). There were Sylvie cosplayers, Avengers, Ragnarok, show variants, and even a couple Mobius M. Mobius cosplayers.
Tom then thanked all the cosplayers for coming out to the meetup and for them showing so much appreciation for the character. Many Loki cosplayers after the surprise event were cheering and crying after realizing they had just met Tom Hiddleston in a surprising and exciting occasion.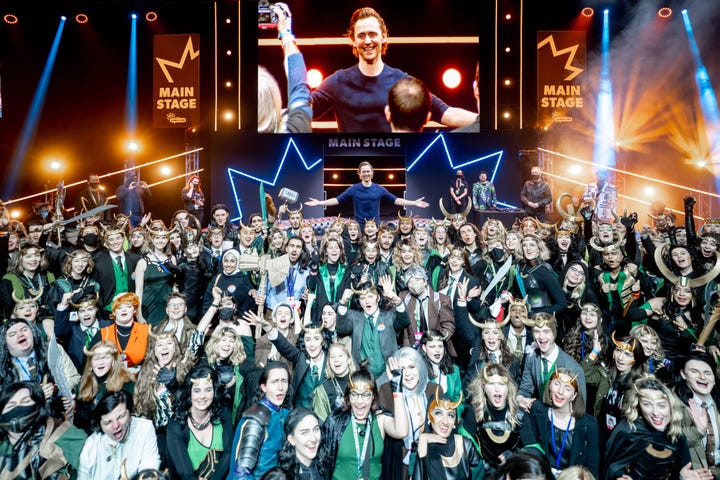 We want to thank all the Loki cosplayers for participating in this special event and for making MCM London Comic Con 2021 special for us! If you have photos or videos from the meetup, be sure to tag us on Cosplay Central's Instagram, Twitter, or Facebook.