How To Make A Star Trek Cosplay Using Simple Materials
Want to turn yourself into a Star Trek character? Here's an easy way to make it!
Ever since the first episode aired in 1966, Star Trek has been a popular and wildly successful franchise, with around 800 episodes, and many full-length movies as well. With its timeless costumes and fascinating characters, it's not surprising that people would want to cosplay from it! And, turns out, it's actually really easy to do so.
In Starfleet — the main star-faring organization in the show — there are many different variations in uniform, but they are iconic enough that you can get away without making your costume identical to what is on screen.
The cosplay that I will be showing you how to create isn't based on one particular uniform, but is rather a combination of several, showing how easy it is to bring them to life. And while it's not exactly what is in the show, it is still very recognizable to any Star Trek fan! For almost any uniform variation, there are several components you should include to make sure it's recognizable.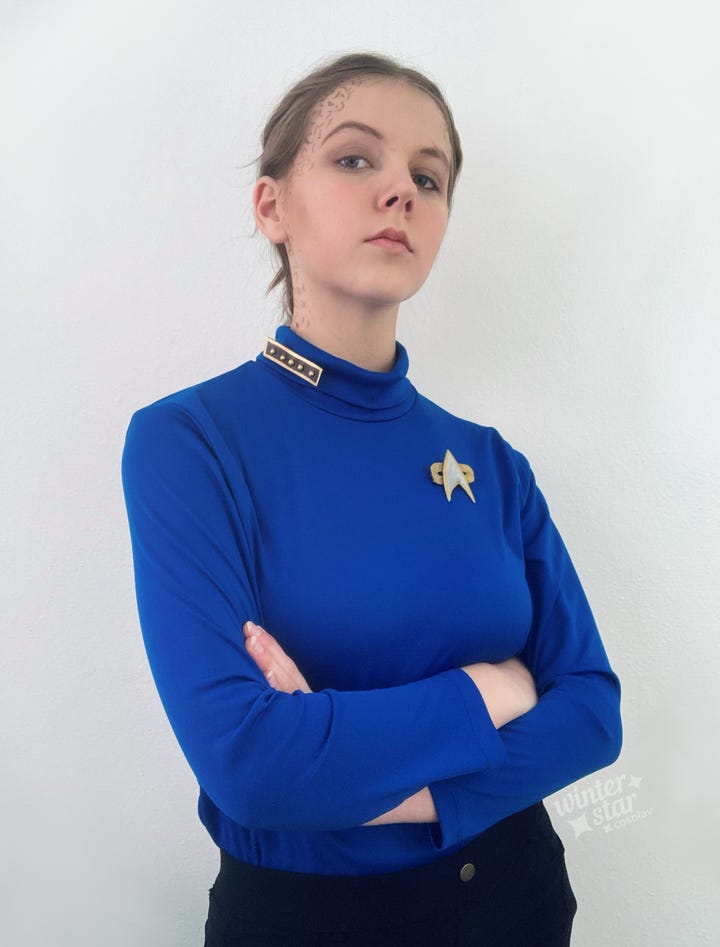 First is the shirt. The three main colors worn in Starfleet are blue, red, and yellow, though what each color stands for varies throughout the saga. Some variations of the uniform are a solid color; while others are solid black, with a colored strip across the top, covering the shoulders. Still others are a solid color, with black on the top and bottom. As you can see, there's a lot of options!
However, if you're going for a quick and easy cosplay, the best method I've found is to find a long-sleeved shirt in either solid blue, red, or yellow, with a high collar. This is simple and iconic, and usually very easy to find at a thrift or clothing store. If you want to make the cosplay from scratch, you can of course pattern your own uniform! Something I found to be helpful was tucking the shirt into the trousers, to ensure a better shape, and a length I was happy with.
Next up is the bottom half. With a couple exceptions, almost all of the uniforms include solid black trousers, which are very easy to find or make. Almost any pair of long, black trousers will work, though slightly more fitted ones work better.
For the shoes, simple black shoes or boots work very well. Again, there are exceptions, but these are classic and iconic.
After all the base clothing has been found or made, next comes one of the most recognizable parts of the cosplay: The Starfleet badge. These are very easy to make yourself, or you can find one online! The way I created mine was by sketching out a pattern of the badge (the design based on the badges from Star Trek: Voyager), then tracing it onto several layers of 2mm EVA foam. I then cut it out, and glued it together with hot glue. After lightly cutting in details using a sharp craft knife, I primed it with Flexbond, and painted over it with several layers of gold and silver acrylic paint. To be able to attach it to my shirt, I hot-glued a safety pin to the back.
This is a super quick, easy way to make a realistic-looking Starfleet badge, and it really adds a lot to the cosplay!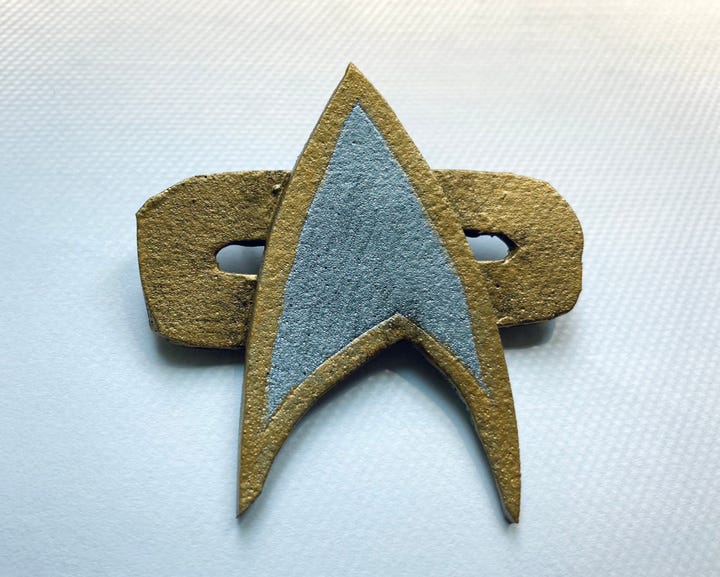 If you want to take it one step further, you can add pips. In Starfleet, pips are used to determine ranks between different officers, and are usually attached to the collar of the uniform (which is why a high-collared shirt comes in handy!). There are many different variations in pips (as with literally every other aspect of these uniforms), but the easiest I found to make was taking a small strip of EVA foam, and using hot glue to add large round dots to it, priming, painting, and attaching it the same way I did the badge.
An alternative method is cutting out small circles of EVA foam, and gluing them directly to the collar of the shirt, to mimic a different kind of pips, though I've personally found the first method to be easier, since you can easily take them on and off, to be able to wash the shirt.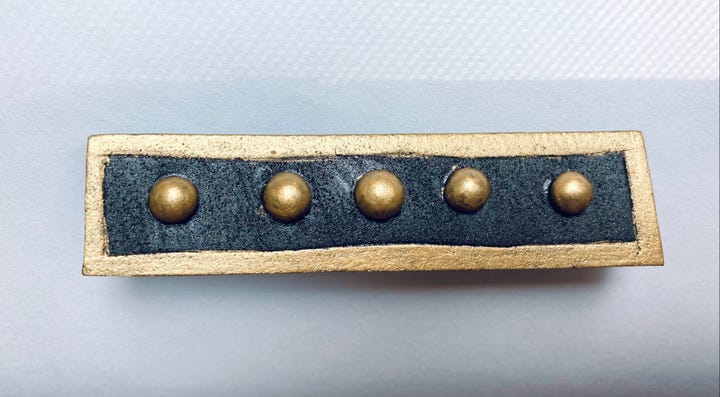 Finally, let's talk about hair and makeup. There's an incredible variety of humans and aliens in Starfleet, and unless you're trying to cosplay a specific character, the sky is the limit! You can use your natural hair or a wig, use makeup or no — it's totally up to you! One thing I loved about creating this cosplay was how casual and easy it was — no need to stick to a specific uniform, or a specific character. You can do pretty much anything you want.
For my own Star Trek cosplay, I wanted to mimic some kind of alien species, and I picked the Trill, because of how easy the makeup is. The Trill have leopard-like spots along their forehead, side of their face, and their neck, which was incredibly easy to mimic. All I needed was a brown eyebrow pencil, and a lot of patience to draw on all the little spots. A bit of light hairstyling and makeup later, and the cosplay was completed!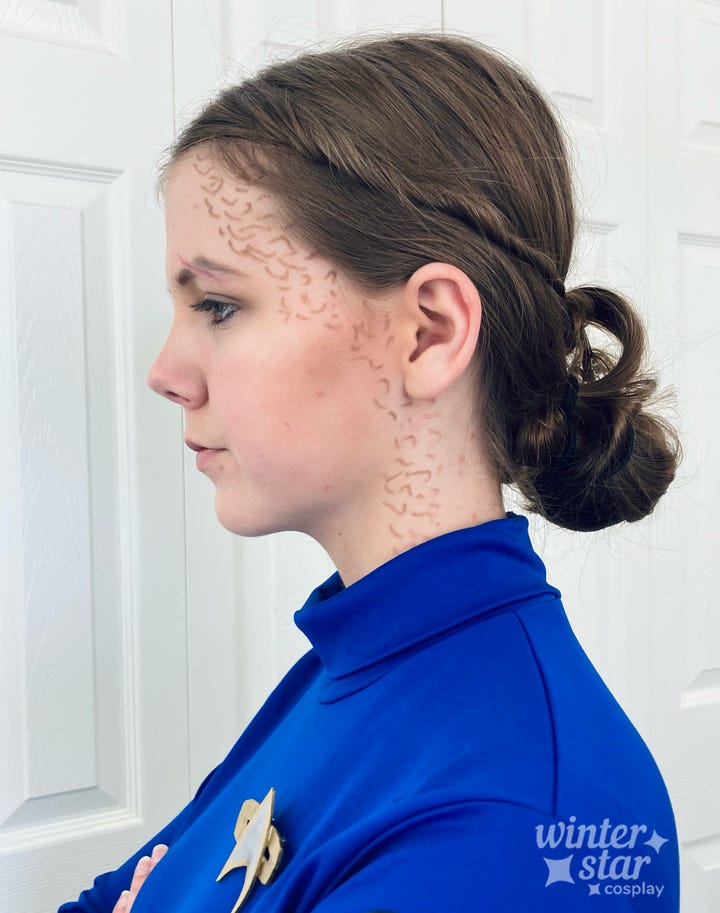 The Star Trek cosplay example I showed is just one of many. As I've tried to stress this entire time, there are so many variations, and you don't have to stick to just one! You can pick and choose what makes sense for you, or work from just a single character and uniform. That's one of the great things about cosplay, and about cosplaying from Star Trek in particular — you don't have to stick to exactly what's on screen if you don't want to! It's totally up to you.
I hope that you found this cosplay walkthrough helpful, and it inspired you to create your own Star Trek cosplay! As they say in Star Trek, may you live long and prosper!