How-To: Use Pre-Existing Templates to Create Cosplay
Want to cosplay but don't want to make your own patterns? We've got you covered.
You've been dreaming of your next big build. Whether it's the costume, the character, or a mix of both, you know for certain that this is exactly what you want!
If you aren't a veteran of pattern creation, the thought of turning an idea into physical manifestation may seem daunting. There are multitudes of shapes and structures in print media, games, and video that simply aren't found in everyday life.
When you've set your heart on creating cosplay from scratch, there are some shortcuts that can still allow a cosplayer the freedom to design while ensuring a solid, proven base. For this, I recommend pre-made patterns.
Pre-made patterns exist in the thousands! Whether it's designed for fabric or foam, there's a pattern for just about every shape, size, and structure. Unfortunately, your first hurdle will likely lie in finding the pattern that fits your dream cosplay -- and many times, there's no single pattern that will match exactly right.
The upside to this is that with an abundance of planning and research, you can utilize a patchwork of pre-made patterns to Frankenstein together your own unique costume. The trick is knowing what basic shapes to look for and how to match those shapes to your desired costume. Let's take a look at one example.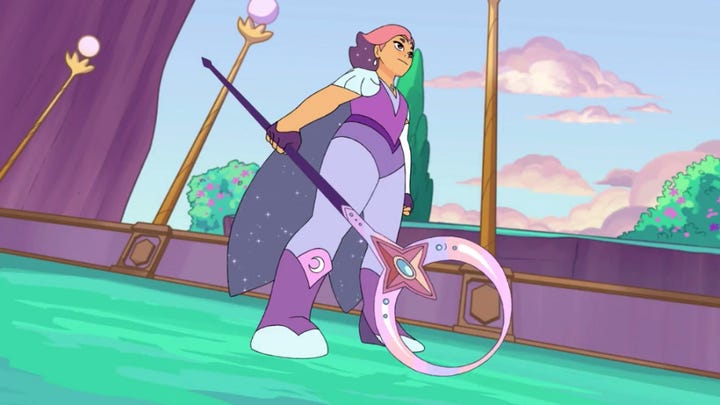 The new She-Ra versions of Glimmer are wonderfully simple yet can utilize a few patterns to create a unique outfit! Looking at the image above, there are three main pieces that one could break the biggest part of the cosplay into.
Non-highlighted areas like the leggings can be crafted or easily purchased, but the torso, shoulder caps, and cape are unique. These can be made from pre-existing patterns that are slightly modified! Let's start with the torso in green.
First: The Leotard
For this, a first instinct is to utilize a v-neck leotard pattern, which one could then either break into pieces for the detailing at the waist or could add on top of the pattern itself - Just don't forget to use stretch materials! These fabrics will keep creases from forming and are easy to bend and move around in the leotard.
There are a handful of simple leotard patterns online, and this one from McCall's seems like it would easily do the trick!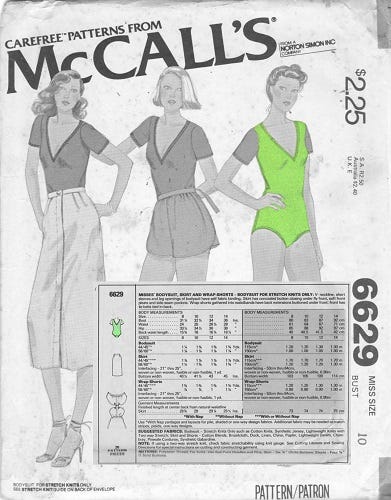 Personally, I'd opt to remove the sleeve caps from the pattern, as shown above, and then modify to match Glimmer's color blocks from there.
Next: The Shoulder Caps
Glimmer's shoulder caps (highlighted in red) appear to be flush with her shoulders, which instinctually leads towards a fabric pattern that could be sewn to the shoulder seams of the leotard. But let's throw in a little flair and make these ARMORED caps!
Veteran cosplayer, Kamui Cosplay, has drafted pre-made shoulder armor patterns that just might do the trick!
Here, one would combine two of the armor patterns to create that large scallop at the front-facing section and the flattened edge at the bottom edge of the cap. Kamui's patterns are very user friendly, and meshing these two may take a little trial and error.
If you feel confident and would rather modify one of the patterns versus combining two, simply print out the larger shoulder armor pattern circled at the bottom of the image and cut out the curve in the middle seam so that it lays flat to match our costume goal.
Attach with magnets or velcro to the shoulder seam of your leotard, and you've got removable shoulder caps.
Finally: The Cape
Glimmer's cape is relatively simple with a winged appearance. The key here is that the cape lays flat and does not ruffle, so we're going to avoid half or full circle styles.
Fortunately, it's extremely easy to modify this basic cape pattern from YayaHan's cosplay lineup in McCall's Patterns.
Attachments can simply involve elastic straps or snaps at each shoulder that fit comfortably underneath your shoulder caps, hiding their placement and allowing for easy movement.
By utilizing basic patterns with slight modifications, you're able to create your very own one-of-a-kind costume. Always plan ahead, and you'll find yourself with better, cleaner results. And as always, mock up your patterns before cutting your final pieces! This saves a headache if you only use your desired fabric and end up cutting it too short or small.
Happy crafting!